We now know EVERYTHING about Fortnite Season 5! There's a new All Terrain Kart, or ATK, on the way, a new dessert biome, new locations including Paridise Palms and Lazy links and loads more. Let's break it all down.
When is Fortnite Season 5 starting?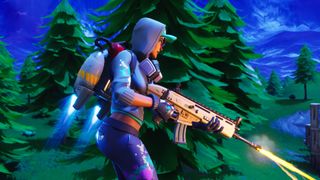 Fortnite season 5 starts right... about now. Or at least it will do when the servers are back up. The game is currently down for updates and when it comes back, it'll be season 5 baby.
The only issue there is we don't know when that will be. Traditionally the update is applied and then the servers are down for a few hours before everything comes back. When it does we'll let you know and the Fortnite season 5 goodness will begin.
How much does the Fortnite Season 5 Battle Pass cost?
The Fortnite Season 5 battle pass will most likely cost the same as it has done every other bundle - 950 V-Bucks. In real money you'll have to buy the smallest V-Bucks bundle, which is $9.99 / £7.99.
Here's the Fortnite season 5 opening cinematic
Fortnite season 5 has a new All Terrain Kart, or ATK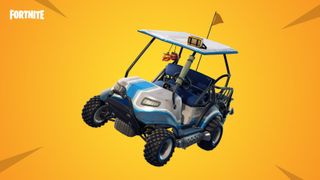 Fortnite season 5 is finally giving us proper vehicles in the shape of the All Terrain Kart, or ATK. It's a four man, full squad vehicle with a drift activated speed boost and a bounce pad on the roof. The rear passengers can even work together by all leaning at the same time when jumping to get a higher boost.
The Fortnite Season 5 map includes new biomes and locations
The Fortnite season 5 map has been updated to includes a new desert biome. That had previously looked likely after an in-game leak briefly made the entire map a desert although that was pulled super fast.
Looks great. Video will drop in 4 hours! pic.twitter.com/OmnD8rNrR1July 9, 2018
There are also new location including Paradise Palms and Lazy Links. New unnamed POIs have also appeared across the island.
Fortnite season 5 skins include vikings, soldiers and more
The first Fortnite season 5 skins show off more than a few vikings, a very modern looking soldier and that Japanese Kitsune mask from the first official Fortnite season 5 teaser. No word yet on rarities.
Fortnite season 5 storm circles now MOVE
This is a really interesting change: the centre of the final storm circles (7, 8, and 9) can now shift in random directions, instead of just shrinking. So as the storm closes in, it can move and shrink the new location. That's going to have a big impact on the end game, making building more of a risk.
Fortnite season 5 rifts promise a 'wild ride'
We'll have to wait until Fortnite season 5 is live to find out more but it looks like the rifts that ruined season 4 have persisted and will move players around if they jump into them.
We'll keep this article updated with all the latest information about Fortnite season 5 as it happens, from rifts to theories. But let us know what you think is happening next season in the comments below.