10. Hollow Knight
Genre: Platformer
Price: $15 / £10.99

What is it? An epic, platforming adventure with some of the most beautiful environments we've ever seen.

Why should you buy it? Some are suggesting that Hollow Knight is Dark Souls for beginning. A Dark Souls with stunning hand-painted aesthetics and a colour palette to make you cry, and a stunning orchestral sound track that you just want to bathe in. Now there's a Dark Souls I can get behind. In true Metroidvania style, you'll be exploring a labyrinth of underground areas each more distinct than the last, and all filled with strange creatures to fight, and bizarre bugs to befriend. (Yes, really.) As you progress you gain new abilities, grow in power and more devoted to uncovering all of Hollow Knight's secrets.
9. Captain Toad: Treasure Tracker
Genre: Openworld RPG
Price: $59.99 / £49.99
What is it? An excellent port of a Wii U exclusive with some brilliant new additions.
Why is it interesting? Aside from the fact you should buy this for the adorability factor of Toad and Toadette alone, it also happens that Captain Toad: Treasure Tracker is one of the best Wii U ports available on Switch. It's a fantastic puzzler where every level takes the form of an interactive puzzle box or diorama that you can traverse, poke, prod, pull, push and generally interact with to unlock its secrets and reach the end goal of the golden star. And each one is beautiful, intricate and just perplexing enough to leave you suitably impressed and a tiny bit chuffed when you finish it. Plus, there are additional challenges that you can go back and dive into too, making this little puzzler stretch further than you originally anticipate. Just wait until you see the new, Switch exclusive, levels based on Super Mario Odyssey. Being able to waddle through little box-shaped version of Odyssey's Sand, Metro, Cascade and Luncheon Kingdoms is sheer joy, and they are just as beautifully executed as the other levels available too.
8. Minecraft
Genre: Building simulation
Price: $29.99/£19.99
What is it? A beautifully blocky, open-world, creative sandbox for you to build, destroy, and mine anything you want.
Why should you buy it? Because even if you've played it before, Minecraft on Switch means ultra portable, buildable delight. You can sit down with a friend to play together on the local network, which is ridiculously simple to set up - just put one of their Joy-Cons on your Switch once your world is loaded up, press +, and hand it back to them. You can also play online if you're not eager to go exploring alone, or try out one of its mini-games: Battle (straightforwards PvP), Tumble (a race that involves shovels or snowballs), or Glide (get to the end of the course asap). A plethora of achievements makes for pleasantly directed playing as they give you something to aim for, but when it's comes down to it you never feel like you've quite beaten Minecraft even if you've been playing for tens of hours. It's an exercise in discovery and ambition, with structures that previously only existed in your wildest dreams suddenly viable - as long as you have the resources. Whether you're tenacious, easygoing, or just rabidly curious, think of Minecraft as a gracious host that will make you and anyone you choose to co-op with delirious with happiness. Either that, or you'll get your hands on some TNT and will make everything go bang. Which is also fun.
7. Stardew Valley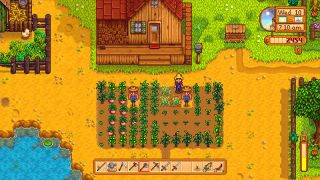 Genre: Simulation
Price: $14.99/£10.99
What is it? A cute, pixel-art farming simulator that has stolen the hearts of most of the GamesRadar+ office.
Why should you buy it? There's a reason Stardew Valley was one of the most highly anticipated titles coming to the Nintendo Switch. This adorable, simple life, farming simulator is the perfect game for taking advantage of the Switch's portability. Farming at home, farming on the go, farming wherever the heck you fancy farming. It's a fantastic game for whiling away the evenings with a spot of farming, mining, animal rearing, fishing and other super relaxed activites. Trust us, you'll soon be as immersed in the world of Stardew as we are.
6. Rayman Legends: Definitive Edition
Genre: Platformer
Price: $39.99/£29.99
What is it? The brilliant platformer has leapt onto the Switch at last, bringing Rayman and co to a portable platform in the best way.
Why should you buy it? There's no denying that Rayman Legends is one of the best platformers to emerge in the last decade. Our favourite limbless hero's adventure has been ported to the Switch with a few new features, but to be honest it's worth picking up even if it was exactly the same as the PS4 and Xbox One versions. Not only does it look wonderful on Switch, it also complements the hybrid perfectly. It's a fantastic game to jump into on the go thanks to its level structure, but looks wonderful on the big screen too.
5. Splatoon 2
Genre: Third-person shooter
Price: $59.99/£49.99
What is it? A sequel that brings more multiplayer ink-splatting madness than the Wii U exclusive original and more Splatfests too.
Why should you buy it? If you missed out on the Wii U exclusive that was Splatoon, the sequel, suprisingly named Splatoon 2, is one of the Switch's best games. It again sees you teaming up with your fellow inklings – that's half squid, half human – to try and paint the most of the map your team's colour in the multiplayer. It's easy to pick up and play, and although it doesn't feel totally fresh anymore as it's a sequel, it's still a refreshing take on the traditional shooter. There's also a robust single-player Hero Mode and a new Horde-esque mode known as Salmon Rush that is dangerously addictive and devilishly difficult on the highest levels.
4. Mario + Rabbids: Kingdom Battle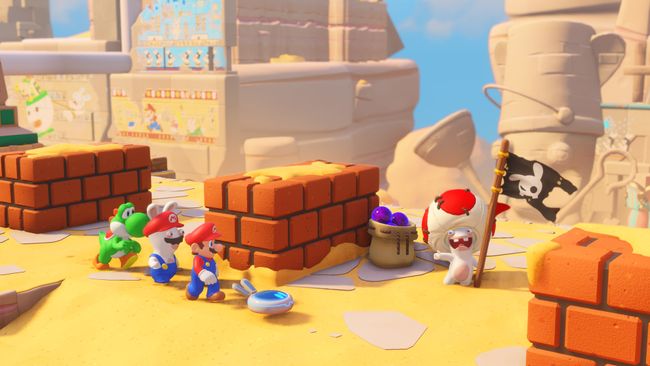 Genre: Strategy
Price: $59.99/£49.99
What is it? If you mix Super Mario with XCOM you basically get Mario + Rabbids, a strange strategy hybrid with tons of charm.
Why should you buy it? Don't be put off by the XCOM comment, Mario + Rabbids: Kingdom Battle is a strategy game that works incredibly well even if you're not a fan of strategy games. It features brilliant, polished game mechanics that are introduced in stages to let you get to grips with the game's surprisingly deep tactical gameplay. But it mixes that gameplay with real knowledge of the Super Mario universe and wraps it up in a level of detail and graphical quality that you can regularly mistake it for a Nintendo-made title. It's an absolute joy.

3. Mario Kart 8 Deluxe
Genre: Racing
Price: $59.99/£39.99
What is it? The best version of Mario Kart 8 money can buy.
Why should you buy it? Apart from the telling clue in the line above, the Nintendo experience isn't complete until you've enraged your closest friends by beating them at Mario Kart. It's a rite of passage on every Nintendo console. This immediate, relatable, pick-up-and-play fun is exactly what the Switch was created for. Up to eight people can locally, letting you pretend that you're in a Nintendo lifestyle advert, and it's a novelty that two people can play anywhere using a single console. But best of all, this is the ultimate version of an already amazing game, and perhaps the most clear and brilliant example of how great the Switch could be.
2. Super Mario Odyssey
Genre: Adventure
Price: $59.99/£49.99
What is it? Mario's biggest 3D adventure yet, taking him all over the globe for some hat-themed adventures.
Why should you buy it? If you're only buying two games for the Nintendo Switch, it has to be Zelda and it has to be Mario. Thanks to Mario's new friend Cappy, Super Mario Odyssey manages to successfully bring the series up to date by gifting Mario a ton of new moves. And by moving out of the Mushroom Kingdom, Mario feels fresh and new while still retaining every ounce of its nostalgia and retro charm - there are still ground pounds and green pipes don't worry. This is very much Mario as his best self so far, and his latest adventure looks absolutely beautiful on the Switch.
1. The Legend of Zelda: Breath of the Wild
Genre: Action RPG
Price: $59.99/£49.99
What is it? The latest entry in Nintendo's venerable fantasy franchise, which embraces its own history as often as it upends it
Why should you buy it? This is, perhaps more than anything, the biggest showpiece for what the Nintendo Switch can do. Breath of the Wild takes ideas originally introduced in the first Legend of Zelda game along with concepts expanded on by Skyrim and other modern open-world RPGs and Nintendoizes them, distilling them into purest parts, and polishes the hell out of them. It's a world of wonder, and for the first time what feels like ages, it actually lets you experience that wonder without beating you over the head with hours of tutorials and incessant text boxes re-explaining everything you already know. Playing it on the TV is a treat, but being able to lift the Switch from the dock and take a game of this size and scope wherever you want is a perfect summation of the Switch's potential.
Find out what's coming out in 2018 and beyond with our list of upcoming Nintendo Switch games!