20. Elder Scrolls 5: Skyrim
Genre: Platformer
Price: $59.99 / £49.99
What is it? A sprawling, decadent openworld RPG filled with dragons, magic, and a bloody civil war with you right at the centre.
Why should you buy it? Let's ignore the fact that in Skyrim Nintendo Switch you can fight dragons with your bare hands. Let's also ignore the stunning scenery that oozes character, whether it's the dismal, unnerving forest of Falkreath or the golden trees swaying near Riften. Don't pay attention to the grand total of 244 quests, or the DLCs included in the Switch edition that'll have you journeying to new lands. Instead focus on the motion controls. They're damn good, allowing you to raise a hand to your chest to block with a shield, or tilt the Joy-Cons to aim where you're firing a handful of fire. You can even pick locks with your bare hands now, for Talos' sake (as long as they're holding Joy-Cons, that is). While we wait for Elder Scrolls 6, Skyrim on the Switch will make you feel connected to Tamriel's world like never before, and is essential for any RPG lover.
19. Moonlighter
Genre: Action, Adventure
Price: $24.99 / £22.49
What is it? An adventure where you spend your days tending a shop, and nights fighting through various dungeons to free the town and find things to sell in said shop.
Why should you buy it? If you're looking for the best pixel graphics you've ever seen, you need to check out Moonlighter. This glorious game channels Stardew Valley with that "just one more day" gameplay loop, but instead of tending a farm you're part time dungeon crawler, part time shop keeper. During the day you're figuring out what price to set for each of your hard-earned items, trying to stop thieves from pinching your wares, and saving up enough dosh to rebuild the town. But by night, you're scavenging items to sell in your shop from the dungeons, and working your way towards beating the boss beast that lurks in each one, whilst trying to stay alive. It's addictive gameplay loop means that it's going to be one of those games that eats evenings for breakfast - sometimes literally - and carves a groove into your Switch library. You don't find many games like Moonlighter.
18. Hollow Knight
Genre: Platformer
Price: $15 / £10.99

What is it? An epic, platforming adventure with some of the most beautiful environments we've ever seen.

Why should you buy it? Some are suggesting that Hollow Knight is Dark Souls for beginning. A Dark Souls with stunning hand-painted aesthetics and a colour palette to make you cry, and a stunning orchestral sound track that you just want to bathe in. Now there's a Dark Souls I can get behind. In true Metroidvania style, you'll be exploring a labyrinth of underground areas each more distinct than the last, and all filled with strange creatures to fight, and bizarre bugs to befriend. (Yes, really.) As you progress you gain new abilities, grow in power and more devoted to uncovering all of Hollow Knight's secrets.
17. Captain Toad: Treasure Tracker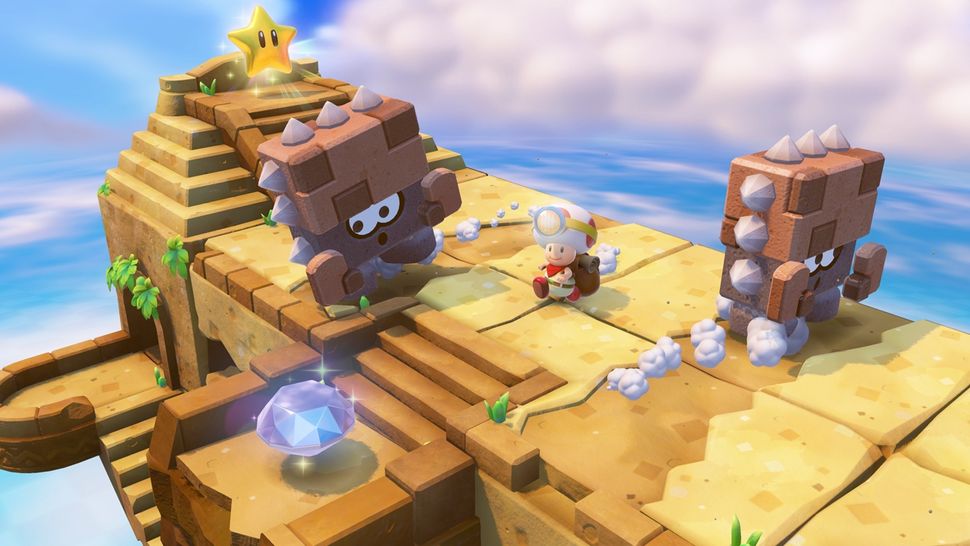 Genre: Openworld RPG
Price: $59.99 / £49.99
What is it? An excellent port of a Wii U exclusive with some brilliant new additions.
Why is it interesting? Aside from the fact you should buy this for the adorability factor of Toad and Toadette alone, it also happens that Captain Toad: Treasure Tracker is one of the best Wii U ports available on Switch. It's a fantastic puzzler where every level takes the form of an interactive puzzle box or diorama that you can traverse, poke, prod, pull, push and generally interact with to unlock its secrets and reach the end goal of the golden star. And each one is beautiful, intricate and just perplexing enough to leave you suitably impressed and a tiny bit chuffed when you finish it. Plus, there are additional challenges that you can go back and dive into too, making this little puzzler stretch further than you originally anticipate. Just wait until you see the new, Switch exclusive, levels based on Super Mario Odyssey. Being able to waddle through little box-shaped version of Odyssey's Sand, Metro, Cascade and Luncheon Kingdoms is sheer joy, and they are just as beautifully executed as the other levels available too.
16. Minecraft
Genre: Building simulation
Price: $29.99/£19.99
What is it? A beautifully blocky, open-world, creative sandbox for you to build, destroy, and mine anything you want.
Why should you buy it? Because even if you've played it before, Minecraft on Switch means ultra portable, buildable delight. You can sit down with a friend to play together on the local network, which is ridiculously simple to set up - just put one of their Joy-Cons on your Switch once your world is loaded up, press +, and hand it back to them. You can also play online if you're not eager to go exploring alone, or try out one of its mini-games: Battle (straightforwards PvP), Tumble (a race that involves shovels or snowballs), or Glide (get to the end of the course asap). A plethora of achievements makes for pleasantly directed playing as they give you something to aim for, but when it's comes down to it you never feel like you've quite beaten Minecraft even if you've been playing for tens of hours. It's an exercise in discovery and ambition, with structures that previously only existed in your wildest dreams suddenly viable - as long as you have the resources. Whether you're tenacious, easygoing, or just rabidly curious, think of Minecraft as a gracious host that will make you and anyone you choose to co-op with delirious with happiness. Either that, or you'll get your hands on some TNT and will make everything go bang. Which is also fun.
15. Octopath Traveler
Genre: JRPG
Price: $59.99 / £49.99
What is it? A modern turn-based Japanese RPG inspired by old-school graphics.
Why should you buy it? What Octopath Traveler really excels at is scale. Whereas any other game would put all of its focus onto a single protagonist, Square Enix's JRPG tells the story of eight - yes, eight - heroes, and all of their beautifully told stories are given the same gravitas, which is quite the feat. It's a wonderful collection of stories, told in a world that is inspired by JRPGs of old, particularly in terms of art style, and its combat is some of the best turned-based systems the JRPG world has to offer. If any of this intrigues you, then Octopath Traveler needs to be on your wishlist immediately. Or, preferably, under your thumbs.
14. Super Mario Maker 2
Genre: Action, Platformer
Price: $59.99 / £59.99
What is it? The game that lets you make your own Super Mario games
Why should you buy it? Basically three games in one, Super Mario Maker 2 is all about letting you mess about and infuse your imagination. You can play through the extensive story mode provided by the developers, or you can create your own Super Mario levels from scratch, using all the elements you know and love from the classic Ninty series. It's drag and drop stuff, incredibly straight forward to get to grips with, but offers enough complexity that you'll be discovering new combinations for years to come. And when your creative juices run dry? Check out the plethora of levels created by your fellow gamers. It's a game that gives you endless fun.
13. Stardew Valley
Genre: Simulation
Price: $14.99/£10.99
What is it? A cute, pixel-art farming simulator that has stolen the hearts of most of the GamesRadar+ office.
Why should you buy it? There's a reason Stardew Valley was one of the most highly anticipated titles coming to the Nintendo Switch. This adorable, simple life, farming simulator is the perfect game for taking advantage of the Switch's portability. Farming at home, farming on the go, farming wherever the heck you fancy farming. It's a fantastic game for whiling away the evenings with a spot of farming, mining, animal rearing, fishing and other super relaxed activites. Trust us, you'll soon be as immersed in the world of Stardew as we are.
12. Splatoon 2
Genre: Third-person shooter
Price: $59.99/£49.99
What is it? A sequel that brings more multiplayer ink-splatting madness than the Wii U exclusive original and more Splatfests too.
Why should you buy it? If you missed out on the Wii U exclusive that was Splatoon, the sequel, suprisingly named Splatoon 2, is one of the Switch's best games. It again sees you teaming up with your fellow inklings – that's half squid, half human – to try and paint the most of the map your team's colour in the multiplayer. It's easy to pick up and play, and although it doesn't feel totally fresh anymore as it's a sequel, it's still a refreshing take on the traditional shooter. There's also a robust single-player Hero Mode and a new Horde-esque mode known as Salmon Rush that is dangerously addictive and devilishly difficult on the highest levels.
11. Mario + Rabbids: Kingdom Battle
Genre: Strategy
Price: $59.99/£49.99
What is it? If you mix Super Mario with XCOM you basically get Mario + Rabbids, a strange strategy hybrid with tons of charm.
Why should you buy it? Don't be put off by the XCOM comment, Mario + Rabbids: Kingdom Battle is a strategy game that works incredibly well even if you're not a fan of strategy games. It features brilliant, polished game mechanics that are introduced in stages to let you get to grips with the game's surprisingly deep tactical gameplay. But it mixes that gameplay with real knowledge of the Super Mario universe and wraps it up in a level of detail and graphical quality that you can regularly mistake it for a Nintendo-made title. It's an absolute joy.

Click on to the next page for the top ten best Nintendo Switch games!