Netflix might wear the streaming crown, but its biggest competitor Amazon Video is hot on its heels. While it started as an offshoot of a bigger company, it's turned into a legit rival for 'Flix, with a movie selection that's just as enticing, if not better, than Netflix which is currently sinking billions into original content. Amazon's stack of movies is way more extensive and there are some genuine gems included... if you're willing to explore it, that is.
After combing through the dark, dusty parts of its catalog that no-one dares to explore (hey - those mockbusters won't watch themselves!) and soaking up all the most recent blockbusters, I've concocted an up-to-date list of the very best movies available on Amazon Prime Video. Comedies, action, classics, drama, horror and sci-fi are all included in the top 25 currently streaming. What are you waiting for?
25. A Most Violent Year (2014)
Region: US (UK - watch it on Netflix)
The film: AKA - the one where Jessica Chastain somehow wasn't nominated for an Oscar. Hot off the superb Margin Call J.C. Chandor delivers a dark and unyielding glimpse into the brutal inner workings of a NYC business in the early eighties. Oscar Isaac stars as an oil company owner urged by his wife to protect his livelihood and family whatever the cost.
Why it's worth watching: Chastain puffing on a cigarette, wagging her fingers at thugs for being "very disrespectful" in a New Yawk drawl.
Watch A Most Violent Year now on Amazon Prime Video
24. The Lego Movie (2014)
Region: UK
The film: Phil Lord and Chris Miller proved their worth by delivering one of the funniest, warmest and flat-out entertaining 'product' movies ever made. Who knew that a bunch of minifigs could tell such a moving story about individuality! Chris Pratt leads the vocal cast as Emmet, a construction guy who begins to question if they should always follow the instructions...
Why it's worth watching: Fun characters, terrific vocal work (it's no wonder Will Arnett landed his own spin-off for Lego Batman), and a neat little twist toward the end.
Watch The Lego Movie now on Amazon Prime Video
23. The Perks of Being a Wallflower (2012)
Region: UK
The film: Growing up is hard to do for anyone. Whether you're an outgoing jock or an introverted scribe, everyone goes through that same strife at high school. That's what Perks taps into - the universal experiences of teenagers on the cusp of adulthood. Written and directed by Stephen Chbosky, and based on his own novel, the movie is told through the eyes of Charlie (Logan Lerman), a shy kid befriended by a couple of free-spirits who teach him about life and music. Isn't that what life's all about when you're a teenager?
Why it's worth watching: A superb adaptation that handles the truth of Charlie's circumstance with care, thanks in large part to its main trio of leads, Lerman, Emma Watson and Ezra Miller.
Watch The Perks of Being a Wallflower now on Amazon Prime Video
22. Chef (2014)
Region: US (UK - watch it on Netflix)
The film: What do you do when your professional reputation goes up in flames thanks to a bad review? Simple: start an online flame war with the critic. That's what kicks off the journey of Carl Casper, a chef who quits his L.A. restaurant gig and heads back to his hometown of Miami to restart his career. Jon Favreau produces, writes, directs and stars, bringing plenty of heart and warmth to this foodie parable about rising up to embrace new things... that may involve a food truck.
Why it's worth watching: In the same way that watching Bake-Off is an addictive delight, Chef will have you either a) Googling where to find your nearest delicious, mouth-watering cuban sandwich or b) seriously considering opening a food truck and driving it cross country.
Watch Chef now on Amazon Prime Video
21. Red Eye (2005)
Region: UK
The film: An early role for Rachel McAdams finds her character, a hotel manager, flying back home for her grandmother's funeral. At 30,000ft on the red eye, she discovers she's seated next to the dreamy guy she saw at check-in. Alas, Cillian Murphy's suave moves quickly fade to reveal he's a seriously unhinged passenger. It's your worst travel nightmare come true.
Why it's worth watching: It's one of Wes Craven's most underrated films, that didn't score oodles of critical raves at time of release yet it's stood the test of time. Excellent creepy scares that emanate mostly from Murphy.
Watch Red Eye now on Amazon Prime Video
20. The Hateful Eight (2015)
Region: UK
The film: If you've ever wondered what it'd be like to see a Tarantino play, now's your chance - all from the comfort of your couch! The Hateful Eight burns long (it's three hours) and this tale of a bunch of strangers in a snowy shack burns slow. It also skates over the gimmicky elements of Tarantino's earlier works, choosing to settle on character and story instead of fancy narrative jumparounds.
Why it's worth watching: Oh, the cast, undoubtedly. Kurt Russell and Jennifer Jason Leigh make for a strangely compelling pair, and you'll be amazed at how many tricks Tarantino has up his sleeve.
Watch The Hateful Eight now on Amazon Prime Video
19. Captain Fantastic (2016)
Region: US
The film: After shunning the evils of modern living, Viggo Mortensen, his wife and their brood of six children turn to a life in nature. Yep, they can all whittle wood and recite Shakespeare. Unfortunately, not everyone sees it as a blessing. Particularly, Mortensen's father-in-law, who makes life difficult when the family have to return to civilisation.
Why it's worth watching: It's a blast to watch the children react and respond to contemporary culture - and that includes first kisses. Aw!
Watch Captain Fantastic now on Amazon Prime Video
18. Arrival (2016)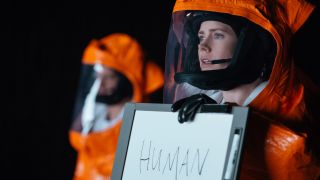 Region: UK
The film: The best sci-fi film of recent years, Arrival begins with a familiar premise: aliens have arrived in unusual ships hovering above Earth and we need to make contact. As opposed to the gung-ho machismo of Independence Day, the plan here is to send in linguists to communicate with them. Amy Adams and Jeremy Renner play the two scientists whose own backstory becomes enmeshed with that of the visitors.
Why it's worth watching: The big draw is that you won't expect the plot to go where it does, but the biggest pull of all is Amy Adams' performance. It's astonishing that she was snubbed at the Oscars.
Watch Arrival now on Amazon Prime Video
17. Mr Holmes (2015)
Region: US
The film: Sherlock Holmes (Ian McKellen) is in the autumn of his life, having retired to the coast to live out the rest of his days drama-free. One thing continues to nag him - the specifics of his last case. Luckily, his housekeeper's eager son helps him to recall what truly took place, allowing him to embark on one final investigation.
Why it's worth watching: It's a terrific twist on the typical Sherlock Holmes adaptations we've seen before. Whereas he's normally a young, buff raring-to-go type, he's anything but here, having to rely on his sharp wits instead.
Watch Mr Holmes now on Amazon Prime Video
16. What We Do In The Shadows (2014)
Region: US (UK - watch it on Netflix)
The film: Ever wondered what it might really be like as a vampire? Taiki Waititi and Jermaine Clement's mockumentary has you covered. Forget your moping twinkly-skinned bloodsuckers. This bunch are as normal as they come. Well sort of. While paying rent is one of their biggest dilemmas, steering clear of sunlight is their chief concern which makes adapting to modern life a tad tricky.
Why it's worth watching: There's no other film about vamps that takes this much joy in riffing on the mythology; the cast is just dynamite.