The best movies on Amazon Prime Video can be hard to narrow down. There are so many films on the streamer, spanning genres from comedy to horror and everything in between, so it can be hard to choose which title to press play on when your next movie night rolls around.
But that's where we come in. We've narrowed down the platform's offerings to the 30 best movies on Amazon Prime Video, including new releases like Nike drama Air, starring Ben Affleck and Viola Davis, and other recent titles like coming-of-ager Licorice Pizza and documentary Good Night Oppy. There are also comedies like Borat 2, Oscar winners like Manchester by the Sea, and horror flicks like Luca Guadagnino's Suspiria remake. So, grab your popcorn, kick back, and get adding to your watch list.
The best movies on Amazon Prime right now
Air
Ben Affleck is back in the director's chair with Air, which tells the real-life story of the deal between Nike and basketball superstar Michael Jordan. It concentrates on the days before he was a household name, which led to the creation of Air Jordans, one of the brand's most iconic shoes. As well as directing, Affleck also plays Nike co-founder Phil Knight, and the movie features a host of other big names including Matt Damon, Jason Bateman, Viola Davis, and Marlon Wayans.
Catherine Called Birdy
Lena Dunham, the brains behind hit drama Girls, is back in the director's chair for something a little different – a medieval coming-of-age comedy. The Last of Us star Bella Ramsey plays 14-year-old Lady Catherine – except she prefers to go by 'Birdy', and she'll go to any means necessary to avoid the unsuitable suitors her father (Andrew Scott) has lined up for her. Based on the '90s novel by Karen Cushman, Joe Alwyn and Billie Piper also star in this charming historical caper.
Nanny
Nanny follows Aisha (Anna Diop), an undocumented immigrant from Senegal living in New York City and nannying for a wealthy family while she tries to raise enough money to bring her own child over to the US to join her. However, Aisha is hiding a dark secret that threatens to ruin her newfound American life. The movie, from first-time director Nikyatu Jusu, won the top award at Sundance Film Festival in 2022, making it the first horror movie to win the Grand Jury Prize.
I Want You Back
In rom-com I Want You Back, Charlie Day and Jenny Slate star as Peter and Emma, two 30-somethings who are dumped by their respective partners (played by Gina Rodriguez and Scott Eastwood) and are terrified that they've missed their shot at living happily ever after – especially when they learn that their partners have already moved on. So, they do what any normal, well-adjusted person would do and hatch a desperate plan to put an end to their exes' new relationships and win them back.
Selah and the Spades
Set at an elite Pennsylvania boarding school, Selah and the Spades is a Heathers-esque high school drama centering around Selah (Lovie Simone), the leader of dominant clique the Spades. On the verge of graduating, Selah needs to find someone to replace her as queen bee, and she finds a candidate in Paloma (Ghostbusters: Afterlife's Celeste O'Connor). However, it turns out that Celeste learns a little too well, and Selah soon starts to fear for her own place in the school hierarchy. Moonlight's Jharrel Jerome also stars.
Argentina, 1985
Set in – and you won't see this coming – Argentina in the mid-80s, Argentina, 1985 follows the Trial of the Juntas, in which members of the military government that ruled the country under the dictatorship of the National Reorganization Process between 1976 and 1983 were tried for the human rights abuses suffered during their ruling. The movie focuses on the prosecution team during their investigation and the trial itself, and it won the Golden Globe for Best Foreign Language Film at the 2023 ceremony.
Licorice Pizza
Directed by Paul Thomas Anderson, the coming-of-age drama stars a 15-year-old actor Gary Valentine (Cooper Hoffman) who falls hopelessly in love with an early-20s photographer's assistant named Alana Kane (Alana Haim). The HAIM sisters also make a cameo, as well as Tom Waits, George DiCaprio, and Bradley Cooper – who plays Jon Peters, a real-life American movie producer known for Batman (1989) and Barbra Streisand's remake of A Star Is Born. The film earned three Academy Award nominations including Best Picture, Best Director, and Best Original Screenplay.
Good Night Oppy
Documentary Good Night Oppy tells the story of the Mars rover Opportunity – nicknamed Oppy. When it was launched in 2003, it was expected to operate for only 90 solar days (each lasting just over 24 hours). However, the remarkable rover explored Mars for nearly 15 years, searching the landscape for signs of water and recording unprecedented scientific discoveries. Documentary maker Ryan White is behind the camera and is also known for his direction of acclaimed docs like Assassins, Ask Dr. Ruth, and The Case Against 8. His moving and heartfelt movie interviews engineers who were involved in the project and is narrated by Angela Bassett.
The Tender Bar
After his striking performances in The Way Back and The Last Duel, Ben Affleck's career Benaissance continues with this likeable, George Clooney-directed adaptation of J.R. Moehringer's 2005 memoir about growing up in Long Island in the '70s and '80s.
J.R., played wonderfully as a child by newbie Daniel Ranieri and later, less effectively, by Tye Sheridan, is a boy lacking both a name and a father, his deadbeat DJ dad (Max Martini) having long since flown the coop. But after his mother (Lily Rabe) reluctantly moves back in with his grumpy grandpa (Christopher Lloyd), J.R. finds the perfect replacement in her brother Charlie (Affleck), a straight-talking, straight-shooting mentor as willing to offer words of wisdom as he is to pour drinks.
The Tender Bar's subject is J.R.'s coming of age, showing how, through various adolescent experiences and a stop-start Yale romance with the rich and feckless Sidney (Briana Middleton), he came to find his authorial voice. Its theme, though, is fathers both real and surrogate, with J.R. eventually realising that you can't beat an uncle who tends his own bar.
Being the Ricardos
Lucille Ball is one of the most important women – if not the most important woman – in American television history. Ball created and starred in iconic sitcom I Love Lucy with husband Desi Arnaz before becoming the first female head of a major Hollywood studio. Aaron Sorkin's Being The Ricardos takes on the legend herself, with Nicole Kidman playing her, and Javier Bardem as partner Desi Arnaz. Nominated for a whole bunch of awards, this one's not one to miss.
Everybody's Talking About Jamie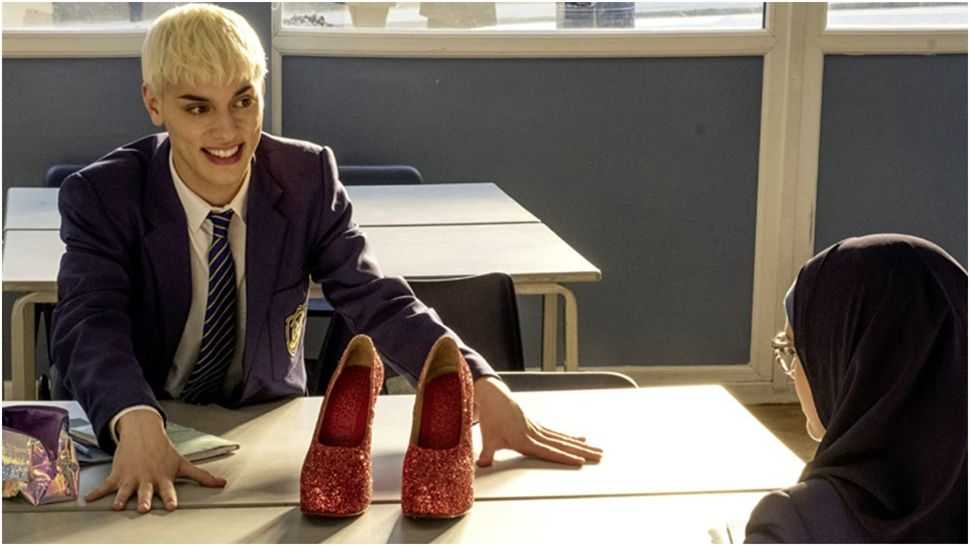 An adaptation of the hit West End show of the same name, and based on a true story, Everybody's Talking About Jamie focuses on the titular Jamie New (Max Harwood), a student with dreams of becoming a drag queen – and who plans on attending prom in drag, despite opposition from his school. He's helped along the way by his mentor Hugo, AKA Loco Chanel (Richard E. Grant), best friend Pritti (Lauren Patel), and loving mother Margaret (Sarah Lancashire).
Sound of Metal
The feature directorial debut from Darius Marder (an established doc-maker), Sound of Metal is about a drummer, Ruben Stone (Riz Ahmed), whose life is upended when he suddenly develops drastic hearing loss. Ruben's on the road with bandmate and partner Lou (Ready Player One's Olivia Cooke) when the condition takes such a severe turn that he has no choice but to seek medical help. He winds up checking in to a home for deaf addicts that's run by Joe (Paul Raci), a former veteran who helps his charges get to grips with their new way of living.
Infusing a vérité tone with poetry, Marder is a talent to watch. As Sound of Metal builds to its somewhat surprising third act, the cumulative effect is powerful and profound. And despite its tight focus and subtle character work, it absolutely rewards being seen on the biggest screen possible and with the best sound system, where its experiential sound design can deliver its fullest effect. A small film that hits big, Sound of Metal is a gem you'll want to bang the drum for.
One Night in Miami
Taking its lead from the Peter Morgan school of speculative bio-fiction, Kemp Powers' play-turned-film imagines what was said on the night activist Malcolm X (played by Kingsley Ben-Adir), singer Sam Cooke (Leslie Odom Jr.) and NFL star Jim Brown (Aldis Hodge) met in a hotel room with Cassius Clay (Eli Goree) to celebrate the latter becoming heavyweight boxing champion of the world.
It's a dazzling, once-in-a-lifetime gathering of Black icons – though neither Powers nor director Regina King are content just to bask in their reflected glory. Instead, they set them in thrilling opposition, with Malcolm's insistence they use their celebrity for the greater good of their race acting as the touch-paper for passionate, provocative and sometimes incendiary debate. The shifting power dynamics that ensue require our full attention, as well as an acceptance the action will rarely venture outside Malcolm's claustrophobic motel suite.
Sylvie's Love
"Life's too short to waste time on things you don't absolutely love," says Nnamdi Asomugha's saxophonist to Tessa Thompson's wannabe TV producer in Eugene Ashe's second feature, itself a love-letter to classic Hollywood romances.
Despite the unpromising title, this is certainly no time-waster – the two leads share a magnetic chemistry that overcomes the sometimes schematic plotting, with Declan Quinn's handsome cinematography and a pitch-perfect soundtrack casting an irresistible spell. Submit to its soft-centred charms and it might just sweep you off
your feet.
Uncle Frank
Starring WandaVision's Paul Bettany and It's Sophia Lillis, Uncle Frank is a road movie about a man confronting his past. Set in 1973, Frank (Bettany) and his niece Beth (Lillis) are set to take a road trip from New York City to South Carolina for a family funeral when they're unexpectedly joined by Frank's lover Wally (Peter Macdissi). It's directed by Alan Ball, who wrote the Oscar-winning screenplay for American Beauty and created the TV shows Six Feet Under and True Blood.
Borat Subsequent Moviefilm
"Very niiiiiice!" If you didn't say that in the voice of Khazakstan's most famous news reporter Borat, then this one may not be for you. Sacha Baron Coan returns as the eponymous Borat to cause more mischieve in America. This time, he's joined by his daughter, played by Maria Bakalova, who frankly steals the show. The cojones on these two performers to do some of the stuff they do...
The movie starts with Borat attempting to make peace with America by offering Kazakstan's head of culture, a monkey named Jimmy, as a gift to Vice President Mike Pense. The monkey gets eaten en-route, and Borat improvises by offering his daughter to Pense. Yes, it gets worse – so much worse – from there.
Suspiria
Suspiria doesn't so much nail the Bechdel test as set fire to it and then do a naked victory dance around the flames. This is a film entirely about women and their bodies and their relationships – but that's not why you should get streaming this immediately.
You should see Suspiria because it's one of the most shocking horror movies in recent memory. Every second is calibrated to keep you rigid with suspense, tugging you further and further into its world of dance and the occult so skillfully that you reach the spectacular climax in what feels like mere minutes, despite the two hours and 30 minutes running time. Dakota Johnson and Tilda Swinton are excellent in this timely remake.
The Big Sick
Silicon Valley's Kumail Nanjiani writes and stars in this comedy based on his own marriage. The trials of cross-cultural romance come under scrutiny as stand-up comic Kumail falls for an American student at one of his shows. Not exactly the life his Muslim parents had in mind for him, but that's the least of his concerns; shortly after they start dating, Emily falls into a coma, leaving Kumail to have to deal with her parents.
Billed as a traditional romantic comedy, The Big Sick has a lot more heart and edge than the posters and trailers would have you believe. The chemistry between Nanjiani and Holly Hunter and Ray Romano - as Emily's parents - provides most of the real grit. Realistic, and proof that there is still a lot of originality left in the genre, The Big Sick is one of the best movies on Amazon Prime Video.
Honey Boy
Written by Shia LaBeouf himself, Honey Boy tackles the actors own relationship with his father and growing up in the spotlight. Directed by Alma Har'el in her narrative feature debut, the movie stars LaBeouf as his own father, Lucas Hedges, Noah Jupe, and FKA Twigs. It's a heart-wrenching exploration of forgiveness, as LaBeouf wrote the script as a form of therapy whilst in rehab. At a tight 90 minutes, it's well worth your time this weekend to watch this moving portrayal of adolescence and a career-making performance from, well, everyone.
My Fake Boyfriend
Arrowverse alum Keiynan Lonsdale leads this super sweet romantic comedy about a young gay guy who's hopelessly unlucky in love. To try and encourage him from getting back with his toxic ex for the umpteenth time, his best friends (The Suite Life of Zack and Cody's Dylan Sprouse and Modern Family's Sarah Hyland) force Cristiano on him, a fake social media boyfriend. But things soon spiral out of control when Andrew meets the real-life man of his dreams and the internet falls in love with his "relationship" with Cristiano.
Brittany Runs a Marathon
Showcasing a breakout turn from Jillian Bell (Eastbound & Down, 22 Jump Street), this Sundance award-winner from playwright-turned-director Paul Downs Colaizzo ploughs a familiar furrow with honesty, hilarity, and heart. Inspired by a friend who made her own journey from couch potato to long-distance runner, Colaizzo's film surrounds its hero, played by Bell, with an amusing selection of characters that range from a vacuous Instagram wannabe (Alice Lee) to new bestie Seth (Micah Stock). In the end, it's Bell who makes Brittany a ringing success.
The Report
Tasked by Senator Dianne Feinstein (a coolly commanding Annette Bening) with leaving no stone unturned, Senate staffer Daniel Jones – infused here with simmering indignation by a driven Adam Driver – systematically details the brutalities inflicted on all of the Agency's 119 detainees. Having assembled his torture dossier, though, Jones faces another uphill struggle to get it published. As Matthew Rhys' reporter ruefully observes, "they sent you off to build a boat they had no intention of sailing."
As vessels go, The Report is one so overloaded with names, dates, flashbacks, and acronyms it's a wonder it stays afloat. That it does should be attributed not just to the dogged conviction Driver exudes as its righteous hero but also to the film's unshakeable belief that the ugly truth will ultimately out. Burns' film is not an easy watch, not least when it depicts what took place in Langley's infamous "black sites". Like the harrowing data that inspired it, though, it defies redaction.
Beautiful Boy
Steve Carell plays David Sheff, a newspaper writer whose son, portrayed by Timothée Chalamet, disappears for two days. Upon his return, there are obvious signs of drug use, and Chalamet's Nic is taken to rehab. What follows is a heartbreaking story of a father-son bond that struggles as Nic relapses and goes in and out of medical facilities. With two powerhouse performances at its centre, Beautiful Boy showcases what these actors are capable of.
Manchester by the Sea
Boston janitor Lee (Casey Affleck) returns to the titular town in Massachusetts when his older brother Joe (Kyle Chandler) dies of a heart attack. A morose, taciturn loner given to communicating with his fists after too many beers, Lee is horrified to find that he has been named legal guardian of his teenage nephew Patrick (Lucas Hedges), whose ties to Manchester-by-the-Sea – hockey team, rock band, two girlfriends – mean Lee will need to stick around his hometown for a good while to come.
Under grey skies clogged with pellets of snow, the drama inches along, with flashbacks revealing that Lee was once married to Randi (Michelle Williams), who still lives in the area. True, withholding the source of Lee's emotional shutdown for a late reveal is something you expect from a thriller rather than a sombre character study. But such is the authenticity on display elsewhere, it doesn't feel schematic. If it's thrills or cheer you're after, you're in the wrong place. Yet Manchester by the Sea offers its own particular joys, going places that few movies dare to consider these days.
Guava Island
Hiro Murai (Atlanta) makes his directorial debut with this beautiful, musical tale from Donald Glover. The Lando Calrissian actor portrays Demi, a man who wants to hold a great musical festival but is mugged in the run-up to the event. Glover's joined by Rihanna, who plays his musical inspiration and partner, and Letitia Wright. At just 56 minutes, Guava Island is a brisk sun-kissed slice of escapism.
Peterloo
Mike Leigh's grandest movie to date, Peterloo tells of the build-up to the horrendous Peterloo massacre in Manchester, UK. As with many of the director's films, this one's filled with righteous fury – anger that echoes today as much as it did in the early 1800s. It's an energising, difficult watch that occasionally leans too hard into the message. However, make your way through the 154-minute runtime, and you'll feel greatly rewarded.
The Vast of Night
Now for something a little different. The Vast of Night is an obscure '50s set science-fiction flick that centres on a DJ and switchboard operator who discover a strange radio frequency – one caused by extraterrestrial beings. We won't say anything more, for the mystery is half the fun. The other half is the eery atmosphere and brilliant central performances from Sierra McCormick and Jake Horowitz. There's also a fantastic tracking shot that has put director Andrew Patterson on the map.
21 Bridges
Chadwick Boseman stars as Andre Davis, an NYPD detective known for hunting down cop killers. His speciality proves unfortunately handy when two robbers (Stephan James, Taylor Kitsch) raid a high-end wine store that's actually a front for a massive drug-dealing operation. In the back room is 300 kilos of cocaine – far more than these two chancers were expecting. Before they know it, cops are everywhere, but Kitsch's expert gunman shoots his way out, slaughtering eight boys in blue.
The narrative gusto of the cops tightening a cordon around their suspects provides excitement and there's some zingy, slang-heavy dialogue from Adam Mervis and Matthew Michael Carnahan (brother to director Joe). The corruption-filled final act helps elevate the film from being just another American cop movie.
Chi-Raq
Spike Lee doesn't do subtle, but then he's hardly cracking nuts. Chi-Raq, set in Englewood, Chicago, is a state-of-the-union address on America's hot issues of gangs and guns. Full of righteous anger packaged in signature swagger, it's as purposeful and provocative as any Spike Lee joint.
Updating Greek play Lysistrata to the windy city (where more Americans have been killed in the last 15 years than in the Iraq and Afghanistan conflicts combined), Chi-Raq sees rival gangs the Spartans and Trojans trading bullets. With no end in sight, Lysistrata (a terrific Teyonah Parris), the girlfriend of the Spartans' leader, persuades womenfolk on both sides of the divide to take control of the situation. "No peace, no pussy," goes their slogan, with the ladies modelling bling-tastic chastity belts until all weapons are discarded.
With its rhyming couplets, bursts of rap, swathes of broad humour, rampant machismo and a garishly suited Samuel L. Jackson serving as a one-man Greek chorus, this throbs with the kind of passion and (people) politics that so energised Do the Right Thing.
The Aeronauts
Felicity Jones plays the fictional balloonist Amelia Wren in The Aeronauts, co-starring Eddie Redmayne, who appears as scientist James Glaisher. Interestingly, the character of Amelia is a fictional character based loosely on elements of Amelia Earhart's life, whereas Glaisher was indeed a real man. While this movie Tom Harper may play loosely with history, it's a high-thrills adventure up into the skies that's captivating and heart-pounding.