Forget Netflix, this countdown is all about the absolute best movies on Amazon Prime Video. Out of the many, MANY streaming services that rival the 'flix, this is the only one that a) started out life as a place to purchase books, b) where you can also order loo roll, and c) has an equally crackin' selection of films to watch. In fact, its catalogue is so huge, it can be be tricky figuring out which of the best movies on Amazon Prime Video to watch first.
Lucky for you, I've sauntered into the depths of the Video vaults and wandered far into its murky sub-sub-genres (Lavalantula, anyone?) to bring you this carefully-crafted list of the 25 best movies on Amazon Prime. I've thrown in a solid mix of horror, comedy, action, drama, so there's something here for everyone. It's time to get streaming... just don't tell Netflix!
25. The Faculty (1999)
Region: UK
The movie: A cast of then up-and-comers sells the traditional teen movie tropes; good-looking bitch, dumb jock, quirky rebel, goth gay girl, and subverts them as they gang together in figuring out what the hell is happening to their teachers. It starts as it means to go on; with an unsettling opening sequence that drips with blood and some creepy-as-hell performances from its A-list faculty cast. Watch for a huge homage to The Thing's blood test scene.
Why it's worth a watch: Post-Scream, screenwriter Kevin Williamson turned his clever pen to another genre: science fiction. The Faculty is a loose remake of Invasion of the Bodysnatchers, and yet, manages to throw in its own twists to the lore along the way.
24. Bridesmaids (2011)
Region: UK
The movie: Paul Feig enlists a stellar cast to tell the story of modern female friendship at that most trying of times: the pre-wedding hoopla. Kristen Wiig plays Annie, a down-on-her-luck thirtysomething who's asked by her best friend Lilian (Maya Rudolph) to be her Maid of Honor. Roping in the rest of Lilian's pals as bridesmaids, the group's bonding sessions don't go exactly to plan. Well, it wouldn't be such a riot if it all went smoothly, would it?
Why it's worth a watch: Arriving at a point when R-rated comedies were the domain of all-male leading casts, Bridesmaids gave a bunch of the funniest actresses around a chance to cut loose in those same debauched ways. Rose Byrne's turn as the bitchy Helen is an underrated highlight.
23. Man Up (2015)
Region: UK
The movie: With rom-coms, you already know the story; boy meets girl, they fall in love, there's a 'hilarious' misunderstanding, and after sorting it out, they live happily after after. Thankfully Man Up avoids all the expected trappings, and ventures into new terrain. Simon Pegg and Lake Bell play two singletons who embark on an evening of R-rated shenanigans after he mistakes her for his blind date.
Why it's worth a watch: While the 'meet cute' is still there - oh no, she's NOT his blind date, it doesn't feel cloying or frustrating. A large part of that is down to Tess Morris's script, which renews the romantic comedy format, giving Bell and Pegg fleshed-out characters and plenty of genuinely funny one-liners.
22. Mission: Impossible - Ghost Protocol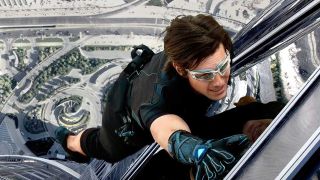 Region: UK
The movie: Even the best franchises need a breather. Ghost Protocol is the fourth in the Mission: Impossible series, following a 5-year break, presumably during which Tom Cruise spent time figuring out how to best give the studio palpitations. Yep, Ethan Hunt returns to scale heights and throw caution to the wind - typically at the same time - with his IMF crew in tow. This time the gang are in hot water when framed for blowing up the Kremlin.
Why it's worth a watch: Let's get this out of the way now - no-one watches the Mission: Impossible series for its strict adherence to reality. No. We watch for the bombastic stunts and seemingly, ahem, impossible feats of action bravura. Cruise and co. blow the entire franchise wide open by cranking things up to 11 and re-establishing the series as arguably the best ongoing action franchise.
21. Falling Down (1992)
Region: UK
The movie: A '90s Joel Schumacher movie with a seriously-flawed hero that doesn't wear a nipple suit? Falling Down isn't a superhero flick per se, but its main character thinks he's in one. Michael Douglas plays the part of William Foster, a disgruntled L.A. commuter whose life is in tatters. Divorced, unemployed, and with a restraining order preventing him from seeing his daughter, he finally snaps when his air conditioning fails during a horrific day in gridlock. Abandoning his vehicle, determined to make his way to his daughter's birthday party on foot, he experiences the city without a care or any self-restraint.
Why it's worth a watch: More relevant now than ever, watching Douglas lose his marbles at a world that won't bend to his will remains impactful. It could be released today, and pack the same punch.
20. Logan Lucky (2017)
Region: UK, US
The movie: With the Ocean's trilogy Steven Soderbergh established that he's got the skills to pull off numerous heist movies. Logan Lucky finds him in similar territory, albeit with a polar opposite cast of characters, led by Channing Tatum and Adam Driver as brothers Jimmy and Clyde Logan. Hardly the brightest of the bunch, the pair make a desperate grab for a better life by plotting to rob the Charlotte Motor Speedway.
Why it's worth a watch: The script, from newcomer Rebecca Blunt, could easily have been worked over by the Coens and moulded into their quirky oeuvre, yet instead Soderbergh keeps things simple. It's an entertaining action comedy from start to finish, proving yet again that Tatum and Driver are equally as riveting when playing dolts as they are playing brooding leading men.
19. Election (1999)
Region: US
The movie: Some of the best teen movies ever made came out in the '90s, and yet Election isn't quite your standard teen flick. Is it frivolous? Does it deal with sex, drugs, and rock 'n' roll? Is it set in a high school? All of this is part of the fabric of Election, that focuses on the ambitions of Enid Flick (Reese Witherspoon), a go-getter who will steamroll anyone that threatens her bid for class president. That includes Jim McAllister (Matthew Broderick), a social studies teacher whose irritation with Enid's power kick becomes his downfall.
Why it's worth a watch: It's unlike any other high school movie. McAllister isn't your typical teen movie teacher; he's not cheering for the ambitious girl, he wants Enid to fail. Likewise, Enid's smugness is neither flattering nor admirable. With characters that are hard to categorise - are they "good" or "bad"? - Election's twists and turns continue to surprise right until the end. My favourite part? Tracy's opponent, Paul Metzler's younger sister Tammy, and her attempt to overthrow the whole thing.
18. Arrival (2016)
Region: UK, US
The movie: The best sci-fi movie in recent years, Arrival begins with a familiar premise: aliens have arrived in unusual ships hovering above Earth and we need to make contact. As opposed to the gung-ho machismo of Independence Day, the plan here is to send in linguists to communicate with them. Amy Adams and Jeremy Renner play the two scientists whose own backstory becomes enmeshed with that of the visitors.
Why it's worth watching: The big draw is that you won't expect the plot to go where it does, but the biggest pull of all is Amy Adams' performance. It's astonishing that she was snubbed at the Oscars.
17. Mr Holmes (2015)
Region: US
The movie: Sherlock Holmes (Ian McKellen) is in the autumn of his life, having retired to the coast to live out the rest of his days drama-free. One thing continues to nag him - the specifics of his last case. Luckily, his housekeeper's eager son helps him to recall what truly took place, allowing him to embark on one final investigation.
Why it's worth watching: It's a terrific twist on the typical Sherlock Holmes adaptations we've seen before. Whereas he's normally a young, buff raring-to-go type, he's anything but here, having to rely on his sharp wits instead.
16. What We Do in the Shadows (2014)
Region: US
The movie: Ever wondered what it might really be like as a vampire? Taika Waititi and Jermaine Clement's mockumentary has you covered. Forget your moping twinkly-skinned bloodsuckers. This bunch are as normal as they come. Well sort of. While paying rent is one of their biggest dilemmas, steering clear of sunlight is their chief concern which makes adapting to modern life a tad tricky.
Why it's worth watching: There's no other film about vamps that takes this much joy in riffing on the mythology; the cast is just dynamite.
Continue to Page 2 for more of the best movies on Amazon Prime Video