The Evolution of Emily Blunt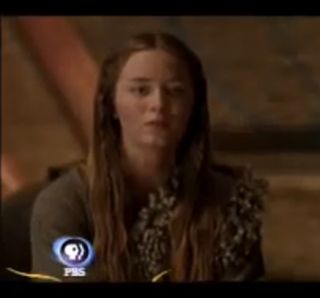 Boudica (2003)
The delightful Miss Blunt first stepped in front of a camera for this biopic of the legendary warrior. Emily wasn't in the lead role, though. That one went to Alex Kingston of Moll Flanders and ER fame.

Written by period drama go-to guy Andrew Davies, the film didn't quite escape the TV feel, but was a good opportunity for the young actress to show off her talents (and a decent singing voice) as Isolda. It also gave her experience of the historical epic, which would prove valuable for her future career.

Putting it bluntly: More TV than big screen.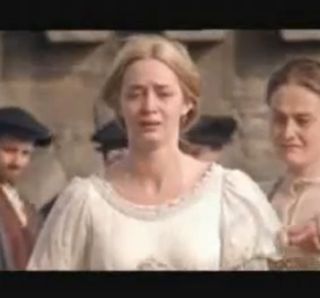 Henry VIII (2003)
Emily got her first chance to don some exquisite period garb in this telly tale with Ray Winstone in the title role. She played Catherine Howard, Henry's ( checks history textbook... ) fifth wife.

This TV two-parter proved that Blunt could still make an impression when dropped in amongst some pretty formidable talent: Helena Bonham Carter, Mark Strong and Sean Bean all brought cred to the piece, which was written by Peter Frost/Nixon Morgan.

Putting it bluntly: Earning her 'quality TV' stripes and getting another history lesson.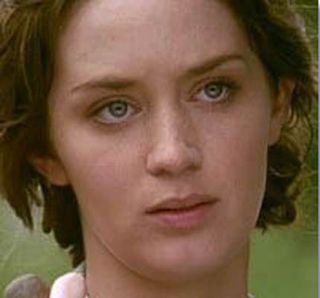 Foyle's War (2003)
Emily bagged another role in a telly drama, but she only appeared in the one episode: 'War Games.'
Foyle's War follows a detective working in Hastings during World War 2. The show is the brainchild of Anthony 'Stormbreaker' Horowitz, and it recently started airing its seventh series.
Emily played Lucy Markham, a young lass who is struggling to maintain the family farm. Her role was pretty small though; Foyle evidently had bigger fish to fry that week.

Putting it bluntly: Emily doesn't stick in the mind long after this brief appearance.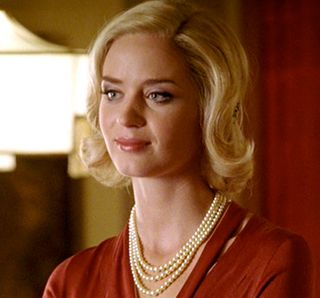 Agatha Christie: Poirot (2004)
Emily was seemingly trying to corner the market in British TV period dramas when she took on this adaptation of AC's 'Death on the Nile'. She played an heiress, who is seemingly being stalked by her fiance's nutty ex.

Blunt pairs a blonde Marilyn Monroe do with an American accent, showing that even when sticking to Brit period pieces, she's still got range.

If you preferred Peter Ustinov as the Belgian 'tec, stick with the star-studded 1974 film.

Putting it bluntly: A nice change of pace in this lavish TV effort.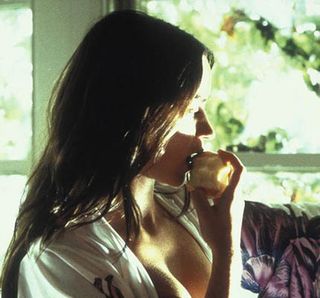 My Summer of Love (2004)
This atmospheric Brit-flick really got Emily noticed (and not just for the girl-on-girl love scenes). She played spoilt rich girl Tamsin, whose developing relationship with Mona (Nathalie Press) affects the Yorkshire community, particularly Mona's brother (Paddy Considine).

Blunt and Press both deliver top performances in this moody, erotic drama, and the cinematography makes Yorkshire seem unreal, beautiful, and eerie.

Putting it bluntly: Emily proved what she could do with the right material. Seductive, damaged, dangerous.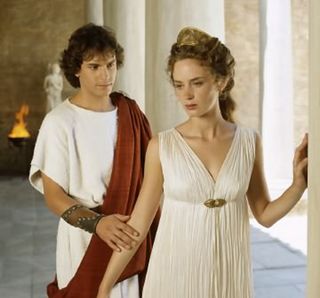 Empire (2005)
Emily donned fetching historical robes once again for this Roman TV drama. Empire charted the fortunes of Mark Antony in his power struggle against Octavius following the death of Julius Caesar.

Blunt doesn't have a huge amount to do in this Gladiator -lite romp, as it focuses primarily on the blokes involved. Authentic locations add a little credibility to an otherwise flimsy production.

Putting it bluntly: Stick with your Rome boxset instead.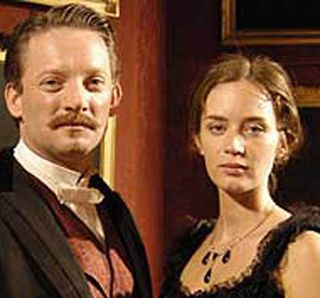 The Strange Case of Sherlock Holmes & Arthur Conan Doyle (2005)
Not an ultra-meta investigation by the super-sleuth into his author, instead this was a TV biopic charting Sir Arthur's creation of his famous literary investigator.
Our Emily turns up as Jean Leckie, who Conan Doyle falls for while his wife is on her deathbed. Bastard.

Putting it bluntly: If we needed an excuse for artistic self-torture, we could definitely do a lot worse than falling for the hot redhead.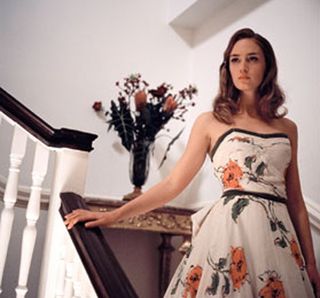 Gideon's Daughter (2005)
Gideon (Bill Nighy) is a PR guru forced to reassess his life when his daughter (Blunt) threatens to leave it.
Steven Poliakoff's personal and political (Princess Di, New Labour) TV movie punches above its weight with help from the quality cast: Nighy and Blunt, plus Miranda Richardson, and an early turn from Tom Hardy.
It's a credit to Blunt that she makes Natasha sympathetic, rather than just a pouting teen, and she bagged a Golden Globe for her troubles.

Putting it bluntly: Top contemporary telly.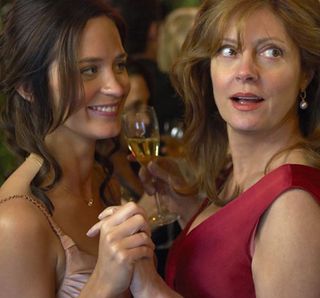 Irresistible (2006)
Emily Blunt comes between married couple Sam Neill and Susan Sarandon in this pedestrian thriller. Is Sarandon going nuts, or is Blunt's Mara really trying to worm her way into the family?

In fairness, you'd be bound to worry if your husband started working with Emily.

While hardly ground-breaking stuff, Blunt once again proves that she can do sinister as well as she does charming, even while sporting an American accent.

Putting it bluntly: Emily adds a frisson of interest to a forgettable drama.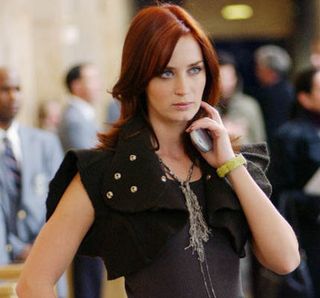 The Devil Wears Prada (2006)
Emily's biggest hit-to-date. This fashion mag rom-com sees Anne Hathaway get a thankless job as an assistant to Meryl Streep's Miranda Priestly, but it is Blunt who sticks in the mind as rival assistant Emily.

Streep got tonnes of award nods for her performance, which is much more subtle and affecting than you might expect: not-at-all token 'hell boss'. Likewise, Blunt takes the chance to show that she can convincingly serve up fragility alongside the bitchiness.

Putting it blunty: This was her star-making performance, and arguably one of her finest so far.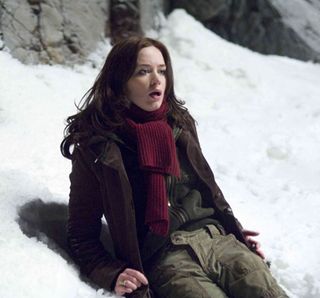 Wind Chill (2007)
This was Emily's first foray into horror, playing a girl who accepts a lift from Ashton Holmes' guy as she tries to make it home for Christmas. He has a whiff of stalker about him, but before long she's more worried about ghostly goings-on after their car crashes in the woods.

It seems that accidents are a regular occurrence when taking this dodgy shortcut. George Clooney and Steven Soderbergh exec-produced this unconvincing supernatural tale, but you wouldn't know it.

Putting it bluntly: The cold's the only thing that'll send a shiver down your spine here.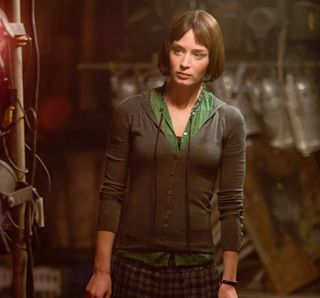 The Jane Austen Book Club (2007)
Jane Austen fever was once again rife in the multiplexes, and Blunt opted for this one (which didn't require her to don a corset). A gang of ladies form a book club, and learn valuable life lessons from Austen's unexpectedly-relevant romance manuals.

The formulaic nonsense (Austen did kinda lay down the rules for all modern rom-coms) gets a bit of a lift in Blunt's segment. She's teacher who gets fed up with her lacklustre husband, and sets eyes on a more youthful catch.

Putting it bluntly: Formulaic but charmingly resolved, this is a minor delight in the Austen vein.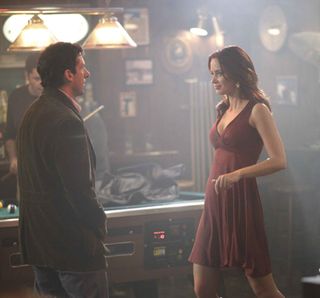 Dan in Real Life (2007)
Steve Carell went semi-serious for this one as Dan, a widowed advice-columnist who stirs up dilemmas galore by falling for a girl his brother is dating.

Blunt turns up fleetingly as Dr Ruthie Draper, an old acquaitance of Dan's, and the pair end up being coerced into a double date. Against all logic, Dan is unable to fall for Ruthie as he's too keen on what his brother's having.

Putting it bluntly: Emily is that rare movie hottie who can actually convince as a doctor (we're looking suspiciously your way, Denise Richards).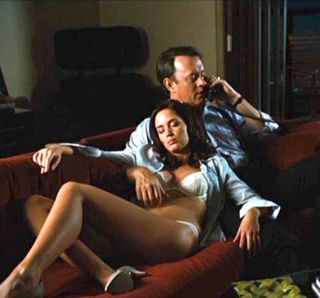 Charlie Wilson's War (2007)
Blunt could've exploded after Prada , but she showed a knack for choosing smaller characters in interesting movies.
She jumped at the chance to work with Mike Nichols, and filmed her role in only two days.
Fair enough, she has under five minutes screen time, but she made it count by strutting round in little more than a skimpy shirt.

Putting it bluntly: She proved definitively that she could do sexy...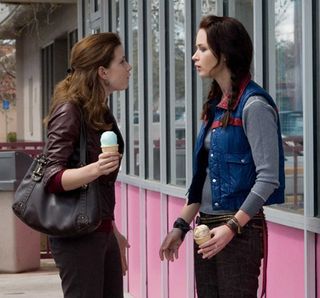 Sunshine Cleaning (2008)
Emily teamed with fellow adorable redhead Amy Adams in this 'quirky' dramedy. The auburn couplet play sisters who set up the niche business of cleaning up after crime scenes.

This is from the producers of Little Miss Sunshine , so there is a fairshare of angst, self-discovery, family-bonding and Alan Arkin alongside the upholstery scrubbing.

Putting it bluntly: Throwaway, but the Blunt-Adams tag team scores points.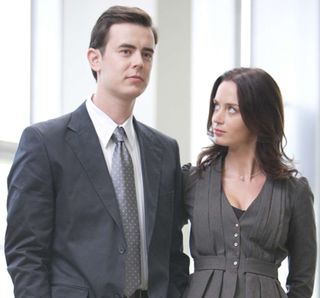 The Great Buck Howard (2008)
This lightweight tale sees John Malkovich as the eponymous mentalist who employs Colin Hanks as a road manager.

Blunt turns up as a publicist sent to work for Buck, and she and Colin develop a 'thing' for one another. Tom Hanks also appears, really stretching his abilities to the limit to play... Colin's father.

Putting it bluntly: Enough with the supporting roles already, Emily needs to be centre stage.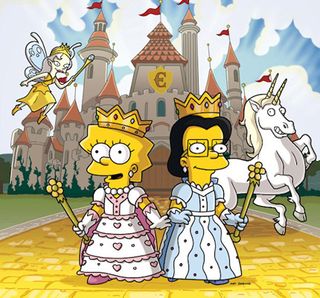 The Simpsons (2008)
You know you've made it when you get a guest spot on The Simpsons . Emily visited Springfield as Juliet Hobbes in the episode 'Lisa the Drama Queen'.

Juliet befriends Lisa, and the pair end up withdrawing into a fantasy world of their own creation in Heavenly Creatures -alike story.

Putting it bluntly: Going yellow firmly establishes your place in pop culture.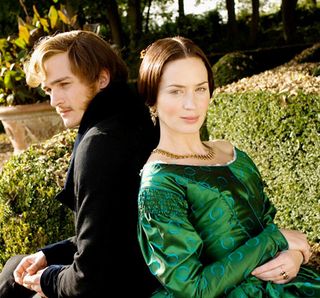 The Young Victoria (2009)
Emily's one true lead role to date sees her donning period garb in this surprisingly-decent history lesson. The film looks at the relationship between Vic and Albert in their earlier, more photogenic years.

Emily is great as Victoria, and she's ably supported by Mr Keira Knightley, Rupert Friend, as Albert. Fingers crossed for sequel T he Middle-Aged Victoria in about twenty years time.

Putting in bluntly: A class act.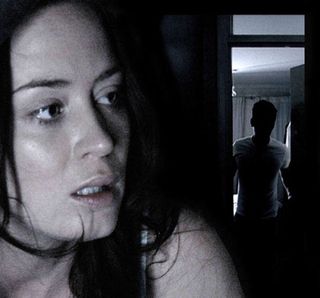 Curiosity (2009)
Emily took a break from feature films to appear in this tense short. She is one half of a couple involved in a frightening situation when they witness a murder outside their flat.

An effective little chiller on a small budget.

Putting it bluntly: Short but sweet.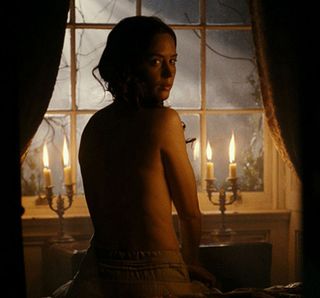 The Wolfman (2010)
The production struggles that this movie went through were well-documented, and while not the unmitigated disaster we were expecting, nobody was left satisfied by this one.

The inconsistent tone sees Blunt, Benicio del Toro and Anthony Hopkins seemingly appearing in a totally different (and much better) movie than the CGI-enhanced beast shredding up the countryside. Their performances hint at how good this remake could have been.

Putting it bluntly: A fumbled opportunity.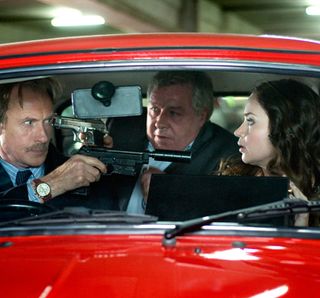 Wild Target (2010)
Emily's latest sees her as a con artist who is captured by Bill Nighy's conscience-stricken assassin, who can't go through with whacking her.

She looks like she's having great fun in this British caper ( check out the trailer here ), which hits cinemas on Friday.

Also look out for Miss Blunt in blockbuster mode in The Adjustment Bureau (promising) and Gulliver's Travels (less so) later this year.