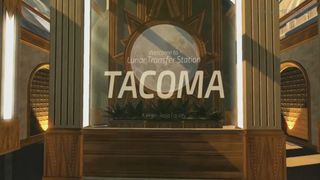 T-minus two years 'til launch
They took you to a place both familiar and strange in Gone Home, and developer Fullbright looks to be doing the same with their newest title - but this time, you're shooting for the moon. Tacoma, debuted at The 2014 Game Awards, paints a simple picture with its teaser: you are a technician arriving on the lunar transfer station Tacoma at the behest of station control. Though you only see one hatch door and the station lobby, the place seems oddly empty, only emphasized by the fact that gravity's taking a day off and things are floating all around you. You do have a friend at station control though, or at least a voice to keep you company.
Though we have only twenty seconds of material to go on, there's room to speculate about some of its odder inclusions. What's a 'Virgin-Tesla' company? We're not talking phones and fancy cars, are we? Why does the player character seem so nervous? Combine that with the fact that you need "clearance from corporate" to enter, do we have a point-and-click Alien on our hands? The game is set for release in 2016, so at the very least, we have a few turns around the sun to wonder.