The 100 best games of the generation: 10-1
---
10. Fortnite: Battle Royale
10. Fortnite: Battle Royale
Year: 2017 | Developer: Epic Games
Whether you love or hate Fortnite, there's no denying it has changed the landscape of the gaming industry – and pop culture itself. Over the course of the last three years, Epic's battle royale has manipulated the idea of what a game can actually be. Its impact has reached far beyond the gaming space through the partnerships it forged, including in-game gigs attended by tens of millions, the premiere of blockbuster movie trailers, and playable cameos from the likes of Marvel, DC, and even John Wick. Fortnite has managed to do all that and still deliver a consistently evolving game that's completely free to play. Its robust micro-transactions have made it one of the highest grossing games of all time, but its free access across so many platforms also makes it the most inclusive. Bundle in Epic's advancements in cross-play and cross-progression support, and Fortnite has seriously shaken up the core of what a game can be.
---
9. Uncharted 4: A Thief's End
9. Uncharted 4: A Thief's End
Year: 2016 | Developer: Naughty Dog
Rarely have games been as self-reflective as Uncharted 4, but Naughty Dog's send-off to its PlayStation icon is more than just an inward-looking examination of legacy, and what it means to live up to it. Applying lessons learnt from The Last of Us, the studio dials up Uncharted's stealth and exploration elements for a slower-paced take on the action-adventure genre that Drake helped to modernise. The series' much-loved triage of combat, set pieces, and storytelling are all still here, of course, now brought into jaw-dropping focus thanks to Naughty Dog's photorealistic visuals on the PS4. Add in the cleverly designed open-world sequences, and it all comes together beautifully, culminating in a final scene that's guaranteed to not leave a dry eye in the house. Uncharted 4 proved what was possible by approaching genre, character, and franchise through a critical lens, and paved the way for the industry to mine new life from long established properties in doing so.
---
8. What Remains of Edith Finch
8. What Remains of Edith Finch
Year: 2017 | Developer: Giant Sparrow
What Remains of Edith Finch is evidence of the fact that the video game industry is growing up. This indie title showcases that there are some creative endeavours that will only ever work in an interactive format. It tells its story through a series of vignettes, exploring smaller, more personal tales about each of those that made up the Finch family. These compact episodes pinch ideas from comics and short movies, but each ultimately offers an array of unique, subtle interactions that slowly reveal the game's secrets over time. By its close you'll appreciate What Remains of Edith Finch as a rare beauty that will leave you sorrowful and reflective, thinking on love, life, and grief as the credits roll. Developer Giant Sparrow penetrates our emotions and the nuance of human relationships with each of its tales, and while it might not be a game for everyone, it is an experience that we'll never forget.
---
7. Stardew Valley
7. Stardew Valley
Year: 2016 | Developer: ConcernedApe
The 2016 farming sim that made gamers lay down their swords and pulse rifles, and start fretting over pumpkin patches and chickens instead. The game starts as you inherit your grandfather's neglected farm, and meet the locals of Pelican Town. With some luck and hard work, you can start to turn a profit from your crops, upgrade your farm, invest in some livestock, make friends (and maybe more), explore the mines, and even battle monsters. It's a game where you can't rush – crops grow when they grow, following the seasons and their own schedule – but there's always something to do. It demands a lot of time, but rewards you for your investment generously. With its pixel art aesthetic and gentle pace, Stardew Valley hooks you in with the promise of a simple agricultural life and will quickly become a fixture of your daily routine. ConcernedApe's love letter to Harvest Moon is one of the most compelling and wholesome experiences of the generation.
---
6. The Last of Us: Part 2
6. The Last of Us: Part 2
Year: 2020 | Developer: Naughty Dog
The Last of Us Part 2 isn't for everyone, but that's precisely what earns it its place in our top ten. In a generation where too many games tried too hard to please too many people, Naughty Dog stuck to its guns in delivering an uncompromised vision of a world asunder. The result is an experience that's challenging, uncomfortable, and downright traumatic at times, but consistently impresses with its daring approach to the narrative form. The Last of Us 2 is also a product of a studio working at the top of its game across all of its teams, from art to audio, animation to accessibility, the strides made by each raising the bar for their respective disciplines. Whatever Naughty Dog turns its talents to for the next generation, it can do so empowered and encouraged by the huge impact its left on the last.
---
5. Red Dead Redemption 2
5. Red Dead Redemption 2
Year: 2018 | Developer: Rockstar North
Rockstar's sole project targeted for this generation is a technical miracle, one that made us reconsider what was possible in terms of visual fidelity on the existing hardware. From the verdant grizzly mountains of West Elizabeth to the sticky, sweltering marshlands of Lemoyne, the studio's recreation of 19th century America is, quite simply, the most authentic world we've ever traversed; a slice of history so believable it could be used for schoolroom case studies. Red Dead Redemption 2's emergent encounters, nuanced characters, and ingenious use of time as a dimension of storytelling are just the spurs on the cowboy boots of an astonishing showcase for interactive entertainment. We're already seeing its influence on open world and role-playing games just two years on from launch, revealing the ways in which Rockstar's masterwork is now shaping the very direction of the next-generation as we know it.
---
4. Titanfall 2
4. Titanfall 2
Year: 2016 | Developer: Respawn Entertainment
Titanfall 2 is the result of a studio approaching its apex; a truly staggering action game that was able to reinvent the first-person shooter, with respect to single-player ambitions and multiplayer innovations. In its campaign, Respawn Entertainment presented what is perhaps the clearest successor to Half-Life 2, an adventure that seemed to reinvent itself between each and every one of its levels, the intersection of narrative and mechanical design still a true wonder to this day. In multiplayer, the studio improved upon the already solid foundations it had outlined in Titanfall, the under-appreciated Xbox One exclusive from 2014, and propelled it to new heights – literally. It's the way the fluid movement systems combine with precise control over an array of best-in-class weapons that helped Titanfall 2 stand out in an increasingly competitive FPS market, with the David vs. Goliath dynamic and presence of AI soldiers to fill out the impeccably designed and weighted maps only working to ensure that Titanfall 2 stands as a unique, unparalleled shooter that is yet to be matched in ambition or execution.
---
3. Bloodborne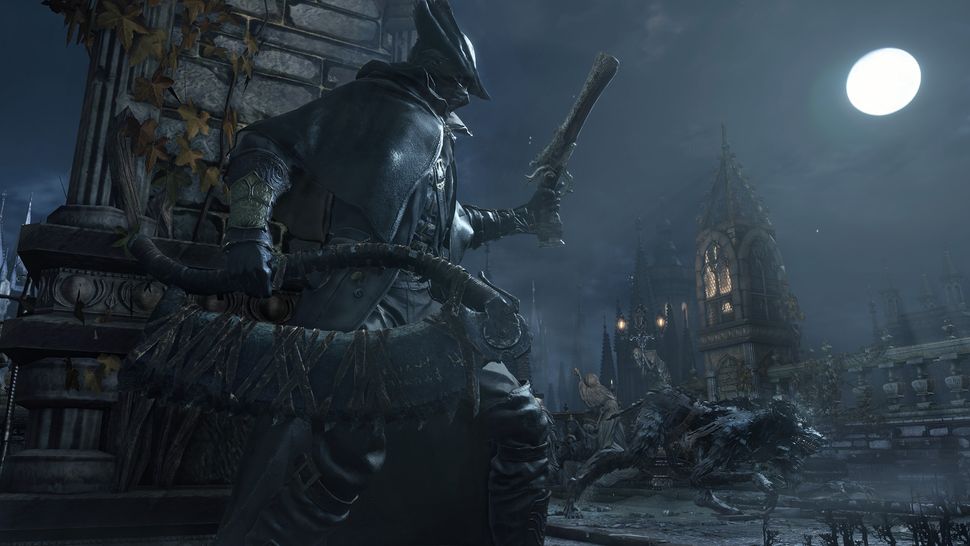 3. Bloodborne
Year: 2015 | Developer: FromSoftware
This generation saw the industry consolidate its continuing fascination with Lovecraft, but FromSoftware's PlayStation exclusive elevated itself above the rest by using the material to transform the action-RPG as we knew it. Yharnam is a place of deep secrets, strange auras, and – yes – beasts that need hunting, and we'll never forget our first experience wandering through its cobbled streets and into the terrors beyond. With the studio's patented Soulslike combat and level design perfected to a tee, anchored by an inimitable gothic milieu drenched in atmosphere and mystery, Bloodborne's harrowing gauntlet holds your attention with the unforgiving grip of an industrial vice, and never lets go. Calls for the studio to return to Yharnam have lingered like a deadly siren song for many ever since, and while FromSoftware turns its attention to Elden Ring for now, we hope this next generation will finally deliver us the sequel that fans have been clamoring for.
---
2. God of War
2. God of War
Year: 2018 | Developer: SIE Santa Monica Studio
There's a comeback story, and then there's God of War. For a series that was once fairly synonymous with misogyny and brutality, Sony Santa Monica rebooted the series to within an inch of its muscle-clad life. It's greatest achievement was turning its protagonist Kratos, the literal God of War, into a character that is actually likeable. Here is a God who's also a man, learning how to be a father after the death of his son's mother, and trying to shift away from his former life of rage. Cleverly, the game never totally ignores Kratos' past – or his reputation – instead choosing to see the game and its heroes as an evolution of what came before. So in between the sheer joy you'll feel at wielding Kratos' Leviathan Axe, it's the story of father and son that remains, revealing how people – and games – are capable of change.
---
1. The Witcher 3: Wild Hunt
1. The Witcher 3: Wild Hunt
Year: 2015 | Developer: CD Projekt Red
An adventure so epic that it turned its hero Geralt into an icon, spawned a (brilliant) Netflix series, and continues to influence the industry five years on from its release. The Witcher 3: Wild Hunt revolves around grumpy monster hunter Geralt's search for Ciri, his adopted daughter, but the story spreads out across hundreds of side quests, random encounters, and surprises that such a simple synopsis doesn't do it justice. CD Projekt Red built on its previous games to deliver a perfectly realized world of fantasy, misfit characters, romance, and loss that swallowed players whole and brought new life to the works of Polish author Andrzej Sapkowski. The result is one of those rare games you feel an actual sense of grief upon finishing, its two expansions Hearts of Stone and Blood & Wine thus resembling an act of mercy, giving players the chance to say a real and warm goodbye to Geralt. It's not just review scores, sales, or industry influence that makes The Witcher 3: Wild Hunt the game of the generation: it's the silver sword it left lodged in our hearts.
---