The 100 best games of the generation: 40-11
---
40. TowerFall Ascension
Year: 2014 | Developer: Extremely OK Games
We're paying tribute to the best games of the generation here, but TowerFall Ascension is arguably the best local multiplayer game ever made. Every aspect, from the slick platforming to the arrows that track just enough, is honed to elevate skill while remaining accessible to all as a pick-up-and-play party game. A profusion of inventive power-ups and modes keep the party going, while a surprisingly satisfying solo/co-op campaign will keep you playing for hours – regardless of whether you're playing with friends or alone.
---
39. Shadow of the Colossus
Year: 2018 | Developer: Bluepoint Games
This generation was one which cemented Bluepoint's status as master of the video game remake, best evidenced by its 2018 reincarnation of Shadow of the Colossus, Team Ico's seminal giant-slaying epic. Using the original game code, the studio steeps the PS2 action-adventure in generous lashings of cutting-edge visuals, all while staying true to its original design and thematic intent. There's nothing but reverence from one accomplished studio to another here, and the resulting experience is jaw-dropping.
---
38. Overwatch
Year: 2015 | Developer: Blizzard Entertainment
Blizzard didn't so much dip its toes into the waters of the shooter genre as it did transform said water's entire molecular makeup with Overwatch. Ushering in a new era of hero-based PvP, the already iconic IP is now considered a true titan of influence amongst its peers. The somewhat confused reaction to its recently announced sequel are, if anything, a testament to Overwatch's staying power, as it continues to delight and compel players even half a decade on from launch.
---
37. Monster Hunter: World
Year: 2017 | Developer: Capcom
Monster Hunter: World feels like the first Monster Hunter game that had the processing power it actually needed to achieve its Rathalos-sized ambition. Fights against the New World's bestiary of predators are always an adrenaline rush of great scale and intimate strategy, but Capcom's streamlined design ensured they never felt as overwhelming as the skirmishes of the series' past. The franchise's best-selling game by a mile, World popularised Monster Hunter for the masses: here's hoping the series continues to build on its success in the future.
---
36. DOOM
Year: 2016 | Developer: id Software
Violent, kinetic, and grotesquely gorgeous, DOOM is DOOM for today's gamers, a re-evaluation of the original game's energy and approach with a modern twist. DOOM is a brilliant first-person shooter, offering close-range combat driven by rapid movements across branching lateral and vertical paths. DOOM didn't just read the book on first-person shooter design, it wrote an updated version of it – offering a dizzying array of ways to explore, fight, and ultimately kill everything in your path.
---
35. Sea of Thieves
Year: 2017 | Developer: Rare
No game this generation has inspired real-time collaboration as cleverly as Sea of Thieves, which understands that the truest of friendships are those forged on the high seas of online multiplayer. Rare's first big-budget passion project in years, Sea of Thieves now represents one of Xbox's most successful new IPs, and it's not hard to see why. The definitive pirating adventure anchored in a truly gorgeous art style, the stories you and your crew create together in Sea of Thieves are testament to its success as a daring social experiment.
---
34. Hollow Knight
Year: 2017 | Developer: Team Cherry
In a beautifully hand-drawn insect kingdom, Team Cherry's masterful 2D platformer is one of the very best examples of metroidvania games in recent memory. Presenting players with challenging enemies and boss fights, an expertly crafted world to explore, and all manner of interesting bug-like characters to meet, you're taken on a darkly atmospheric journey that's as unique as it is difficult. Accompanied by a gorgeous, melancholic soundtrack, Hollow Knight delivers a rich, rewarding, and inventive adventure that's a cut above the rest.
---
33. Call of Duty: Warzone
Year: 2020 | Developer: Infinity Ward
Every battle royale has its unique selling point, and Call of Duty: Warzone's is that it just works. Despite a massive map littered with vehicles, weapons, and hundreds of explorable buildings, the entire thing looks and runs as dreamily as you'd expect from a Call of Duty game, with no compromises to the franchise's patented silky smooth gunplay. With a seasonal roadmap that continues to throw new attractions into Verdansk's bullet-strewn theme park, Warzone is reshaping the very nature of Call of Duty as we know it.
---
32. No Man's Sky
Year: 2016 | Developer: Hello Games
Hello Games' perseverance in the wake of No Man's Sky's rocky landing marked a truly unprecedented approach to post-launch support, and led to what is now one of the most popular live service experiences of our time. No Man's Sky is still the breathtaking and meditative universe simulation it always has been, but the online structures added over the years have cultivated a strong community of spacefarers, dogfighters, and entire galactic unions, who together populate a sci-fi MMO like no other.
---
31. Rainbow Six Siege
Year: 2015 | Developer: Ubisoft
Rainbow Six Siege offers expertly tuned asymmetrical tactical action across fun maps that you can freely destroy. It's changed a lot since its initial release, with Ubisoft constantly tweaking the core game, adding new operators every two months, and consistently completing the benchmarks on a stringent roadmap. Rainbow Six Siege is better now than it ever was before and the most popular it's ever been, serving as a fine example of a game that flexes and grows for its audience.
---
30. P.T.
Year: 2014 | Developer: Kojima Productions
P.T. is inarguably the greatest horror demo of the generation, and probably all time. Hideo Kojima's Playable Teaser puts unwitting players in a seemingly endless loop, as they shuffle down the same suburban corridor, constantly toying with their expectations and heart-rates. Solving the intricate and obtuse puzzles is almost as tricky as actually getting a hold of a copy now, but this inventive horror masterpiece left a bigger impact on the horror genre than games ten times its length.
---
29. Persona 5 Royal
Year: 2019 | Developer: Atlus
From its menus to its combat and story, Persona 5 is a stylish, sleek JRPG that offers up a rewarding and immersive experience from start to finish. With satisfying turn-based combat and progression systems, a well-crafted narrative that unfolds through a day-to-day set-up, inventive dungeon designs, and fleshed out characters you can take your time forming bonds with, every element contributes to delivering a engrossing modern JRPG that will no doubt continue to influence the genre.
---
28. Hades
Year: 2020 | Developer: Supergiant Games
It's no exaggeration to say that Hades is godly in every sense of the word. With the story interwoven into your many attempts to escape from the Greek mythological underworld, dying has never been so satisfying. Each time you meet your end, you come back stronger and one step closer to succeeding. From its unforgettable cast of characters with incredibly enjoyable interactions to its design that's absolutely dripping with style, and ever so slick gameplay, Hades is one of the best roguelikes around.
---
27. Marvel's Spider-Man
Year: 2015 | Developer: Insomniac Games
Marvel's Spider-Man knows the essence of its titular hero - it's not just his youthful exuberance on display in every acrobatic movement, but his unique situation as a young hero in the most famous city in the world. It's undeniably beautiful and arresting to swing between skyscrapers in a stunningly realistic Manhattan, just to land in a poorly lit alley and dispose of some low-level crooks with dexterity. It's as close as any will get to being Spider-Man.
---
26. Outer Wilds
Year: 2019 | Developer: Mobius
In Outer Wilds, you're stuck on a 22-minute loop that always ends in your character's death while you struggle to piece together why that loop (and those subsequent deaths) keep happening. But demise feels serenely magical in Outer Wilds, unlike in other games, enveloping you like a warm blanket that is actually the galaxy's exploding sun. Sure, you could solve the puzzle, or you could just use your Signalscope to listen to the gentle plucks of an acoustic guitar emanating from a faraway rock.
---
25. GTA Online
Year: 2013 | Developer: Rockstar Games
GTA Online was one of the standout games of the generation. The live service experience expanded the scope of Grand Theft Auto beyond that which we thought was possible and, slowly but surely, it has established itself as one of the most popular games in the world. With weekly updates and a commitment to evolving the core experience, Rockstar's dedication to improving GTA Online has made it an ever-present force to be reckoned with over the past seven years. Its bizarre mix of absurdity and realism is what makes GTA Online shine, even as we cross into the next generation.
---
24. Dreams
Year: 2020 | Developer: Media Molecule
Dreams isn't a game, it's a place you go to unleash your imagination. Channelling the communal creativity born out of the LittleBigPlanet series, Media Molecule's development toolkit has quickly become a canvas upon which players can paint whatever comes to mind. The groundbreaking creation engine may have released this generation, but its influence on the next – inspiring new minds and bringing untapped talent to the industry's attention – is going to be nothing short of monumental.
---
23. Control
Year: 2019 | Developer: Remedy Games
Control is the culmination of everything Remedy Entertainment has achieved since 2001, and the foundation for what it will do in the future. Elements of Max Payne, Alan Wake, and Quantum Break can be found in Jesse Faden's adventure through the depths of the Oldest House. Control hands you immeasurable power over the pillars of reality, its story and action anchored around how far you can bend it before it all comes crashing down around you.
---
22. Celeste
Year: 2018 | Developer: Extremely OK Games
Celeste takes the platformer formula and uses it to deliver an encouraging, hopeful message. Presenting challenging platforming levels with secrets to uncover, you help Madeline navigate up a mountain and overcome her own inner demons as you conquer every section. As you surpass each challenging jump and manoeuvre, Madeline gets one step closer to surviving, making the difficult gameplay all the more rewarding. As well as being a very polished and expertly crafted platformer, it also tells a very relatable story with characters you truly come to care about.
---
21. Alien Isolation
Year: 2014 | Developer: Creative Assembly
The five minute opening of Alien Isolation drops you straight into what feels like a game version of Ridley Scott's 1979 film. There's atmospheric fog, screwy VCR playback visuals, and the constant, unseen presence of the Xenomorph itself. This is a horror game in every sense of the word – claustrophobic, nerve-wracking, and hella stressful. With brilliant enemy AI, it's impossible to know when your stalker will attack, and that lack of predictability makes Alien Isolation scarily enticing.
---
20. Return of the Obra Dinn
Year: 2018 | Developer: 3909 LLC
You get three guarantees with every Lucas Pope game: there will be way more to it than there seems to be, it'll be fantastic, and it will involve paperwork. Return of the Obra Dinn brings these traditions to an abandoned ship and challenges you to determine the fate of its lost crew by revisiting the moments of their demise. It's a mystery wrapped in a time loop wrapped in a stunning one-bit art style, and there is nothing else like it on this earth.
---
19. Assassin's Creed Odyssey
Year: 2018 | Developer: Ubisoft Quebec
Origins may have been the game to initiate Assassin's Creed's pivot from open world to RPG, but it was Odyssey that received the baton and ran a marathon in the same direction. Assassin's Creed Odyssey rejuvenated our kinship for a series that seemed a little lost at the beginning of the generation, following the release of Black Flag – it's a case study in how a series can successfully reinvent itself when it embraces ambition with one hand and inventiveness with the other.
---
18. Forza Horizon 4
Year: 2018 |Developer: Playground Games
Can you imagine actually wanting to live in Britain? Forza Horizon 4 does the near-impossible and makes this country look downright gorgeous in all seasons. Whether it's steering supercars around the Cotswolds or thrashing rally cars through forests that the National Trust would have field day if they found about, the latest Horizon set new standards of what we expect from racing games, something which it made a habit of all throughout the generation. Still, don't let Horizon 4 trick you, Britain isn't actually that appealing... trust us.
---
17. Rocket League
Year: 2015 | Developer: Psyonix
A simple concept executed masterfully, Rocket League deserves a spot on this list twice over. For one, it's an endlessly thrilling multiplayer experience, as cars balletically whizz through an arena trying to slam a ball into a goal, with an ocean of depth to boot. And two, it helped to pioneer an increasingly successful form of indie release, where a free launch onto PS Plus can propel a previously unknown game to impossible heights. With Fall Guys and Bugsnax following suit, Rocket League became an unexpected trailblazer.
---
16. Horizon Zero Dawn
Year: 2017 | Developer: Guerrilla Games
Horizon Zero Dawn plays like its devs took painstaking notes on every successful open-world game and funnelled them into this game's production. The unrecognizable, post-apocalyptic Earth that you explore is visually stunning and full of dangerously corrupted machine animals that you must battle with spears and bows. The bow wielder in question is the beautifully complex and endearing Aloy, voiced to perfection by Ashly Burch, who takes you by the hand and pulls you through this anachronistic environment that is well-worth visiting.
---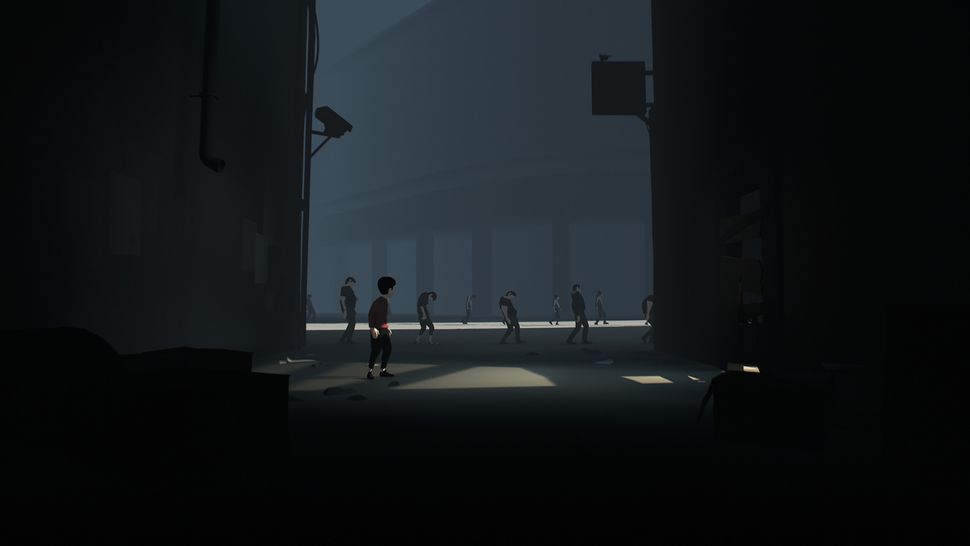 15. Inside
Year: 2016 | Developer: Playdead
Like that of Playdead's debut side-scroller, Limbo, the less you know about Inside before going in, the better. It's a dark, devilishly designed dish of a game that's ideally enjoyed in a single sitting, and one that won't be leaving your psyche anytime soon afterwards. Regardless of where you stand on its genre, you owe it to yourself to play Inside, which manages to leave more of an impression in two hours than countless other games have in two hundred.
---
14. Nier: Automata
Year: 2017 | Developer: PlatinumGames
Come for the soundtrack, stay for the silky smooth combat and pitch-perfect blend of genres. There's hack and slash, there's shoot 'em up, there's text adventures, there's RPG elements – Nier: Automata has it all, and it seems to take real delight in surprising you with each and every one of them. The dazzling combat is split between three hyper cool android protagonists who twirl and flip in hypnotic ways, and of course it comes equipped with an ending that will stay with you long after the credits are complete. Nier: Automata is a sexy, awesome delight.
---
13. Dishonored 2
Year: 2016 | Developer: Arkane Studios
Ask some PC enthusiasts out there, and they'll tell you that the days of the great immersive sim are behind us. Dishonored 2 is a strong counterargument to that claim. Exploring Karnaca as either Emily or Corvo is a first-class holiday package of virtual tourism, and one that also just happens to be an excellent stealth game too. Backed by expert level design, gorgeous visuals, and a delectably deadly suite of killing tools, Dishonored 2 is the kind of rare game that only gets better with repeat playthroughs.
---
12. Kentucky Route Zero
Year: 2020 | Developer: Cardboard Computer
Kentucky Route Zero's first episode came out in 2013 and its fifth and final arrived in 2020, making it perhaps the most literal game of the generation on this entire list. Reduced to oblivion, you could call it an episodic point-and-click adventure. Its story of a strange highway through the American south and the people who travel it plays with genre conventions to create a playable lament of debt, injustice, and the interminable bureaucracies that sustain them.
---
11. Destiny 2
Year: 2017 | Developer: Bungie Inc.
Where Destiny proved that the MMO could be distilled down for console, its sequel showed that the model could be sustainable. Hyper-slick gunplay, fine balance, and impossibly gorgeous skyboxes have established Destiny 2 as one of the most gratifying first-person shooters ever delivered. It remains a roadmap for the future of Bungie too, allowing the creators of Halo to once again grasp a hold of independence and showcase its penchant for incrementally improving one of the most impactful shooters on the planet.
---