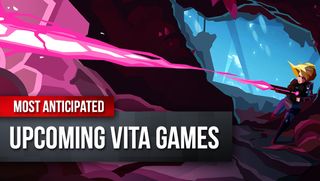 Whole lotta Vita
All the upcoming PlayStation 4 games might get most of the attention these days, but the PlayStation Vita is a powerhouse system in its own right. It's got plenty of ports that look just as crisp as their console counterparts, usually with added functionality. If you're looking for quirky, gorgeous, addictive gaming, this handheld is a portable utopia. And if indies are your thing, the Vita is pretty much the pinnacle of indie gaming beyond the PC.
While there are plenty of great Vita games out there, there's always room for more. Here are 25 Vita games on the horizon that have particularly captured our interest, through their exceptional visuals, fine-tuned gameplay, and overall uniqueness.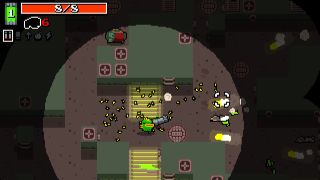 Nuclear Throne
Release date: Summer 2014
If you didn't already know, Vlambeer is second to none when it comes to crafting addictive, invigorating arcade-style games. For proof, just give Luftrausers a try. Nuclear Throne delivers the same frantic pace of action-packed combat, but with a new angle: top-down, twin-stick shooting as a mutant in the post-apocalyptic wastes. And for being a mutant that blows away countless goons with a massive variety of weapons, you sure are adorable.
Nuclear Throne gives you the roguelike experience of having just one life to live, but also includes progression like new character upgrades and additional weapon types to unlock. Your choice of mutant--which is tough, because they all look so awesome--also matters, since each own has their own specialty. If you thought Luftrausers was devilishly addictive, Nuclear Throne is liable to blow your mind.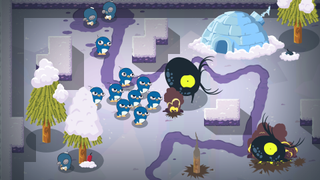 Super Exploding Zoo
Release date: Summer 2014
You know what would make zoos a lot more interesting? If all the animals in captivity doubled as living bombs. And when you add a full-scale alien invasion into the mix, those exploding wildlife specimens double as the perfect defense. Super Exploding Zoo brings this zany concept to PS Vita and PS4 with cartoony graphics, tons of different animal types, and a cornucopia of incendiary puzzle solving.
The gameplay feels a bit like Pikmin with bombs, mixed with some active tower defense (in this case, you're protecting precious eggs). Depending on their species, animals can provide your kamikaze squad with unique abilities, like making bridges over water or slowing aliens with fearsome roars. You can also share in the wacky action in online multiplayer, complete with randomly generated arenas.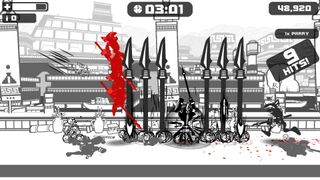 Aztez
Release date: 2014
If you've been around the Internet for a while, you probably remember those popular Flash animations that had a bunch of stick figures fighting each other. At first, the concept seemed simple--but you'd be enraptured by just how intense the choreography got as the fight went on. Aztez captures the spirit of those chaotic battle royals, with a much cleaner aesthetic: black-and-white Aztec warriors fighting to the bloody, red-spattered death, set against the backdrop of ancient civilization.
This 2D beat-'em-up is all about the combos, particularly in the air; juggling your enemies with a flurry of spear strikes in a cinch in Aztez. You've even got superhuman combat abilities like teleportation, or the power to summon devastating spikes from the ground to skewer your enemies. Aztez is like the aesthetic of Patapon mixed with the brutality of Conan the Barbarian, and it looks glorious.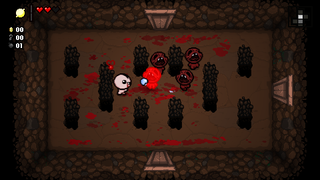 The Binding of Isaac: Rebirth
Release date: 2014
Roguelikes are all the rage these days--and The Binding of Isaac deserves a bulk of the credit for the genre's recent ubiquity. Rebirth takes the top-down, Zelda-meets-Robotron gameplay of the original (plus all the Wrath of the Lamb DLC content) and repackages it with a crisp, 16-bit art style meant to evoke the graphics you'd see on a Game Boy Advance. That makes the Tim Burton-esque monsters which Isaac encounters all the more charming (and somehow gut-wrenchingly repulsive at the same time).
The act of firing off Isaac's tears in four directions works wonderfully on the Vita, with either the right stick or face buttons determining your aim. And on top of all the existing items, upgrades, enemies, and grotesque boss fights, Rebirth adds even more content in every possible regard. With so many unseen horrors lying in wait, presented with a slick new aesthetic, Rebirth is the gameplay you know and love in a whole new basement.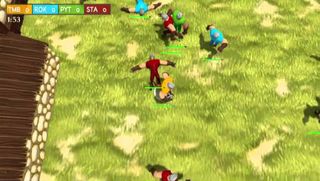 Bodycheck
Release date: 2014
Imagine if American football had four teams on the field at once instead of two, abolished all penalties, and allowed the use of arcane magic and spells to gain an advantage over an opponent. This sounds like one insane game, doesn't it? Bodycheck, coming soon to Vita from Ludometrics, is exactly that: football with a magical edge. We're pretty excited about it.
Let the official website speak for itself: "Bodycheck is a sports game with no rules against foul play, magic powers, and (explicit) corruption. And it will be multiplayer, yes. Up to four-players, in fact. Punching, scratching, and general unnecessary roughness are all actively encouraged during play. Just remember to score more points than your opponents." That sounds like one hell of a good time, right? We hope we're impressed with the game as much as we are with the concept.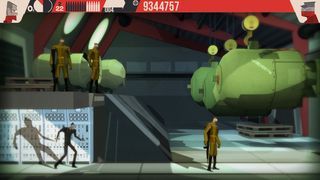 CounterSpy
Release date: 2014
Who says stealth is a dead genre? Not us, and not Dynamighty, the team porting Counter Spy to Vita. In this 2D side-scroller, you infiltrate both US and Soviet compounds during the Cold War, to prevent the two countries from actually firing nukes at each other and, you know, destroying mankind as we know it.
Although this handheld version is very similar to the original, Dynamighty are experimenting with new features. There will be an endless mode with procedurally generated levels, and multiplayer features that will allow you to compare scores with friends.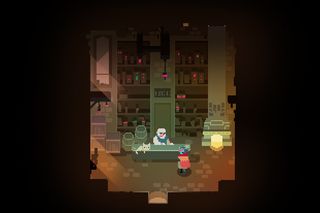 Hyper Light Drifter
Release date: TBA
Weve seen plenty of indie games that draw from classic games--hundreds, really-- but theres something special about Hyper Light Drifter. Every ounce of the gameplay screams Legend of Zelda: A Link to the Past, which, again, is nothing really new but we cant say were upset. It is a classic, after all.
But enough referencing--what about Hyper Light Drifter makes it unique and worth our time? For starters, the pixel art and ruined sci-fi world give the game a fantastic atmosphere, while combat is fast, punishing, and very, very rewarding. Along with a story that has piqued our interest, thats more than enough for us to give this Kickstarter a try.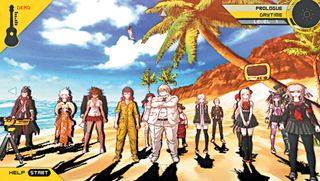 Danganronpa 2: Goodbye Despair
Release date: 2014
The first Danganronpa game really impressed us with its Ace Attorney-means-Persona-meets Zero Escape formula. The dark tale of murder at a Japanese high school was high tension from beginning to end, and we couldn't get enough. Even now, after we've played it, we still want more...which is why finding out about a sequel is so awesome!
Danganronpa 2: Goodbye Despair is also coming to North America this fall, so we'll be able to continue the horrid story right where we left off. It looks like this time the arena is a tropical island of some kind, but the dastardly Monobear still looks to be presiding over things, so we doubt there'll be any R+R on this island.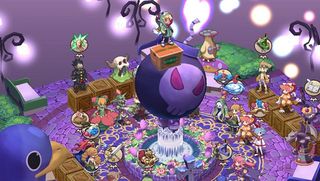 Disgaea 4: A Promise Revisited
Release date: 2014
Following in the footsteps of every Disgaea game before it, Disgaea 4 is making its way to the portable gaming scene this summer. Disgaea fans don't need us to tell them what to expect: this will be the same awesome turn-based strategy game we've come to expect from the Disgaea franchise, only now it can come with with wherever we go.
The Vita version of Disgaea 4 adds some backstory to some of the game's characters via brand new scenarios and battles, as well as brand new characters to control and cameo appearances from characters seen in earlier Disgaea games. That all sounds great as long as Prinny doesn't go anywhere. We love that maniacal penguin.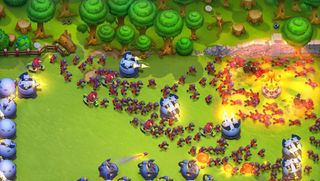 Fieldrunners 2
Release date: 2014
Weve seen a ton of popular games become games for iOS or Android, but its not very often where a game starts on iOS and becomes so popular that it branches off into gaming-specific consoles and handhelds. Angry Birds has done it, sure, but what HASNT Angry Birds done? Seriously, those damn birds are everywhere, even in food!
Fieldrunners 2 brings its excellent tower defense gameplay to the Vita this year, adding a new game to the list of iOS-to-gaming console transitions. Packing the power of a brand new engine and sporting over 25 new towers, including some that shoot fire at enemies or use guns that morph enemies into cows, Fieldrunners 2 looks like itll fit right at home on Sonys handheld when it hits later this year.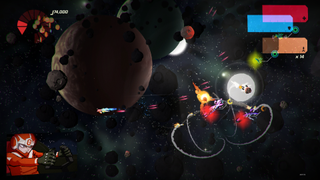 Galak-Z
Release date: 2014
What we've got here is a fast-paced space shooter, with lasers flying in every direction and enemies coming from all sides. The hardest part may be staying focused amidst all the chaos--but you better learn to keep a bead on your ship, because Galak-Z is a shmup iteration of the increasingly popular roguelike genre. As in: die once, and your pilot's mission is done forever.
Mixing the best of Asteroids, Defender, and Geometry Wars together, Galak-Z is a thrilling hybrid of classic gameplay and new technology. The nostalgia junkies in us are looking forward to blasting lasers at aliens, enemy ships, and incoming asteroids, at a pace where going stationary usually means death. And the colorful spacecraft, mixed with the faux-anime aesthetic outside the ship, are undeniably easy on the eyes.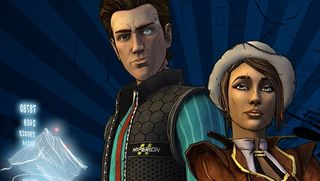 Tales From The Borderlands
Release Date: 2014
Everyone was so caught up in the gunplay and loot drops of Borderlands that they didnt realize the world of Pandora and its humorous inhabitants were perfect for a narrative driven adventure--that is, everyone but the minds at Telltale. Set after the second game, itll feature the dialogue-heavy gameplay weve come to love through The Walking Dead and The Wolf Among Us infused with the twisted, slapstick humor Borderlands is known for.
Equally exciting is the games dual-protagonist structure. Both of our selfish, greedy, and often incorrigible leads will make choices that affect the other as well as the other citizens of Pandora, all in the name of a quick buck. Do we sense some kind of rivalry/uneasy partnership/twisted romance in the making? Well just have to wait and see (but dont hold your breath on that last one).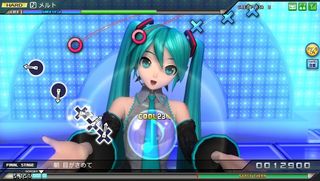 Hatsune Miku Project DIVA F
Release date: 2014
Hooray Japanese rhythm games! Hatsune Miku has been around for quite a while, delighting fans with its upbeat rhythm gameplay and stellar music, and now the Vita gets to join in the dance party when Project DIVA F hits in early 2014.
For those unfamiliar with the Hatsune Miku series, the games center around Vocaloids, or singing voice synthesizer. These synthesizers help to create the music that you will be tapping your buttons to, in a fashion that highly resembles Dance Dance Revolution, but for your fingers. Four difficulties from Easy to Extreme and a slew of songs to choose from will keep rhythm fans coming back to Project DIVA F for a long time comingor at least until the next game comes.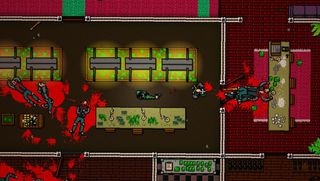 Hotline Miami 2: Wrong Number
Release date: 2014
Get ready to put those rubber animal masks back on as Hotline Miami 2 will soon bring back the retro hyperviolence of the first game. If your reflexes betrayed you the first time around, don't expect any help here: Hotline Miami 2 will be just as ruthless as before. If you're slow with the button presses, expect to die A LOT.
Wrong Number moves the story up a decade to the 90s, which makes us wonder what kind of nostalgia they'll play on this time around. Will there be Full House references? Will someone be wearing a big ol' Miami Dolphins Starter jacket? We don't know what Devolver Digital has in store, but we do know we're excited for the bloody romp to begin.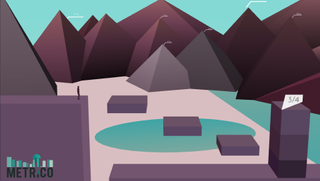 Metrico
Release date: 2014
Rare is the game that feels like a wholly unique creation. Metrico definitely fits that bill, with its gorgeous, stark aesthetic, '80s synth soundtrack, and mentally stimulating gameplay. Sure, you could compare this 2D puzzle platformer to the likes of Braid or Limbo. But, as with those games, Metrico feels wildly different from anything you've played before, built on a familiar foundation.
Seeing Metrico in motion is a treat, as the levels all take place in living, breathing infographics that respond to your every move. The rules of how the stage will react to your running and jumping changes with each puzzle, so figuring out how to progress never feels stale. Y'know that sense of intrigue you felt when you played the Prince of Persia or Another World for the first time? Yeah, Metrico's kinda like that.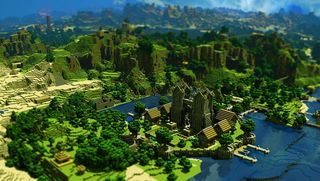 Minecraft
Release date: 2014
We dont have to describe Minecraft to you; even if you havent played a second of Mojangs ultra-successful game, were sure youre familiar with it. Maybe youve seen the Creeper on a T-shirt or watched a video of some of the amazing things being built in this voxel world. Minecraft has become a household name, and its influence is continuing to grow.
The Vita is simply the latest device to allow access to Minecraft, but were sure it wont be the last. The game is too much fun, whether youre playing Survival or the ultra-addictve Creative mode, to not experience at least once. Trust us, this game is like Pringles: once you pop, you just cant stop.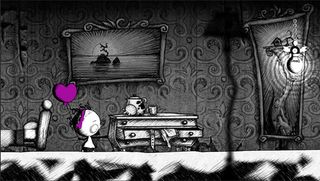 Murasaki Baby
Release date: 2014
Murasaki Baby looks like an awfully strange game. We remember seeing for the first time at Gamescom and wondering just what the hell is going on with this game. However, despite our questions, we couldn't deny that we were intrigued by what we saw. What was this dark world and what do we need to do in it?
Well, this is a world inhabited by the darkest fears of young children, and this particular child named Baby found her way inside of it. We need to lead her out of there unharmed, acting as the parent of this child throughout the adventure. It's odd, it's unique, and it's got a sweet artistic style; basically, it's everything we'd expect from an indie game, and we're excited to try it out.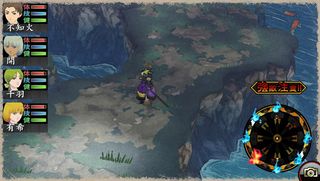 Oreshika: Tainted Bloodlines
Release date: 2014
When a game that we thought had no chance of making the trip from Japan to America finally gets the green light, we pay attention. After all, the game must have some sort of appeal if a publisher is willing to localize it and bring it to the West, right? Oreshika: Tainted Bloodlines is a perfect example:this game is coming to the West despite its predecessor never making it over here. Apparently we should be paying attention to it.
Oreshika: Tainted Bloodlines follows an ancient Japanese clan of warriors who are cursed with a two year lifespan. That's obviously not a lot of time, so each generation must fight to earn the favor of the ancient Japanese gods, so the next generation is much stronger than before. It's an interesting premise, and one that we're definitely going to keep an eye on when it launches later this year.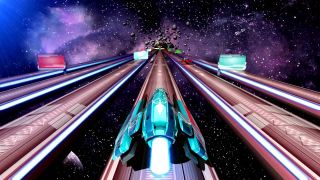 Switch Galaxy Ultra
Release date: 2014
Can't get enough futuristic racing, but already cruised through everything in Wipeout 2048? Switch Galaxy Ultra is the answer to your speed-demon prayers. This behind-the-car racer captures the same blink-and-you're-dead speed that we've come to expect from far-future racing games, and could probably give F-Zero GX a run for its money.
Only having to navigate between five parallel tracks might seem simple in theory, but at these velocities, it's more than enough to keep track of. The graphics accentuate your raw momentum with vibrant colors and slick space-age backdrops, while still making the numerous boosts and item pick-ups easy to spot. If anything below triple-digit speeds is too slow for you, Switch Galaxy Ultra is just your pace.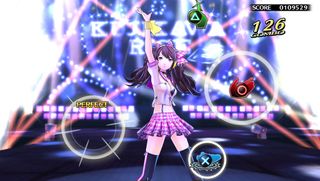 Persona 4: Dance All Night
Release date: 2015
Whats the best sign that your spin-off series has hit the big time? Raving reviews? Hundreds of thousands of copies sold? Nope--when your alternate series is popular enough to spawn not one, not two, but three spin-offs for a single entry, you know youve got a hit.
Such is the case with Persona 4. Now that its got a remake, two fighting games, an anime/manga, and a chibi version, the only logical move is to release a rhythm game as well. With a continuation of the main games story that somehow replaces life or death battles into killer dance parties, this outing transforms the traditional JRPG into something we can all get down to.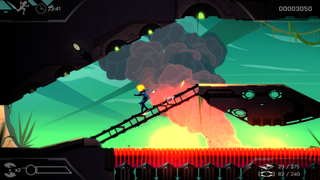 Velocity 2X
Release date: 2014
The original Velocity Ultra came out of nowhere to be one the best PS Vita games, with fast-paced, auto-scrolling shmup action that was perfectly suited to Sony's handheld. Velocity 2X is the new and improved sequel, which takes the core premise--teleporting around the screen as you carefully control your speed--and expands it with the addition of full-blown 2D platforming off-ship.
These transitions infuse even more intensity into the already-blazing speed of the gameplay, since you'll be swapping between ship and run-'n'-gun segments on the fly. The on-foot action also includes teleportation using the Quarp Drive, and plenty of wanton destruction: shooting up the place opens up new pathways once you're back on your starfighter. If Velocity 2X is anything like--or exceeds--the first game, we're totally on board.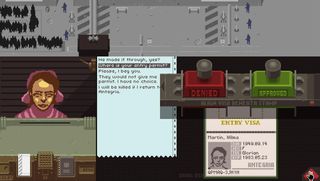 Papers, Please
Release date: TBA
Papers Please is exhausting. As a customs agent in the bleak, totalitarian nation of Arztotzka, yours is an exercise in diligence and attention to detail, a challenge where just a few workplace errors could cost the lives of you, your family, and probably your neighbors too (Arztotzka is pretty hardcore like that).
But while catching every single forged passport can be tough, some of the decisions youll make can be even harder--do you aid the rebel groups in preparation for the uprising, or do you play it safe and hope your glorious leaders treat you fairly? Let the woman with improper documentation through with her family, or take a cut from some drug smugglers so your son might have an enjoyable birthday? It might not be the easiest game to play, but its one that had us questioning our morals from start to finish.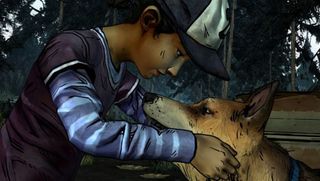 The Walking Dead: Season Two
Release date: 2014 (Episodes 3-5)
There is a moment in the first episode of The Walking Dead Season 2 that made us cringe more than any other game before or since. Its not terribly violent, there are even more violent scenes in the first season, but the circumstances are completely different and almost impossible to bear. While the sheer discomfort of that scene still bothers us when we think about it, those lasting feelings are also the mark of an excellent story.
TellTale is filling its plate with episodic games like The Walking Dead, having just announced one for Game of Thrones and one for Borderlands. However, the quality of storytelling and character development shown here in The Walking Dead and in The Wolf Among Us give us no reason to doubt the studios drive. Were going to be wowed no matter what we play, and the first episode of this new Walking Dead season proves, discomfort and all.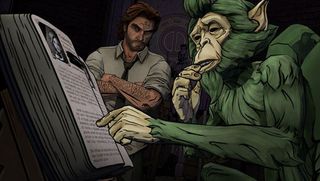 The Wolf Among Us
Release date: 2014
Life is tough for Bigby Wolf. Well, life is tough for any police sheriff in the world, but trying to keep the peace among displaced fairy tale characters with all sorts of weird abilities doesnt make Bigbys job any easier. The first episode alone introduced us to the burly Woodsman and the thuggish Dee and Dum, who knows what other faces will show up to give Bigby a hard time.
The first episode of The Wolf Among Us wowed us on consoles back in October, and the wait for the next installment has been agonizing. We hope the wait for Episode 1 on Vita doesn't take too long; otherwise we'll have played the whole thing before we can take it on the go. Oh, who are we kidding--we'd play it more than once anyway.
Axiom Verge
Release date: Early 2015
Part Contra, part Super Metroid, Axiom Verge is a 2D shooter that weaves nostalgic pixelated graphics with an intriguing, everything-is-not-as-it-seems premise. Playing as a lone scientist, you wake up in a treacherous alien landscape full of peculiar creatures and weird scenery. You'll have to find out if you're actually exploring a foreign planet, or just trapped in a simulation gone wrong.
Like any self-respecting Metroidvania, Axiom Verge will feature a ton of wide-open exploration, continually advancing weaponry, and mysterious secrets within each level. Axiom Verge's adds a new wrinkle to the formula with reality-warping glitches that you can use to your advantage, and the screen-sized, gruesome-looking alien bosses will immediately evoke fond memories of Contra 3. Axiom Verge is the kind of throwback we can get behind: an old-school feel full of modern ideas.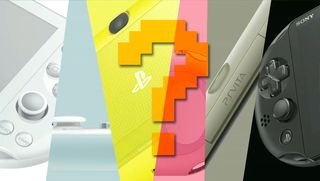 Livin' la Vita loca?
Looks like PS Vita's future is bright. Well, brighter than most people think. There may be an absence of big-name games, but there is plenty of genuine quality. And hey, there are bound to be some big Vita announcements at E3. So chin up, Vita owners. Looks like Uncle Sony still loves you.
Want more of GamesRadar's "Best of 2014" features? Maybe you're thinking of buying a 3DS. If so, check out our 25 Upcoming 3DS Games For 2014 And Beyond. Not your thing? How about our Best Upcoming Games of 2014 instead?