In search of a new addiction
2014 has already been an eventful year for MMORPGs. There was some sadness, as CCP's World of Darkness was cancelled and the studio shut down, and some happiness with the releases of The Elder Scrolls Online and the continued success of Square-Enix's reworking of Final Fantasy 14. But don't think that that's all the genre has to offer.
2014 is looking absolutely huge for MMOs. Elder Scrolls Online is still awaiting its console debut, and games like Pathfinder and WildStar could have what it takes to reinvent the genre. Will they? Pfft, as if we know--we can't see the future. But we can look at what the next year or two has to offer in the MMOspace.
Black Desert Online
Release date: 2014
At first glance, Black Desert Online looks like a cross between Skyrim, a Final Fantasy game, and... Assassin's Creed? Seriously. It's got parkour. Only time will tell if this Korean-made MMO will be yet another grindfest, but its laundry list of features have us foaming at the mouth.
In addition to the aforementioned wall climbing mechanic, player housing extends beyond just building up your own homestead. You can purchase buildings in pre-existing towns, opting to turn them into shops, inns, or just a really awesome pad for you and your friends. The developers also say it'll feature citywide siege battles, action-based combat, and some seriously great-looking visuals, which this trailer backs up. Oh, and did we mention there's parkour?
Blade & Soul
Release date: 2014
Several recent MMOs have made bold claims about action-based combat, but few take that term so seriously as Blade & Soul, which has already been out for a while in South Korea. Much like TERA, it places a heavy emphasis on battling gigantic, hulking monsters, but it distinguishes itself by requiring complicated combos in the vein of Bayonetta or God of War to achieve the most effectiveness.
This could be big. Even after attempts at including dynamic events, rich stories, and interactive player housing, the genre's core combat tends to be on the bland side, especially when compared to games designed for a gamepad. Too bad the port has been in development hell for years.
Bless
Release date: 2014
We know graphics aren't everything, but damn, Bless is beautiful. You thought TERA looked nice? TERA looks like alpha footage compared to Bless. Alas, all the development team's attention seems focused on delivering such a massive helping of beauty, as the gameplay itself looks heartbreakingly dull.
That's something of a surprise, since titles like Age of Wushu and ArcheAge suggest that South Korea (of all places, considering their reputation for grinds) is one of the only countries that's at least attempting to inject some fresh ideas into the genre.
Camelot Unchained
Release date: 2014
Two million two hundred and thirty two thousand dollars; Thats how much this project garnered in their Kickstarter. Headed by Mark Jacobs (from such titles as Dark Age of Camelot and Warhammer Online), this project endeavors to bring some of the classic stylings of MMOs back into the genre. Jacobs calls this counter-revolutionary design, and built the game around his disappointment with people muddling the genre by just trying to out-WoW WoW.
So what does that mean exactly? You can check out their Kickstarter page for more info, but expect to be sinking epic amounts of time into the game. With its pure player driven economy and persistent Realm versus Realm gameplay, Camelot Unchained looks to be a promising alternative to some of the lighter MMOs out there.
The Crew
Release date: November 11, 2014 Pre-order on Amazon now
Yeah, that's right. There's a MMORPG racing game in the works. The Crew was unveiled at E3 during Ubisoft's press conference, and though we initially doubted the MMO-ness of the open-world racer, we were soon silenced upon going hands-on with the racer. Ivory Tower's game might not look like a traditional MMO, but it has many of the trapping the genre is known for.
You'll be forming into crews (which are essentially guilds) and taking place in large-scale multiplayer events in the massive, persistent world. There's still solo-play, with a story involving infiltrating a criminal group, but even then you're playing online, racing around in a world filled with thousands of others. The Crew just got delayed, but we can expect to see it for PS4, Xbox One, and PC sometime in the Spring of next year.
EverQuest Next
Release date: 2014
Guess what! EverQuest Next is a real thing, and Sony Online Entertainment finally showed it off. With an emphasis on destructible environments, EQN is an incredible-looking MMO that truly looks to revamp the genre. Seriously, like, totally tear it apart and put it back together.
You can read our full preview on the free-to-play game to find out more of the info, but you won't have to wait too long to interact with the world. While the MMO isn't releasing for some time, a stand-alone tool called EverQuest Landmark will allow you to start building now--and it's releasing this year. Norrath, here we come!
Game of Thrones: Seven Kingdoms
Release date: 2014
We know, we know--sometimes it seems like we should all just give up hope of ever playing a good game set in the Game of Thrones universe. But Game of Thrones sounds like it could be fun in a War of the Roses (the game, that is) kind of way, particularly considering its focus on sandbox PvP, castle sieges, and a political system.
Unfortunately, the details are better kept secrets than the truth about Joffrey Baratheon's parentage, although we do know that weapons like the two-handed sword has as many as 20 different skills and 60 abilities. Considering that this, too, is a browser game, we may be witnessing a trend toward the legitimization of the platform for the genre.
Lineage Eternal
Release date: 2014
NCsoft knows how to pick em. The popular Guild Wars franchise, the beautiful Blade & Soul, the stylized WildStar: all are under NCsofts umbrella. Which is why its probably safe to get excited about the release of Lineage Eternal, yet another MMO in the publishers all-star lineup.
From trailers and press releases, it looks as though Lineage Eternal will be taking on a more Diablo approach to their game, as the overhead camera and horde mashing tell us. A new feature the game is bringing to the table though is drag action gameplay, where skills will be performed through mouse gestures on the screen (sounds like it could be good for tablets).
Monster Hunter Online
Release date: 2014
Chinese developer Tencent is working with Capcom to bring the world of Monster Hunter to the MMO arena once again. Monster Hunter Online, as it's tastefully called, is a free-to-play game running on the beautiful CryEngine 3, making for one of the best-looking online games currently in development. That's the good news.
The bad news is that we still don't know if it's going to make it out of China. So far Capcom/Tencent aren't talking about a worldwide release, but we'd be shocked if this money-making franchise isn't spread to other territories if it proves profitable (and, since it's Monster Hunter, it's going to be profitable).
Otherland
Release date: 2014
It doesn't seem like a stretch to claim that one day, MMORPGs will morph into the virtual worlds envisioned by the likes of Tad Williams and Neal Stephenson. So we're optimistic about Otherland, based on the Tad Williams novels of the same name. True to its origins in the fiction of virtual reality, Otherland takes the "theme park" brand of MMORPGs a little too seriously, offering locations as diverse as medieval countrysides to pixelated fields with chess pieces hovering in the air.
It also features a cloning system in the form of eDNA, and a hub known as Lambda Mall that lets you play minigames and shop instead of simply standing around and making nasty jokes in trade chat. We haven't seen much of the game's combat--but maybe this is one MMORPG that won't actually rely on battles.
Phantasy Star Online 2
Release date: 2014
If you like the idea of taking your MMO experience anywhere you go, then you can't go wrong with Phantasy Star Online 2 (or so we hope). Already out in Japan, the free-to-play Phantasy Star Online 2 will eventually make its way to your PC, iOS device, Android, and PlayStation Vita.
We've waited a long time for Phantasy Star Online 2's mix of sci-fi and fantasy, however, and right now, it looks like we'll be waiting even longer. That's a shame, because it contains all the blocking, action-based combat, and weapon-based skills we're starting to expect in PC-based MMOs, and such a hefty package can only help the beleaguered Vita. We'll get some idea of how that'll work as early as tomorrow, when it officially becomes available for Sony's handheld in Japan.
The Repopulation
Release date: 2014
The Repopulation's premise sounds dismal, but it's probably realistic. Far into the future, we've had to abandon Earth for another planet--and wouldn't you know it, we start fighting among ourselves. And once we land, the disgusted resident aliens do their best to wipe us out. As befits a settling game, you're not forced into combat missions, and you can spend your time harvesting and engaging in diplomacy if killing 25 baddies and collecting 10 datapads isn't your thing.
It gets points by default for attempting a science fiction setting instead of the usual fantasy fare, but it also wins our attention with vehicle combat and Guild Wars 2-like dynamic events. And forget guilds--The Repopulation lets you establish your own nation. The worldwide release on this futuristic MMO is slated to be sometime in 2014.
World of Warships
Release date: 2014
Other developers must wish that coming up with new winning titles is as easy as it is for Wargaming.net. After the stunning success of their World of Tanks, it only made sense to apply the same formula to the other death machines of World War II, thus giving us the recently released World of Warplanes and the still upcoming World of Warships.
The core progression will remain much the same across all three titles, but we're most interested in Wargaming.net's ambitious plan to combine the endgame for each into massive battlefields that take place on air, land, and sea. How will it play out? We dont know, but we're slowly finding out now that Warplanes is out, and we'll know for sure when Warplanes hits. Our one question: How long will it be before people tire of typing "You sank my battleship!" in chat?
City of Titans
Release date: 2015
From the ashes, Project Phoenix emerges. Their goal: to make a game in the spirit of City of Heroes, with the community that loved the older game so much. The same fans who petitioned for their beloved City of Heroes to remain open are the same ones developing this project. And if you trudge past some of the more hyperbolic speak on their wildly successful Kickstarter, its easy to get excited about the game.
All of what made City of Heroes great is back with a vengeance: costume, powers, good vs evil, vibrant colors. In their Kickstarter they allude to bigger, better, grander heights with this game. What could those be? Well just have to wait and see.
Embers of Caerus
Release date: 2015
Embers of Caerus lets you create your own religion. And run your own kingdom. So theres that. If done well these options could be an astounding experience. Though were cautiously optimistic: the game is currently in production by an all-volunteer team of 50, and its a Kickstarter project, so the finished product might not be as lofty as we think.
But it crushed its Kickstarter campaign and is now backed by developer Havoc, so theres definitely promise. Embers of Caerus is also taking another hack at the death as a pervasive consequence mechanic that many have tried and failed at. While its not perma-death, there will be significant losses for dying. Which makes sense if, you know, youre running a kingdom.
Greed Monger
Release date: 2015
Are you tired of grinding through instances with people you barely know for gear you only keep until the next best thing is available? Are you sick of crafting and economics being sidelined as cheap mini games in the more popular MMOs? Are you frustrated that these amazing and giant cities never seem to have any sort of dynamic political system at all?
If you answered yes to any of these questions, Greed Mongerer is the game for you! This project was Inspired by the desire for a different perspective on MMOs while aesthetically stepping back to their roots, and the developers have already more than tripled their initial asking price on Kickstarter. Even though the game wont be out for a while, it already has a robust forum community, so hop in if youre interested.
Pathfinder Online
Release date: 2015
Pathfinder sounds like a dream--a dream that sounded so good that it recently won developer Goblinworks the $1 million they asked for on Kickstarter. Gone are levels, replaced by a skill system reminiscent of that in EVE Online. (Age of Wushu, anyone?) Goodbye, classes--you design your character by focusing on the skills you want to have.
Shops are run by players, and players can even build the buildings and cities that house those shops. Most promising of all, Pathfinder even includes a meaningful alignment system and bounties for PvP. That's a tall order even for a major studio, however, but if Goblinworks can pull it off, it could herald the coming of an age in which indie studios can compete in the MMO playing field.
Titan
Release date: 2015
Can Blizzard pull off another success like World of Warcraft? It'll be tough. So tough, in fact, that reports are in that Blizzard killed Titan in its near-finished state and started over fairly recently. Apparently it wasn't ready to reinvent the wheel.
So, what do we know? A few things. It'll have a casual focus and feature some form of in-game advertising, it'll have a sci-fi setting, and it'll be a new IP separate from Warcraft, Starcraft, and Diablo. If some leaked concept art reflects reality, it'll look somewhat like WildStar. We're probably not going to see it this year, but with BlizzCon back on schedule, we're hoping we'll at least get an official announcement in Anaheim this November.
Tom Clancy's The Division
Release date: 2015 Pre-order on Amazon now
Part Ghost Recon and part World of Warcraft, Tom Clancy's The Division was the big surprise at Ubisoft's press conference during E3 2013. Set in a post-cataclysm America, the third-person shooter drops players into an open-world New York City and tasks them with completing different missions as they fight to survive.
But there's more to The Division than that--the game is also an MMO, meaning you'll encounter other players as you fight through different parts of the world. And they might try and kill you. The release window for the game has been set for late 2014 (maybe) right now is the target for Ubisoft and their hybrid shooter-mmo.
But wait! Maybe you've missed something!
With all of these new and exciting MMOs coming out, it's easy to have missed some already released contenders for your attention. Just in case these have slipped passed you, here is a list of some MMOs that have come out during this year.
WildStar
Released onJune 3, 2014
You can check out our ongoing WildStar Review for yourself, but suffice it to say that we're liking what's on display. Playing the game feels at once familiar and refreshing, as it combines several standard ideas with some attractive attempts at innovation. Among these is the path system, which lets you spend a good chunk of your time climbing mountains and exploring underground passageways.
Still others include an uncommon focus on single-player content at the level cap and the ability to create your own PvP battlefields through WildStar's version of player housing. All that aside, though, it's good to see a MMO that brings a Pixar-esque lightheartedness to its cartoony visuals, rather than using them to relate oh-so-serious narratives.
ArcheAge Online
Released on: December 17, 2013
Sandbox MMORPGs are slowly making a comeback after the disappointing shows by games like Star Wars Galaxies, and Korea's XL Games hoped to be in the vanguard of that revival, courtesy of ArcheAge Online. With the inclusion of instanced dungeons and standard quests, though, it was clear that XL is took the safe route.
It's the details of its sandbox gameplay that were most enticing, though, such as how you needed to use a tractor to farm or how you needed to work to reduce a prison sentence for murder and how you were able to take part in naval battles with ships you built. If that doesn't sound fun, then consider this--you can race against your friends on hang gliders.
City of Steam
Released On: December 4, 2013
Browser-based MMORPGs used to be pitiful, ugly affairs aimed more at the casual Facebook crowd than the genre's core audience. But City of Steam wants to prove that there's no reason why our browsers can't deliver the same quality we expect from downloadable MMOs. It certainly left a good first impression.
Minutes in, you're battling demons on speeding trains with a user interface that's clearly inspired by Diablo and Torchlight, and trudging through rusty suburbs that look as though they were lifted from decayed Detroit factories. It's not the best looking game, unfortunately, but it wears its steampunk aesthetic well, and a handful of funny cinematics enliven the experience.
Dragon's Prophet
Released on: September 18, 2013
Sure, Dragon's Prophet might not be the prettiest MMO we've ever seen. But it's the only one that promised to let players capture and tame dozens of dragons before embarking on an adventure. Actually, it reminded us a lot of Pokemon--except every one of them is a dragon type.
This free-to-play MMO also includes plenty of other typical features, including player housing and action-based combat. It also let's guilds build entire kingdoms, which would have been pretty awesome if those kingdoms served more than a cosmetic purpose. Still, the thought of riding a fire-breathing dragon into battle is pretty appealing, especially when you can use them in combat.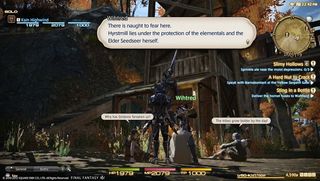 Final Fantasy XIV: A Realm Reborn
Released on: August 27, 2013
We were nervous. We though, perhaps the damage had already been done. Maybe MMOs for Square Enix are to be no more. Thank god our review of Final Fantasy XIV proved otherwise.
While FFXIVARR doesn't do much in terms of innovation, the game itself si a polished experience. Not only that, but if you've ever played a Final Fantasy game you'll recognize many familiar faces and creatures in the MMO. All in all, this is one to pick up.
The Elder Scrolls: Online
Released On: April 4, 2014
Depending on who you ask, an Elder Scrolls MMORPG sounds like the greatest idea or the worst idea for an online multiplayer game ever. On one hand, Tamriel's sprawling provinces and rich lore provide one of the best settings for an open world MMORPG. On the other, it runs the risk of rubbing shoulders too closely with the likes of EverQuest and World of WarCraft to honor the open and largely meaningful world we've come to associate with the series.
Some of it looks encouraging, such as a fairly open system that lets you design your class as you want to, but other ideas seem at odds with the entire Elder Scrolls legacy. We're hoping that the minimalist UI and the social opportunities inherent in its "megaserver tech" will make up for these perceived shortcomings.
Darkfall: Unholy Wars
Released on: April 16, 2013
For all of its problems with grinding and server performance, the original Darkfall was a PvP junkie's dream, featuring action-based combat and the ability to loot your slain enemies while partaking in almost limitless open-world PvP. The sprawling world, said to be one of the genre's largest, was an attraction in itself, and the ability to partake in sieges and similar activities allowed Darkfall to maintain a devoted audience throughout its run.
Darkfall: Unholy Wars seeks to prove the same experience, but with updated visuals and a degree of polish aimed at winning new players into the fold. It was touted to be a fast, frantic, action-packed MMO that is be more approachable to those with experience in competitive games.
So many worlds, so little time