International Star Wars: Rogue One posters put the focus on Jyn Erso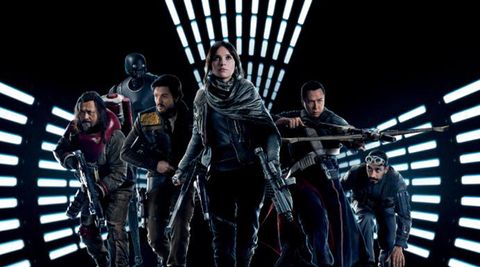 UPDATE (16/9/2016):
Star Wars' official Twitter account unveiled two new international posters for Rogue One - which is a little over three months away from its cinematic debut - and both one-sheets put Felicity Jones' Jyn Erso in the limelight. Check them out in the gallery above...
Both posters are relatively simple when it comes to design, but the Japanese one-sheet in particular - which shows Jones' Erso with the Death Star looming in the background - does a good job of blending the new with the familiar, something which the film itself is attempting to do. We'll find out whether or not it succeeds in December.
UPDATE (15/7/2016):
The panel for Star Wars: Rogue One took place earlier today, and among the reveals was a brand new poster for the film. The gorgeous one-sheet - which shows the rebel forces battling stormtroopers while the Death Star looms large in the sky - is notably bright, which is mildly surprising when you consider the grim war tone that Rogue One is apparently going for. We'll see if the new trailer follows suit when it lands online. Until then, you can check out the new poster - along with all the other images from the film - in the gallery above.
The Death Star rises in this new poster for #RogueOne: A Star Wars Story. Just revealed at #SWCE! pic.twitter.com/aopNW6DzXqJuly 15, 2016
ORIGINAL (15/7/2016):
The first trailer for Rogue One: A Star Wars Story lit up the internet yesterday, and it's safe to say that we are now all counting the days to December 16. To go along with the first bit of footage the first tagline revealing teaser poster (along with some official high-res images, which you can view in the gallery above) has been unveiled. Check it out...
Directed by Gareth Edwards and starring Felicity Jones, Diego Luna, Riz Ahmed, Ben Mendelsohn, Forest Whitaker, Mads Mikkelsen and Alan Tudyk, Rogue One: A Star Wars Story is scheduled to open in UK and US cinemas on December 16, 2016.
Images: Disney/LucasFilm
Topics