Fast Facts:
Star Trek: Discovery release date: September 24, 2017 (US)/September 25, 2017 (UK)
Cast: Sonequa Martin-Green, Michelle Yeoh, Anthony Rapp, Doug Jones, Shazad Latif, James Frain, Maulik Pancholy, Terry Serpico, Sam Vartholomeos, Rainn Wilson; Jason Isaacs, Kenneth Mitchell, Clare McConnell, Damon Runyan, Rekha Sharma
Producers: Nicholas Meyer, Vincenzo Natali, Akiva Goldsman, Alex Kurtzman
Showrunners: Gretchen J. Berg, Aaron Harberts, Heather Kadin, Rod Roddenberry, Trevor Roth, David Semel
Update: August 9, 2017 - CBS CEO wants us to know Discovery is "terrific"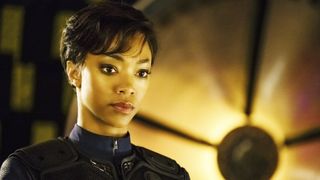 CBS' CEO, Les Moonves, wants us to know he's not only seen the opening episodes of Star Trek: Discovery - he thinks they're "terrific" too.
During the company's most recent quarterly earnings call (thanks, ComicBook), Moonves said: "I have now seen the first six episodes and I can assure you that it is terrific. It is the perfect vehicle to take All Access to the next level and beyond.
"With a full season of NFL, Star Trek: Discovery, and more and more original programming and every episode of every CBS show on CBS this fall, and international expansion, we are just getting started with All Access."
If you're worried that that means CBS will rethink its partnership with Netflix for the upcoming sci-fi show, don't be - at least not yet. Moonves confirmed that the show will remain with Netflix in international markets... for the time being.
Update: August 3, 2017 - Discovery's captain talks catchphrases
We're slowly learning more about Discovery's cast as we creep ever close to Discovery's September premiere, but there's one character we've yet to learn much about - the man carving out a new ass groove in the Captain's Chair.
Talking to , actor Jason Isaacs - the man behind the mysterious Captain Lorca - admitted that, as Captain, he thought he needed a suitable catchphrase, just like his predecessors, Captains Picard and Kirk.
Within an hour on set, Isaacs reckoned he'd had it sorted with: "Git'r done!"
"I was so cocky," Isaacs admits. "I've only been here an hour, and already I have my catchphrase," only to find that had already been taken by Larry the Cable Guy (it's even copyrighted, believe it or not).
"It's very different from other Star Trek shows; there's a lot more emotional and personal interaction than plot," Isaacs adds, talking more seriously about the show. "There's a layered story that you aren't used to in Star Trek. This is a complicated guy."
So, why so complicated? And what will be Captain Lorca's catchphrase? I guess we'll find out soon enough...
Update: July 27, 2017 - Discovery will be "grittier" than most premium shows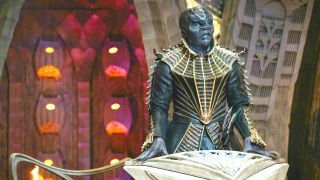 Star Trek: Discovery will be "grittier" than previous iterations of the sci-fi show, and break new ground both "culturally" and "philosophically".
Talking to (via ), CBS Interactive's CEO Jim Lanzone said the show hopes to build on the franchises aims and continue the precedent set for "intelligent and smart" shows.
"It is certainly going to be very original and, in a good way, different than what has been put out there before," said Lanzone. But that has always been the history of Star Trek. It has always broken new ground culturally, philosophically. It has always been a very intelligent and smart show beyond the dynamics of science fiction and visual effects. Knowing who is making this show and the people who know who the creators are, they know all that and that is absolutely a big part of the show. "
So how will this translate to what's happening on-screen?
"It is definitely being done in a different way than it has been done before. It's going to be very cinematic, very high production value, and grittier, the way a lot of premium cable shows are today," said Lanzone. "That's definitely the approach that the team has taken.
"The intent is to make a great Star Trek. The people who are doing the show are not CBS executives, they are very talented showrunners. They are people who are steeped in Star Trek and are all very deep into the history of the program and I think the show reflects that."
But if you're expecting the kind of sex and violence we've been used to in hit shows like Game of Thrones, think again.
"If the showrunners and creators wanted to tell that [kind of] story they could because living online there are technically no ratings," he said. "In the past someone asked me that question and I said 'yeah, theoretically' And then everybody went berserk saying 'I can't believe you are going to have naked Klingons!'"
Update: July 17, 2017 - Discovery's Klingons introduce "several different houses"
#StarTrekDiscovery producer explains why the Klingons changed https://t.co/9VlqBYlyOA pic.twitter.com/fZy7YWlMQ6July 17, 2017
Fans shouldn't get hung up about why the Klingons' distinctive design changes, says Discovery's showrunner, Aaron Harberts.
As the Klingons have frequently been madeover throughout Star Trek history, original showrunner Bryan Fuller was keen to see them get a new look for Discovery, too.
Talking to (via ), Harberts said: "In the different versions of Trek, the Klingons have never been completely consistent. We will introduce several different houses with different styles.
"Hopefully, fans will become more invested in the characters than worried about the redesign." What do you make of the new look Klingons?
***Original article continues below***
Star Trek: Discovery is blasting off this year
Over fifty years ago, "Star Trek is…" onto a blank piece of paper. Today, the sci-fi show continues to intrigue and innovative as one of TV's greatest shows, and its newest incarnation - Star Trek: Discovery - lies just on the horizon.
As we creep ever closer to its debut, what should we expect to see?
As we prep for take-off to parts unknown, here's everything - and we do mean everything - we know so far about latest iteration Star Trek: Discovery, including facts, fan theories, and good 'ole fashioned rumours. It's mostly spoiler-free as much remains speculative, but if spoilers aren't your thing, then you may want to look away now...
Star Trek: Discovery's release date has finally been set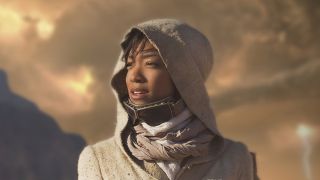 Star Trek: Discovery will premiere on Sunday, September 24 in the US and Canada on CBS, and will hit Netflix everywhere else on Monday, September 25. Further episodes will be published weekly on CBS All Access in the US and Canada and on Netflix elsewhere.
The show was first announced in June 2016, and was set back not once, not twice, but three times. Originally slated for January 2017, then-showrunners Bryan Fuller and Alex Kurtzman the show would be pushed back to May 2017 to ensure the "demand of physical and post-production" didn't "compromise quality".
Then CBS Television Studios put out confirming a further delay - this time to an unspecified date - stating: "Production on Star Trek: Discovery begins next week. We love the cast, the scripts and are excited about the world the producers have created. This is an ambitious project; we will be flexible on a launch date if it's best for the show. We've said from the beginning it's more important to do this right than to do it fast."
Next, reported that the debut had been pushed back again to an unspecified time in "late summer". CBS chief Morgan Stanley stated the new series requires "a lot of post production" and that "it's important to get it right [as] Star Trek is the family jewels" of its new streaming service.
But hey, it's all good. We have a date now. Who else is calling in sick on September 26…?
The Star Trek: Discovery trailer has us hyped already
An all-new - shown above - depicts the Federation going up against the Klingons.
Our very first glimpse of Star Trek: Discovery, however, was , and came in the form of a minute-long teaser that gave a premature peek at the U.S.S. Discovery itself in space, plus a quick glimpse at the all-new series insignia.
Already much has changed since that time, which might not be surprising given the number of internal production crew changes, but it's changes to the Discovery itself, plus the series logo, which are most notable. But it was the second Star Trek: Discovery teaser trailer that sent fans into a spin thanks to argh-blink-and-you'll-miss-it glimpses of the Discovery uniform, alien headwear, the construction of the Bridge, and, naturally, a refined U.S.S. Discovery itself.
Of course, that's the first time we get a glimpse of the all-important Captain's chair… and now we know who'll be sitting in it.
Then, CBS dropped not one but two Star Trek: Discovery trailers, focusing upon the USS Shenzhou encountering the Klingon and featuring Sonqeua Martin-Green and Michelle Yeoh (), along with Doug Jones, who plays Lt. Saru.
The reception of the trailer hasn't been universally positive, though, with some fans suggesting Discovery's props look way too sophisticated for its pre-Kirk timeline. Others seem unsure of the new Klingon look, even though we knew they would be based upon an unused design from Star Trek: The Motion Picture. What do you think?
The Star Trek: Discovery plot will "continue to push boundaries"
A FAVORITE TOS EPISODE "BALANCE OF TERROR" IS A TOUCHSTONE FOR THE #STARTREKDISCOVERY STORY ARC #STARTREK50 #LLAP50 pic.twitter.com/3UqKS46TnuSeptember 9, 2016
Hailing from Hannibal creator Bryan Fuller (who's also penned Voyager and Deep Space Nine episodes), Star Trek: Discovery - named after new starship the U.S.S. Discovery NCC-1031 - . Talking to fans at the Star Trek 50th Anniversary panel at , Fuller stated that it was important that the show "remind audiences the message of Star Trek - continuing to push boundaries."
Fuller has teased that there's an incident in Star Trek history that's been "talked about but never explored", and stated that - as a fan himself - it's something he would "want to see".So: what could it be? Speculation is rife, but all signs point to it not being the Earth-Romulan war, and neither is it likely to be concerning the Battle of Axanar.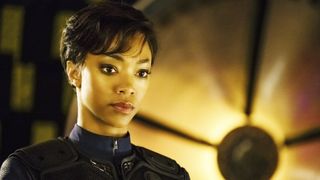 Apparently, the new show isn't afraid to deviate from the original premise; in the same panel, Fuller added Discovery wouldn't stick to episodic storytelling, which suggests the show's keen to adopt broader story arcs than may span several episodes. The thing is, Fuller has also said that the Star Trek episode Balance of Terror - in which the Federation is battling Romulans rather than Klingons - was a "touchstone for the Star Trek: Discovery story arc," which leaves us a bit confused, let's face it.
While Star Trek: Discovery intends to respect the roots of the original series, producer Alex Kurtzman has also confirmed that it isn't afraid of trying new things, either - especially when it comes to the storyline for leads Sonequa Martin-Green and Michelle Yeoh.
"The story that we have for season 1 is really interesting and special and I think pays tribute to a lot of what Trek has done and in many ways is actually doing it in a new way," Kurtzman told . "To have Sonequa and Michelle as captains of our ship is really, really exciting and different. I love stories that are based around strong women and we have some very strong women on that show."
Adding that Martin-Green is "a very, very special actress", Kurtzman said the actor "is bringing a flavor to the character that I feel like I haven't actually seen in Trek and that's really, really exciting. Her story is very unique and draws on some really interesting things in Trek lore. I think fans will both, appreciate, and I am certain, it will be a cause of much debate."
And while we'll see "a lot of things that hearkens back to the original series and elements of the original series", expect changes too. "I'm not just talking plot, I mean the spirit of what that show was. We are going to be revisiting a couple of things on Discovery that I think people will find familiar.
"Without spoiling anything, I think we are adhering to a timeline and sticking to the rules, but also I think finding some new areas and avenues of exploration that have only been alluded to, but never fully explored."
Showrunners Aaron Harberts and Gretchen J. Berg have also revealed a few insights into Burnham, the character played by Sonequa Martin-Green. Talking to , they confirmed Burnham just might be the catalyst for an incident described by initial showrunner Bryan Fuller as "an event in Star Trek history that's been talked about but never been explored… to dig deep into a very tantalizing storyline".
"Burnham [has] spent a lot of time on Vulcan, but she's human," Harberts said. "Sarek [Spock's father] plays an important role in her life, which has been completely planned until she makes a very difficult choice that sends her life on a very different path.
"When we meet her, she's the First Officer on the Starship Shenzhou. And Burnham's choice that we're alluding to is most difficult choice you can make — it affects her, affects Starfleet, affects the Federation, it affects the entire universe. That choice leads her to a different ship, the Discovery and there we begin what Gretchen and I call our 'second pilot.'"
Sonequa Martin-Green expanded on this at between First Officer Michael Burnham and a certain iconic Vulcan, confirming that Spock's dad Sarek is a father figure to her… and Spock is her step-brother.
"I was basically committed to Capt. Georgiou through my surrogate dad, Sarek," Martin-Green explained when asked how Michael came to serve under Michelle Yeoh's character. "I was raised on Vulcan by him and Amanda [Grayson] after the murder of my parents."
Does this mean we'll get flashbacks of a young Spock…?
As for why the team switched the focus from the captain to the first officer?
"The joy is in the journey. The advantage to her not being in charge of the bridge right now is we get to tell stories from a very different point of view. It's a fresh feeling because we're not on the bridge all the time. We get access to more parts of the ship."
Star Trek: Discovery's cast boasts some familiar faces
Although we've known for some time that The Walking Dead's Sonequa Martin-Green had been drafted in to portray the character, up until now details of Discovery's lieutenant commander had been sparse. However, it's now been revealed that Discovery's Number One will be First Officer Michael Burnham (Yes, Michael. No, I didn't typo Michelle).
Comments on Twitter and forums alike indicate fan confusion at the moniker, but the name Michael isn't unheard of for women, and it could simply be that by the time Discovery takes place, it's become a common female name. Or it could be that the character is transgender, or merely an indication that gender identities (and names) are more fluid in the future. Who knows.
CASTING NEWS: #StarTrekDiscovery adds @rainnwilson to its roster as Harry Mudd, first seen in the original television series! pic.twitter.com/4Ov9DrFVM3March 31, 2017
Also confirmed is Rainn Wilson, known best as The Office's Dwight Schrute. He'll be heading to Discovery as Harry Mudd. Yup. That Harry Mudd - the same Mudd Captain Kirk encountered waaaay back in the 60s TV show (although, technically, the original series occurs a decade after events unfold on Discovery).
The character was expected to make an appearance in The Next Generation but never did, which means Discovery will be the first time we see Mudd since the original series. Will we get to the see the origins of the character? Does the casting of Wilson as Mudd intimate a bigger role for the con-artist this time around? Guess we'll find out eventually.
As for who's sitting in that captain's chair? It's none other than Jason Isaacs - although you may know him best as Lucius Malfoy. In a , Isaacs posted a picture of the iconic chair, stating: "Nice chair. Hope it's comfy".
Nice chair. Hope it's comfy. pic.twitter.com/xwfdWAmBQWMarch 7, 2017
late last year, confirming that Michelle Yeoh, Anthony Rapp, and Doug Jones will respectively play Captain Georgiou, commander of the USS Shenzhou, Lt. Stamets, a science officer specialising in astromycology (that's space fungus to you and me), and Lt. Saru, a Starfleet science officer and member of a previously unseen alien species.
Rapp also marks a Star Trek first as being the TV show's (if not the movies') first openly gay character.
Gotham's as Spock's father, Sarek, who's been described as a "key character" in the series, marking the first character from a previous Star Trek franchise to be confirmed for the upcoming show. Sarek - an astrophysicist and Vulcan ambassador to the United Federation of Planets - fathered Spock with his human wife, Amanda, and has featured in the original series and The Next Generation, as well as several of the Star Trek movies.
It's also been confirmed that 30 Rock's Maulik Pancholy will join the team as chief medical officer Dr. Nambue, The Purge: Election Year's Terry Serpico as Admiral Anderson, and Sam Vartholomeos will play Ensign Connor.
Star Trek: Discovery is also poised to feature recurring Kingon cast members, too. CBS has announced that Chris Obi, Mary Chieffo, and Penny Dreadful's Shazad Latif will join the show as T'Kuvma, L'Rell, and Commanding Officer Kol. But that's not all. We've also had three other Klingon characters confirmed, with Kenneth Mitchell playing commanding officer Kol, and Clare McConnell and Damon Runyan playing Klingons Dennas and Ujilli respectively.
The Star Trek: Discovery timeline ignores the rebooted movies
Discovery is set 10 years before the original series, placing it around the time the Federation was at war with the Klingons, which makes sense given creator Fuller stated that Discovery thematically traces alien races attempts to "understand each other". Couple that with recurring Kingons in the cast list, and it all slots together, right?
This is further exemplified by Fuller confirming that the show will "probably have a few more aliens than you typically have on the show. We wanted to paint a picture of Starfleet where we're going to have new exciting aliens and also new imagining of existing aliens".
Rooted in the universe of the TV franchise - rather than the alternate reality presented by the rebooted Star Trek movies - Discovery ignores the 'Kelvin' timeline in which Spock and commander Nero disrupted the time continuum and spawned a new reality when they were sucked into a black hole and subsequently time-travelled back into the past, attacking the U.S.S. Kelvin on arrival.
That said, while Discovery takes place before the original series, it occurs after Enterprise… so it'll be interesting to see how the new series bridges the gap between Enterprise and the original series. Could it be possible we'll revisit characters from either series?
The Star Trek: Discovery ship is based on an abandoned '70s design
Star Trek: Discovery's namesake, the U.S.S. Discovery NCC-1031 ship, is based upon a version of the ship initially designed - but never used - in the 1970s.
"There was an abandoned Star Trek series in the '70s," . "It was actually for a movie. And Ralph McQuarrie had done some wonderful illustrations, and we saw those and saw sort of harder lines of a ship and started talking about race cars and Lamborghinis in the '70s and James Bond cars and started working on the designs, taking those inspirations and coming up with something completely unique to us."
That said, don't take anything you've seen to date as a definite. According to Fuller, development of the ship is "an evolution", so what we see now might not necessarily be what we see when the show finally launches.
And what of the Miranda-esque class ship seen in the teaser all those months ago? The Shenzhou, perhaps? Or, given the saucer is seemingly placed above the warp nacelles, perhaps it's an Akira-class reminiscent of Deep Space Nine?
Star Trek: Discovery's Captain will not be the focus of the show
Image: EW
Although we know Jason Isaacs will be forging his groove in that fancy chair, Discovery's attention will not be focused solely on the Captain.
Talking to , Martin-Green said: "Being the first officer on the ship is going to be a wild ride, because we haven't seen that happen before in the Star Trek canon; we haven't seen the story be told from the perspective of the first officer rather than the captain. It's going to open up so much potential for new storylines, because not being the captain automatically gives you a different perspective."
Interestingly enough - and if are to be believed - it's possible Star Trek: Discovery's leading character, Number One, may have served on the U.S.S. Enterprise with the iconic James T. Kirk…
Star Trek Discovery showrunners are facing criticism for the decision to feature two women of colour in the leading roles. Although not formally involved in Discovery in anyway, Star Trek alumni George Takei - who played Sulu in the original series - has hit back, stating that even from its earliest iteration, the sci-fi series prided itself on "greater diversity".
"Now these so-called trolls haven't seen a single episode of the new series, because it hasn't been aired," Takei said on MSNBC's AM Joy (thanks, ). "And they don't know the history of Star Trek [either] ... Gene Roddenberry created this with the idea of finding strength in our diversity - and also the delight of life in diversity.
"We had a guiding acronym - IDIC - which stood for infinite diversity in infinite combinations. We boldly went where we hadn't gone before because we were curious about what's out there. And when you go out into space, you are going to have even greater diversity."
That acronym is enshrined in Star Trek canon, and is the basis of the Vulcan philosophy, the symbol for which is echoed throughout the series (it's the one that looks like a pyramid with a star on top).
The Star Trek: Discovery uniforms look strangely familiar
It's here - we can (almost!) see the new uniform is its full glory.
The royal blue tunic and newly styled insignia hint at a possible The Cage influence (not to mention being really reminiscent of Enterprise uniforms, too), and unlike the original 1960s series and JJ Abram's movie, there's no black collar, either.
Although the colour certainly is reminiscent of the Enterprise uniform, we have no idea as yet what the colour might signify, or if that shiny gold piping is indicative of rank. Curiouser and curiouser.
"I think that when you see it [the uniform] I can tell you specifically what the influences are, and that the styles that [they adopted] a transporter accident in their approach," . "I think when you see the design, you'll say, 'It's a little bit of this, it's a little bit of that'."
Yup. We agree.
First look at #StarTrekDiscovery with @SonequaMG as First Officer Michael Burnham and #MichelleYeoh as Captain Philippa Georgiou. pic.twitter.com/K9ORYgmVUlMay 17, 2017
We've also seen First Officer Michael Burnham (Sonequa Martin-Green) team up with Captain Philippa Georgiou (Michelle Yeoh) on an as-yet undisclosed location.
But while their fictional location remains unknown, has at least now revealed the filming location, stating that filming took place in Jordan, as well as on-set in Toronto, Canada. Peer a little closer, too, and we can also see what appears to be an old-school communicator on Martin-Green's belt, and a bag that may be holding a Tricorder, perhaps?
Related Star Trek: Discovery news
"Those Klingons are proper weird" - the Star Trek: Discovery trailer has arrived and reactions are mixed
Star Trek: Discovery's first official image is here - and it looks a lot like Star Wars
Star Trek: Discovery offered Michael Dorn a Worf-related role but he said no - here's why