Over the weekend, Bethesda sent press an invite to check out its lineup of games coming to E3 2017 - nothing surprising there, right? But the way the company did this was via an image of "Bethesdaland," a (I should stress, totally fictional) theme park with areas representing several of the properties it owns. And two of them are marked "under construction."
Take a look for yourself: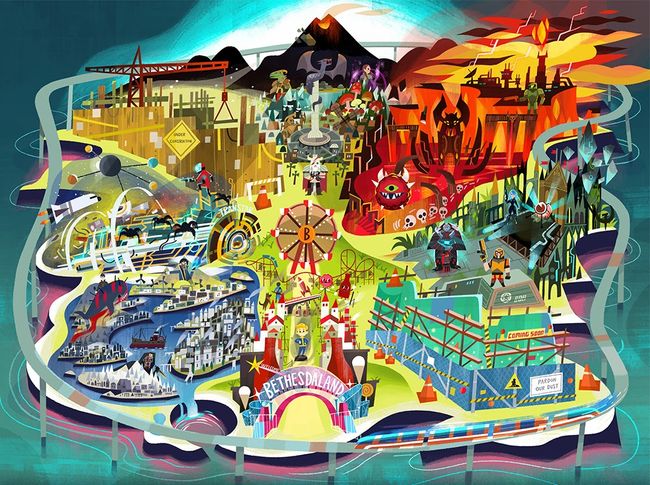 So starting at the very top center and moving clockwise, we have The Elder Scrolls, Doom, Quake, something under construction, Fallout, Dishonored, Prey, and one more project not quite ready to be revealed.
Rumors have been swirling for more than a year about a follow-up to 2014's excellent Wolfenstein: The New Order, with the voice actor of BJ Blazkowicz pretty much confirming "Wolfenstein: The New Colossus" back in October 2016. Meanwhile, a job listing uncovered by NeoGAF suggests that The Evil Within 2 (or Psycho Break 2 as it would be called in Japan) is also just around the corner.
Could these be the "under construction" areas of Bethesdaland? Seems like a pretty safe bet to me - at least safer than another Brink, Wet, or Rage game anyway. But tell us what you think: if you had it your way, what games would you like to see announced at E3 2017?