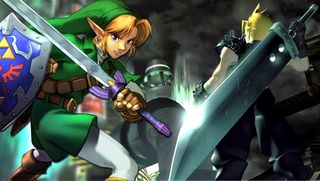 Blades of steel
Oh sure, Cloud Strife's person-sized Buster Sword looks pretty cool...but if you were going toe-to-toe with an opponent, you'd probably be better off with a plastic butter knife for a weapon. Video games and real-world science get along like vegans and cannibals--for proof, just look at how they treat hair, armor, mortal wounds, and spatial reality. This is especially true when it comes to swords: Each and every law of physics gets brushed aside in the name of fantastical, intimidating blades that no human could ever actually wield.
But what would happen if they tried? I showed the 19 most iconic, outlandish video game swords to two experts: historical fencing guru and ARMA director John Clements, and Craig Johnson of Arms & Armor, the metallurgist (who you might recognize from my recent feature on armor) that's been teaching and practicing Western martial arts for upwards of 35 years, dealing with everything from stage combat to sport fencing. These guys know sharp weaponry like the back of their hand--but would they actually take any of these insanely ornate blades to a duel? Only one way to find out.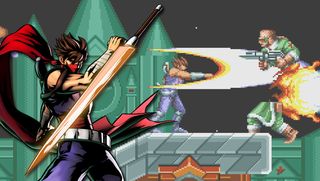 Schwing (Strider Hiryu's Falchion cypher, Strider)
The statement this sword makes: You're a simple future ninja, with simple future ninja tastes in sabers. You're an elite assassin with a soft side, judging from how often you surround yourself with robotic animals. And you never drive or ride public transit--whenever you arrive on the scene, it's always via a gigantic, Eagle-shaped hang glider.
Should you wield it in a fight? Absolutely, provided you've mastered the right techniques. "He's using it like the Okinawan tonfa," says Clements, making note of the single cross that acts as a handle. Clements recommends that you hold a cypher in a stance called "The Hanging Point," because "from that position, he can then do a reverse downward slice--a right-to-left slash." That posture would also let Strider guard his lower body fairly easily--perfect for when his opponent starts spamming crouching jabs in any Marvel vs. Capcom game.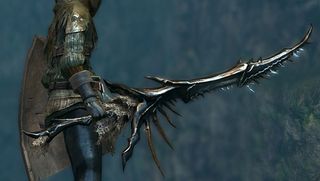 Creepy Crawly (Quelaag's Furysword, Dark Souls)
The statement this sword makes: You've come face-to-face-to-face with a woman's naked torso affixed to a horrifying spider's body. Upon besting the frightful creature, you decided to craft a souvenir to commemorate this lovely memory: one of her amputated limbs. What the hell is wrong with you?
Should you wield it in a fight? If you can find one, go ahead and use it. "If it's [part of] an exoskeleton, it might be super lightand knowing how certain aspects of the bug world are, it could be super strong, too," says Johnson. And the leg's spiny shape would still cut just as well; as Johnson notes, "You've got some South Pacific swords made out of sawbills, or shark's teeth [which were implanted into] a chunk of wood. So that would be similar, in a way." And this kind of resourceful use of animal parts as blades isn't anything new. "Natural material weapons are not unknown," says Johnson. "A lot of times, when they had the melees [in medieval tournaments], they would use chunks of baleen from whales to create the sword blades." Huh--learn something new every day!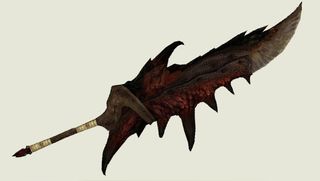 To Scale (Rathalos Flamesword, Monster Hunter 3)
The statement this sword makes: You're the kind of DIY-minded, innovative hunter who saw a dragon's scale and thought "Hey, I could craft a weapon from that." Only later did it occur to you how duct-taping a dinky piece of wood to a giant blade might not make such an effective longsword.
Should you wield it in a fight? Against something that isn't a gigantic monster? Hell no. "The width of the blade means it's unwieldy; you cannot transition from warding to cutting, from slicing to thrusting," says Clements. "You can't transition. It doesn't have [any] versatility because of the width. The wider the blade, the more mass, the more surface area would have to go into the target--and then there's friction." And that's discounting the giant spiked edge, which would catch on anything and everything. At best, this Flamesword might work as a giant chopping weapon, but you could never actually win a one-on-one duel with this kind of raw, inaccurate power. Clements puts it another way: "You wouldn't use a meat cleaver to skin a tomato."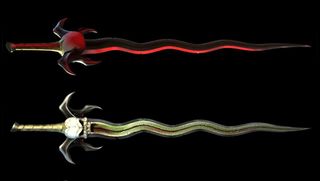 Wave Blade 64 (Kain's Soul Reaver, Legacy of Kain)
The statement this sword makes: You're an immortal vampire who's constantly flipflopping between villain and antihero status. Your weapon is important enough to span an entire series, with the added ability to drain your opponent's blood like a metal silly straw. It even doubles as a handy soul storage system.
Should you wield it in a fight? Definitely--it may even give you a distinct advantage. Turns out, the wavy curvature of the blade could actually psyche your opponent out mid-duel. "The correct term [for the European form] is flammarda form of decorative blade," says Johnson. "In use, they may have had a sensory [benefit]. There's a tactile component of using a sword [in] its play with another sword; how you feel the other sword moving across your sword. It probably would disconcert someone who hasn't fought against something like that before." That's what those losing duelists get for not doing their sword homework.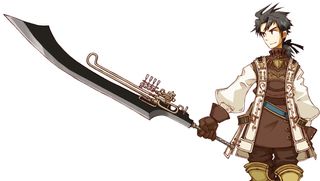 Louis Armstrong (Jazz's broadsword, Eternal Sonata)
The statement this sword makes: You couldn't decide between using a trumpet or a blade as a weapon, so you just combined them. You're a stoic, natural-born leader that calls the shots for the Andantino resistance. It's been hard getting by when everyone keeps mistaking you for the smooth-talking Transformer of the same name.
Should you wield it in a fight? Even without any brass trumpet pistons or trombone slides attached, this sword still makes no sense. "It's impractical because of its mass and its weight," says Clements. "The average [historical] sword was about three pounds; even your greatswords would be in the four-pound range. Real swords are no heavier than a six-pack of soda." But given the thick blade, this broadsword is far too heavy--swinging that kind of weight around would be like trying to utilize an elongated bowling ball as an effective weapon. Worse still, an opponent could easily grab those frets, letting him "hold [your sword] in place while he takes your head off or cuts through your thighs," says Clements. I doubt I'd be too jazzed in that scenario.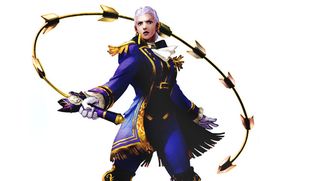 Whip It Good (Ivy Valentine's snake sword)
The statement this sword makes: You wanted a weapon that could really tie together your dominatrix look. With your golden stilettos and extremely tight leather strangling your enormous bust, a sword-whip hybrid was the perfect cherry on top. And really, no other weapon could pull off your trademark Calamity Symphony combo anyway.
Should you wield it in a fight? The real question is, could you actually craft a sword that morphs into a whip at a moment's notice? "Anything's possible with enough money and time," laughs Johnson. One thing's for sure: Ivy would have little to no blade strength when her weapon was in sword form. "It would really [depend on] how those things nest together," says Johnson. "You're running into all sorts of engineering issuesthe further out on the sword [that joint] is, the more leverage that joint has to somehow counteract." Getting hit in the face with a whip that has sharp bits of metal attached would certainly hurt--but as a sword, Valentine's weapon would go limp in an instant.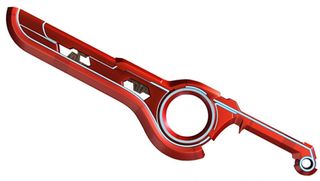 Cherry Finish (Monado, Xenoblade Chronicles)
The statement this sword makes: You want the power of a lightsaber, in the form that looks like a space-age keychain toy. When you wield this weapon, the universe seems to align in your favor--by calculating the trajectory of every particle in existence, it's almost as if you can predict the future. Trippy.
Should you wield it in a fight? Setting aside the whole precognizance, future-sight thing, the Monado probably shouldn't be your first pick for a swordfight. "The thicker the blade, the more material it has to push out of the way as it enters into the target," says Clements. "So if you have a blade that's very thick, it has to have a curvature and a really hard edge in order to slash." And that giant ring in the blade wouldn't serve much of a purpose, besides giving your opponent something to grab onto and wrench the weapon from your hands. "This would be something you could slice with," concludes Clements, "but it's impractical because there are far more maneuverable and agile designs, that don't have the deficiencies [that come with] a big hole."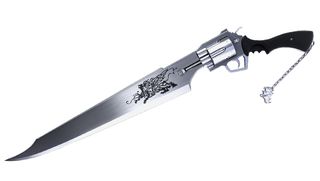 Gun to a Swordfight (Squall Leonhart's Revolver Gunblade, Final Fantasy 8)
The statement this sword makes: You had the gall to replace the barrel of a pistol with a blade, and nobody called you out on how ridiculous that was. To make matters worse, this gun doesn't actually shoot bullets; instead, pulling the trigger amps up the blade with a jolt of energy. You like posing with your gunblade while wearing your leather jacket, because you're convinced it looks totally bad-ass.
Should you wield it in a fight? Sure--it's practically been done before. "In the 16th century, [weaponsmiths] did devise a couple of swords that had pistols attached to them," says Clements. "They were actually more like pistols with a blade attached; you get that one shot, then you basically have a machete." Surprisingly, the pistol grip could work: "I would not expect that to be that heavy," says Clements, "because that blade could be fairly thin, and the balance of it would be countered. The thing that would bother me is the chain--that could easily flick around and smack you in the hand, wrist or face as you're doing certain techniques." It seems Squall's accessorizing comes at a price.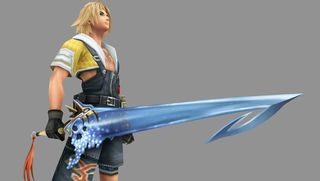 Liquid Cool (Tidus' Brotherhood, Final Fantasy 10)
The statement this sword makes: You and water go way back--the majority of your body's made of it, and you're always decked out in your aquatic blitzball uniform. You're particularly bad at expressing your feelings, so you flirt with girls by laughing loudly and awkwardly at nothing. Chin up, buddy--we've all been there.
Should you wield it in a fight? Er, no. The blade seems to be constructed from a strange, water-like material, which already makes no physical sense (or maybe it's just a transparent casing for liquids, like those crazy goldfish disco boots). But the sword's construction isn't so great, either. "I'm not even sure which part is edged," says Johnson. "If the [upper] spike was off the back edge, it would seem to be a little more functional to me." No matter how you slice it, that hooked shape makes this weapon more of a barbed fishing spear than a viable sword.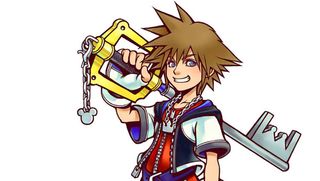 Key to My Heart (Sora's Keyblade, Kingdom Hearts)
The statement this sword makes: You've been to Disney land and back--not the theme park, mind you, but the actual animated universes themselves. Your body can shapeshift to match your surroundings, making you a merman in Atlantis or a spiky-haired lion in Pride Rock. You are arguably the best character ever brought to life by Haley Joel Osment's voice.
Should you wield it in a fight? Yes, just don't call it a sword. As Johnson explains, the name Keyblade is a fallacy. "This is a mace. It's a single-flanged mace--I wouldn't even call it a sword," says Johnson. With that out of the way, it would actually make for a pretty effective impact weapon. "One of the key things for impact weapons is mass distribution," says Johnson. "A lot of times, maces are much lighter than [you'd think]. But if you hit somebody with a pound-and-a-half chunk of steel in the head, it hurts." Makes sense to me.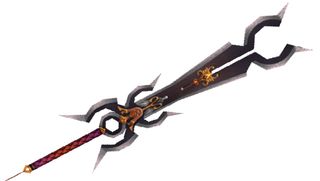 Excessively Fancy (Auron's Masamune, Final Fantasy 10)
The statement this sword makes: You're the strong silent type, with a knack for always showing up in the right place at the right time. You've got an aura of grizzled, old warrior cool about you, what with the kickin' shades and bottle of sake always at your side. And you're probably one of the most mysterious swordsmen in the world.
Should you wield it in a fight? Go for it--but don't be shocked if your weapon bends or breaks during battle, provided you haven't diced up your own hand before then. "You've got a couple problems here," says Johnson. "For one, the points coming back towards the handle: even though they're kind of out there, you're still going to catch yourself on them. I recently did a piece that had similar attribute, and cut myself about five times [just while] working on it." And the ornate design would definitely create some structural weaknesses. "The circle at the base, right in front of the guard, is going to be inherently stress-orientated," notes Johnson. Block an incoming attack at the wrong angle, and the blade might just break right off.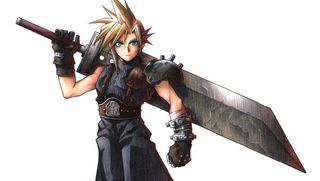 The Quintessential Video Game Sword (Cloud Strife's Buster Sword, Final Fantasy 7)
The statement this sword makes: You are the poster boy for angsty, brooding JRPG protagonists. People know you better for your gravity-defying hairstyle and inexplicable sword size than your actual personality. And you seemingly never, ever smile.
Should you wield it in a fight? Noooooooope. "I've quoted this one out for a lot of people over the years," Johnson says with a knowing laugh. "Again, you're running into the whole weight issue. No matter what material you make it out of (that isn't Styrofoam), the mass-to-weight ratio is just all out of whack." Even if the blade was tapered from the hilt to a razor-thin tip--like, a millimeter thick--it would still be extremely difficult to use (not to mention being woefully floppy for a metal blade). "You could [make it hollow]," says Johnson, "but it's just not going to be durable enough to do anything with. The physics of it just really fight against it actually working as a three-dimensional piece."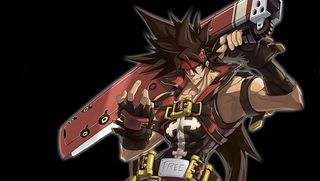 Blunt Rectangle (Sol Badguy's Fireseal, Guilty Gear)
The statement this sword makes: You're such a bitchin' swordfighter, you don't even care whether or not your weapon actually has a sharpened edge. Not only that--your rectangular blade is fully capable of blasting out flames, with a construction that could double as a Zippo lighter. And despite your bad boy appearance, you're a diehard Queen fan.
Should you wield it in a fight? Only if you've got the skills to pay the duelist bills. "It's probably not a great thrusting weapon," says Johnson. "Depending on the mass distribution and the material, that's where something like this can work. If the red [section] has more mass towards the hilt, then it's just a big chopping weapon." But it brings up a point that applies to every sword in existence, video game-related or not. "How a sword works is way more dependent on the user than how it was [made]," muses Johnson. "The best swordfighter in the world [can turn any material into a weapon]. Who would you rather fight: the worst swordfighter in the world with the best sword ever made, or the best swordfighter in the world with a stick?" Yeah, I picked the first one too.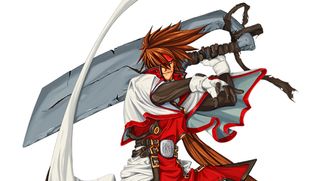 Stonehedge (Holy Order-Sol's concrete sword, Guilty Gear XX)
The statement this sword makes: Before you became a rockin' bounty hunter, you were a man of the church, fighting on the front lines of a religious crusade. You're a bit like Evil Ryu: just different enough from the original to justify your inclusion in a limited roster.
Should you wield it in a fight? No--because wielding it would actually be impossible. Johnson is no stranger to concrete: "I used to work in construction and stuff, so I'd say that thing's got to weigh 40 or 50 pounds," he says. "The weight is all in front of the hand, and you've got a hugely wide bladeunless you're somebody with superhuman strength, there's no way you could pick it up, even with two hands," says Johnson. "The physics are all working against you; you've got the short end of that lever." It's like the difference between picking up a 50-pound dumbbell and a 50-pound, five-foot-long bar of steel from one end--physics dictate that the latter will always be more difficult.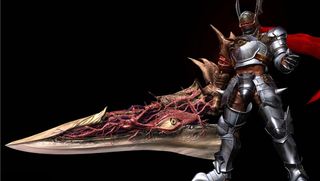 Eye See You (Nightmare's Soul Edge, SoulCalibur)
The statement this sword makes: You're a big player in a tale of swords and souls, eternally retold. There's actually nothing really inside your colossal suit of armor--seeing as you're just the corporeal embodiment of a cursed weapon. You've become increasingly hard to cosplay as with every iteration of the SoulCalibur franchise.
Should you wield it in a fight? Affirmat--just kidding negative. Johnson chuckles when he sees the ridiculousness that is the Soul Edge. "Yeahhhhhhhh. The blade portion [alone] would probably be weighing in the 15 or 20 pound rangenot sure how much that bone, horn, and flesh would weigh," says Johnson, estimating a total heft of up to 50 pounds. "By the form of it, this thing would be much more [than just] a problem of weight and strength. How is the blade fused to the flesh? Is the flesh gripping the blade part? Is that bone coming out of there that's metallized in some way?" Quite honestly, Johnson, I hope to never find out how this tendony abomination came to be.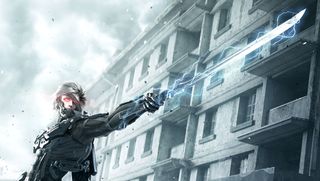 Good Vibrations (Raiden's high-frequency blade, Metal Gear Rising: Revengeance)
The statement this sword makes: You're one of the most elite special forces soldiers in history, but you're a gentleman at heart, judging from the way you take the time to escort your ladyfriend over a pit of cockroaches. Being stripped naked and forced to cartwheel through sewers is just another day on the job for you.
Should you wield it in a fight? By all means--and if you're so inclined, you could probably go out and buy a similar blade this afternoon. "They have training knives that carry an electrical charge in 'em," explains Johnson, "so when you close the circuit over those two edges with your skin, you get a zap. It could be some form of that." Johnson even points out a detail I hadn't noticed before: circles on the blade that look like rivets, which could hold two blades together with some insulation between. Oh, and about those electrified practice knives? "They're fun as all get-out to play with," says Johnson. That's (turns to look at the camera with a raised eyebrow) shocking.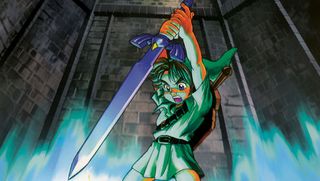 Blade of Evil's Bane (Link's Master Sword, The Legend of Zelda)
The statement this sword makes: You're the hero of time, destined to fight against evildoers whenever the need arises. You wield a sword that isn't terribly impractical, but is easily one of the most iconic video game weapons of all time. And your speech impediment reduces all verbal communication to a series of grunts and shouts.
Should you wield it in a fight? Looks can be deceiving--because mechanically, the Master Sword isn't all that superior. "Even if the tip is a convex fuller, you're going to carry so much weight out in the tip of this, and the handle is so short compared to the weight ratio," says Johnson. "The guard is very thickif it's solid, then you're dealing with that extra weight that doesn't get you anything." Then again, the design does lend some credence to Link's iconic spin attack. "If that was all steel that thickit would have a tendency to be so heavy that swinging it [back and forth] would be difficult, because the sword would start manhandling you in a way." Once you start swinging the Master Sword one way, it'd be hard to stop.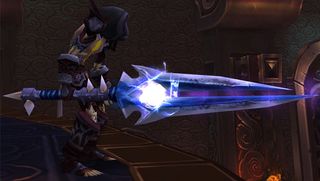 Docking Bay (Thunderfury, World of Warcraft)
The statement this sword makes: You are somehow able to wield a weapon that was originally bigger than a city bus. You snagged it off the dead body of a giant wind god, better known as a Ragnaros wannabe. And try as you might, you still can't transmogrify your Legendary gear to show off your old-school loot.
Should you wield it in a fight? Funnily enough, giant tuning forks don't work so well in armed combat. "Again, you've got that mass issue--this would just be heavier than all get-out in steel," says Johnson. And the split right down of the middle of the sword wouldn't be good for much, pulsing lightning orb or no. "Most people would think of [that slot] as some kind of blade-trapping device," explains Johnson. "If you were somehow able to get the other guy's blade in there, it would help you keep his blade at your strong, so you could manipulate it around. But at the same time, it limits what you can do with your sword, because his blade is [stuck] through your sword."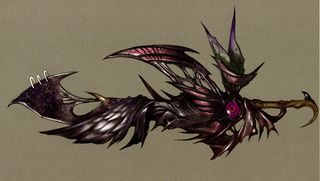 Purple People Eater (Caius Ballad's sword, Final Fantasy 13-2)
The statement this sword makes: HOW DARE YOU CALL THAT GROTESQUERIE A SWORD? ARE YOU HIGH?! WHAT ARE THOSE, METAL FEATHERS AND A DEMON'S EYE?! Jesus, man.
Should you wield it in a fight? For the grand finale, I wanted input from both Clements and Johnson. Their stunned silences did not disappoint. "That's not a sword," says Clements. "Just--it's not a sword. I could pick up a Christmas tree and [it'd be just] as effective." Johnson could barely makes heads or tails of the blade's shape. "Holy crap. Uhyeah. You've got so many layers--what bits are sharp? It would literally weigh 50 to 100 pounds, at least. And the effectiveness of it as a weaponit starts to fall apart, especially as you get more mass off your center line. These wide weapons read really cool, and look great, but the wider they get, the harder they're going to be to actually function and control." I interpret that as Johnson's nice way of saying whoever envisioned this design is an insane person.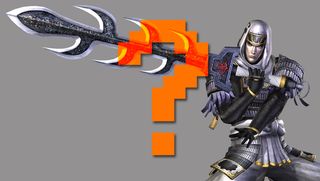 Live by the sword, die by the implausibility
So what have we learned, besides some awesome sword trivia that will one day win us the Daily Double in Jeopardy? Video game swords weren't mean to be wielded in the real-world; it's more about looking impressive in three-dimensional space than actually making physical sense. And hey, that's fine by me. Think I missed the craziest game sword out there, or want to know how a different type of weapon would fare? Tell me about it in the comments--at this point, I'm looking for any excuse to glean knowledge from experts.
And if you're looking for more expert opinions, check out Gaming's 19 most impractical suits of armor: A metalworker weighs in and Experts explain how Pokmon would survive in our world.