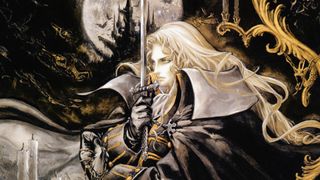 Castle + Dracula + Whip = Box Art
For more than 25 years, Castlevania has been the world's premier Dracula-focused digital media. And while the series changed hands from Japanese to European developers a few years ago, Castlevania's overall focus hasn't veered from Konami's original intent: whipping the living hell out of Halloween decorations come to life. Its a story written across dozens of game cases.
To date, more than 25 games have pitted their heroes against the dark forces of Dracula, and in that time, Castlevania's tone has changed from a slightly silly tour of Universal movie monsters to something a little more serious. With Castlevania: Lords of Shadow 2 about to rise from the crypt, there's never been a better time to tour the many, many variations of guys posing with whips in front of spooky backdrops. And its best to start at the beginning...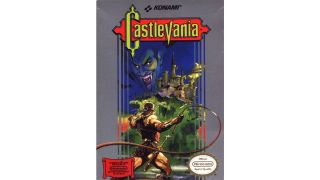 Castlevania | 1986
While it might look a little silly today, the Frank Frazetta-inspired box art from the first Castlevania eschews the standard cute and cuddly NES aesthetic for something a little more dramatic. The blood dripping from Draculas mouth is particularly edgy for NES cover art. Over time, the Belmonts would get a lot less beefy than this depiction of Simon, obviously inspired by the then-recent Conan the Barbarian movie starring a certain future (and now former) California governor.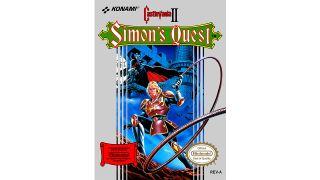 Castlevania II: Simon's Quest | 1988
Konami's silver-bordered box art continues with the NES sequel, but not even visual branding can rein in the fury of Simon's whip. And it could be that vampire's curse at work, but Simon has definitely slimmed down for the sequel, which tasks him with the much darker quest of finding Dracula's various body parts. Thankfully, he wouldn't look so much like '70s heartthrob Leif Garrett in future depictions.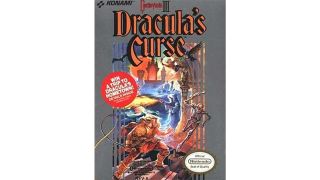 Castlevania III: Dracula's Curse | 1990
Simon Belmont's predecessor Trevor cuts a more Fabio-ish figure in the third--and finest--installment in the NES trilogy, though it should be noted that floating, red orbs branded with sweepstakes information arent featured too heavily into the actual game. But all of Trevor's Castlevania III companions make an appearance on the box, even if it's hard to tell if Alucard is the bat in the upper-left corner or the guy peeking out from behind the chance to win a trip to Transylvania.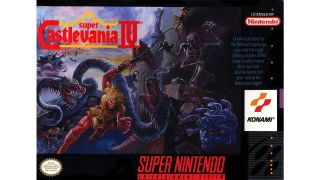 Super Castlevania IV | 1991
Before reboots became a standard tradition for any series getting long in the tooth, Super Castlevania IV promised to be a bigger and bolder take on the original, which may explain why the monster-to-hero ratio is so unfairly balanced against Simon. Due to the limits of 2D artwork, notably absent is the player's greatest foe: motion sickness from the levels with the spinning, Mode 7-powered rooms. With any console war, the queasy are always the first casualties.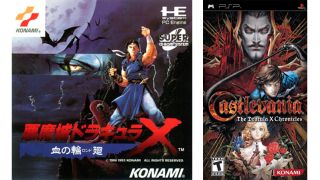 Dracula X: Rondo of Blood/Castlevania: The Dracula X Chronicles | 1993/2007
With his jet-black hair and white headband flapping dramatically in the breeze, Richter Belmont looks a lot more like your traditional Japanese hero than the Conan-inspired Belmonts of the past. But when it came time to bring this obscure PC Engine title to a much wider audience via the PSP (discounting the compromised SNES version which shared the same cover art), artist Ayami Kojima stepped in and gave Rondo of Blood's characters a look more in line with Symphony of the Night and later games.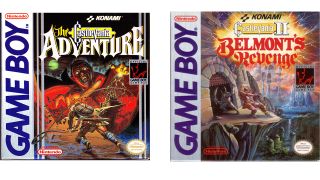 Castlevania: The Adventure/Castlevania II: Belmont's Revenge | 1989/1991
It didn't take long for Castlevania to wind up on Nintendo's insanely popular Game Boy handheld, and the packaging of Castlevania: The Adventure promises an outing just as spooky as its console betters with its depiction of Dracula pointing at prospective players like some kind of Satanic Uncle Sam. The art for Belmont's Revenge lacks the grandeur of The Adventure, though, mostly because Christopher Belmont looks like hes stumbling out the wrong door, only to have some helpful knight behind him shout, "Hey, man! Party's in here!"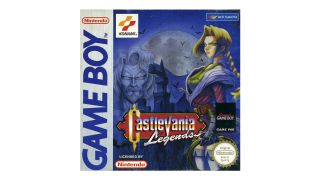 Castlevania Legends | 1998
Yes, that's another Castlevania Game Boy game. From 1998--a year after Symphony of the Night! Despite the Super Game Boy features it boasts, former Castlevania series boss Koji Igarashi disowned Legends for its lack of respect for continuity. But, even disregarding that, the bland anime designs on the cover turns the bombast of your typical Castlevania cover art into something closer to Yu-Gi-Oh. This fate would befall Castlevania a second time, though not until much later.
Castlevania: Bloodlines | 1994
With his ruffled pirate shirt and sensible slacks, Bloodlines protagonist John Morris doesn't really look like he's cut out for a Castlevania game. And while Dracula generally looms menacingly in the background of most Castlevania cover art, here, he's reduced to an ill-defined smear of colored pencils. The Japanese artwork might not be as well-composed as you'd expect from the series, but its blood-red sky and generally more ominous nature is a huge improvement from the American version's pastel hues.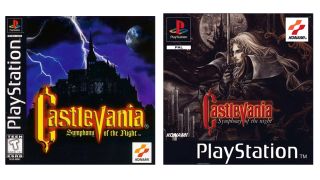 Castlevania: Symphony of the Night | 1997
Castlevania's popularity initially peaked in the early '90s, so Konami's US branch played it awfully safe with their release of Symphony of the Night. "Castlevania? Put a castle on there! Practically sells itself." Needless to say, gamers were robbed of seeing Ayami Kojima's amazing depiction of Dracula, though in those oh-so-edgy late '90s, its easy to see why Konami went with an alternate design. Had they kept the cover art as-is, they'd no doubt have a lot of unenlightened consumers asking "Who's that lady with the sword?"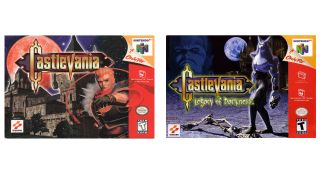 Castlevania 64/Castlevania: Legacy of Darkness | 1998/1999
At one unfortunate point in history, 2D gaming was thought to be a thing of the past. So even though it looked objectively worse than the glorious hand-drawn stuff that came before it, we had to suffer through roughly a decade of crudely rendered 3D character art so consumers could be reassured that, yes, they were buying one of those newfangled, polygonal games. Poor Reinhardt Schneider on the left seems to be disgusted by his own existence, and wolfy and his skeleton friend on the right look like they barely escaped from Killer Instinct.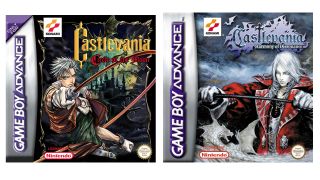 Castlevania: Circle of the Moon/Harmony of Dissonance | 2001/2002
With the first two Castlevania Game Boy Advance games, the cover art's prevailing theme seems to be "look at my whip." Circle of the Moon's Nathan Graves seems to be showing off his weapon's flexibility, while Harmony of Dissonance's Juste Belmont is clearly expressing that just because he looks undead, it doesn't mean his whip hand isn't fierce.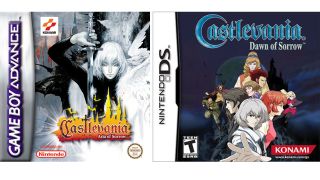 Castlevania: Aria of Sorrow/Dawn of Sorrow | 2003/2005
For a brief period of time, Konami didn't shy away from putting Ayami Kojima's atypical (for America, anyway) depictions of Castlevania protagonists on the games' US box art. Dawn of Sorrow disrupted this short trend by exchanging her unique, ethereal designs for something more akin to a cheap-o Saturday morning anime.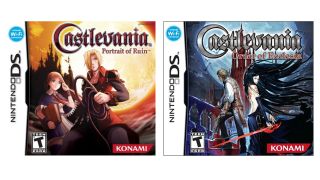 Castlevania: Portrait of Ruin/Order of Ecclesia | 2006/2008
The kid-friendly designs return once again for Portrait of Ruin, though they've been given a bit more definition this time around thanks to the moon (apparently) exploding behind them. But for its last hurrah on the DS, Castlevania once again returns to a much more familiar style, though it's a bit more marketable than Ayami Kojima's work.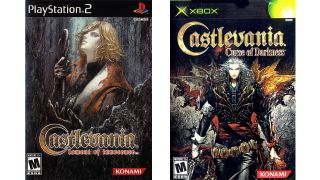 Castlevania: Lament of Innocence/Curse of Darkness | 2003/2005
Castlevanias PS2/Xbox adventures arent as strong as the portable entries of the same era, but the cover art for these two games at least tried to live up to one Castlevania standard: evocative Ayami Kojima depictions of the main character. Lament of Innocence's Leon Belmont strikes a more pained and brooding pose, while Curse of Darkness' Hector goes for something a little more proactive--wouldnt you do the same in those tight, leather pants?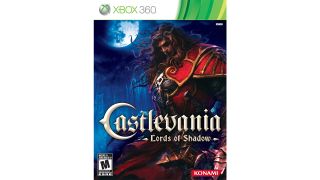 Castlevania: Lords of Shadow | 2010
Lords of Shadow might have tried to distance itself from Castlevania games of the past, but its cover art would be right at home with the many prior installments. Whoever tried to ape Ayami did a pretty good job, even if Gabriel Belmont seems a little too beefy after more than a decade of whisper-thin protagonists.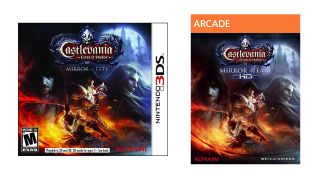 Castlevania: Lords of Shadow - Mirror of Fate | 2013
The titular castle stands out a bit more on Mirror of Fate's box art, proving, ultimately, Castlevania is a game about castles. Unfortunately, Alucard doesn't look nearly as fancy as he did on the cover of Symphony of the Night, which clearly indicates MercurySteam doesn't fully understand his character.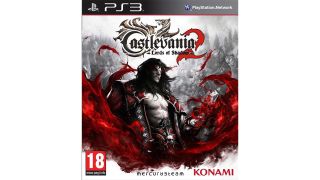 Castlevania: Lords of Shadow 2 | 2014
Even though his depiction has suffered from constant Bela Lugosi impressions and number-fixated muppets, with Lords of Shadow 2, MercurySteam is trying to restore Dracula's reputation as a stone-cold badass--even if he was more of an old creep in the original novel. The art here seems to be going for a mix of Eastern and Western sensibilities; Drac's shiftlessness may say "I'm brazenly sexy," but that WWE-style belt wrapped around his waist shows he's still capable of summoning crotch-level torrents of blood at a moment's notice.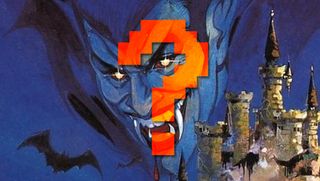 Whipped into shape
Like an immortal vampire, Castelvania has changed with the times but still kept its core qualities intact. Will future entries keep the same whips and fangs motif, or could they change to fit the next hot new trends in box art? Share your thoughts (and your personal favorite covers) in the comments below!
And if you're looking for more Vania, check out Castlevania: Lords of Shadow 2 review and Castlevania graphics then and now.