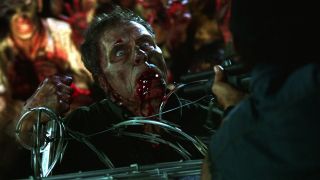 When there's no room in hell, the dead will walk the Earth
When the term 'a fate worse than death' was first coined, was it to describe the horrors one must face after receiving a fatal bite from a zombie? Possibly not. Yet it fully encapsulates the experience of losing a fight with an undead flesh-eater -- the fear of death surpassed by the inevitable transformation that awaits every victim. The desire to chomp down on our nearest and dearest. It really doesn't bear thinking about.
And still those pesky frothy-mouthed hordes continue to plague our most popular forms of entertainment. While there's a slew of novels and TV shows that feature zombies at their core, it's the movies that explore the threat of coming back to life as a ravenous ghoul with such expert terror. So join us, to celebrate the 30 greatest zombie films...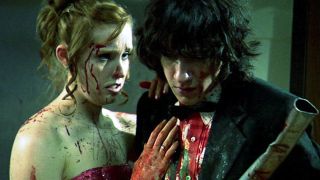 30. Dance of the Dead (2008)
The zombie movie: Nerds, outcasts, dweebs, geeks, you name 'em they're out in full force as none of the above manage to secure dates for the prom. So when a tide of zombies invade their town, it's up to this loner squad to save the day.
Why it's great: Combine the sweetness of a John Hughes movie with the self-aware vibe of Buffy The Vampire Slayer and you're close to what director Gregg Bishop pulls off in this cheeky teen horror.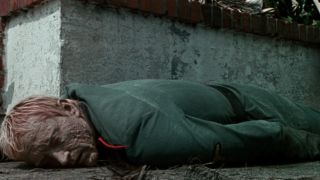 29. Shock Waves (1977)
The zombie movie: This seventies piece of trashy fun is more than simply the first zombie flick to include Nazis -- it's also the first zombie flick to include Nazis that takes place on a boat. Peter Cushing stars as an SS commander in charge of a genetically-modified crew of soldiers on a secluded island. His peaceful and deranged plottings are disturbed when a tourist boat crashes nearby and the survivors stumble ashore.
Why it's great: This is a B-movie cast to die for with John Carradine and Brooke Adams joining Cushing to face the uniformed army of the undead. On an island. What's not to love?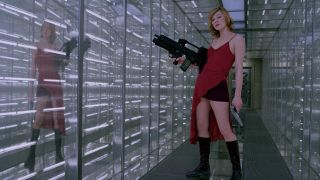 28. Resident Evil (2002)
The zombie movie: First and foremost this flick is about kicking ass, and this stylish adaptation of the videogame series - from which it drew inspiration - does that without making any excuses. Taking its overall story from the first two games it tells of Alice's quest to stop the Umbrella Corporation's zombie-monster-making schemes, making a bona fide action heroine out of Milla Jovovich.
Why it's great: Say what you will about the sequels it spawned, Paul WS Anderson's first foray into the zombie milieu delivered on its promise. Tons of action sequences and plenty of one-liners. Oh, and flesh-eating monsters cooked up in a lab.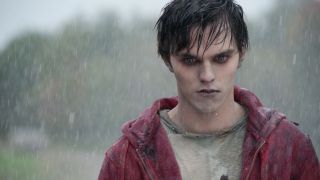 27. Warm Bodies (2013)
The zombie movie: A romance between the living and the dead might stir up Twilight comparisons, but this adaptation of Isaac Marion's warm and witty novel strikes out into a new arena with Nicholas Hoult in the role of a zombie who realises he has growing thoughts and feelings.
Why it's great: Expanding the inner world of its protagonist by imbuing him with feeling and warmth is great. But perhaps its greatest strength is in what that implies about every other zombie movie. Do flesh-eaters simply need somebody to love?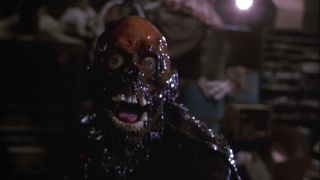 26. Return of the Living Dead (1985)
The zombie movie: When zombie pioneers George A. Romero and John Russo parted ways, the latter went on to create this. This splatter-tastic comedy completely flies in the face of Romero's straight-laced approach, instead spinning off into its own world when a couple of warehouse workers accidentally set loose a toxin that turns people into zombies. A bloodbath ensues.
Why it's great: Ever wondered why whenever someone attempts to do a zombie impression they immediately start jibbering about "braaaaaains"? Return was the first of its kind to incorporate the zombies' love of grey matter into undead mythology.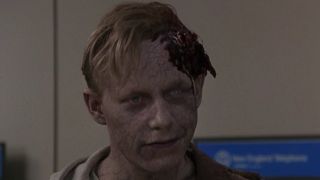 25. Pet Sematary (1988)
The zombie movie: Stephen King's stab at the undead put its own spin on the lore, as the Creed family patriarch Louis makes some poor decisions concerning an ancient Indian burial ground. Namely, burying his son in the 'sour' ground only to have him return as a hateful pint-sized simulacra. He doesn't learn and continues to bury everyone up there until his wife Rachel comes back...
Why it's great: As well as the 'burial ground' twist, the subplot about Rachel's very-much-alive sister Zelda is just as terrifying as the main storyline and those graphic visions of Victor "Paxcow" Pascow end up revealing a sweet, supporting character.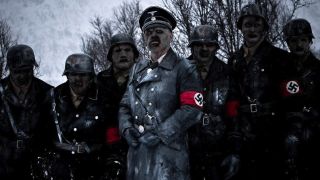 24. Dead Snow (2009)
The zombie movie: Tommy Wirkola thought zombies themselves were not fearful enough, so opted to blend them with one of the most villainous parties from history - the Nazis. This hideously graphic tale plots its way through the Norwegian mountains when a bunch of students stumble across a horde of resurrected soldiers.
Why it's great: Jet black comedy courses through its veins, yet unlike its contemporaries, that doesn't mean it holds back on the guts. Or should we say, braaaains.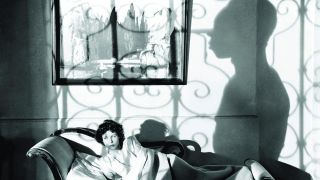 23. I Walked With A Zombie (1943)
The zombie movie: Laden with awful reviews at the time of release, this later went on to become somewhat of a cult classic. Story-wise, it follows a young plantation worker who recants the time she once 'walked with a zombie.' Does she actually meander alongside a member of the undead? Or is the supposed zombie just in poor health? You decide.
Why it's great: A tense little thriller it's all the more scary because you don't even see any zombie flesh eating.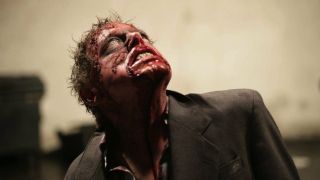 22. Rammbock (2010)
The zombie movie: This 63-minute German entry into the zombie canon is an underrated masterpiece. Forget character studies and nuanced drama. Rammbock captures all of the intensity and scares found in more high-octane fare and packs them into a concise story that follows a a young guy attempting to get his girlfriend back right as the epidemic hits.
Why it's great: Traces of some of The Walking Dead's more compelling episodes can be felt throughout, particularly as it dabbles in love and loss through a tumultuous period.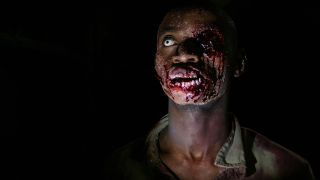 21. The Dead (2010)
The zombie movie: A modern take on the old school flicks of Romero's day that includes only two main characters - a US Army Engineer and a local soldier - The Dead is a mostly dialogue-free affair. The pair navigate through the inhospitable arid terrain of an unnamed African town in order to survive a spate of zombie attacks, and track down their families.
Why it's great: Relocating the action from typical suburban locales to the remote African desert, makes succumbing to a bite even more terrifying. Where can you turn for help?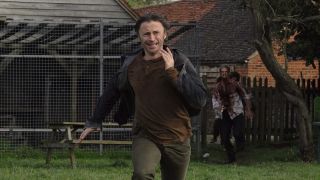 20. 28 Weeks Later (2007)
The zombie movie: Juan Carlos Fresnadillo's sequel ups the vigour and intensity tenfold, delving into action territory for the continuation of Danny Boyle's story. Starting off with a blistering opening sequence, it traces the experiences of Robert Carlyle's Don and descends quickly into a terrifying nightmare.
Why it's great: The harrowing realisation of what Don does during the first scene plagues him throughout the story, and instead of giving him the chance of a happy ending the story dishes out revenge. From the wife he left in a house full of zombies. It's a relentlessly brutal comeuppance.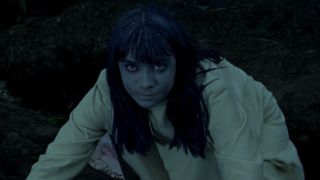 19. Plague of the Zombies (1966)
The zombie movie: In this sixties Hammer classic, a sleepy Cornish town comes under attack when a strange and unknown illness begins to infect the locals. Before long the dead start to rise, but thankfully the town doctor enlists an old professor chum to help quash the resurrected townsfolk from gnawing on their neighbours...
Why it's great: A pivotal moment in Hammer's history, it introduced the idea that zombies weren't just ghosts with a different agenda, but rotting flesh, as evidenced by its gruesome effects work. Later films in the genre would be inspired by this depiction of the undead. Oh, and it features a killer resurrection scene.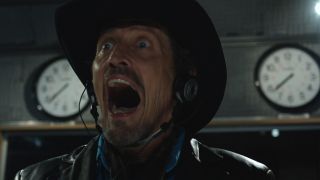 18. Pontypool (2008)
The zombie movie: A cunning script drives this 2008 Canadian flick forward and into new terrain, following small town radio DJ Grant Mazzy over the course of a day as locals start to show signs of infection and the town of Pontypool is quarantined. This strange epidemic hails not from a mutated virus, but from speaking the English language. So that's Grant's entire audience wiped out then.
Why it's great: It's chock-full of social commentary, attacking the exhausted zombie trope with aplomb by laying blame at our collective feet: the bored, uninspired chatter of mankind is responsible for this disease. Only when we ascribe new meaning to words can we escape their clutches. Better grab the OED then...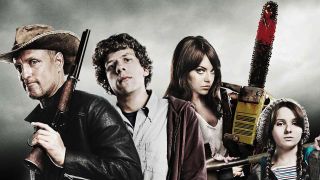 17. Zombieland (2009)
The zombie movie: Chuckles abound in Ruben Fleischer's horror comedy that picks up some time after a zombie outbreak with high schooler Columbus (Jesse Eisenberg) en route to Ohio in search of his parents. Along the way he meets Tallahassee (Woody Harrelson), Wichita (Emma Stone) and Little Rock (Abigail Breslin) and the foursome take off to find a safe haven...
Why it's great: Like Scream did for slashers, Zombieland knowingly addresses the everyday logistics of surviving a zombie apocalypse to winning effect.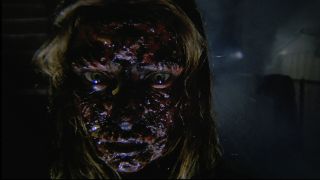 16. City of the Living Dead (1980)
The zombie movie: Horror maestro Lucio Fulci unleashes a whole world of pain on New York City. In the aftermath of a priest's suicide the gates to hell are flung open and it's up to a reporter and a medium to close them. As time ticks down undead hordes cross the threshold making it harder for the intrepid pair to save the world..
Why it's great: This is Fulci. There's barrels of not just straight-up gore, but inventive, playful riffs on typical horrorshows. Showers of maggots rain down and one unlucky chap gets his impaled on a lathe.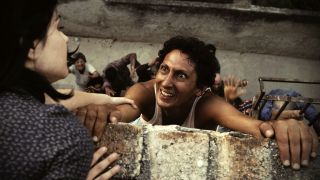 15. Juan of the Dead (2010)
The zombie movie: Forget trying to survive zombies. Juan (Alexis Daz de Villegas) aims to finally realise his potential as an entrepreneur, launching a zombie-slaying business as a way of making cash and saving the world. Hiring a gang of his mates to help him, it all goes swimmingly until they accidentally fire off a couple of rounds into the uninfected.
Why it's great: An altogether madcap approach to apocalypse, this Cuban flick swerves around the obvious angle - it's the apocalypse but abroad - and injects a ton of humour and heart into Juan's journey.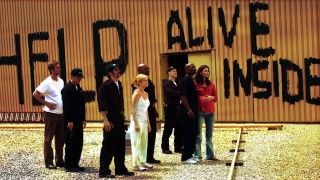 14. Dawn of the Dead (2004)
The zombie movie: A zombie epidemic drives a bunch of strangers to find sanctuary in the local mall. Together they rustle up a plan to escape its confines for a nearby isle. That is, if they can manage to outlive the infected among them, rescue gun store owner Andy from across the street AND save the damn dog....
Why it's great: Released in 2004, Zack Snyder's remake of the classic title still packs a punch thanks to its unflinching gore - the truck-chainsaw moment - and relentless pace. Still, it's the overwhelming sense of dread that envelops the group from start to finish which is truly haunting.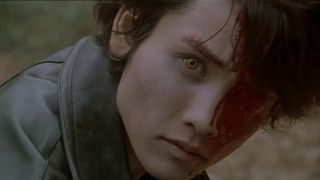 13. Versus (2000)
The zombie movie: Japanese horror isn't always about long-haired girls looming out of television sets. This tasty flick captures the esoteric - and downright bonkers - aspects of Asian cinema, as a bunch of Yakuza rendezvous with a couple of escaped convicts in the middle of the woods. Then a zombie outbreak occurs that's somehow linked to the Yakuza's mysterious leader.
Why it's great: Imagine if Tarantino had side-stepped into zombie territory during Kill Bill's massive Crazy 88 fight sequence. Nonsensical and startling, it's unlike any other film on the list in that it incorporates a ton of different martial arts styles.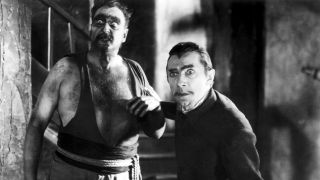 12. White Zombie (1932)
The zombie movie: This pioneering flick from 1932 is widely considered to be the one that started it all. In perhaps his creepiest human role Bela Lugosi stars as a sorcerer who turns unwitting parties into slaves. A master of the undead, he commandeers the entire troupe of zombies to work on his plantation.
Why it's great: It's the classic credited with starting the entire zombie trend and its influence still resonates across the genre today. Particularly the rule that you cannot kill a member of the walking dead unless you shoot it in the brain.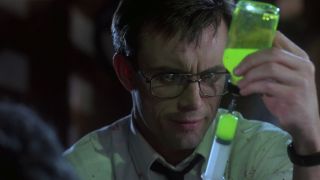 11. Re-Animator (1985)
The zombie movie: Stuart Gordon adapted gothic author H.P. Lovecraft's story Herbert West: Re-Animator into a cult picture. Science-fiction and horror tones are thrown together in one glorious concoction as a medical student with ideas of creating a Frankenstein-type monster realises too late that zombies tend to not listen to their makers.
Why it's great: Gross, bizarre and ridiculously over-the-top, you've got to be grateful that Gordon and co. opted to repurpose Lovecraft's original stories into a flat-out splatterfest. A woman receiving oral pleasure from a decapitated zombie head just one of many, many oddly amusing highlights.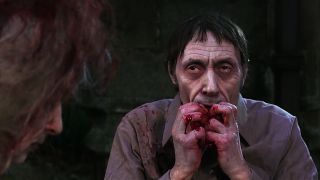 10. The Living Dead at the Manchester Morgue (1975)
The zombie movie: AKA Let Sleeping Corpses Lie. This mid-seventies slice o' gore is packed with tons and tons of bloody vistas, one of the first to do so in the post-Romero era. All of which is kicked off by a young couple whom the police mistakenly blame for a stream of murders. When really it's the dead who are to blame. Polished off with a hint of Hammer gothic, this film did blood-soaked butchery before Fulci ever heard of it.
Why it's great: What's most genius is the inciting zombie creation event: it's an agricultural radiation tool designed to kill insects that causes the dead to rise. Eat that, Monsanto!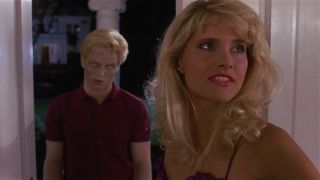 9. Night of the Creeps (1986)
The zombie movie: A college campus comes under siege when alien parasites turn the students into mindless zombies. Part sci-fi, part-horror, all awesome Fred Dekker's late eighties romp secured itself a permanent place in the heart of genre geeks with its brilliantly daft premise.
Why it's great: Much like Re-Animator this flick glues together many genres, in jest and in reverence, for a rollicking good caper. It's a formula that proved so successful even James Gunn had a bash - and paid his homage dues to Creeps - with the 2006 outing Slither.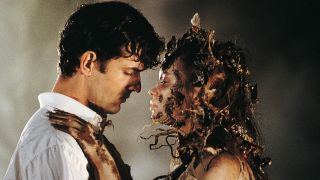 8. Cemetery Man (1994)
The zombie movie: In Michele Soavi's flick, Rupert Everett stars as the caretaker for a cemetary in Northern Italy where he tends to all the typical duties - keeping graves tidy, shooing off yobs - and another rather unusual obligation. Seven days after being buried the dead rise from the grave, and he's the man tasked with taking them out.
Why it's great: Talk about reinventing a genre. While most zombie flicks carry a subtext of social concerns, this little-seen flick boasts much more. Life, love and death are explored beautifully, and there's plenty of blood and guts to satisfy the gore hounds too.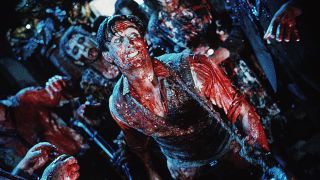 7. Braindead (1992)
The zombie movie: Before dedicating his life to bringing Tolkien's books to the big screen, Peter Jackson gave us this; a splattergore black comedy based in his homeland of New Zealand. Poor Lionel is desperate for an easy life, away from his pestering mother, who turns out to be more trouble than he expected when she's bitten by a plague-infested rat monkey that transforms her into a foul, flesh-eating zombie.
Why it's great: Can we just say 'lawnmowing zombies' and leave it there? No, that wouldn't be fair to the deranged orchestra of gore that Jackson whips out in the final reel. Twisted animal carcasses, intestines and decapitated heads are just a few of the delights Lionel must fend off.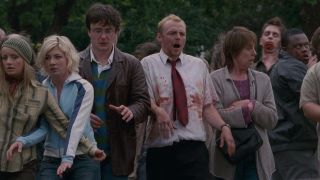 6. Shaun of the Dead (2004)
The zombie movie: The Brit zombie comedy that introduced the world to Edgar Wright is a biting satire that's both gut-bustingly funny and surprisingly tender. It follows a regular joe named Shaun whose unspectacular life takes a spectacular turn when an outbreak hits London. Together with his flatmate Ed he strives to rescue his nearest and dearest before waiting it out in their local watering hole the Winchester. The dead don't booze, do they?
Why it's great: It's a fantastic balance of horror and comedy that puts you right into Shaun and Ed's shoes when tackling with the simple logistics of zombie warfare.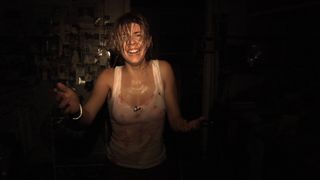 5. REC (2007)
The zombie movie: A Barcelona apartment block is quarantined following a serious flu epidemic. At least that's what the authorities drip feed to the buildings' inhabitants through the industrial grade sheaths boarding up their abode. Conveniently there just happens to be a news crew inside who capture the evening's events and by the time the first tenant charges at the team, frothy-mouthed and bloody-faced, it's clear this isn't the sniffles.
Why it's great: Seldom is found footage utilised to make full use of its capabilities, yet REC breaks the mould. It's impossible to imagine that final sequence in the attic bringing you closer to the edge of your seat had it been shot any other way.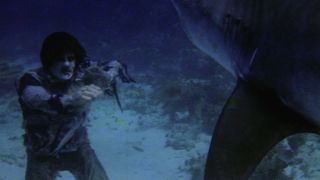 4. Zombie (1979)
The zombie movie: AKA Zombie Flesh Eaters or Zombi 2, Italian goremeister Lucio Fulci made his mark on the genre with this graphic tale set aboard an abandoned boat headed for an island where a doctor attempts to remedy a cure for zombieitus. None of the passengers make it which is unsurprising considering the cacophony of horrors Fulci has in store. He might have attempted to riff on Romero but his style is unmistakably unique.
Why it's great: A zombie fights a shark. Enough said.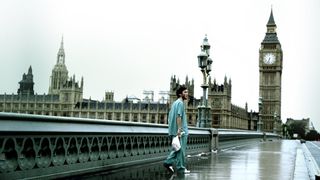 3. 28 Days Later (2002)
The zombie movie: Way back in 2002 the zombie saturation of popular culture hadn't struck yet, lending Danny Boyle's zombie thriller somewhat of an edge. Set in and around London it revolves around a coma survivor (Cillian Murphy) who teams up with a bunch of stragglers and soldiers after 'the infected' take hold of the capital.
Why it's great: The 'infected' are unlike their ancestors. This particular virulent strain gives them a tendency to run at top speed. Which is frankly, rather terrifying.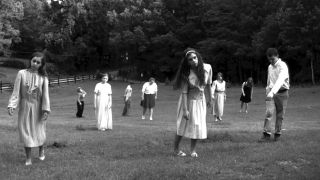 2. Night of the Living Dead (1968)
The zombie movie: George A. Romero's trendsetting picture reminded modern audiences to be afraid of hanging out in cemeteries, and kickstarted a new wave of zombie flicks. In comparison to later films in the canon it's remarkably low key, focusing on the inner struggles of a bunch of survivors who find refuge from the invasion in a small farmhouse.
Why it's great: Its influence can still be felt nearly forty years later, with countless imitators attempting to recapture Romero's knack for character and circumstance.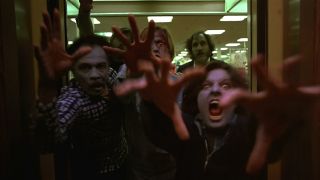 1. Dawn of the Dead (1978)
The zombie movie: The world is coming to an end and where do people go? The mall. A thematic sequel to Night charts the experiences of a bunch of survivors who barricade themselves inside the shopping complex to prevent the undead from feasting on their flesh.
Why it's great: Never since has horror so effectively interwoven its brazen social commentary into the raw bloodletting on display here. Romero's penchant for driving forth his opinions on current cultural issues - in this case, consumerism - is perfectly twinned with the rampant zombie gore.