Need something to terrify you tonight?
What sends shivers up your spine? Is it a monster, peering at you from that gap between the closet doors? A masked maniac on the loose, shredding teens with an iconic implement? The undead, perhaps? Or heck, maybe it's good old fashioned clowns that give you the heebie jeebies. Whatever your chosen mode of pant-browning, there's a movie that preys on that fear.
If you enjoy the company of terror, and are tired of the endless scrolling through the streaming choices available, then look no farther: here's our top 25 picks for the best horror movies on Netflix.
25. Hush (2015)
Region: UK, US
A secluded house in the middle of nowhere. A family terrorised by an outsider trying to drive them slowly mad before offing them one-by-one. You've probably seen this premise unravel a thousand times before, but you probably haven't seen it delivered through such a unique twist.
For Mike Flanagan's follow-up to the superb Oculus, he and his wife Kate Siegel (who also stars) decided to pen a screenplay using the bare bones of that idea with a deaf woman as the lone character singled out by a masked madman. Without access to that one sense which most horror films rely on to convey fear, things have to get inventive. Watching events unfold via her point-of-view, a soundless space, somehow makes the film more terrifying. And even though the killer has multiple opportunities to finish her off, the fact that he chooses to draw things out even moreso just adds to the whole bloody affair.
24. Pontypool (2008)
Region: US
If you missed this Canadian gem upon release then now's your chance to catch up with an absolutely stonkin' little scarefest. The zombie craze that's saturated the movie and TV landscape of recent years has largely stuck to exploiting one element of the idea: flesh-eaters should be avoided. True, yes, but that's where Bruce McDonald's indie stands apart; this virus, due to its simplistic mode of infection, is far easier to contract. The only safe measure would make you go stir crazy.
What's the major selling point is how that premise - which I'm loathe to spoil - simmers due to the location of the movie, a radio station. That's where the whole outbreak is chronicled, through DJ Grant Mazzy's broadcasts, talks with outside reporters, and discussions with his station manager and technical advisor. A cerebral claustro-horror that's guaranteed to incite multiple viewings.
23. Teeth (2007)
Region: UK, US
A black-as-night horror comedy that tackles a few weighty topics along the way to delivering its biting - ahem - reveal. Jess Weixler stars as a teenager under the spell of a Christian abstinence group, choosing to voice its mantra of "no nookie" to better the cause.
Doesn't exactly sound horrific, does it?
Wait for the movie's wincing left-turn, as Weixler's teen finds herself charmed by a Christian lad in her class. While her tummy's all a-flutter, his feelings are less admirable, as he tries to force himself on the girl. So she fights back - with her ladygarden gnashers. The girl's got vagina dentata, a fabled happening wherein women grow actual teeth in their genitals. A nutty premise that unfolds as an exploration of budding sexuality.
22. Honeymoon (2014)
Region: US
You might recognise Honeymoon's leading lady Rose Leslie from her role as Jon Snow's paramour in Game of Thrones. In Leigh Janiak's directorial debut, a strange and creepy rumination on the bonds of marriage, her performance as Bea hails from a previously-untapped place. Somewhere dark, and foreboding. As it should, because Janiak's film doesn't pander to what we already know. It feasts on the unknown chasms between people who choose to spend their lives together.
Things begin with a pair of newlyweds - Leslie and Penny Dreadful's Harry Treadaway - heading out to an isolated cabin to celebrate their nuptials. It all starts to go south when mysterious lights appear in the sky, locals start acting weird and Bea sleepwalks into the night, returning as someone - or something - different.
21. The House of the Devil (2009)
Region: UK
Part of a new generation of hard-hitting horror filmmakers, Ti West delivers his slant on the 'house of horrors'. Channeling the slashers of old, with plenty of nods to the likes of Rosemary's Baby and Psycho, settle in for a modernised take on the domestic horror.
Jocelin Donahue stars as a babysitter who has more than unruly kids to contend with. No, her plan to squirrel away cash so she can escape her rank dorm room turns into a hellish night of survival. That's what happens when you accept work from devil-worshipping strangers.
West's keen sense of the genre's highpoints pushes this from flat-out rip-off into careful, considered homage. It knows what it's riffing and wants to do exactly the same as its predecessors: scare the bejeezus out of you.
20. Curse of Chucky (2013)
Region: US
Chucky's had plenty of facelifts. Yes, literally. But also in terms of the franchise itself. What started out as a dark, sinister tale of an evil toy doll turned into a comedic tour-de-force in 1998's soft reboot Bride of Chucky. Things went downhill after that with Seed of Chucky which opted for broad silliness over a careful balance of scares and laughs, and the franchise was headed for Nightmare on Elm Street territory.
Until Curse of Chucky.
In a return to the original's straight-up "holy shit, there's a creepy doll that's a serial killer" vibe, Curse is truly scary. That's down to Don Mancini, the writer and director of the original film who plots out a new chapter in the pint-sized killer's story which begins with Chucky arriving at the house of a young paraplegic woman. Deaths ensue until the movie manages to circle back to the events prior to Charles Lee Ray's death, slotting it into the timeline and throwing out a nice link to Bride of Chucky as well.
19. Oculus (2013)
Region: US
Mirror, mirror, on the wall, will I make it through the next five minutes without being butchered?
Reflective surfaces, and mirrors in particular, have housed some true horror greats. Candyman quite liked popping out of them, and evil doppelganger things in Mirrors also got their rocks off in a similar fashion. Oculus is Mike Flanagan's second feature, and it's unlike any other chiller with a piece of furniture at its blackened heart.
It revolves around a haunted mirror that tortures its owners. While any normal person would be happy to be rid of it, Karen Gillan's eager lass hunts it down on purpose after witnessing its evil murder her parents. Her goal? Destroy it. It's an altogether different breed of horror in its narrative ambition, that works toward cementing a sucker-punch finale.
18. Tucker and Dale Vs. Evil (2010)
Region: UK, US
Horror comedy done right should aspire to two things: be horrific and be comedic. It's hard to achieve, with one often overpowering the other. Tucker and Dale however, manages to land splat between the two with laughs galore and a great sense of tension.
Like Cabin In The Woods and more recently The Final Girls, it puts a spin on the established state of horror. Whenever kids encounter shotgun-totin' locals, that's usually a sign that they're not going to make it to college. In this case Tucker and Dale are those locals, whose actions are misunderstood by a group of teenagers who believe them to be the real-life inspiration for Wrong Turn.
The whole thing plays out brilliantly. Alan Tudyk and Tyler Labine are lovable, hapless oafs who wouldn't say boo to a goose, and watching their fear toward the kids is a nice touch by director Eli Craig.
17. We Are What We Are (2013)
Region: US
Watching Jim Mickle's third feature, a skilfully presented remake of the 2010 Mexican movie, it's hard to believe this up-and-coming horror auteur is only four movies into his career.
Gore and cheap scares aren't his forte. If you've seen his superior vampire horror-drama Stake Land you'll already know Mickle crafts strong, complex characters and lets their personal journeys guide the descent into horror. And this story is guided by its central group of characters who eat people.
There's much more at stake here than flesh-eating theatrics. The tale of two young girls desperate to break free from a lifestyle of cannibalism forced upon them by their father is a heart-wrenching. Still, papa's not going to be happy about it.
16. Creep (2014)
Region: UK, US
Mark Duplass normally plays nice guys. If the title didn't give it away, his turn in Creep isn't remotely nice. Both he, and the hideous wolf mask he dons, are the new face of horror.
Duplass co-stars opposite writer-director Patrick Brice, for the latest in a long line of mumblegore movies. Except, the story of a freelance videographer who accepts work from Duplass' loon, isn't really a bloody affair but an intense study in how little privacy we're afforded in the modern, digital age.
Everything shuffles along without too much cause for concern until the mid-way point, when you'll be shouting at the screen from behind your cushion. But make sure you don't miss the final encounter between the two. Haunting stuff.
15. The Den (2013)
Region: US
The words "found footage" tend to generate snarks and sneers nowadays. A style that's been fully exhausted throughout its post-Blair Witch resurgence, is there really anything new left in this grainy, shaky sub-genre?
The Den answers that with a resounding yes. While its use of "screen-capped footage" may elicit eye rolls, there's a clever playfulness to the way this story is told that pumps fresh blood into the format. A young woman receives a grant to study the behavior of users on a site called The Den, an online video-chat service that matches up strangers for the purpose of idle chatter. When she witnesses what she believes to be a murder, the perpetrator targets her and begins to take control of her computer. Eerie and scary-as-hell, if you thought Unfriended was spooky, give this a try.
14. I Saw The Devil (2010)
Region: US
Revenge, in the case of Kim Jee-woon's 2010 thriller, is a dish best served with geysers of blood and dismembered body parts. An old-fashioned set-up is executed in a brutal, unforgiving manner when a secret service agent tracks down the man who butchered his fiance.
Does he turn him over to the authorities? That'd make for a short film. This beast runs at two hours and not once during its lengthy runtime does the story even remotely venture where you're expecting. The psychopath being stalked winds up part of the agent's sick cat and mouse game, and by the time this punishing assault reaches its unflinching finale you won't know who you're supposed to be rooting for.
13. A Girl Walks Home Alone At Night (2014)
Region: US
Ana-Lily Amirpour directs the first Iranian-influenced vampire movie (it was filmed in California), and it's one cool customer. Where it's set doesn't matter, this monochrome delight follows the experiences of a young female bloodsucker as she wanders the night alone, dressed head-to-toe in a black veil. Victims come and go, with her main desires leading her to the throats of misogynists.
It sidles along with dashes of comedic verve uncutting its hipster leanings. This is a horror that borrows heavily from every genre, with a wave of influence coming from the distinctive style of Sergio Leone's spaghetti westerns.
12. Insidious (2011)
Region: UK
At a time when scary movies had started to become, well, not so scary, along came James Wan's ode to haunted house films. This creepy tale takes time to establish the story before making moves on your steadily-increasing pulse.
It starts as most of these movies tend to do: with a family moving into a new home. The Daltons relocate and shortly after settling in, their son falls into a coma and supernatural goings-on commence. Like all good trendsetters the scares are so expertly handled you won't see them coming, and the characters - led by a strong trio of central performances from Rose Byrne, Patrick Wilson and Lin Shaye - are believable and likeable. Which makes it all the more terrifying when the demons really cut loose.
11. The Others (2001)
Region: UK
A year after the Blair Witch played with the conventions of format to winning effect, Alejandro Amenbar took a step back to the traditional classicism of the haunted house fable. From the outset it unravels like a lush, period drama set on a remote estate in Jersey post-World War II - it's only when things start to go bump in the night that the film's true intentions come to the fore.
Nicole Kidman's Grace lives in a lofty house with her two young children, both of whom suffer from a disease that renders them sensitive to light. A neat plot point that leaves the entire home shrouded in darkness, the spookiness of which is increased when three servants arrive and bring with them a whole host of bother.
If you've not seen it, then read no more and simply hit play. Like Grace, you won't see the twists and turns coming.
10. Event Horizon (1997)
Region: UK, US
Any movie that involves Sam Neill salivating, cackling, laughing maniacally... makes it worth watching. This 1997 piece of interstellar horror gets better with age. As it closes in on its 20-year anniversary - now's as good a time as any to revisit, or witness its terror for the first time.
Its influences at first seem obvious - Alien, for one - yet it creates its own visual compass that guides it along a tried-and-tested space horror route, arriving at somewhere wholly repugnant. The crew of the Lewis and Clark answer a distress call from a starship that went missing several years before on its maiden trek: the Event Horizon. What they discover onboard is evidence of a place that Pinhead would find enjoyable. Hell.
9. Trollhunter (2011)
Region: UK, US
Filmed in the same style as Blair Witch - but with less shaky, snotty camerawork - Trollhunter is made up of found footage from a crew of student filmmakers in Norway. The trio's initial plan to capture film of supposed bear poacher Hans swiftly takes a turn for the mythic, when they stalk him for an interview and discover that bears are the least of their worries. Deep in the wilds of the north those legendary Scandinavian creatures, rumored to turn to stone when sunlight hits them, do in fact exist.
The question of whether they should continue to follow Hans is irrelevant once they spot one of the towering behemoths for themselves. It's that first sighting - for them and us - which separates the movie from being 'just another Blair Witch knockoff.' You actually get to lay eyes on the dreaded things.
8. Scream (1996)
Region: UK
Kevin Williamson wrote what was then titled Scary Movie after calling a buddy to keep him company while he was housesitting in the middle of nowhere. His pal obliged, and the pair quizzed one another on horror film trivia to keep the screenwriter alert. That's what inspired the first kernel for Wes Craven's post-modern scarefest.
Along with the disposable teens, typical horror tropes suffer the chop here too. Sure, one blonde might get slain, but another blonde knows better. The small group of Woodsboro high schoolers, stalked by a masked killer with a penchant for horror movies, find comfort in knowing how this will play out. Williamson's dialogue is the key to its meta-ramble, most of which is stolen from the voices of audiences, hoarse from years of shrieking at screens "Don't go into the basement!" Those same observations are placed in the mouths of its characters, who, like us know only too well the perils of being in a slasher film.
7. Cloverfield (2008)
Region: UK
Ten years after The Blair Witch Project and it felt as if horror had truly exhausted the found footage schtick. How many more times would audiences have to bear the vomit-inducing camerawork of characters too brainless to stop filming and save their hides? Cloverfield made all those fears melt away. Gone were the teenagers trapped in the woods, replaced by urban twenty-somethings trapped in Manhattan.
Kicking off with a goodbye party, things take a turn when a giant monster crawls out of the ocean and starts tearing up the city. Partygoers flee to the street only to see the Statue of Liberty's head tossed down it like a bowling ball. From thereon out, director Drew Goddard keeps the pace up - thanks to a nippy running time - as a small group try to rescue a friend from a damaged building. That is, if they can make it through the subway tunnels...
Godzilla told from the ground, this is truly scary stuff.
6. Hellraiser (1987)
Region: US
Clive Barker chose to write and direct the feature based on his novella The Hellbound Heart, after the poor treatment of his earlier work Rawhead Rex by another filmmaker. While there's a case that authors should remain distanced from their adaptations, some can craft solid recreations of their source material - and Barker's an example of how that can be achieved.
The result is Hellraiser. With a modest budget the movie explores a realm where pleasure and pain are indistinguishable. Well, by a group of ghastly beings known as Cenobites, who reside within a puzzle box waiting for someone to solve it and release them. Frank Cotton does, and is torn to pieces, slowly resurrected after a drop of his brother's blood splashes his remains. His revival spurs a whole story of bizarre sexual realisations and gore-soaked chaos.
5. Re-Animator (1985)
Region: US, UK
A glorious riff on the hijinks of the undead, brought back to life by mad scientist Herbert West. The film, directed by Stuart Gordon and produced by Society's Brian Yuzna, takes pleasure in attempting to gross out audiences, by pushing the definition of excess to its limits. West revives his professor, kills him, revives a morgue corpse, kills it, revives a victim of the blood-hungry morgue corpse... on and on it goes, and never once does West recoil from the collateral damage of his experiments. Whatever will happen next?
Everything, and anything. This is trash cinema at its most carefree. Gordon, like his protagonist, is desirous for all potential outcomes. As the film heads into its final stretch, there's really nothing to do except laugh at the outright gall of West. Bloody, gory, and ready to wink at you every step of the way.
4. Wes Craven's New Nightmare (1994)
Region: US
The first Nightmare film since the 1984 original to bring something new to the franchise. Wes Craven is often credited with reviving horror in Scream, but it's really this intertextual meta-horror that injected fresh blood into the gasping genre.
In the film, the original cast and crew play themselves twenty years later as Heather Langenkamp - who starred as Nancy Thompson in the first flick - is on the cusp of reprising her role in a new Freddy film. This turn of events causes the fictional Krueger to cross from fantasy to reality, and begin invading the nightmares of Langenkamp's son.
Craven's original intended version of Freddy makes his appearance here, a far more menacing, fearful creation than the quasi-comic he ended up in sequels.
3. The Hallow (2015)
Region: US
A big fan of the horror genre, Corin Hardy chose to branch out into a new territory for his filmmaking debut. He knew there would be creatures involved, but didn't want to churn out another vampire or zombie flick. So he turned to Irish fairy tales and made The Hallow.
Joseph Mawle stars as a conservationist who moves to rural Ireland with his wife and newborn baby to start a new life. His treks into the local forest - for his job - are aggressively discouraged by locals, who warn against stirring up the evil within. Not giving a blind bit of notice, things turn very bad, very fast. Cue a series of intense sequences, including one in a car that possibly rivals the nail-biting Scream 2 scene.
It's still reminiscent of classic body horror like The Thing and Bodysnatchers, and there's a few tips of the hat to The Descent and Pan's Labyrinth, but the most explicit nod goes to Sam Raimi. Check the credits for a neat Evil Dead easter egg.
2. The Babadook (2014)
Region: UK, US
Once in a while a new entry in the horror canon comes along that reminds us all of what the genre is capable. Jennifer Kent's monster feature won over critics and audiences, a slow-burner that preys on childhood fears to chilling effect. Essentially taking a storybook villain and making him real, Kent repurposes the Freddy Krueger idea and crafts an even more dastardly being. A creature that lives on the page and in your nightmares.
The work of a first-time filmmaker can sometimes be hit and miss. They can show promise for the future. Not here. Kent shows an assuredness, a confidence in her material, that presents like the work of an established director. A large part of that is down to the performances she cajoles from her leading cast; Essie Davis is a revelation as a mother desperate to shield her child from the horrors of this taunting beast.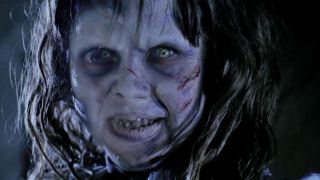 1. The Exorcist (1973)
Region: US
The Exorcist is over forty years old. For some horror movies that's a death knell; effects look cheap, trends are ridiculously outdated, and moviegoers' tastes evolve so no-one's scared anymore. Maintaining the same level of horror is hard when everyone's seen everything the genre has to offer.
But The Exorcist? It's still as scary now as it was then. William Friedkin knew how to rip out the black heart of William Peter Blatty's source novel, and present its age-old story in a fresh way on the big screen. The fact it still retains its power now is why it's heralded a classic.
Twelve-year old Regan MacNeil's descent into the most abject of horrors - having your body taken over - is itself a hideous, flesh-creeping idea. As for the plot, it's rather straightforward. But what else do you need with a premise like that? The visuals are crisp, the sound design calculated and deceiving. Much like the demon, who takes down everyone in its path without mercy.