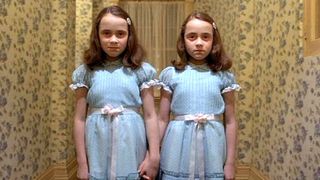 Who's afraid of no ghosts?
Everyone has a favourite ghost story, the one tale that haunts your nightmares and fuels that desire to immediately turn on the hall light even though you know there's only three steps to the next room.
The following haunting tales are the very best ghost movies of all time. The celluloid made just to send chills down your spine and cold creeping into your heart. Whether you just want standard ghouls, furious angry spirits, or even just the ghosts of Christmas's yet to come, they're all here. Watch at your peril.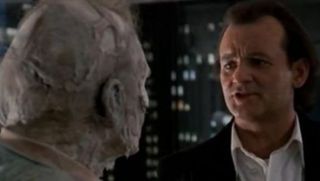 25. Scrooged (1988)
Probably the least terrifying movie in this list, Scrooged is still an essential ghost film. Based on A Christmas Carol by Charles Dickens, it sees TV executive Frank Cross (Bill Murray) visited by several spirits. Two things truly stand out in this movie - firstly Murray's performance as Cross shows the actor at his best, flitting between outrageous self-absorption, and genuine contrition. Secondly it's the ghosts themselves; the way they influence the Christmas special and give insight into Frank's selfish personality. The ghost of Christmas Past, for example, appears as a dirty New York cabbie and shows Frank a past where he was raised more by the TV than his parents, giving us insight into why he turned out like he did. Hardly an original trope or a fresh comment on the 'sad origins' of a loathsome character, but it's a smart piece of storytelling nonetheless. This is probably the most unique and inventive telling of A Christmas Carol (well, with the possible exception of The Muppet version), and that alone makes it worth a watch.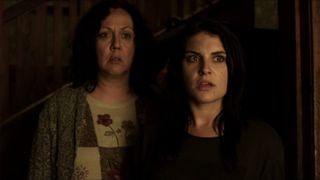 24. Housebound (2014)
A deliciously dark horror comedy from New Zealand, Housebound preys on all of your claustrophobic fears nicely. Young Kylie is on house arrest with a tag around her ankle in her family home. Not only does she have to stay inside for eight months but she needs to reconnect with her mother and deal with the fact that there might be something a little more sinister in there with them. Constantly playing with your expectations and with plenty of laughs, Housebound is a pleasantly creepy surprise. It's also refreshing to see Kylie - perfectly played by Morgana O'Reilly - as a less than traditional horror heroine who'll just physically take a creaking door off its hinges instead of running screaming into the night.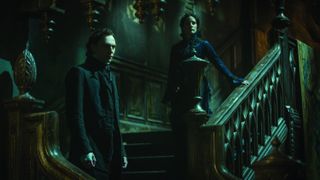 23. Crimson Peak (2015)
There are certainly better ghost stories on this list, but none have the same sense of hopeless, faded beauty as Guillermo del Toro's Crimson Peak. It's perhaps the only time it's ever acceptable to say 'the house is the star' without being burned on the pyre of bad writing, but seriously: look at that place. It's incredible. The whole movie is a precise examination of colour and feel, which finds the exact middle point between chilling and charming. From the seeping floors to the lavish architecture, everything about it feels meticulous and artful. Whereas most horror movies are content to give us darkened rooms and billowing curtains, Crimson Peak is crafted to visual perfection, like a ghost train designed by Caravaggio. You won't get the same sense of nourishment from the empty characters, and the echoes of a predictable story soon fade, but you'll remember the way it looks forever.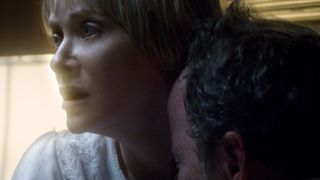 22. We Are Still Here (2015)
New house? Check. Things that go bump in the night? Check. A whole town of highly suspicious individuals that keep talking about how the residence needs "feeding"? Errr… Yep, welcome to another disastrous moving story - seriously, how do people actually move house anymore with hiring an exorcist as standard? We Are Still Here admirably treads the line between horror and comedy and, despite some ropey special effects, the third act's final showdown is a genuine jawdropper. Throw in a brilliant performance from Barbara Crampton as a woman who recently lost her son and this manages to be a ghost story with real heart amongst the strange noises and smoke coming from the basement.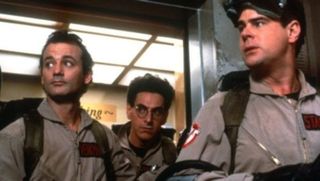 21. Ghostbusters (1984)
One of those rare films than can be near-enough defined as perfect, Ghostbusters is the most flawlessly balanced, cleverly envisioned, expertly performed horror comedy ever made. Pouring wit, warmth, spontaneity, and a still-unique vision of the supernatural - blending the cartoony, the genuinely threatening, and a vast amount of personality – it's the endlessly sharp, character-driven dialogue that really makes Ghostbusters a classic. For all the spectacle, lightning-charged action, and affecting, immaculately delivered sense of impending, apocalyptic dread, Ghostbusters is a fundamentally human film, and one that resonates just as hard now as it did in the early '80s.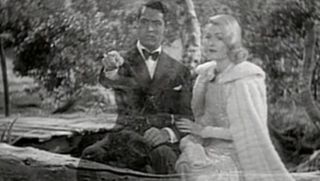 20. Topper (1937)
In Hollywood's silver screen hayday a film where you kill your two leads in the first few minutes is an anomaly. But Topper sees its stars Cary Grant and Constance Bennett die in a car crash not long after the MGM lion roars. Largely played for laughs, this does have oddly metaphysical twist as the main characters George (Grant) and Marion (Bennett) have done so little with their lives they neither go to heaven or hell, and remain on Earth in ghostly limbo. The Topper of the title is their friend, who they decide to 'save' from his boring life. Cue spiritual hijinks and some great farce - the scene where Topper, played by Roland Young, mimes being carried by the 'invisible' George and Marion is a masterclass in physical comedy. Ultimately, it all works out with Topper's life fixed for the better, and George and Marion earn their way into heaven having finally done something meaningful with their (after) lives.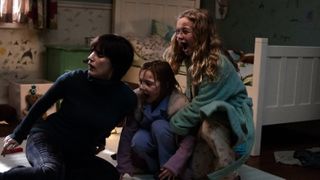 19. Mama (2013)
Written and directed by the man behind the new IT movie arriving later this year, Andres Muschietti, this creepy and disturbing tale sees two young girls abandoned in the woods after their father has a meltdown and kills his wife. The pair end up in an old cabin in the woods with their deranged father who plans on killing them and then himself but something stops him literally dead. A number of years later when the pair are found and adopted by Jessica Chastain and, err, Jaime from Game of Thrones, we find out that whatever that something is, it clearly doesn't like the children being someone else's. Mama is a remarkable spin on the 'kids are creepy' ouvre with a genuinely threatening spirit and an especially bold ending that truly rips up the Hollywood horror rule book.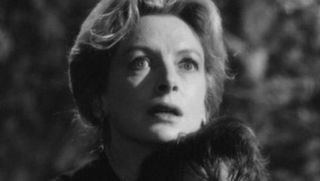 18. The Innocents (1961)
The kind of black and white movie not to watch alone, this Henry James adaptation is truly spine-tingling. When Miss Giddens (Deborah Kerr) arrives at an estate as a governess to look after two children, she starts to see the ghosts of the house's previous inhabitants. Horrifically, the biggest scares here aren't things that go bump in the night but the disturbing combination of children and possession in the middle of the day. This is the kind of ghost story that once upon a time you might have accidentally recorded at 2am and subsequently let it haunt your nightmares for years. Things don't get much creepier than this.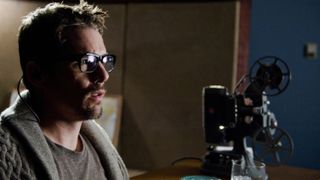 17. Sinister (2012)
Sinister is nasty. There's no two ways about it. Blumhouse Productions was well into its stride by 2012 and cinema audiences were clearly hungry for more horror, making this probably the most disturbing entry on this list content wise. A ghost tale with a twist, this is a violent haunted house affair. True crime writer Ellison Oswalt (Ethan Hawke) moves into an actual murder house with his clueless family but immediately finds a box of disturbing film reels in the attic. What follows is a gruesome and tense murder-fest that isn't afraid to show the nastiness at work. It's worth the ride but definitely not one to watch with the faint of heart or the squeamish. Oh, and the nasty? It's called Mr Boogie and you're not going to forget him easily. Sweet dreams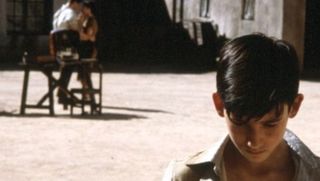 16. The Devil's Backbone (2001)
The Spanish, and Guillermo del Toro in particular, have perfected the art of terrifying ghost stories involving tragically wronged children. Where most tales focus on the spectre as villain or monster, The Devil's Backbone (along with films like The Orphanage) create a chilling ethereal threat to terrify you for half the film, only to reveal a wronged, desperately sad (dead) child is behind it all. Just wanting to not to be alone anymore. In this case Santi, a chilling apparition of a wounded boy with a head bleeding upwards as if underwater. In a story that encompasses the Spanish Civil War, lost gold, feuding lovers and more, Santi is eventually revealed to a be an orphan accidentally killed and dropped in a cistern. Far from evil, he just wants closure and a little revenge. This is something he eventually gets in a final act filled with so much inconsequential and unrelated death it's a nihilistic victory.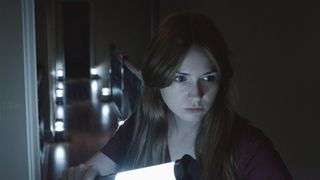 15. Oculus (2013)
Who knew that a movie about a haunted mirror could be this terrifying? Starring Karen Gillan, this particularly nasty ghost tale comes from Hush and Ouija: Origins of Evil director Mike Flanagan. Tim and Kaylie's parents both died in horrific supernatural circumstances and while Tim's stint in a psychiatric hospital has convinced him that there was nothing suspicious, Kaylie has dedicated her life to discovering the truth. When the pair set up a surveillance set up around the family mirror, things get exceptionally crunchy. Claustrophobic and intense, Oculus constantly plays with your expectations and gets really rather nasty as it reaches its conclusion. Don't count on a happy ending but at least it'll give you some time to reflect.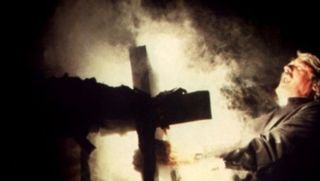 14. The Fog (1980)
John Carpenter's atmospheric story of revenge, The Fog, got mixed reviews when it first appeared back in 1978, but has since gathered a cult following. It's easy to see why. Exactly 100 years after the shipwreck of the Elizabeth Dane, a mysterious fog descends on the coastal town of Antonio Bay. Residents start to die horribly, panic sets in, and the truth about the sinking of the Dane begins to rise to the surface. The Fog's horror comes from the unstoppable nature of its 'ghosts'. Technically, they're revenants, hell bent on revenge for past misdeeds, and there's no way they'll stop until the wrongs have been righted. Add to this the fact that they're surrounded by a ghostly fog at all times, conveniently obscuring the viewer's vision to enhance the scares, and you've got all the makings of a great, original ghost movie. Right to the very end, where the relentless ruthlessness of the revenants is truly revealed.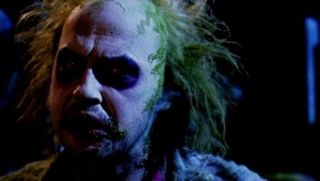 13. Beetlejuice (1988)
Still one of Tim Burton's finest films, the director's first collaboration with the future Batman is one of the most gleefully anarchic, deliciously dark, freely imaginative supernatural comedies ever made. Pinned around a fantastically grotty central performance by Michael Keaton, balanced deftly against the naïve warmth of Geena Davis and Alec Baldwin's similarly dead Maitlands and Winona Ryder's endearingly morbid teen goth Lydia, it's a reminder of how much magic Burton used to be able to create with a more intimate scale and a lot of ideas. The brilliantly inventive scenes at the miserably bureaucratic afterlife advisory service are worth the watch alone.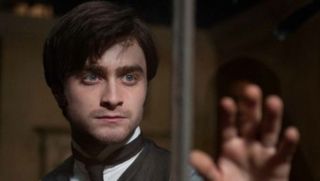 12. The Woman In Black (2012)
Shake the initial horror that you're meant to believe Harry Potter can have a son and the creeping nasty that awaits in this adaptation might just give you chills. The relaunch of the Hammer Horror brand, The Woman in Black sees young lawyer Arthur Kipps (Daniel Radcliffe) travelling to the home of an old woman to organise her estate.If you've read the book, or seen the horrifying stage play, you know what awaits Kipps in Eel Marsh House and the film takes pride in every close up of glassy eyed dolls and cymbal holding monkeys. Even before the eponymous spirit shows up, you'll have nail marks in the palms of your hands as candle light just doesn't fill enough of the cavernous dark rooms. It all get a bit over the top by the end when CGI takes over in place of old fashioned scares but by then, the ghost train has done its job and you might just have to sleep with the light on.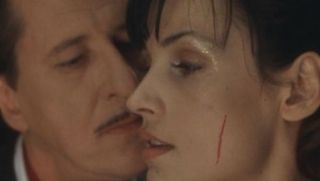 11. House On Haunted Hill (1999)
The only modern remake allowed on this list, the reworking of Vincent Price's original horror house tale is everything that it should be. Cheesy as hell, totally overacted, grisly as get out, and actually pretty darn scary. House on Haunted Hill sees five unknowing guests arrive at an ex-asylum thinking they're attending a party but they're actually playing a game where the one person to stay in the building until morning earns a cool $1 million. Geoffrey Rush and Famke Janssen fully ham it up as the party "hosts" at each other's throats and when the house starts to turn on its guests, things get rather nasty very fast. From the creeping asylum themed credits which felt bold and new back in the mists of the late '90s, to the horrific zoetrope 'treatment' room that one unfortunate party guest finds their way into, House on Haunted Hill is a grisly guilty pleasure that shouldn't be missed.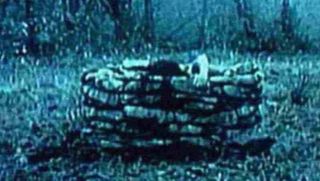 10. Ringu (1998)
Rightly shaking up western perceptions of horror overnight, Hideo Nakata's original, dread-soaked ghost story is a masterpiece of economy, pacing, mood, and primally unsettling imagery. Creating a potent urban legend in its tale of a cursed videotape that triggers a nightmare death sentence when watched, the film's starkly cold tone, deliberate pacing, and focus on wrought character drama as much as supernatural spectacle makes for a constantly disturbing experience, whose bursts of outright horror are all the more amplified by the relentless, creeping upset in between.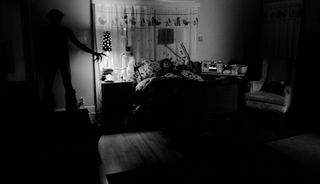 9. Insidious (2010)
There's a reason James Wan is on this list more than once. When it comes to things that go bump in the night, he's a veritable scare maestro. When the Lambert family - a brilliant Patrick Wilson and Rose Byrne - move into a new home, things go downhill rapidly. Insidious is relentless; loud noises, ghastly apparitions, jump scares but none of them feel cheap. Wan teases us with wide shots before zooming in for closeups when all we want to see is what else is hiding in the room. The even creepier thing is that the characters do exactly what you'd do. If you saw a red demon standing behind your child's crib, it would probably mean a call to the movers. It's the same for the Lamberts but it really doesn't help. Sure, it turns into Poltergeist near the end but the horrific imagery just doesn't stop. Wan knows what scares you and there's nothing you can do about it.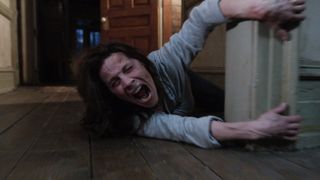 8. The Conjuring (2013)
Another James Wan horror to add to this list, this frightfest is the story of real life paranormal investigators Ed and Lorraine Warren - played expertly by Patrick Wilson and Vera Farmiga - who travel to a remote farmhouse where a family is plagued by bizarre paranormal activity. The 'based on a true story' tagline might be pushed a tad far but it doesn't really matter as the scares ramp up inside the house. A repeated game of clap and hide gets worse every time it's used, there's a nightmare sequence that means I can't sleep with the light off after I watch it, and one particular set piece revolving around a wardrobe is just a blood pressure catastrophe. The Conjuring's not over fast either. By the time you reach the extraordinary exorcism sequence, there's a distinct feeling of going through every step with the Warrens and the suffering family. An exquisitely constructed modern horror.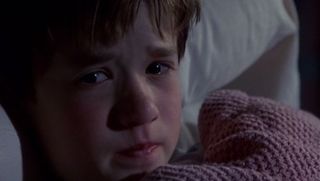 7. The Sixth Sense (1999)
M. Night Shyamalan is known for loving a good twist but possibly his most famous appears in The Sixth Sense. If you've not seen the movie and have somehow managed to not have the ending ruined for you (how? How have you done that?), I really must insist you stop reading and go and watch it now. Everyone who's seen The Sixth Sense knows exactly why it's one of the best ghost films out there. Bruce Willis stars as a therapist who tries to help a young boy, played by Haley Joel Osment, who can see dead people. Cue many a disturbing scene in which the audience sees what he sees; creepy ghosts walking around the living, sometimes looking normal, sometimes not. Brilliantly paced and expertly shot, The Sixth Sense isn't just a great ghost story, it's a lesson in storytelling perfection.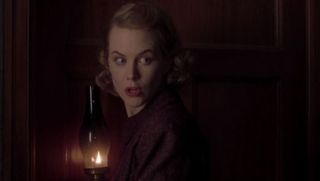 6. The Others (2001)
A painfully creepy ghost story from Spanish Vanilla Sky director Alejandro Amenabar, The Others perfectly casts Nicole Kidman as Grace Stewart, the mother of two children sent to stay in a remote house amidst the chaos of World War 2. Awaiting her husband's return from the war, Grace carefully protects her children who are both highly photosensitive and can't be touched by natural light. The result is a claustrophobic nightmare as unexplained activity creeps after Grace as she wanders the corridors of the house. Oh and did all the madness start when those three servants arrived? Suspicious. Supporting performances from Eric Sykes and Fionnula Flanagan seal the deal to make this the perfect movie to settle in on a dark winter's night with a cup of tea in hand. And maybe a blanket. Just in case.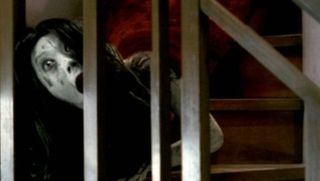 5. Ju-On: The Grudge (2002)
Some of the films on this list have that easy, pleasant feel of a Victorian ghost story. Frightening, certainly, but gently so. Ju-on is not one of those films. It's ghost story built on the idea of relentless, unforgiving hate and family tragedy. It's made worse by just how ordinary it all it. There are no cobwebbed mansions or flashes of lightning. Most of the horror happens in innocuous places. It gives you the uneasy feeling of nowhere being safe - staircases, cupboards, and airy family homes all become suddenly threatening. At times you'll feel sympathy for the ghosts - they're victims of a violent and possessive father - but the whole thing is so hopeless and inhumane that it's impossible to come away feeling anything but despair. And that death rattle will haunt you forever.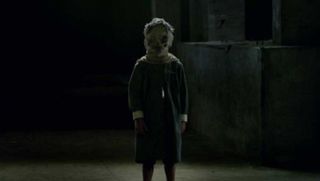 4. The Orphanage (2007)
Known as El Orfanato in its native Spanish, this is yet further proof that all Spanish horror directors should be checked for links to illegal human research on the fear gland. Somehow the very first feature from J.A Bayona, The Orphanage sees a woman, Laura, along with her husband and their adopted son moving into the beautiful house where Laura lived as child. She plans to transform it into a home for disabled children but not only does she begin to see apparitions of previous residents, her son goes missing. The Orphanage preys on and subverts your base fears; big scary houses, the fear and desperation in losing a child, unsettling imagery of 'creepy kids,' The most famous scary images from The Orphanage revolve around a little boy with a sack covering his face but is he as scary as he looks? Bayona knows what terrifies us and still manages to deliver a heartfelt and touching ghost story that'll have you hurting long after the credits roll.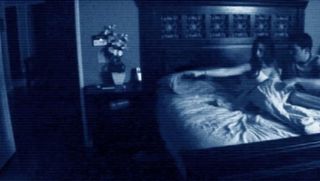 3. Paranormal Activity (2007)
The Blair Witch Project might have single-handedly rebooted the found footage genre but Paranormal Activity managed to revitalise the shaky cam for not one but now six movies. Only the original is really worth your time though. When couple Katie Featherston and Micah Sloat, played by actors of the same name (not confusing at all) start experiencing strange noises, Micah decides to film the bedroom while they're asleep. How tense do you think you can get while watching people sleeping and static door? Well, it turns out that watching a room where nothing is happening is absolutely excruciating. In a good way. Director Oran Peli gradually ups the ante too. The night day cycle becomes shorter, we gradually see more and more activity and by the end of its tight 86 minute runtime, you feel like you've absolutely been through the emotional wringer.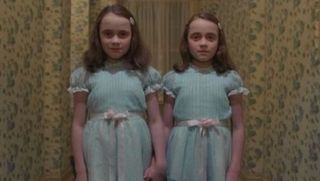 2. The Shining (1980)
Stephen King notoriously doesn't like Stanley Kubrick's adaptation of his famous novel but even the horror master has to be wrong sometimes. The Shining is an exercise in terror. Dread creeps along every corridor of The Overlook Hotel when new caretaker Jack (Jack Nicholson) and his wife Wendy (Shelly Duvall) move in for the winter months along with their young son Danny. This is the ultimate haunted house movie. The oppressive corridors are packed with ghosts, the ballroom is a sea of trapped souls. The iconic "Here's Johnny" moment might be delivered expertly by Nicholson and scare-worthy on it's own but this is at the peak of the hotel's power. Its tendrils have worked their way into Jack, twisting him from the inside. There are few things as scary as a father turning against his family, and that's before you know the snow means they'll never even be able to get out the door or that the ghosts of the two little girls in the corridor just want to play.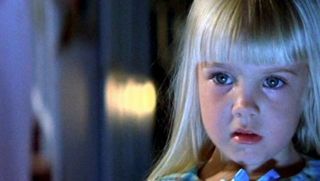 1. Poltergeist (1982)
Poltergeist is a film that, tonally, really shouldn't work. Mixing legitimate, unsettling, modern haunted house horror with heartwarming, suburban '80s family drama, it should be entirely incoherent, an interesting experiment hamstrung by inconsistency. Fortunately, the film's two halves are represented by two of the decade's greatest cinematic figureheads, producer and writer Steven Spielberg bringing the same warmth and deft sense of awe and wonder he exhibited in E.T. the same year, while Texas Chainsaw Massacre director Tobe Hooper delivers the same instinct for blunt nastiness that made him a star. The two film-makers complement each other wonderfully and, with the film populated by likeable and entirely real performances throughout, Poltergeist is an affecting and distinctly spooky time indeed.