Next year starts here
E3 2016 is in the books – and it's now clear what the big hitters this winter will be. But one recurring theme from the show – the Sony conference in particular – was looking beyond this December. After all, a PS4 is for life, not for Christmas. Ahead, then, are the most exciting games coming next year, across all formats – from Resident Evil 7's scare-tastic return to Insomniac's first crack at Spider-Man, by way of David Cage's latest, Kratos' greatest, a Microsoft pirate party, and much more besides.
Resident Evil 7: Biohazard
Formats: PS4, Xbox One, PC

ETA: 24 Jan 2017

There's no Chris Redfield or Jill Valentine, the perspective has switched to first-person, and an almost-suffocating eeriness accompanies every second of the demo released immediately after this was revealed. No wonder new, ultra-terrifying Resi has drawn comparisons to Silent Hill and PT – but as GR+'s Andy Hartup explained during E3 week, it's in fact more than the sum of both. Game seven takes Capcom's flagship horror series into territory alien to what's gone before, in both how you play – the VR version is every kind of unnerving – and its fraught tone, which strongly echoes that Blair Witch basement scene. This may be the scariest game of not just 2017, but a console generation.
God Of War
Format: PS4

ETA: 2017

The contemporary, if-demigods-roamed-Soho beard. The sombre, fatherly tone. The grown-up, more intimate, still appetisingly savage combat: I could list numerous reasons to be excited about God Of War, but the salient point is that – with Uncharted done, and no sign of The Last Of Us 2 – Sony is right to pin its immediate future on the big lairy baldy. Everything about its PS4 unveiling screams quality, and while there's no official release date as yet, you can bet Santa Monica Studio is going all out to make this the marquee PlayStation release of 2017. Divine intervention cannot come soon enough.
Spider-man
Format: PS4

ETA: 2017

Arachnophobic? Time to overcome those fears with a little help from Ratchet & Clank mastermind Insomniac Games. The Burbank studio is on duty for Peter Parker's PS4 debut, which looks a whole lot like inFamous in figure-hugging red and blue – a revelation that's caused some to question why Sony doesn't have Sucker Punch on dev duties instead. It's a non-story. Sucker Punch boss Nate Fox has spoken of the two studios' close ties in the past, and you can assume that while Insomniac has started afresh with the Spidey engine, the best stuff from inFamous will make it in: clambering up buildings, careering across rooftops, sweeping through waves of enemies in a limb-whirling blur, upgrading your super (read: Spidey) powers as you go. Bring on the web of highs.
Mass Effect: Andromeda
Format: PS4, Xbox One, PC

ETA: Q1 2017

New, Shepherd-less Mass Effect was among the most-hyped games ahead of this year's big LA blowout – and the response from EA at E3 was to drop a brief look at the Mako, and not much else. Bah. That shouldn't put you off, though. It's still due early next year, with new lead character Ryder (male or female, natch) on the hunt for a new planet which the human race can inhabit. It'll feature the usual – exceptional – story-driving dialogue, space shootouts, and intergalactic monkey business, only this time as part of a genuine open-world setting.
For Honor
Release date: PS4, Xbox One, PC

ETA: 14 Feb 2017

With no sign of a proper, playable Game Of Thrones title – the lack of actual combat discounts Telltale's semi-recent effort – those on the hunt for merciless medieval murder will instead have to make do with For Honor, for now. Except 'make do' does it a huge disservice. This barbarous fighter, pitching knights against samurais against vikings in the most bloodthirsty of triple threats, is all about the killing – but it's the tactical dance underpinning each battle which makes it special. No button-whamming, no QTEs; but trigger presses and right-stick movements, as you look to evade then strike rather than thoughtlessly bludgeon. It's a bit like fencing. Slaughterous, 'sorry about slicing clean through that artery (and taking your neck with it)' fencing.
Destiny 2
Formats: TBC

ETA: 2017

Activision was essentially absent from E3, and Bungie focussed its attention on discussing Destiny's Rise Of Iron DLC – almost as if the fourth-quarter financial report confirming this shooter super-sequel never happened. While neither publisher or developer is willing to spill details, it's public knowledge that Mass Effect writer Christopher Shlerf has boarded the Destiny mothership, with GR+'s own David Houghton offering an exhaustive analysis of what that likely means for story threads questioning The Traveler's trustworthiness and Eris's overall role. Lord Saladin only knows when in 2017 it's coming.
Format: Wii U, NX

ETA: 2017

Link's long-awaited (and many would argue overdue) return is injecting many new elements into Ninty's famed RPG series. There's a loot system which enables you collect new outfits and equipment for Zelda's longstanding main manboy, added complexity to regaining health as you have to collect food ingredients then cook them on a fire before eating, and a welcome physics-based twist on puzzle-solving – for instance, lighting grass on fire, then letting the wind spread the blaze, in order to trigger explosive barrels. Loads more, too. All this added up to GamesRadar+'s game of E3, and its next accolade may well be game of the year 2017.
Horizon: Zero Dawn
Format: PS4

ETA: 28 Feb 2017 (US) / 3 Mar 2017 (UK)

It's 12 years since Guerrilla developed anything other than Killzone – and it's never tried its hand at any sort of role-player before. This PS4-exclusive action-RPG, then, is if nothing else guaranteed to offer something fresh, with the studio's reputation for meaty gunplay and truly sinister enemies transplanted into world said to be inspired by Assassin's Creed and Skyrim. Lead character Aloy looks like a futuristic, even-more-badass version of Ygritte from Game Of Thrones – can't go wrong there – and talk of day-night cycles, dynamic weather and ancient cities to explore propel this close to the top of GR+'s most wanted list.
Tom Clancy's Ghost Recon Wildlands
Formats: PS4, Xbox One, PC

ETA: March 7, 2017

It's become trendy to turn your nose up at Tom Clancy games, in the same way you would if offered a custard cream when everyone else has a bourbon – but Wildlands looks like the game to re-energise that famous name. As GR+'s Leon Hurley puts it: "it gives you a country to save and only your friends can mess it up." The four-way gunplay weds group strategising with weighty shootouts and the occasional, surgical sniper hit, across a massive chunk of Bolivia. Book those plane tickets.


Sea Of Thieves
Formats: Xbox One, PC

ETA: February 2017

Rare's pirate party endured an underwhelming Microsoft press conference reveal, but should categorically not be made to walk the plank. It's a sea-faring MMO which does an amusing, satisfying job of letting you be Captain Jack Sparrow or James Cook or Joey Nobody – right down to messing around with an accordion, as GR+'s Connor Sheridan explained during E3. There's a smart strategic element whereby you – and your comrades – need to fulfil roles and carry them out properly to succeed (one player explaining a rival ship's location, the others blindly firing cannonballs that way), and a load of tropical shores to explore.


Days Gone
Format: PS4

ETA: 2017

You've likely played innumerable zombie apocalypses by now, but that's no reason to turn a blind (dead) eye to Sony Bend's PS4 exclusive. For starters, the sheer number of shufflers that can overwhelm you at any one time is like nothing you've seen before – other than in Dead Rising, where it's played for comedy rather than fear. Plus the combat is for the most part face-to-face, and unrelentingly stomach-churning: stabbing foes in the retina or feeding them into a circular saw. Throw in a brilliantly varied selection of settings – mountains, forest, desert – and weather systems, and you have a game that'll scratch your Last Of Us 2 itch for now. If you can survive it.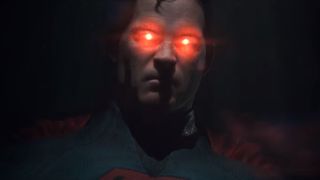 Injustice 2
Format: PS4, Xbox One

ETA: March 2017

Injustice: Gods Among Us never quite lived up to its potential, but come on: customising Batman, Superman and co with gear earned through gameplay is a damn cool concept. The trait and clash systems are what you remember them to be, so it's that gear system which will dictate whether this conquer or stumbles. After each fight you're festooned with new stuff that changes both your character's appearance, and stats. Helmets, body armour, replacement limbs and capes are among the switchable stuff promised, along with a selection of new characters – among them Atrocitus and Super Girl.
Detroit: Become Human
Format: PS4

ETA: 2017

Few titles split opinion like previous David Cage offering Beyond: Two Souls, so cynics might also have this on their 'least exciting games coming in 2017 list'. The concept is sound, though: you control various mandroids (and womandroids), all of whom – as is now traditional where Quantic Dream is concerned – can die, with the story continuing on without them. Its E3 appearance showed a rooftop shootout with some tasty blue blood effects, and the potential for guilt when you make a bad decision. The entire game is based around your on-the-spot decision making, so get used to being enshrouded by regret.