With 4K resolution becoming ever more common, searching for good Xbox One X deals is increasingly tempting. As an added bonus to displaying in 4K, the Xbox One X loads games faster and performs better in general. There are a few bargains out there right now to help you get the console for less; Walmart are selling a 1TB model with PUBG for the much-reduced $409. We've listed other price cuts below.
Best deal today
1TB Xbox One X + Red Dead Redemption 2 is $499.99 at Newegg (save $50)
Get one of the best games in 2018 for free with this Xbox One X bundle.
But what is it that makes 4K special in the first place? By extension, why are Xbox One X deals so sought after? Well, it's down to how detailed the picture on your screen is. The image of a standard HD TV is made up by just over 1000 'pixels' (tiny dots of color), while the 4K equivalent displays 4000 pixels instead. Subsequently, the picture is much sharper and more detailed (check our guide to the best gaming TVs for more). Being able to play your games in this ultra high definition is a big selling point for the Xbox One X as a direct result. It's the only version of Xbox that can display in 4K, too.
Think you'd prefer the non-4K Xbox One S? No worries - drop by our best Xbox One bundles page. Don't forget our cheap Xbox game deals hub either. It's got all the accessories and games you could want at bargain prices.
Deals
1TB Xbox One X + PUBG is $409.99 from Walmart (save $90)
While it may seem pricey for the console and a free-to-play game, you don't lose anything with this deal. Alternatively, get the Xbox One X with NBA 2K19 for $409.99 instead.View Deal
1TB Xbox One X + Red Dead Redemption 2 is $499.99 at Newegg (save $50)
This bundle gives you one of the best games in 2018 for free - the Xbox One X is $499.99 by itself to begin with.View Deal
1TB Xbox One X + NBA 2K19 + extra wireless controller is $439.99 at Walmart (save $60)
A spare controller always comes in handy, so this deal isn't a bad shout if you think you'll be getting down to some couch co-op.View Deal
Console only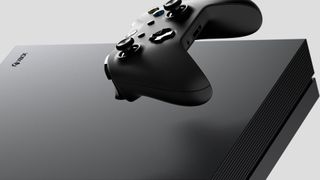 If you're simply upgrading from your old Xbox One (or the standard HD Xbox One S), you may not want games to go with your new system. That's OK - you'll find the best prices for Xbox One X consoles on their own here.
Fancy some extras to go with your console? Check out the best Xbox One games or take a look at our guides for Xbox One accessories below.
Some online stores give us a small cut if you buy something through one of our links. Read our affiliate policy for more info.