If you're seeking out the best Xbox One X deals, bundles and prices, take it easy - we've already done the hard work for you. The GamesRadar+ team have hunted down every bargain they could to help you save money on what Microsoft calls "the most powerful console in the world". You'll find these below (alternatively, click on the links to jump straight there). Although Xbox Project Scarlett will topple it from the throne at some point in late 2020, it's still a good time to pick up an Xbox One X nonetheless. As well as a back-catalogue that spans six years, the system's price is sure to drop further as we edge toward November's Black Friday game deals.
Best deal today
(Image credit: Microsoft)
1TB Xbox One X + Fallout 76 | $381 at Walmart (save $120)
Grab an Xbox One X for less than normal with this offer.
But why choose Xbox One X deals when you could go for the best Xbox One S bundles instead? And what's the difference? It comes down to power and 4K resolution, basically. While the Xbox One S is cheaper, that's because it doesn't have as much supercharged tech under the hood. 6 Teraflops of graphical horsepower allow the X to render more detailed, vibrant textures. Meanwhile, 12GB of DDR4 RAM speed up load-times. You can still play all the same games, sure, but they'll look and perform better on an Xbox One X. That's largely due to 4K Ultra-High Definition (which is four times more detailed than standard 1080p HD, by the way). The Xbox One S can't display games in 4K, whereas the X can.
The Xbox One X is especially good value when you consider the price cuts it often enjoys. That leaves you with more to spend on essential Xbox One accessories such as the best Xbox One headset, online multiplayer via Xbox Live deals, and the extensive Xbox Game Pass library. It also means you can pick up some cheap Xbox game deals to go with your console.
Not found anything you want? Be sure to check in later - this page is regularly updated.
Xbox One external hard drive | Xbox One controller cheap | Best gaming chair
Xbox One steering wheels | Best HDMI for gaming | Best Fortnite toys
Best Xbox One X bundles
1TB Xbox One X + Fallout 76 | $381 at Walmart (save $120)
This remains one of the cheapest Xbox One X bundles around at the moment, and it's tempting at that price.View Deal
1TB Xbox One X + NBA 2K19 | $388 at Walmart (save $110)
Although this is based on an inflated price, it's still not a bad deal at all - it's something of a steal.View Deal
1TB Xbox One X + The Division 2 | $440 on Amazon (save $60)
The Division 2 is worth every penny as it is, so getting it for less with this bundle is a win-win scenario.View Deal
1TB Xbox One X + Metro Saga | $399 on Amazon (save $101)
This bundle packs three excellent games in with the console - remakes of Metro 2033 and Last Light, and 2019's Metro Exodus.View Deal
1TB Xbox One X Gold Rush Special Edition + Battlefield 5 + Battlefield 1943 | $400 at Best Buy (save $100)
You can get your hands on a funky, golden special edition Xbox One X console in this Battlefield 5 bundle.View Deal
1TB Xbox One X + Gears 5 + Gears of War 4 + Gears of War: Ultimate Edition + Gears of War 2 + Gears of War 3 | $500 at Best Buy (save at least $20)
Yes, it's full price, but all those games make this a bargain.View Deal
1TB Xbox One X Gears 5 Limited Edition + Gears 5 Ultimate Edition + Gears of War 4 + Gears of War: Ultimate Edition + Gears of War 2 + Gears of War 3 | $500 at Best Buy
If you're a Gears fan, this special edition console's to die for.View Deal
Console-only deals
Image 1 of 3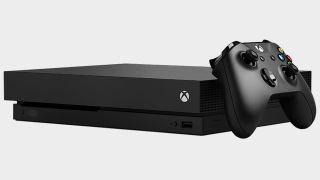 Image 2 of 3
Image 3 of 3
Upgrading from an older Xbox? Got some Xbox One games already or want the machine by itself? No problem. We've listed the best solo console deals here, and these are updated on a daily basis. Check back in every now and then for the lowest prices.
Some online stores give us a small cut if you buy something through one of our links. Read our affiliate policy for more info.