Trying to hunt down a cheap Xbox One controller? We feel your pain - they're expensive at the best of times, especially because you have to shell out yet more cash for batteries or a charging kit afterwards. 
That's why we've got our price comparison software on the job of finding a bargain. The biggest deals around are waiting for you below, and they're updated on a regular basis to get you maximum value for money. In other words? This page is tailor-made for finding you a cheap Xbox One controller.
It doesn't just feature your standard Xbox controller, either. There are a variety of colors and designs on offer, not to mention pro alternatives that allow you to improve your performance in everything from Call of Duty: Warzone to Fortnite. We've thrown in offers on Play and Charge Kits, too. Still great if you're thinking of making the leap to Xbox Series X and Xbox Series S too - as everything is forwards compatible.
Jump to the appropriate section to get started.
Cheap Xbox One controller
Image 1 of 4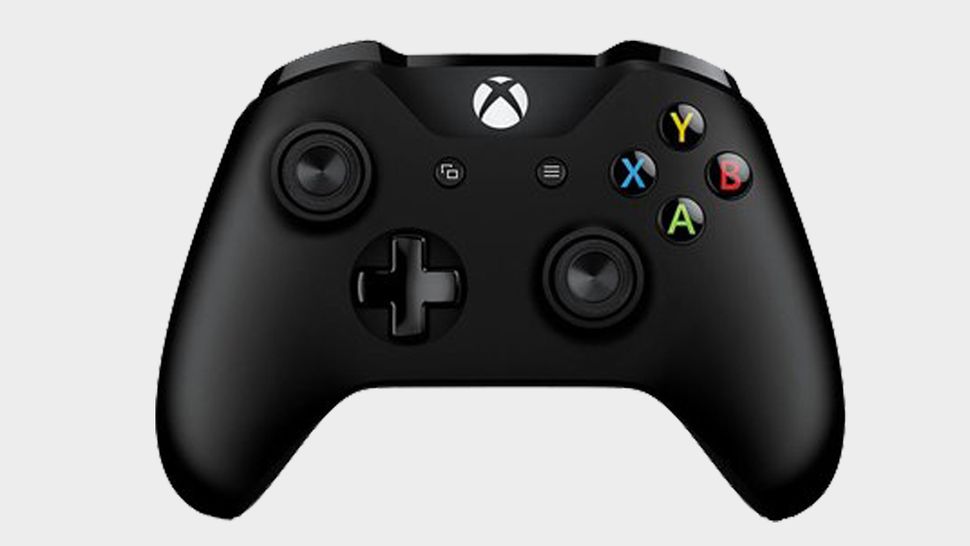 Image 2 of 4
Image 3 of 4
Image 4 of 4
Want a standard, 'normal', no-fuss Xbox One controller? This is it. The wireless handset pictured above is just like the one packaged with every Xbox console, and we've rustled up the best deals for it below.
Because Microsoft are unmatched when it comes to alternate designs, we've been sure to include a variety of different colors and patterns as well. All of them are compatible with the Xbox One console and other Xbox One accessories you might have.
Just remember, you'll need a pair of AA batteries or a Play and Charge Kit to power your shiny new controller. You'll find more info on the latter further down the page, accompanied by the lowest prices available.
To see what different controller options are in stock at the moment, click on the relevant drop-down in the widget below.
Play and Charge Kit
If you're fed up of burning through disposable AA batteries for your controller, the Play and Charge Kit will become your new best friend. This handy accessory gives you up to 30 hours of wireless play, and it's rechargeable to ensure longevity.
It's easy to use, too. Simply slot it into the AA battery slot on the back of your controller and away you go. When it starts to run low on juice, just plug in the cable provided and carry on playing. 
Basically? The Play and Charge Kit is an essential purchase if you're new to Xbox One.
Pro controllers
Image 1 of 3
Image 2 of 3
Image 3 of 3
The Xbox Elite Controller Series 2 is Microsoft's all-singing, all-dancing ode to the competitive scene. As a follow-up to the already-brilliant Elite Controller, this peripheral had the odds stacked against it; the original was perfect already, so why invest in a new one? The Elite Series 2 gives more than a few reasons.
To begin with, it has a new trigger, bumper, and handle design built for superior grip. This is followed by three built-in custom profiles, increased battery life, Bluetooth functionality, and a detachable charging dock that's built into the controller's carry case. Like its predecessor, it's highly adaptable as well; both thumbsticks and the D-Pad can be replaced with performance-targeted alternatives, the shoulder buttons can be fine-tuned with a hair-trigger lock that shortens travel, and the four back paddles give access to face button inputs without having to move your fingers an inch. 
It's expensive, but you're paying for quality. You're also paying for improved performance - this handset will have you reacting faster than you ever could on a standard Xbox One controller. Note: Microsoft has stopped making the series 1 version now, so this is the Elite one to shop for.
Read more: Xbox Elite Wireless Controller Series 2 review
Image 1 of 3
Image 2 of 3
Image 3 of 3
Hardware giant Razer throws its hat into the pro controller ring with the Wolverine Ultimate. Like everything else they do, it's of the highest quality and earns the larger price tag.
Boasting fancy Chroma lighting that changes while you play, interchangeable thumbsticks and d-pads, four back buttons so you don't have to reach for the face buttons, and two extra shoulder buttons, it aims to have everything in reach without you needing to lift your thumbs from the sticks. The face buttons are super responsive too by ditching the squishy buttons of old for a very satisfying click with minimal travel. 
It's aggressively targetting Microsoft's latest Elite Series 2 controller with similar pricing and features and the Wolverine Ultimate justifies that by giving you the undeniable precision, quality, and pizazz of the Razer brand.
The Razer Wolverine Tournament Edition is priced around $119/£119 so we're holding it to a higher standard of testing, especially against the excellent Wolverine Ultimate which is packed with features, albeit at a higher price too.
The Wolverine Tournament Edition feels great in the hands and we love the extra shoulder buttons. Equally pleasing is the way the two rear paddles are tucked away modestly enough to ensure accidental touches are kept to a minimum and you don't have to adjust your usual grip to use them, they're just...ready. You've also got the lockable trigger switches from the Ultimate so you can have less travel on LT/RT too if you want.
However, the lack of swappable analog sticks and d-pads is disappointing for this price. As is the lack of an on-board button to change button mapping on the fly without having to revert back to the Xbox app. The face buttons are really stiff too, with a heavier and longer touch required compared to the instant reactions of the Wolverine Ultimate and even the standard Xbox One controller. We'd wait for a lower sale price, or better yet if your budget will allow it, pick up the excellent Razer Wolverine Ultimate we mentioned earlier in this guide instead.
PC
Is the Xbox One controller compatible with PC? Absolutely. It's a relatively hassle-free process; you can either plug the controller into a USB port with your charging cable (a standard USB to micro-USB cable), connect via Bluetooth, or use an official Wireless Adaptor for Windows 10. However, be aware that you can only use the Bluetooth function if your controller was made after 2016. How can you tell if it was, though? The newer 2016 model can be seen on the right of the following picture:
Basically, post-2016 models have the Xbox button as part of the main controller 'face' (e.g. the plastic around the Xbox button is matte and part of the main shell). Controllers made beforehand feature the Xbox button on a separate, shiny plastic strip that's connected to the bumpers.
As discussed above, going wireless on PC with older Xbox One controllers (or PCs without Bluetooth capability) requires the official Wireless Adaptor. This isn't too expensive and is relatively easy to get hold of. 
You'll find the cheapest prices listed here.