We don't deserve dogs, but we maybe deserve the best dog games. We got our canine crazy experts to round up the very best games in which dogs play an important role, either as the stars of the show or as a trusty sidekick who is more than just an extra cute accessory. Whether you want to design, style, and care for your favorite types of dog, go on a dangerous adventure with a pack at your side, or just hang out with cute pups, you'll find something you'll want to fetch from our list of best dog games.
10. Phogs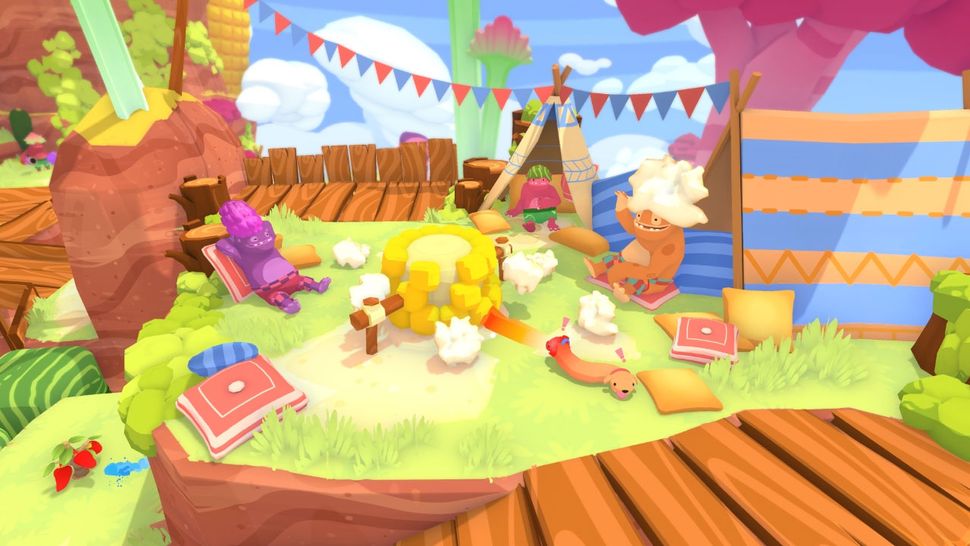 Available on: Nintendo Switch, PC, PS4, and Xbox One
Definitely the weirdest entry on the best dog games list, Phogs is no less lovable. You play as two dogs, connected by a sort of Stretch Armstrong style extendable midsection - it's best not to think too hard about the biological implications - that need to solve puzzles and navigate the world using their special talent. It's a joy solo but really shines in co-op.
9. Little Friends: Dogs & Cats
Available on: Nintendo Switch, mobile
If you still pine for the days of Nintendogs, Little Friends - Dogs & Cats is here to take its place. A pet care sim that really focuses on the petting, you can cuddle, feed, and dress up a menagerie of dogs and cats, then take them out for walks and some frisbee. Dog obsessives should know there are six breeds to choose from - Shiba Inu, Chihuahua, Toy Poodle, Labrador Retriever, French Bulldog, and German Shepherd - and you can have up to three pets before you have to start storing them in a pet hotel like some sort of wealthy animal hoarder.
Got a mobile but still want to play the best dog games? iOS and Android users can also find a version of the game on app stores called With My Dog.
8. Loot Hound
Available on: PC
A cute and casual little slice of doggy delight that came out in 2015, but is still an adorable and relaxing little indie game that deserves a chance in the best dog games dog park. You and your pack of mutts - you can have up to three dogs - explore your local area on walks, seeking out finding objects along the way. There are around 132 items to sniff out as you explore places like the Muddy Backlot, the Titanic Botanic, and Buxton Wheat Field, and as you progress you can raise your dogs' skills in key areas like stamina and luck. You need to keep an eye out for City Park Patrol who are real meanies about digging up the local landscape, but beyond the risk of a telling off, this is a relaxing and fabulously fluffy way to kill a few hours with a furry friend.
7. Valiant Hearts: The Great War
Available on: PS3, PS4, Xbox One, PC, mobile, Nintendo Switch
Not all dog games are about sunshine and playing frisbee in the park, some of the best dog games are tearjerker too. Adventure game Valiant Hearts: The Great War is set during the horrors of WW1, and a dog called Walt is a major character. He'll accompany you as you play as different characters, and as you're busy solving puzzles and sneaking past enemies you can command Walt to fetch items and set off switches that you can't reach. There are some dark moments in the game, but that only makes having Walt by your side all the more important as you play, and for all the human triumph he's really the star of the show.
6. Far Cry 5
Available on: PS4, Xbox One, PC
Fine, Far Cry 5 might not be just about dogs, but it makes it onto the best dog game list because its open-world setup means it's pretty easy to turn this pre-apocalyptic shooter into the tale of you and your pet dog, Boomer. Boomer is one of the Fangs for Hire you can unlock as a companion throughout the game - along with Peaches the mountain lion and Cheeseburger the bear - and once recruited he'll disarm enemies, scare off attacking wildlife and bring you weapons enemies have dropped. Forget all the stuff about the Seeds and Eden's Gate, and you can make Fary Cry 5 a story of one intrepid wilderness explorer and their dog.
5. Old Friends
Available on: Android
Not only is Old Friends an adorable dog sanctuary sim, but it's also based on a retirement home for senior dogs and features its real-world residents. Your job is to rescue and care for the dogs, bake them treats, decorate the sanctuary, and complete story chapters. While the game is still technically in open beta there's still plenty to enjoy, not least the warm glow you can get from knowing all proceeds from the game's in-app purchases go to supporting the Old Friends Senior Dog Sanctuary. How could we skip something so lovely in the best dog games list?
4. Best Friend Forever
Available on: PC and Nintendo Switch
Part pet care sim, part dating game, definitely one of the best dog games, Best Friend forever sees you adopting a dog and then going on the hunt for love in the town of Rainbow Bay. To care for your new canine companion you'll need to train them, fill their week with activities like watching Netflix and dog park parties, and pamper them with food and grooming. The dating side of the game has a visual novel style and an inclusive vibe, so you can fall in love with whoever you want, and if it all goes horribly wrong at least you have your faithful hound waiting to watch some Bling Dynasty at home.
3. The Sims 4 Cats and Dogs
Available on: PC, PS4, and Xbox One
The life simulation goes all-in on pets with this expansion, letting you choose from over 123 dog breeds to add to your family. You can crossbreeds too, design their fur down to the last splotch of black over one eye, and add accessories. Once your new pooch pal is in your sim's care they'll need training, feeding, walking, telling where and when to pee, and occasional trips to the vet when they don't feel well. This expansion also adds the option to make a career as a veterinarian and a new town of Brindleton Bay packed with stray pets and other animal-loving NPCs. It might be an expansion, but it's got enough gameplay to make it onto the best dog games list anyway.
2. Chicory: A Colorful Tale
Available on: PC, PS4, and PS5
It doesn't get more wholesome than a dog with a magic paintbrush, and this action RPG is a bloody delight and definitely one of the best dog games you can play right now. Exploring the Picnic Province as the canine hero, and bring color to the world by scribbling all over it. As well as expressing your despair at the world through art, painting on the province will help you solve puzzles and unlock new areas. There are collectibles you can use in the world, like clothes for your character, furniture and plants, and lots of side quests to keep you busy.
1. The Red Lantern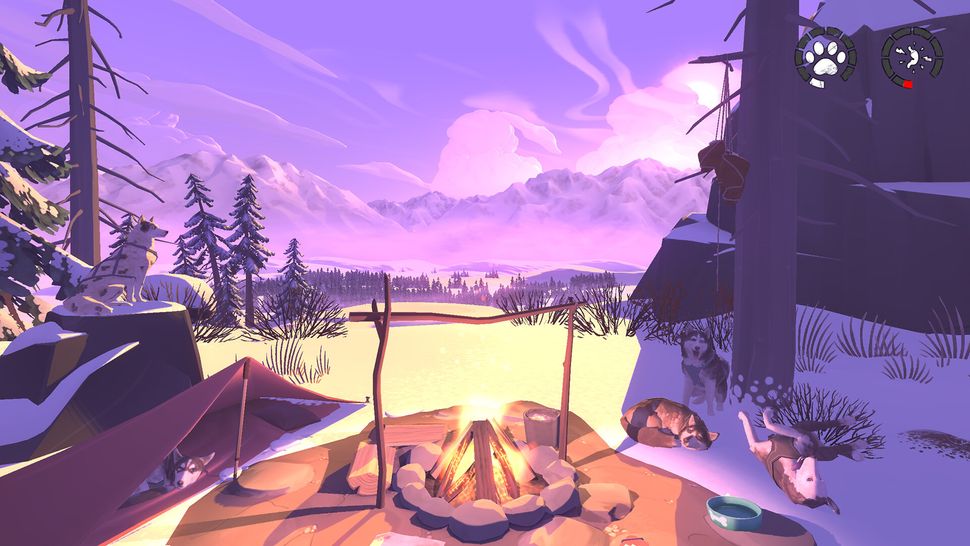 Available on: PC and Nintendo Switch
Hang out with an entire pack of dogs as you sled across icy landscapes, encountering owls, bears, squirrels, and wolves, and managing your sled team's energy and hunger. It's one of the very best dog games because you get to know their personalities, pet them as you rest by the campfire, and use their special skills to help you on your journey. Be warned, this adventure game outs you through the emotional ringer from the beginning by having you pick (or reject) dogs for your sledding team, but the good news is that you can flick a switch in the options to prevent any dogs meeting untimely ends.
Allergic to dogs? Looking for something else to play? Check out the 25 best free games you can play right now