The 25 greatest Star Wars parodies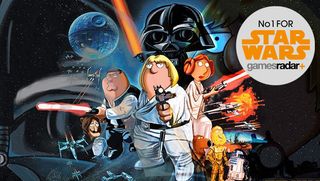 May the homage be with you...
George Lucas nicked most of Star Wars from other people, *cough* Kurosawa *cough*, so it only seems fair that the Force has been fuelling comedy since 1977. And when you think about it, there's plenty of material ripe for tomfoolery. Lucas' desire to create a new galactic nomenclature for example. He really let his imagination run wild with a name like Jar Jar Binks, and in doing so, opened himself up for massive amounts of spoofing.
That's just how some people show their love for the saga. From subtle nods and winks to, the likes of Spaceballs, we round up the greatest Star Wars parodies this side of The Force Awakens.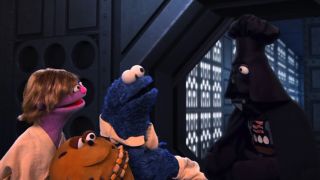 25. Sesame Street
Star S'mores
Trust Sesame Street to reinvent the saga through dessert staples. Before they even set out on their quest to rescue Princess Parfaita and her two Oreo hair buns from the evil Empire, Luke Piewalker and Chewie have another problem to deal with: Flan Solo's desire to eat Chewie. In this sweetened world, Chewie is no longer a Wookie he's a cookie. And Flan Solo? Yeah, he's the cookie monster. Thankfully, Luke suggests a visit to his wizened mentor in order to teach Flan to curb his desires, the great Only-One Cannoli.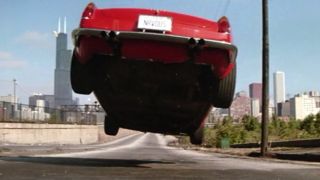 24. Ferris Buellers Day Off (1986)
Star Destroyer car
The whole purpose of Ferris' day off is to cut loose, which he does tremendously well. Little does he, or his buddy Cameron, realise that the real fun happens while they entrust Cam's father's priceless Ferrari to a couple of city valets. They jump the Ferrari 250 GTS over a speed bump - filmed in super slow motion as the undercarriage looms onto our screens, impossibly long and intricate, to John Williams iconic score. Possibly the greatest advert for a car. Ever.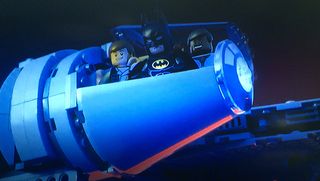 23. The LEGO Movie (2014)
Bon Vivants
What did you think, a spaceship is just gonna appear out of the blue? Think again Batman, anything is possible in The LEGO Movie. Including The Millennium Falcon and its crew of bon vivants, swooping into the middle of the movie to give Chris Pratt their spare hyperdrive and somehow make everything more awesome. "Chewie," Han says begrudgingly, "We're supposed to be halfway to a sweet party on Naboo right now." So glad they took the detour and gave us a glimpse at that brick-built hunk of junk.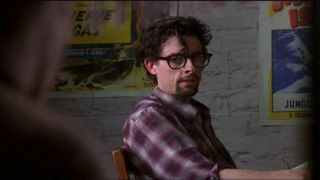 22. George Lucas In Love (1999)
Lucas' origin story
This meta-spin on the creation of Star Wars is the work of a university student, who bagged much acclaim and awards for reimagining George Lucas' life as he penned... Space Wheat. Hang on, what now? The fictional Lucas steals parts from his real everyday existence as inspiration for his space opus. For example, a certain bun-haired pal teaches him a valuable lesson. Even the posters for the short are modelled after Star Wars artist Drew Struzan's legendary wall art.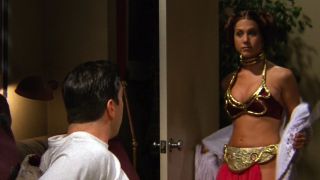 21. Friends
The One With The Princess Leia Fantasy
Rachel (Jennifer Aniston) proves her loyalty and willingness to do whatever it takes to relax Ross (David Schwimmer). She re-enacts the ultimate fan-boy fantasy by dressing up as slave-girl Leia as part of their romantic repertoire, which he then manages to ruin twofold by humming a weird version of John Williams theme tune and picturing his mother wearing said outfit. Also, yes, Rachel did get the hair wrong, but you can't question her enthusiasm.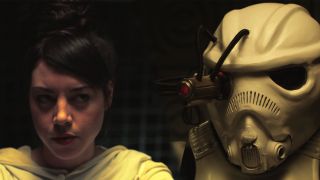 20. Troopers
The intergalactic troopers
CollegeHumor's episodic webseries is what Spaceballs might have been like had the plot focused solely on the inane activities of the Stormtroopers. Except the dunderheaded pair here, Larry and Rich, are aboard a spacecraft called the Dreadcruiser serving their leader Dreadlord. It runs for twelve episodes with each gleefully mocking the Imperial lackeys at every opportunity, usually at the hands of Aubrey Plaza's droll Princess.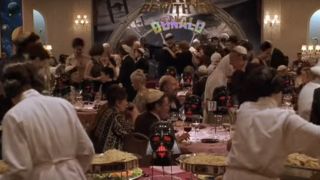 19. Deconstructing Harry (1997)
Star Wars Bar Mitzvah
In one of Woody Allens stand-out moments of surrealism, two old women find themselves in the midst of a Star Wars-themed Bar Mitzvah. Complete with red-eyed Darth Vader table decorations, multiple Princess Leias serving up hot noodle kugle, and a Wookiee mixing the drinks. Star Wars clearly is the new religion for young Donald who is told, through glittery cardboard lettering, that the Force is with him.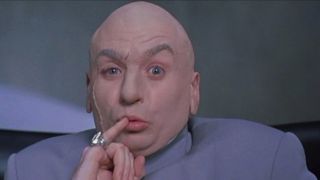 18. Austin Powers: The Spy Who Shagged Me (1999)
I Am Your Father
One of the great throwaway gags of a movie series positively groaning with them, arrives right as Powers is about to take out Dr Evil. At a serious disadvantage, Dr. Evil still tries to gain the upper hand over Austin by booming, I AM YOUR FATHER! When Austin starts to believe it, asking if it's really true, Evils downbeat retraction is timed to perfection. No... I cant back that up.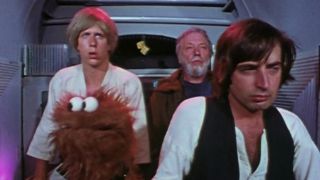 17. Hardware Wars (1978)
The whole film
Named by Lucas as his favourite spoof, Ernie Fosselius short Star Wars parody was also the first, arriving a mere seven months after A New Hope.Hampered by a shoestring budget, the lightsabers are flashlights, the ships are steam irons and Chewchilla the Wookiee is quite obviously The Cookie Monster dyed brown. Still who's gonna argue with the original sweded take on a galaxy far, far away? Especially when it's this much fun.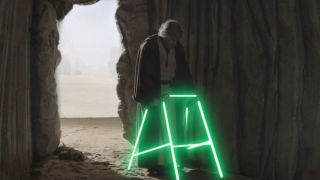 16. Saturday Night Live
The old timers teaser
Who doesn't like a little dig about their age? This snarky teaser from the Saturday Night Live team pokes fun at the return of Mark Hamill, Carrie Fisher and Harrison Ford for The Force Awakens, and in particular, how old and knackered they've all become in the thirty years since Jedi. James Franco's Luke dodders about a cave with his lightsaber zimmer, and Bobby Moynihan's Leia struggles to figure out how to use R2-D2's computer system.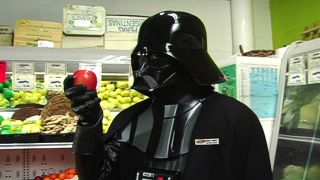 15. Chad Vader: Day Shift Manager
Vader to aisle three, clean up on aisle three!
Unlike a majority of parodies, Blame Society takes potshots at the Imperial Sith Darth Vader by relocating to a more mundane setting. A supermarket, to be exact, where he goes by the name Chad and works as the day shift manager. He's easily flummoxed by simple tasks - like delegating responsibility to his staff - and dishing out orders using his typical enigmatic instructions only makes matters worse. Wait 'til you see the one where he's coming back from the dentist...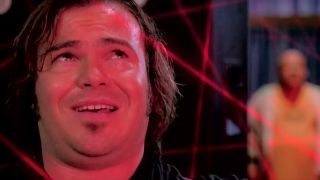 14. Tenacious D In The Pick Of Destiny (2006)
Use the Cock
Trapped by security lasers with no means of reaching the off button, JB looks done for until partner-in-rock KG reminds him of the extensive "cock pushups" he's been doing. He urges him to Use the Cock! With a little (verbal) self-encouragement, JB produces a stiffy long enough to hit the switch and deactivate the red beams. Probably not what George Lucas originally had in mind when he conjured up "Use the Force"...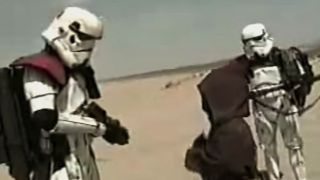 13. Troops
A COPS parody
Kevin Rubio wrote and directed this parodic riff on COPS that swaps out the grim streets of Earth for the dusty streets of Tatooine, where stormtroopers are the enforcers instead of regular cops. Learn about what drives a Stormtrooper to join the Imperial forces. How he feels in his line of work. And during its brief ten minute run time, discover the truth behind what really happened to Luke's Uncle Owen and Aunt Beru. Hint: it's not in the typical extended canon.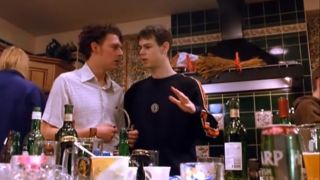 12. Human Traffic (1999)
Drug-dealer theory
Before he became a proper thespian on Eastenders, Danny Dyer stole the best monologue in Human Traffic. His lengthy and considered rant orbits around the idea that most inhabitants of the galaxy are high. He proclaims that Jabba was smoking opium in his big glass pipe, the Emperor financed The Death Star by selling crack to space junkies and Yoda is only 2ft tall because hes been coming down for about 500 years.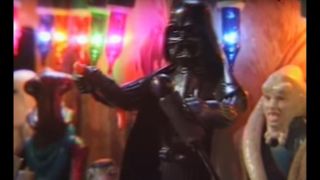 11. The Adam and Joe Show
"Star Wars in their Eyes"
Imagine for a moment if the only way Darth Vader can remove his helmet and let his hair down, were through karaoke. In their back catalogue of toy spoofs Adam Buxton and Joe Cornish brought this shuddering thought to life, leading to a full-blown "Stars in Their Eyes" - an old UK TV talent show - hosted by Ma-Chew Kelly. Auditions to become the next big thing in the galaxy are quite the sight to behold...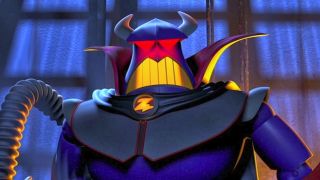 10. Toy Story 2 (1999)
I Am Your Father (again)
Theres a lot of love for Star Wars coming from (one-time George Lucas-owned) Pixar, especially in the Toy Storymovies. Mentions of Rebels, familiar music cues and the like, but the biggest wink came in Toy Story 2 when Buzz Lightyear finally confronts the Evil Emperor Zurg, he's shocked to hear the iconic line "I am your father" from the mouth of his sworn enemy. Nooooooooo! he cries, falling down the elevator shaft. Most of Zurg's dialogue - including his opening line to Buzz "Come to me, my prey" - is modeled closely after Vader's.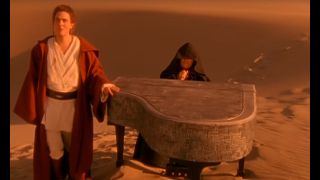 9. Weird Al Yankovic's parody of The Phantom Menace
The Saga Begins
Most people will agree that The Phantom Menace is George Lucas' biggest disgrace to the Star Wars franchise. There's certain things about it that we should be grateful for; and Weird Al Yankovic's parody is one of them. Set to the tune of "American Pie" Weird Al serenades with a tongue-in-cheek riff on the plot while kitted out like a Jedi. "My my, this here Anakin guy, maybe Vader someday later but now he's just a small fry."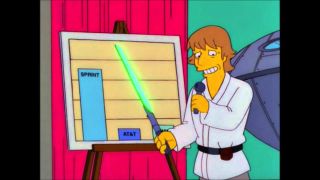 8. The Simpsons
Use The Forks
The references fly thick and fast in Season 10 classic Mayored To The Mob. Mark Hamill is saved by Homer from being nearly trampled by rioting convention fans, before starring in a weird version of Guys And Dolls complete with show-stopping spoof number Luke Be A Jedi Tonight sung to the tune of 'Luck, Be A Lady Tonight.' A later attack on Mayor Quimby's life sees Hamill urge Homer to 'use the forks' to stop the attacker.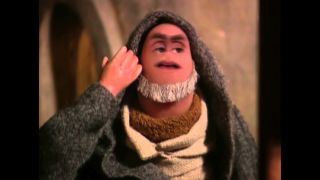 7. Thumb Wars
The Phantom Cuticle
Released around the same time as The Phantom Menace, Steve Oedekerk and his crew dress up their opposable digits to create a 'handy' homage. "If there were thumbs in space and they got mad at each other there would be... THUMB WARS," reads the opening title, setting the scene for a truly surreal reimagining of the galaxy's biggest gripes. The Empire is renamed the Evil Thumbpire, and the rebels are dubbed Thumbellion Resistance Fighters. How they came up with the name Oobeedoob Beunbi is a bit of a head-scratcher.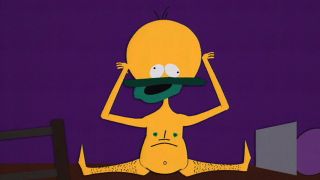 6. South Park
Joon-Joon The Jakovasaur
A camping trip turns sour when the boys discover Joon-Joon a humanoid duck who happens to be the most annoying creature in the universe. Written by Trey Parker and Matt Stone as a backlash against the cruel joke that is Jar Jar Binks, Joon-Joon actually has more charm than the original Gungan menace. Considering the stubbly-legged, cross-eyed creature exists solely as a mockery of Jar Jar, that's quite a feat.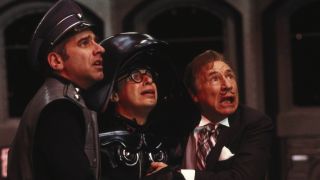 5. Spaceballs (1987)
The whole film
Painfully punny and overcooked to perfection, Mel Brooks silly gag-fest is spilling over with groaning dad-jokes and signposted punch lines you can see coming from a galaxy far, far away. Pizza The Hutt? Use The Schwartz? And what about the enormously oversized headpiece worn by Dark Helmet? Star Wars might be the primary target, but the Alien skit is the funniest thing in the film.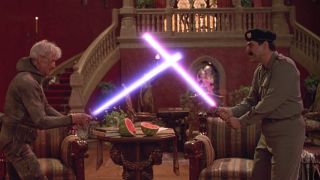 4. Hot Shots! Part Deux (1993)
Darth Saddam
The second Hot Shots movie asks an intriguing question, and answers it with a Star Wars-inspired romp. What would have happened if the President Of The United States had met Saddam Hussein during the height of the Gulf War? Theyd have both grabbed lightsabers, of course, and finished the war like men with occasional breaks so Saddam can have a quick puff on his inhaler. (Before Saddam exploded, turned into liquid metal, and T2-d himself into half-man, half-cat).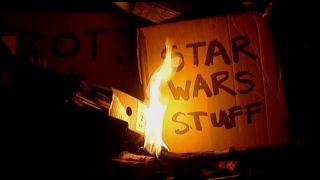 3. Spaced
Tims rant
Pegg, Frost and Wright owe a big chunk of their careers to George Lucas nodding and winking to the original trilogy throughout their late 90s TV starter Spaced. Its hard to choose a favourite tip of the hat, but its harder to find a better argument against The Phantom Menace than Tims (Pegg) emotional rant at 10-year-old who says he likes Jar Jar Binks. You werent there at the beginning, you dont understand how important it was this is it for you, this jumped up firework display of a toy advert!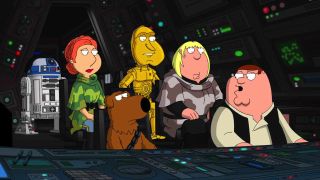 Family Guy (2010)
Laugh It Up, Fuzzball: The Family Guy Trilogy
Three special episodes long, Seth MacFarlanes epic spoof spin-off manages to lampoon the entire original trilogy. Stewie is Vader, the Cookie Monster is the Hoth Wampa and Luke trains to be a Jedi via the Rocky IV Dolph Lundgren montage. One particularly daft highlight comes - of course - during the trash compactor scene, wherein Han (Peter) convinces Luke (Chris) that a discarded couch floating amid the garbage is worth salvaging.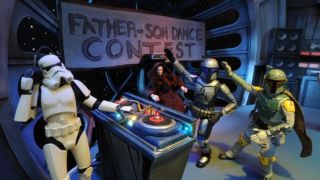 1. Robot Chicken: Star Wars (2008)
The whole trilogy
With three full-length, stop-motion movies dedicated entirely to (lovingly) spoofing Star Wars, Seth Greens Adult Swim toon is the greatest homage in the galaxy.
Spanning both trilogies (including the Stormtroopers bring your daughter to work day, Jedi George Bush Force-pushing Bill Clintons car into a pond and Admiral Ackbars breakfast cereal ad) the best skit is one of the earliest showing what really happened in the Mos Eisley cantina when Ponda Baba got dragged along to after-work drinks. Innocently trying to tell Luke that he liked his hair, he ends up getting his arm sliced off by Obi-Wan and losing his job as a graphic designer.