I've spent a lot of time with GTA 5 and its multiplayer offshoot, GTA Online. In fact, the last time I checked, I'd clocked well over 2,000 hours roving around in Los Santos. From its Dr Dre-starring The Contract expansion, to its thriving roleplay scene on PC, I can still lose myself for hours at a time whenever I visit today. But GTA 4 is better.
In both entertainment value and legacy terms, Grand Theft Auto 4 is not only better than its long-serving, hugely-successful successor, but, for me, it's the very best of the 26-year-spanning crime sim series. I'm likewise fond of Rockstar's wider back catalog, not least L.A. Noire, Manhunt, Bully and, of course, Red Dead Redemption and its sequel. But Niko Bellic's beleaguered American adventure in Liberty City is a cut above.
As you may have spied this week, Rockstar is now bringing a Red Dead Redemption port (or "conversion", as it's being officially billed) to the Nintendo Switch and PS4 for the first time. And given the fact RDR and GTA 4 are powered by the same RAGE engine, I now can't stop thinking about Niko and his pseudo New York City stomping ground getting the same treatment.
If I can make it here
When the news dropped this week, we asked: Why has Rockstar brought Red Dead Redemption to the Switch and PS4 in 2023, within which we explored the possible reasons for bringing such an old game, untouched, to last-gen hardware. Whether this Red Dead decision is a good or bad one is up for debate (I myself quite fancy working through Undead Nightmare on the couch; but the price tag has clearly upset some would-be players), but, putting Red Dead itself to one side, from a logistical point of view it means we could see GTA 4 brought forward in the same way.
Following in the footsteps of GTA 3 (2001), GTA: Vice City (2002), and GTA: San Andreas (2004), GTA 4 marked a new dawn for the Grand Theft Auto series when it landed in 2008. Powered by the PS3 and Xbox 360, it was the first game set in the series' 'HD Universe', evolving the previous games' cartoon-like aesthetic into something grittier and more realistic.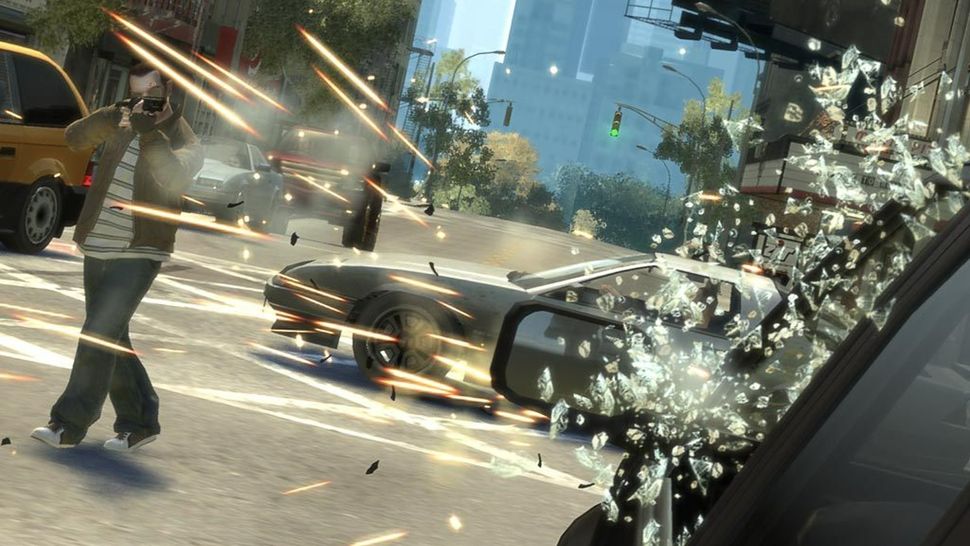 While darkly funny throughout, Niko Bellic's story was a complex one; of an immigrant chasing the American dream and getting sidetracked into a life of crime, whose desperate circumstances strived to justify his actions – even more so than those of bygone protagonists Carl Johnson and Tommy Vercetti. Red Dead Redemption certainly carried those visual and narrative tenets forward, but GTA 4's story always felt more grounded in reality given its modern day place in time.
I would bite your hand off for a fully-realized, from-the-ground-up retelling of GTA 4 in faux NYC, but with GTA 6 hopefully not too far off now, I imagine there's less than zero chance of that happening. Which is fine – I'm as excited about the next mainline Grand Theft Auto game as the next person – but with the OG Red Dead Redemption pretty much totally unexpectedly heading to the Switch, why shouldn't GTA 4 follow suit? As it stands, GTA 4 boasts 'Playable' status on the Steam deck, as opposed to 'Verified', meaning while it works on Valve's PC-inspired handheld, it's not designed to work seamlessly with the hardware's interface and settings.
The Grand Theft Auto Trilogy: Definitive Edition was criticized at launch in late 2021 by some players who experienced game-breaking bugs and crashes. At one stage the game was pulled from sale, and a series of fixes and patches were applied in the intervening weeks and months. Running on the Renderware engine, I'd always hoped Bully might have received the same modern day upscaling, but the Definitive Edition's troubles have since made that feel unlikely.
All of that said, If Double Eleven Studio succeeds in porting the Wild West to Nintendo's current flagship console without issue, then I do hope they turn their attention to the game that made Red Dead Redemption possible. Niko Bellic has his American dream. And I have mine.
---
Here are 10 games like GTA you need to play while waiting for GTA 6