The Steam Deck is Valve's latest stab at hardware after the shelved Steam Machines, and it's also the house of Steam's answer to handheld gaming, which has been primarily carried by the Nintendo Switch for the past few years. 
It's basically a handheld gaming PC with your Steam library built right in, and it seems pretty darn cool at first blush. We're fresh off the surprise Steam Deck reveal so we've still got a few questions to answer, but for now, here's everything there is to know about the Steam Deck.
The Steam Deck release date is set for December 
The first lot of Steam Deck stock will begin being shipped out in December 2021. Early adopters, those lucky few that managed to get a reservation in, can expect the console at this time, for everyone else, it's expected that restocks are most likely in summer 2022. Valve has said that it will update people regularly. 
The Steam Deck price starts at $399 / £349 
Valve is offering three distinct Steam Deck models, and while they have the same core components, the pricier versions offer greatly improved storage and come with some extra bells and whistles. Here's the full breakdown:
$399 Steam Deck - the baseline model comes with 64GB of eMMC storage and a carrying case.
$529 Steam Deck - an upgraded model with 256GB of faster NVMe SSD storage, the same carrying case, and an exclusive Steam profile bundle.
$649 Steam Deck - a top-tier model with 512GB of "high-speed" NVMe SSD storage, special anti-glare glass, an exclusive virtual keyboard theme, a custom carrying case, and the aforementioned Steam profile bundle.
How to pre-order a Steam Deck now  
Sadly, this is where things are likely to get disappointing for people hoping to have the system in their hands this year. According to the official pre-order page, order availability is currently slated for summer 2022 (Q2) or later, meaning it's unlikely that many will be playing portably come December as anticipated. 
In the few days since Steam Deck pre-orders went underway - originally on July 16 -the various Steam Deck models are already being auctioned off for double, and sometimes triple, the asking price. 
Keep in mind, these scalpers don't have the unit, but are instead promising the Steam Deck once they have it and asking astronomical markups for the privilege; avoid at all costs. Considering the handheld probably won't be released until late into next year, it's best just to wait and be patient, as people have had to do with PS5 restock updates and Xbox Series X restocks. 
The Steam Deck specs are pretty impressive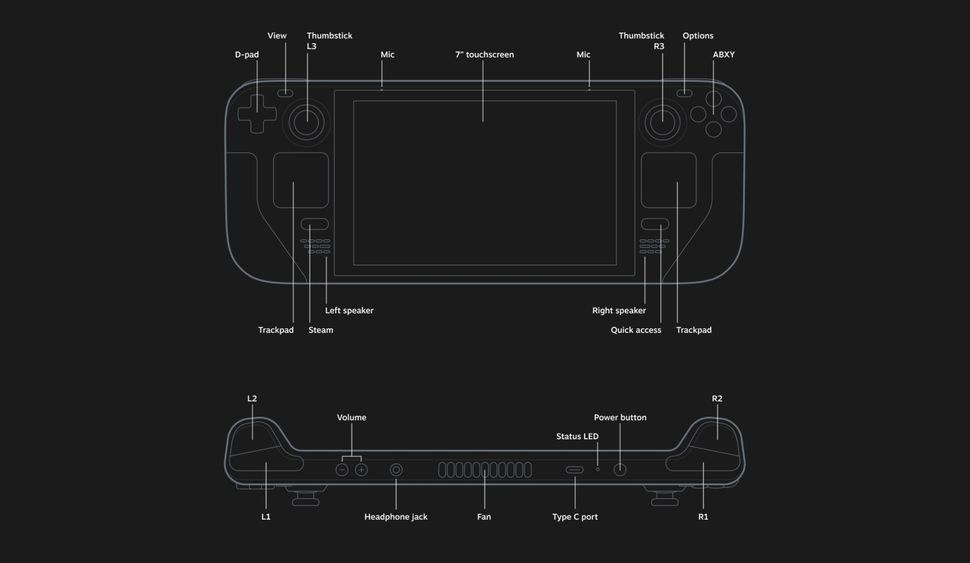 Valve has positioned the Steam Deck as a gaming laptop that you can hold like a Switch, and for how small it is, it's packing some serious power. Here are the full system specs, complete with unit dimensions and dock features: 
CPU: Zen 2 4c/8t, 2.4-3.5GHz (up to 448 GFlops FP32)
GPU: 8 RDNA 2 CUs, 1.0-1.6GHz (up to 1.6 TFlops FP32)
RAM: 16 GB LPDDR5 on-board RAM (5500 MT/s quad 32-bit channels)
Storage: 64GB eMMC base, 256GB and 512GB NVMe PCIe Gen 3 SSDs available
Size: 11.7" long x 4.6" tall x 1.9" thick 
Weight: 1.47 pounds
Screen: 7" 1280x800 (16:10) 60Hz LCD
Audio: 3.5mm stereo jack
Battery: 40WHr estimated 2 - 8 hours
Video output (docked): up to 4K 120Hz / 8K 60Hz (game performance at these often resolutions remains to be seen)
Ports (dock included): microSD card expansion, USB 2.0 and 3.1, HDMI, DisplayPort 
Connectivity:  2.4GHz / 5GHz Wifi, Bluetooth 5.0
Gyro: 2.4GHz / 5GHz Wifi, Bluetooth 5.0
Check out how the Steam Deck specs compare to the Nintendo Switch, PS5, and Xbox Series X in our breakdown.
Upgrading the Steam Deck
All versions of the Steam Deck utilize a high-speed SSD of some kind. The entry-level model uses 64GB eMMC and the two pricier editions have an M.2 2230 NVMe SSD. Because of the ultra-compact form factor of the handheld, Valve has said that the Steam Deck SSD shouldn't be replaced due to the way that the memory has been connected to the unit; while it can technically be done, the company is heavily discouraging users from doing so - at least right now. 
You can use the Steam Deck like a PC and dock it like a Switch  
In case the specs didn't give it away, Valve will sell a dedicated dock for the Steam Deck that lets you hook it up to a monitor or TV like you would a Nintendo Switch. We don't know the price of the dock just yet, but the Steam Deck supports DisplayPort and HDMI output, so you'll be able to connect it to any screen in your house if you find yourself craving a bigger screen over portability. 
It's also important to note that while the Steam Deck runs the Linux-based SteamOS, Valve says you can install other software on it and use it like you would a regular PC. So while it was built with gaming in mind, you could also use it for normal work or multi-tasking PC stuff, to say nothing of games on storefronts besides Steam. 
Your entire Steam library is included with your Steam Deck, and it can play other games too 
Once you sign in to your Steam Deck using your Steam account, you'll get access to every game in your Steam library. Between the handheld's thumbsticks, D-Pad, face and shoulder buttons, and its mouse-mimicking touchpads, it's equipped to play virtually anything, including games that decidedly weren't designed for handheld. 
If you ever find yourself struggling for storage, you can always fill an SD card with games and access them directly just by plugging the card in. Remember, this isn't just a Steam machine; it's a tiny gaming PC in Valve-brand clothes.  
Games the Steam Deck might not play
Due to the Steam Deck running Steam OS, a heavily modified version of Linux that's been around for several years now, the handheld might not run Destiny 2, Apex Legends, and more. This is due to the anti-cheat software that's utilized by some of these titles, which has caused compatibility issues with booting the games themselves. Other games that might not run include Rainbow Six: Siege and Player Unknown's Battlegrounds. 
Again, the system isn't out yet and we don't definitely know for sure that these online competitive titles are going to run into problems upon the handheld's release, but these are potential issues that could plague the unit. If you play games like these and want them on the go, the Steam Deck's difficulties with them may mean holding off for the time being. 
The future of SteamOS and Valve hardware
The Steam Deck will ship with and run on SteamOS - as we've touched upon above - which was originally launched by Valve in 2013 with the hopes of melding together the convenience of console gaming with the afforded benefits of PC power. Updates, up until recently, have been fairly few and far between for the operating system, with the last major revision happening in summer 2019. That's likely to change soon as more games are optimised for use on the Steam Deck, thankfully. 
Now, SteamOS was not released on its own, it was originally supposed to be the lifeblood of the ill-fated Steam Machines, which saw their first major push in late 2013 and were all but discontinued two years later. The aptly named Steam Controller would have gone hand-in-hand with these game console-like PCs for the living room, but, despite reviews generally being favorable to the device, it just didn't catch on as anticipated. 
Keep in mind, however, the essence of the Steam Controller with its dual trackpads and layout lives in through the consoles either side of the Steam Deck itself. The former inclusion was touted for how it made previously keyboard and mouse only games viable on pad, now, the same is set to be seen in the handheld form factor.