Xbox and Forza go hand in wheel. The two are so inextricably linked that to conceive of one without the other would be like having a finish line without a chequered flag, or a podium without a winner's step. Just as Motorsport 5 was the posterchild of the Xbox One launch, Forza Motorsport 7 is the game to get when Xbox One X (opens in new tab) hits in November – and Turn 10's hard work has made the game even better on your One or One S.
Forza Motorsport 7 has been designed to be a visual powerhouse on all Xboxes, though it's clearly at its absolute best when running on the One X. Forza's no stranger to displaying at 60fps, and HDR in conjunction with the 4K resolution (opens in new tab) boost has given Turn 10 the opportunity to dial up the race atmosphere. Every Xbox benefits from tech like dynamic image-based lighting (Playground Games employed this in the fantastic Forza Horizon 3 (opens in new tab)), while the S and X gleefully show off dynamic HDR skies (another signature piece from Horizon 3).
Want more Forza?
Forza Horizon 3 Barn Find locations guide (opens in new tab)
It's the smaller details that make the game feel bigger than it currently is. Increasing grass density and improving particle effects help make each track feel more real, and the cars are injected with more life and trimmings too. Xbox One X owners get to witness 'dynamic cube maps', a technique that Bill Giese, creative director for Forza Motorsport, says "better seats our cars in the world". (It creates more dynamic reflections, for example, that react to what's actually around you.) Peer at the dashboard and depending on the model you'll be able to gawp at the suede-like alcantra, and admire ambient occlusion lighting techniques. All very nice, very buzz-wordy, but what's really been missing is a touch of violence.
Giese explains: "We want players to see, hear and feel the explosive power of motorsport," he says. "For all 700 cars the instrumentation clusters are going to rattle, windshield wipers and mirrors vibrate – it's that feeling of the car at its peak. We've overhauled the audio for our driveline flex, so you can hear the car tearing itself apart. It can be scary, but it feels more grounded and alive than before."
He's not wrong. We got our hands on the new Porsche 911 GT2 RS, possibly the most insane incarnation of the German marque's hero car that's ever been devised. There's a serious roar to how it sounds alongside its competitors, and as the 911 tears around the Dubai blacktop its rear wing wobbles, fighting to keep the rubber firmly planted. Forza 7 will have more Porsche, Ferrari and Lamborghini models than any other racing game.
Then there's the circuit itself. Sand from the dunes whips across the track as the wind picks up, and it's likely that the next time we were to play it we wouldn't see this happen. Unlike Forza Motorsport 6, weather conditions aren't fixed in anyway, meaning every time you pull up to the start line your event will differ to the last. Backdrops and car models are nothing short of gorgeous, and as the harrowing, convincing weather effects play out, the framerate never dips below 60fps, even when playing in a silicon-punishing 4K resolution. Utter magic.
"We want each race to be a different experience," explains Giese. "We create that experience with dynamic conditions, including changing time of day, dramatic weather conditions and varying conditions on the track."
The screenshots give some hint as to what expect: dangerous, pulsing skies that flicker with sheet lightning during a storm, rain pooling on the track, and the golden rays of post-storm sunshine reflecting in the water. "We used a new technique called photogrammetry," continues Giese. "We've done laser scanning for years, but when you get a photo reference and artists have to touch up geometry to make the track authentic, it takes a lot of time. Photogrammetry uses laser scanning and photos to create the track geometry more accurately than before, and you get that imperfection in the rocks which we see trackside on the Dubai circuit."
Again, imperfections aren't just there for detail's sake, and Turn 10 hopes they promote a sense of depth and immersion. "[Photogrammetry] allowed us not only to build these complex geographic formations quickly, it also gave us inch-perfect accuracy," explains Giese.
"In the end, it's something that the average player may not notice when speeding past at more than 100mph, but we believe that extra effort adds to the immersion and feel of the tracks we create. At the end of the day, we built a gorgeous world for our fans to play in."
In a way, though, this is almost a given, considering the extra power afforded by the One X. As a first-party studio Turn 10 was one of the initial outfits given Project Scorpio hardware to play with, and knew it was going to have to work on textures and lighting to account for beefier hardware. "As the creative director for Forza Motorsport, this is the first time in my career that I've had more headroom to build with at the launch of a console," furthers Giese. "Playing the game in 4K and HDR reminds me of seeing a 1080p image for the first time – the results have been inspiring."
More pixels, and prettier ones, certainly add more intensity to environments. The real dilemma was how to build around it. To that end, Forza Motorsport 7 boasts 700 cars for you to race and ogle in Forzavista (the game's model viewer), and 30 racing environments and 200 'ribbons' (think layouts or permutations of a track).
A new campaign mode is also in the works, titled Forza Drivers Cup. With so many circuits on offer and locations to race in, we're looking forward to seeing more of a personality from the usually stiff-collared racer. Rather than simply ticking off races like you would a spreadsheet, the Cup is all about series, scoring points and trophies.
"We've had great success with Forza Racing Championship," says Giese. "We're looking at Mixer integration, new spectating tools. Being able to watch this in 4K and HDR turns this from a competitive sport into a spectator sport."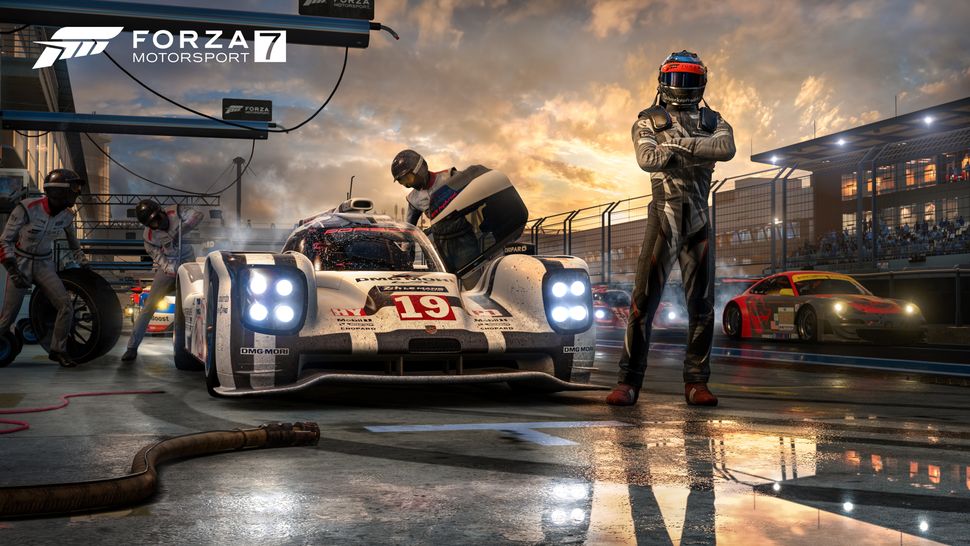 And what a spectacle it'll be. Racers are no longer confined to simply choosing the gender or basic facial features, as an RPG-lite function is being introduced: a massive Driver Gear collection that includes hundreds of new options to deck out your avatar in race suits drawn from decades of racing history and – curiously – pop culture. Away from the single player-focused Forza Drivers Cup you'll find multiplayer modes such as League Seasons, where you can battle other drivers with a similar skill level from all over the world.
Even if the most experience you've had driving a car is making brum brum noises with your Matchbox set, there's a layer of assists on top so all that you have to do is work the 'go' pedal and the steering wheel. More experienced racers can happily strip all of this away and admire the fine simulation model waiting to be given a big rev. Forza Motorsport 7 represents the ultimate vision of racing games on console, and a console that pushes the very limit of what your game boxes can do. But then, like that podium and its top step, that's always been the case.
This article originally appeared in Xbox: The Official Magazine. For more great Xbox coverage, you can subscribe here (opens in new tab).