Pick up a shiny new Xbox One but find you need a second controller to crush your friends in Nidhogg 2? Worry not: we've got loads of great Xbox One controller deals here, all gathered up in one place so you don't have to waste any time looking.
Does the Xbox One controller work on PC?
It sure does! One of the best parts of owning an Xbox One controller is being able to take it straight over to a Windows PC with minimal setup. Any game you could play with an Xbox 360 controller on PC should also work with an Xbox One controller, just plug it in with a USB-A to micro-USB cable (snag an Amazon Basics cable if you don't already have a ton of those lying around).
You can also play wirelessly on PC, but there are some more things to keep in mind in that case. The first two generations of Xbox One controllers, which don't have textured grips on the back, need a special wireless USB adapter to communicate with your PC. All controllers released after 2016 can connect natively over Bluetooth, which is handy, but the adapter is still useful for connecting up to 8 controllers at once. You'll find deals on the official adapter further down this page.
The official Xbox One Controller - best prices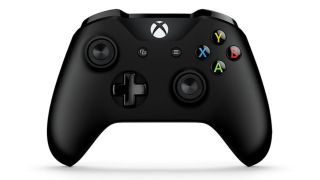 Not only is black one of the most common colors for Xbox One controller colors, it's also one of the classiest. The dark, matte plastic lets the little bit of color on the buttons pop, and it'll go with whatever kind of console (or other gaming machine) you own. Note that standard Xbox One controllers come with two AA batteries, but they don't come with the USB-A to micro-USB cable you'll need for wired play. You can find the modern Xbox One controller design in a variety of colors and special edition options, but black never goes out of style - and it often has the best prices.
Xbox One Phantom Black Controller
The Phantom Black design has a gradient effect that goes from bone white on the bottom to translucent black on the top. It's a little spooky, but not so spooky that people will wonder why you didn't put it away with the rest of the Halloween decorations. There aren't many official, translucent Xbox controllers out there, so if you like the effect, you should jump on this one quick.
Xbox One Grey and Blue controller
You want class? This controller's got class. The faceplate, buttons, sticks, and D-pad are all a uniform, modern grey that sets off a cool pop of cyan on the base of the sticks and rear plate. Despite being a new design, you can find some pretty nice prices on this one, too.
Xbox One Sport White Controller
Want a controller design that's bright, fresh, and snappy? Lay your weary eyes upon the Sport White Special Edition controller and let them be restored. This clean, futuristic design has a bright white body, a silver grid design, and just the barest hint of mint on the sides - teasing the bold mint panel on the back of the controller (which is flanked by literally handy rubberized grips). And that silver D-Pad! Beautiful!
Xbox One Elite Controller
The Xbox One Elite Controller is a higher grade of input device with a price tag to match, as its name suggests. For the extra money, you get an adaptable controller that will feel good in your hands regardless of configuration. The thumbsticks and D-Pad can be swapped out for performance-targeted alternatives, and you can even fine tune the motion of the shoulder buttons. Hardcore shooter types will love the four optional back paddles that give you more control without removing your thumbs from the sticks as well. The overall construction itself is super luxe, and it comes with a nice little carrying case to store the controller and all its attachments.
Razer Wolverine Ultimate
Want something a little flashier than an Elite Controller and you don't mind going third party? The Razer Wolverine Ultimate is your next stop. Razer's trademark Chroma lighting is also supported on Xbox One via the Razer Synapse app, meaning your controller will frickin' change color as you play (in supported games). The interchangeable D-pad and thumbsticks will help you get the feel just right, and a set of six extra buttons (two additional shoulder bumpers and four back paddles) give you a range of control options without ever needing to take your thumbs off the sticks.
Xbox One Play & Charge Kit
Don't like chewing through disposable batteries, but don't want to spend all your time plugged in either? The Xbox One Play & Charge kit is an official two-in-one solution with both a rechargeable battery pack and a charging cable. The battery pack can support up to 30 hours of play and it takes about four hours to fully recharge. The next time you see the low-battery warning just pop in the cord and you'll be good to unplug and keep playing wirelessly, all without interruption.
Xbox Wireless Adapter for Windows 10
There are a whole bunch of reasons you might want to pick up an official Xbox Wireless Adapter for Windows 10: maybe you have an older Xbox One controller that you want to use on PC without having to plug it in; maybe your PC doesn't support Bluetooth; maybe you want to wirelessly connect 8 controllers at once for local multiplayer goodness; or maybe you just like the simplicity and reliability of using a dedicated adapter. And hey, these adapters are both small and cheap, so if you think any of those scenarios are likely to come up in the future, you may as well grab one just in case.
Some online stores give us a small cut if you buy something through one of our links. Read our affiliate policy for more info.