There's going to be a lot of appetite for games like Starfield in the years ahead. While this open-universe RPG from Bethesda Game Studios has a lot to offer, it isn't for everyone. The game takes an almost jack-of-all-trades approach to character-creation, ship-building, space combat, resource management, and more – so you might be looking for something that has a little more focus. Or perhaps you're looking for a game like Starfield which offers a similar style of role-play albeit in an entirely different setting.
With Bethesda confirming that there is no Starfield PS5 or PS4 release on the horizon, you PlayStation owners may be looking for your own opportunity to answer the call to adventure. That's why we've put together this list of 10 games like Starfield that are well worth your time and attention. Presented in alphabetical order, these titles represent some of the best RPGs on the market, each offering something within the same spirit as the new Bethesda experience. So let's get right into, with our breakdown of the best games like Starfield that you should play today.
Assassin's Creed Valhalla
Platform(s): PC, PS5, PS4, Xbox Series X, Xbox One
Assassin's Creed Valhalla review
On the surface, Assassin's Creed Valhalla couldn't be more different to Starfield. For starters, it's set in In 873 CE – a grand adventure where you lead a clan of Vikings to settle new lands in Anglo-Saxon England. Here's the thing: Once Valhalla settles into its rhythm, it's one of the most expansive and immersive action-RPGs available on modern platforms. Embodying the role of Eivor, you're free to explore and fight as you see fit, roaming a sprawling land that's packed with smart storytelling and near endless opportunities to shape your story. If you want scope without science fiction, then Assassin's Creed Valhalla is waiting.
Cyberpunk 2077
Platform(s): PC, PS5, Xbox Series X
Cyberpunk 2077 review
Cyberpunk 2077 may not let you explore the endless expanse of the universe, but it will let you run riot across Night City. Something I really appreciate about this game is how much room it affords you to just waste away hours living in the sandbox – a densely-packed, neon-lit cityscape. That CD Projekt Red is able to do this while still driving an authored, all-encompassing narrative forward is impressive. So too is the work that's been done to bring this massive open-world RPG into better repute following a tumultuous launch in 2020.
Fallout 4
Platform(s): PC, PS5, PS4, Xbox Series X, Xbox One
Fallout 4 review
While I'd love to tell you to go back and play Fallout 3, I do understand that it's become a little dusty over time. So the next best thing is 2015's Fallout 4, a fantastic open-world RPG that lets you live your best post-apocalyptic life in the irradiated hellscape of The Commonwealth. While Starfield is far larger in scope, Fallout 4 puts a larger emphasis on character and adventure. You'll meet some delightful companions, fight in a world teeming with mutants and monsters, and become obsessed with some of the larger-than-life personalities you'll meet along the way.
FTL: Faster Than Light
Platform(s): Android, PC, iOS
Okay, so how does a 2D spaceship simulation roguelike make it into a list of the best games like Starfield? Bethesda's latest RPG features pretty thrilling space combat, particularly if you heavily invest in the Tech tree. This is what ultimately reminded me of FTL: Faster Than Light – one of the greatest games of all time, in my humble opinion. Build your ship over time, manage the work of your crew, sweat while your ship systems fail, and then cry when it all goes up in flames after a chance encounter goes horribly wrong. FTL is the ultimate sci-fi timesink.
No Man's Sky
Platform(s): PC, PS5, PS4, Switch, Xbox Series X, Xbox One
No Man's Sky review
For many, No Man's Sky is among the best space games ever made. You're given total freedom to explore the vastness of the galaxy, with developer Hello Games leaving you free to explore, fight, and settle on distant worlds. The lack of direction will turn some away, but there's something truly exhilarating about stumbling across an undiscovered planet or traveling the solar system with a bunch of friends. Naturally, No Man's Sky's ability to let you travel through hyperspace into a planet's orbit and then land on its surface without a loading screen is still an unparalleled spectacle.
Mass Effect Legendary Edition
Platform(s): PC, PS5, Xbox Series X
Mass Effect Legendary Edition review
Bethesda and BioWare make very different games. The former will give you the freedom to write your own story, while the latter will take you on an adventure of a lifetime. The Mass Effect games are legendary at this point, for not only bringing a rich sci-fi universe to life, but for the way the trilogy is so stacked with incredible moments and characters. The Legendary Edition contains the first three games along with a raft of improvements to bring them more in-line with modern standards of play and performance. If you haven't played them before, get ready for one hell of a journey.
Marvel's Guardians of the Galaxy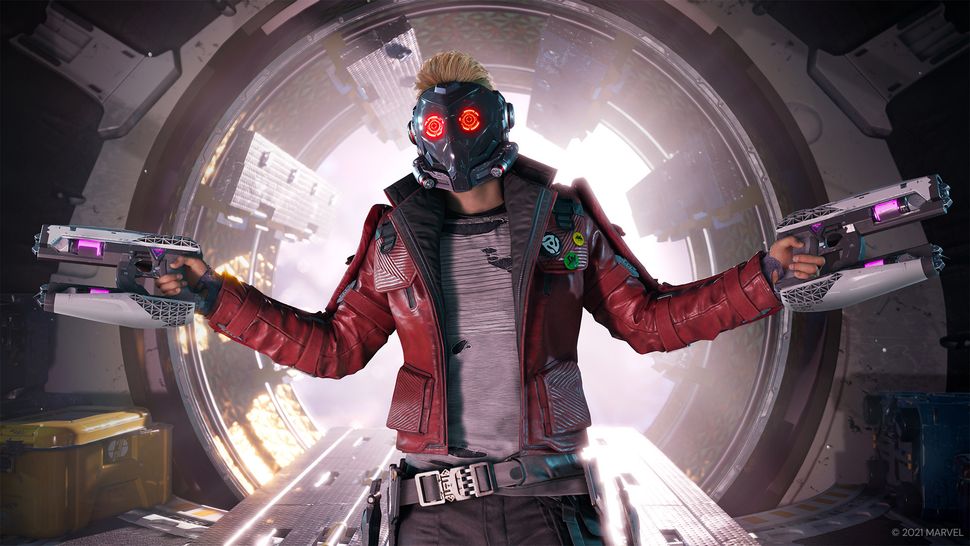 Platform(s): PC, PS5, Xbox Series X
Marvel's Guardians of the Galaxy review
Alright, so I know that Marvel's Guardians of the Galaxy seems like a bit of a curveball. A licensed action-adventure game, in a list that is ostensibly about sprawling RPGs that let you invest heavily in either worlds, characters, or stories. But here's the thing, Eidos Montreal did a phenomenal job of bringing the Marvel universe to life here, delivering a rich sci-fi universe that's teeming with heart, humor, and excellent music. If you were hoping Starfield would give you a big adventure through the cosmos with a really personable crew alongside you, then I'd recommend you give this one a try.
Outer Wilds
Platform(s): PC, PS5, PS4, Switch, Xbox Series X, Xbox One
Outer Wilds is this really incredible thing, if you're willing to give it the time to all click into place. A time-looping, head-scratching, awe-inspiring adventure that is demanding of your attention but not so easily forgotten. Once you get comfortable with the miniature of manually piloting very finicky starships it won't take long for you to fall in love with this fantastic offering from developer Mobius Digital. An open world mystery with a truly wondrous sense of exploration, Outer Wilds is a truly special sci-fi game that will appeal to any who were hoping that Starfield was a little more esoteric.
The Elder Scrolls 5: Skyrim
Platform(s): PC, PS5, PS4, Switch, Xbox Series X, Xbox One
The Elder Scrolls 5: Skyrim review
I mean, what can I even say about Skyrim that hasn't been said a thousand times before? It's one of the best-selling and most-enduring RPGs ever made, setting a benchmark for open-world adventure that precious few games have been able to clear in the last 13 years. Bethesda Game Studios head Todd Howard often refers to Starfield as "Skyrim in space", a nod to the focus on choice-driven experiences and absolute freedom that you're afforded to explore. Things can change quickly in the video game industry, but Skyrim always remains.
The Outer Worlds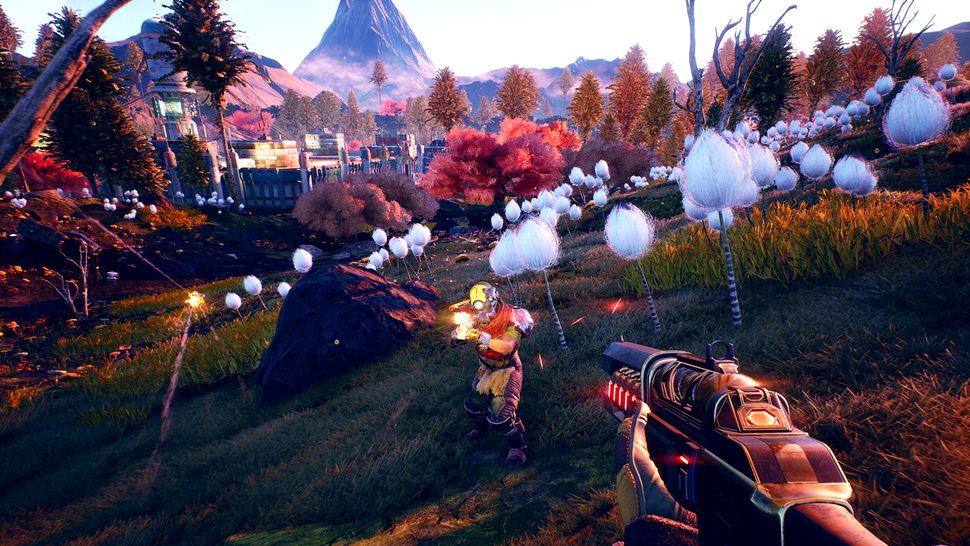 Platform(s): PC, PS5, PS4, Xbox Series X, Xbox One
The Outer Worlds review
The Outer Worlds is effectively Obsidian's take on the Bethesda Game Studios RPG model. It's expansive and open, allowing you a great degree of freedom to shape your character and their role within the world around them. Where The Outer Worlds differs from the likes of The Elder Scrolls and Fallout is in its scope – it's smaller and denser, with a larger focus on character and companions. If Skyrim is a mile wide and an inch deep, The Outer Worlds does its best to be the inverse. If you want a sci-fi game with a lot of heart, don't overlook this excellent Obsidian adventure.
---
In our Starfield review, we praised Bethesda for creating an "expansive and beautifully crafted open world experience full of endless discovery and opportunities."