Finding great games like Call of Duty is more difficult than it should be. Activision's behemoth franchise houses some of the best shooters of all-time, and finding other FPS games that can match its scale and technical fidelity isn't easy. But after the release of Modern Warfare 2 and Warzone 2, we understand why you might be looking for something a little different.
Below you'll find our best of the best games like Call of Duty. This ranges from other fantastic competitive shooters to awesome battle royale experiences, and there should be something for all types of Call of Duty fan in here.
PUBG Battlegrounds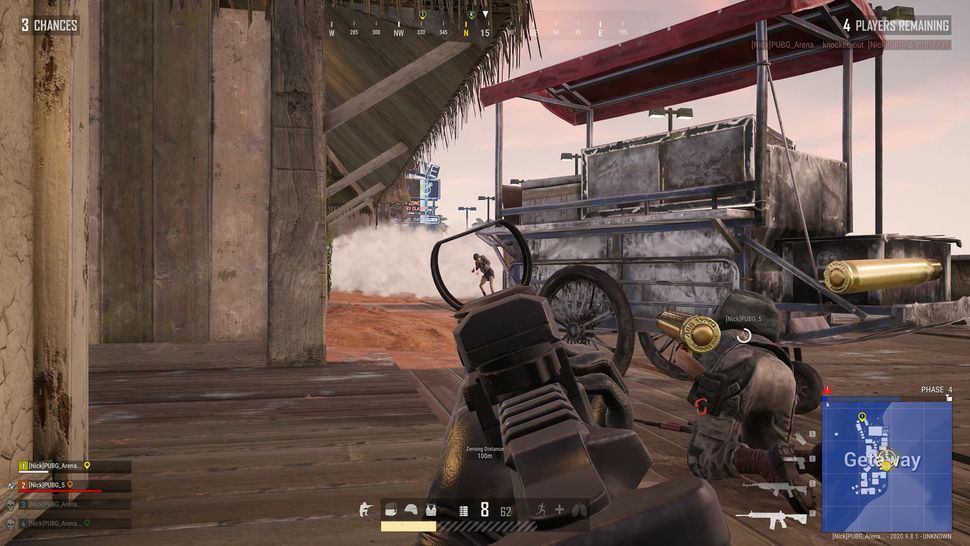 Developer: Krafton
Platform(s): PC, PS5, PS4, Xbox Series X, Xbox One
Any battle royale could have kicked off this list, but Player Unknown: Battlegrounds (now known simply as PUBG Battlegrounds) gets the top spot as the original and most gritty. If you favoured sniper weapons in COD multiplayer, then you'll be well at home on PUBG's sprawling maps. You parachute down to land with 99 other players and battle it out until only one of you is standing. PUBG is still one of the best battle royale games out there, and it's a fantastic alternative to Warzone.
Apex Legends
Developer: Respawn Entertainment
Platform: PC, PS5, PS4, Xbox Series X, Xbox One
EA's free-to-play shooter came from nowhere to challenge Fortnite and PUBG's dominance of the free-to-play battle royale genre in early February 2019, reaching over 50 million players by the end of its first month. Years later, Apex Legends remains one of the most competitive multiplayer shooters out there. It's got a sharp skill-ceiling, so you may want to drop with two friends by your side, as Apex rewards smart plays and class-based synergies. Apex Legends is a vibrant shooter that'll challenge you in ways Call of Duty could never.
Counter-Strike: Global Offensive
Developer: Valve
Platform(s): PC
If you've never heard of Counter Strike: Global Offensive (aka CS: GO), welcome back! We hope your nine year trek through Antarctica was fruitful, and your reconnection with civilisation has been smooth. Your first task now should be to play Valve's iconic multiplayer shooter. Since release, it's become one of the eSports heavy hitters with tournaments that draw crowds of millions. No wonder, really, since it takes COD's close-quarter combat and strips it of all fluff. There are no double jumps, wall runs, or laser guns here. The only way you'll win CS:GO is with sheer skill and determination honed through match after match.
Overwatch 2
Developer: Blizzard
Platform(s): PC, PS5, PS4, Xbox Series X, Xbox One
Overwatch 2 is now available in early access, and it's a fantastic alternative to Call of Duty. Blizzard replaced the original Overwatch entirely, with this refined competitive shooter taking its place. OW2 has a tighter team composition than its predecessor, has a free-to-play structure, and is arguably more aggressively-inclined – there's less of a focus on support roles, and a greater push to have you pushing objectives.
Titanfall 2
Developer: Respawn Entertainment
Platform(s): PC, PS4, Xbox One
The first Titanfall did well, but it was Respawn Entertainments outstanding sequel that truly made it a COD contender. Titanfall 2 builds on the foundations of its predecessor, adding a cleverly written single-player campaign and sharpening its multiplayer shooting mechanics. The series meshes traditional firefights with giant mechs that players control to dominate the field. This creates truly unique strategies where you must balance the raw power of mech fighting with the fluid freedom of running around outside your unit. Titanfall 2 is arguably one of (if not the) best FPS games of the last generation.
Spec Ops: The Line
Developer: Yager Development
Platform(s): PC, PS4, Xbox One
Dubai's gleaming skyscrapers and pristine beaches have been battered by a catastrophic sandstorm, burying a once-great city and trapping its citizens. Your job is to go into the ruins and rescue as many as you can - but it won't be easy. Feral gangs dog you every step and natural disasters strike frequently. Spec Ops: The Line draws heavy inspiration from Joseph Conrad's novella Heart of Darkness, so expect some weighty morality decisions. If you play Call of Duty for its multiplayer Spec Ops won't be a strong swap, but The Line has one of the best game stories ever.
Halo Infinite
Developer: 343 Industries
Platform(s): Xbox Series X, Xbox One, PC
Halo Infinite feels like a homecoming. 343 Industries was faced with what should have been an impossible challenge: to celebrate a 20-year legacy while outlining the foundations for future adventures. And so there's another ringed world to explore and a new Smart AI companion to shine a little light in its darkest corners; a new extinction event for humanity to narrowly circumvent and yet another fight for Master Chief to threaten to one day finish. Halo Infinite is Halo as you remember it; Halo Infinite is Halo as you've never seen it before.
Rainbow Six Siege
Developer: Ubisoft
Platform(s): PC, PS5, PS4, Xbox Series X, Xbox One
A month after Black Ops 3 hit shelves in November 2015, Rainbow Six Siege released. But while Call of Duty players eventually moved on to the next COD instalment, Rainbow Six Siege's player base has expanded to over 25 million. It constantly updates with new free maps, building off a solid base game that tasks players with fighting as either terrorists or counter-terrorists. Terrorists play defence, counter-terrorists must infiltrate their territory and take all enemies out. Rainbow Six enjoys a regular flow of new DLC that shake things up just as they're becoming slightly stale, ensuring this is a game you can master and still find enjoyment from years later.
Metro Exodus
Developer: 4A Games
Platform(s): PC, PS5, PS4, Xbox Series X, Xbox One
Some of the best games take their inspiration from outside of the industry, and the Metro series is a great example. Based on novels by Dmitry Glukhovsky, the series takes place among the devastation of a global nuclear war. The survivors fled underground to form new civilisations in the worlds metro tunnels, but the latest instalment Metro Exodus allows players to venture back up to the surface. There's no multiplayer campaign, but you can test your shooter skills honed in Call of Duty throughout Metro Exodus's excellent single player story. The focus here is exploration and stealth, so if you're looking for a change of pace, this is it.
Splatoon 3
Developer: Nintendo
Platform(s): Nintendo Switch
If you've got kids – or have found yourself tasked with entertaining kids for longer than ten minutes – Splatoon 3 is a vital parenting instrument. The Nintendo-exclusive third-person shooter is a family-friendly take on the multiplayer genre, swapping out bullet loaded guns with ink spraying pistols. The actual gameplay modes are fairly similar: take out enemies, claim territory, and steal resources, but the paint mechanic completely shakes things up. Spraying the environment is as important as splatting enemies, creating interesting new ways to play even for adults that just want something different from Call of Duty's monotone maps.