Ranking the best Call of Duty games is as hard as winning a Warzone match, especially when there are so many games in the main series to choose from. That's why we've narrowed it down to the top 10. The very first game in the franchise, Call of Duty, was released in 2003, and the most recent was Call of Duty: Vanguard, which came out in late 2021. Every game in the series has switched up the Call of Duty formula a bit, offering different wars, different weapons, and different characters each time (mostly).
This list has a lot of variety when it comes to Call of Duty experiences, like a single-player storyline you'll never forget, or a battle royale that will have you on the edge of your seat. We've considered it all when making this list: the multiplayer vibes, the campaign twists and turns, the zombies - it's all been properly weighed and measured before collating the best of the best.
Is your favorite Call of Duty experience here? Read on to find out in our list of the ten best Call of Duty games.
10. Call of Duty: Modern Warfare (2019)
Leave it to the CoD franchise to release a game with the exact same name as a 2007 title that isn't a remake of any of the games in the series, but is instead a wild reimagining that begins to rebuild the Modern Warfare series from the ground up. 2019's Call of Duty: Modern Warfare (opens in new tab) differs from its predecessors in that it doesn't feel like a series of disparate missions that line up to be shot down back-to-back without much contemplation. It feels like you're behind the reins of a tight action movie racing ahead at breakneck speed. It looks good, it sounds good, it feels good, and it's a great first step in a new direction for the Modern Warfare franchise.
9. Call of Duty: Modern Warfare 3
Saying Call of Duty: Modern Warfare 3 (opens in new tab) is the weakest of the Modern Warfare series is like saying Return Of The Jedi is your least favourite of the original Star Wars movies. But, you know, there are no Ewoks here. This wraps up the increasingly bombastic story with some brilliant missions - the rolling sandstorm in Return To Sender is Modern Warfare at its chaotic best, balancing player agency with some serious spectacle. Okay, so the multiplayer focuses on tweaks instead of big innovations, but changing killstreaks into pointstreaks helps balance the playing field and there's still an assortment of great maps. Plus, you know the punchy and pacy combat will keep you coming back for just one more round.
8. Call of Duty 2
Call of Duty 2 (opens in new tab) is of the greatest WW2 shooters of all time. And while Infinity Ward's first sequel (and debut on Xbox 360) may be charmingly old school now, it still establishes what makes the series so captivating. A freight train of a campaign, which uses multiple characters (the highlight is the Russian campaign) to keep that pace up. The pad-dampening tension of multiplayer, especially in the one life per round of Search & Destroy. Cutting edge graphics and an uncommonly solid frame-rate (original Xbox 360 games often struggled). This isn't quite as high as others on the list purely because of the standards the series goes on to set for itself, but that doesn't mean it's not worth seeking out. As a bonus, Xbox One owners can give themselves a history lesson in every sense of the word thanks to backwards compatibility for COD 2. This is a great reason to take the series back to WW2 in 2017.
7. Call of Duty WW2
It might seem odd for Call of Duty WW2 (opens in new tab) to go back to the Second World War after so much future stuff and the previous game's trip into space, but it works. The reset of all the future tech bring the series back down to its roots and more or less acts like a reboot. The single player suffers a little in the opening half narratively but, for the most part, hits those big set piece moments confidently. It's the multiplayer that really wins here though. Without all the gadgets, tech and spacey stuff this is a much purer expression of what an online shooter should be. Stripped of the drones and satellites the action focuses much more on reactions and spacial awareness and is much more rewarding for it. The new Headquarters mode is also a interesting addition, creating a Destiny Tower like social space for players to hang out in.
6. Call of Duty: Warzone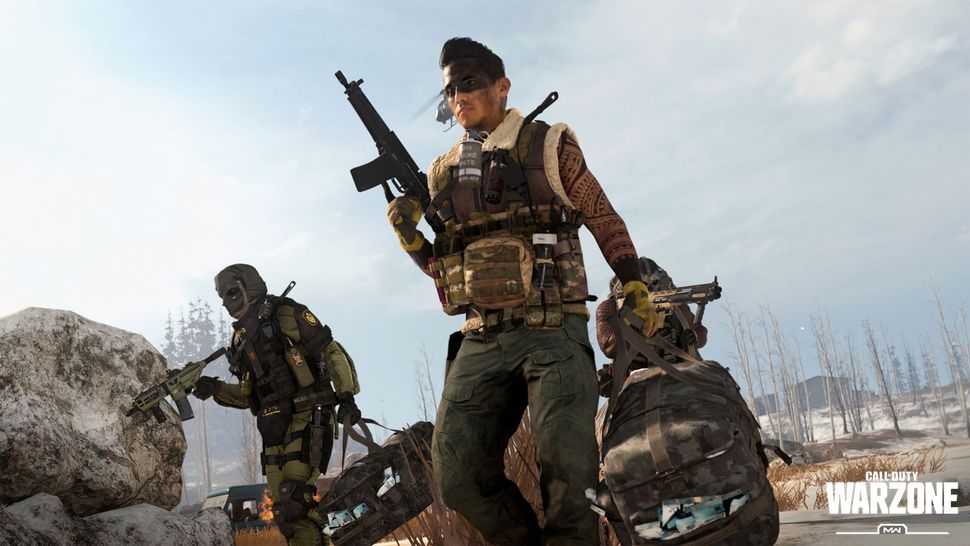 Call of Duty: Warzone (opens in new tab) is a brand-new beast in the franchise, and it's a direct response to the shifting multiplayer environment defined by free-to-play battle royales like Fortnite and Apex Legends. CoD's take streamlines the loot system, adds an ingenious way to rejoin the fight in the Gulag, and slices through the somewhat monotonous world of battle royales with a dang tac knife. There's no special armor that can make firefights feel unbalanced and no building mechanic that sometimes makes battles about more than gunfights. When Warzone dropped as a free-to-play addition to the CoD universe, we were all shook, and for good reason.
5. Call of Duty: Black Ops 2
The Black Ops' trilogy is when Treyarch likes to get weird, and it's all the better for it. Call of Duty: Black Ops 2 (opens in new tab) is the first - and so far, only - time COD experiments with multiple endings to decent effect. Carrying out Strike Force missions and fulfilling certain objectives in the main levels drastically alters the direction of the story, adding depth and a reason to return once the credits roll, even if there's less new stuff to see. A longer lasting - and much more important - introduction in multiplayer is the Pick 10 system, which gives greater control of your loadout and playstyle, moulding the greater levels of customisation the series now offers. While not every change would be picked up, this entry is both a great example of COD's strengths and one that experiments enough to stand out on its own.
4. Call of Duty: Black Ops 4
The first entry to ditch the single-player campaign entirely, Call of Duty: Black Ops 4 (opens in new tab) makes up for it with a brilliantly varied multiplayer offering. Blackout's the clear headliner, mixing COD's hyper-polished action with the tension and excitement of the battle royale genre, across a huge map stitching together classic past arenas into one sprawling whole. But the base competitive multiplayer is the best it's been in years too, stripping back Black Ops 3's traversal for a more tactical experience, enhanced with tactical tweaks such as manual healing, and boasting a brilliant spread of wildly different modes. With an absolutely stuffed-with-content Zombies mode rounding out the package with time-travelling chaos, this is one of the series' richest offerings yet, and one of the best Call of Duty games ever.
3. Call of Duty: Modern Warfare 2
There's some big shoes that Call of Duty: Modern Warfare 2 (opens in new tab) needed to fill and the fact it's the closest the series gets to managing that task is a testament to its class. The single player ups the scale of the spectacle without sacrificing any of the pacing, while the multiplayer introduces the greatest tiny map of all time: the incomparable Rust. Okay, there are some minor missteps, such as the Tactical Nuke killstreak and No Russian mission in the campaign, which mean it doesn't take the top spot. But it's hard to care about niggles when some of the most iconic moments of the series, like storming the gulag to rescue an important prisoner, never stop coming.
2. Call of Duty: Black Ops
Call of Duty: Black Ops (opens in new tab) Vietnam outing is undoubtedly the developer's best in the series, with a storyline that's tonnes of silly fun and multiplayer modes that actually add some worthwhile new game types to try. The introduction of Gun Game - where every kill you get forces you to use a different weapon - is inspired, while going back in time to the '60s doesn't diminish the forceful kick of the weapons. A Cold War setting turns out to be perfect for COD, with a moral murkiness that has the capability to shock in places, while pitch perfect use of The Rolling Stones gives it a flavour that none of the other games have. Still can't figure out what those numbers mean, though.
1. Call of Duty 4: Modern Warfare (Remastered)
Did you expect Black Ops: Declassified? Come on. There's no argument that Call of Duty 4: Modern Warfare (opens in new tab) is the series' highlight. A revelation at release and an indisputable classic now, this is the standard every new entry must measure up to. Revolutionary multiplayer, especially on consoles, is the main reason why. That alluring mix of compulsive unlocks, brilliant map design and powerful feedback is still hooking players to this day. Then there's the peerless campaign. Bursting with unforgettable missions - Death From Above, All Ghillied Up, Charlie Don't Surf to name a few - and a slither of surprising nuance, it's the best war story the series has ever told. The 2016 remaster only improves on it, getting a timely visual update that makes it just as crisp as its bundle brother, Infinite Warfare. If you only ever play one Call Of Duty, make sure it is Modern Warfare (opens in new tab).
---
For more heart pumping action, check out our collection of the best video game openings.