10. Resident Evil 4
This is the series that invented modern survival horror, but that wasn't good enough for director Shinji Mikami. So in Resident Evil 4 he invented the modern third-person shooting, just for fun. Leon Kennedy's adventures in gunplay are rightly famous, the feedback-heavy combat making every situation a shaky joy. But, I hear you cry, how does that make it qualify as a top 10 horror game? Surely it's just an action experience in Resi clothing?
Tell that to anyone coming to the Ganado-infested village for the first time. The sheer stress of being rushed by the parasite-infested local population, headed up by a sack-masked, chainsaw-wielding maniac ranks up there with gaming's most frightening moments. Its a feeling that returns constantly - whether it's one of the iconic boss fights, a battle across crumbling rooftops or in the most expected location, Resi 4's horror is in how it puts you on the backfoot and asks you to fight your way out.
9. Dead Space
If Resident Evil is the king of survival action-horror, then Dead Space aimed to be the pretender to the throne, bringing together Capcom's early dread and latter day over-the-shoulder shooting into one gory package. Borrowing from Alien and other sci-fi classics, the 2008 release put players in the role of Isaac Clarke, an engineer trapped on a derelict spacecraft. Soon Isaac finds out the ship isn't as empty as it seems, as a strange alien artefact has transformed everyone on board into hideous, flesh-eating creatures, each more horrific than the last.
Dead Space crafts a horrifying experience by limiting the player. Isaac is short on ammo, he rarely knows whats going on in the continually shifting story, and he's most in danger of what he cant see. So much of the disturbing atmosphere is built on what you hear, and the amazing sound design uses audio to fashion an entire deadly world around Isaac. Though the sequel pulled back on the scares somewhat in favour of cinematic action, the original remains trapped in our nightmares.
8. SOMA
SOMA has problems, largely from clumsy stealth section, but it also has, hands down, one of the most unpleasantly disturbing stories of anything in this list. To explain why would ruin it, but this plays with ideas of consciousness and what makes you 'you' in a terrifying way. When you're not exploring the rusting, decrepit undersea base of PATHOS II, you're playing with some pretty heavy metaphysic concepts fit to give you nightmares.
This is a world, filled with broken machines full of glitching human consciousnesses and slimy growths, that expands and grows into something terrible the longer you spend exploring. The undersea and biotech elements make a Bioshock comparison hard to avoid but while their are similarities - man's hubris and science pushed too far, especially - this is far more unpleasant and ethically shocking. The new 'safe mode' means you can also now play it just for the story - finish it and see if you can sleep after.
7. Until Dawn: Rush Of Blood
While Until Dawn created a cinematic choose-your-own adventure horror experience, its Rush of Blood spin off focuses on fast action shooting in VR. The 'why' of it all isn't ever really made that clear - there's a roller coaster, it goes through themed levels full of things trying to kill you - but the results are spectacular. While basically an on-rails shooter as you dual wield Move controllers, it has an absolute mastery of the jump scare, using pace and distraction to play you like a fool - 'what was that over there? OH MY GOD IT'S IN MY FACE.' It's a game that could only really work on PSVR, using its claustrophobia and inescapability to push you so far back into the sofa that tipping over is a very real possibility.
6. Outlast
Outlast offers a first-person trek through a setting literally no one in real life would willingly check out - an old asylum that seems abandoned, but also strangely very active. At night. In the mountains. Miles from help. Who does that?! The set up alone is perfect horror fodder, but this plays out like Found Footage: The Game, via clever use of a videocamera's night vision mode to see in the dark. The grainy, glowing green view it creates gets a little too close to real life as well. It's one part exploring to two parts follow shadowy, wheezing shapes in the black distance through a view finder while cowering behind a table. Scary enough already, the perfection of its pixilated whirring focus pulls only adds to the atmosphere. It's a great game to play with company as well because you'll both be screaming at some point.
5. Silent Hill 2
Silent Hill, as a franchise, is home to some of the most frightening enemies and situations in gaming history, but the series' most abiding horror is Silent Hill 2. This PS2 classic manifests our deepest fears as flesh, to reveal there is no greater evil than our own imagination. Though he'll encounter creatures like the iconic nurses and Pyramid Head, protagonist James Sunderland is far more threatened by his personal demons. And the empty town of Silent Hill brings them all to the surface.
James has returned to Silent Hill answering a letter that seems to come from his dead wife, but all he finds are reminders of his own anguish and guilt over her death. Every corner of the town is inhabited by some new horror, but James has to push past his fears if he ever wants to know whats going on. You and he will not like what he finds beyond them. Silent Hill 2 doesn't just present you with a horror game worth playing, but a story worth being listened to, parsed, and gawping awfully about. The deeper you go, the worse it gets.
4. P.T.
If you brought together the world's most idiosyncratic game auteur and one of its greatest film monster creators and they didn't make one of the oddest, most horrible games yet released, you'd be pretty upset. Hideo Kojima and Guillermo del Toro's "playable teaser" for the now-canned Silent Hills, places you in a single, infinitely looping hallway, and proceeds to find a thousand ways to terrify you. This is no idle boast: one member of the GamesRadar+ team was unable to play this game with the lights off, and was forced to turn the sound down to make it tolerable.
There are moments where you face peril, but they're few and far between. The real terror comes from the unknown. What could be around the next bend? A fresh nightmare or nothing at all? Your imagination fills in the blanks, creating more terror than any simple jump scare or creepy noise could. Add in an underlying tale of domestic terror that would make any Silent Hill fan nostalgic, and you've got the world's shortest masterpiece of horror in your shaking hands.
3. Alien: Isolation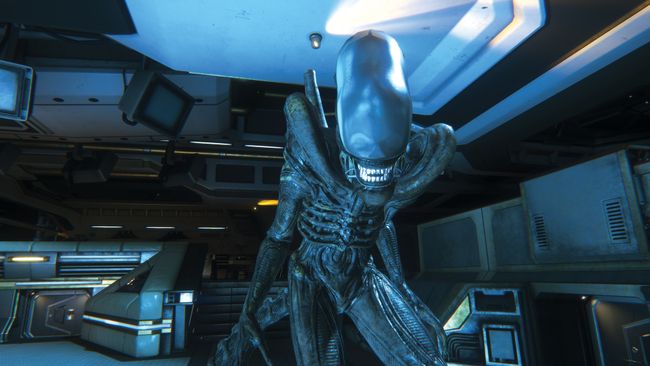 Countless games have been inspired by elements of the Alien franchise, be it James Cameron's space marines, Ellen Ripley's fortitude, or the chilling power of silence in a soundtrack. Despite all that, Alien: Isolation may be the series' greatest gaming triumph. It takes the gut-wrenching fear fostered by the lone Xenomorph in the original film, and extends it into a lengthy game. Isolation's tense survival gameplay keeps the pulse pounding for hours and hours
You take on the role of Ripley's daughter, Amanda, searching a derelict space station for her mother, only to find the same beast she fought. You're constantly on guard from the cinematic AI of your Alien hunter. This means holding your breath as you narrowly avoid detection, or screaming in terror after failing to reach safety. The atmosphere the game sustains is impressive enough, and it deserves even more credit for taking the Xenomorph, a movie monster bordering on cliche due to overexposure, and making it terrifying once again.
2. Layers of Fear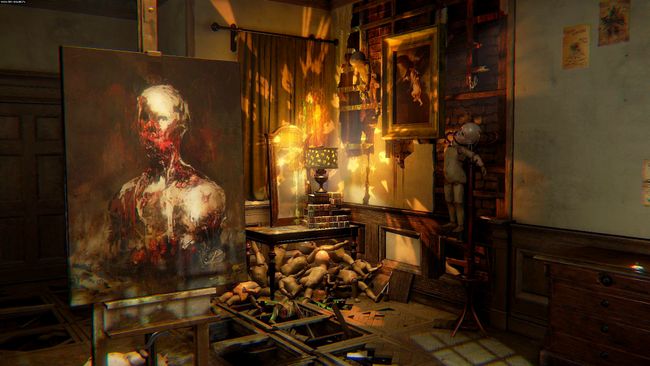 Most games can make you jump, they can make scream, but few can make you doubt yourself in real life. Layers of Fear initially appears very familiar as you explore a spooky, creepy and cavernously empty house. The Gothic story unravels slowly as you play an unnamed artist returning home. It soon becomes clear though that madness has overtaken the painter and it expresses itself in the unreliable narration of the physical world. Doors disappear and corridors warp out of shape just in the corner of you; the game rearranges itself in such away to recreate the main character's madness that only a few hours in and you'll find yourself questioning everything. Was that desk on that side of the room last time you looked? Are you sure? Add to that the nature of the protagonist's illness - an obsessional painting made from... less than savoury materials, and you have on of the greatest horror games of all time.
1. Resident Evil 7
It could have been a disaster - a clunky, forced update to a revered series, that left fans clamouring for the bombastic nonsense of Resident Evil 6. But Resi 7 is a triumph, smartly feeding off the best horror movies of the last 20 years, effortlessly easing all that edgy new into a recognisable, modern reinvention of the series. The central story is fantastic, the mysteries artfully concealed and your tormentors, the Bakers, are brilliantly subversive.
Switching the action to first-person adds some VR possibilities, but also makes the horror feel uncomfortably close - gruelling, compelling stuff, in a setting you'll remember long after exploring it up close. But perhaps the cleverest trick is just how Resi it all feels. The safe rooms have the same sense of unsettling respite; ammo feels desperately scarce; and the boss fights have the right mix of terror and glowing, oozing bits to shoot. It's a tight, smart horror game, and far better than most fans dared hope. It's not the scariest – or most subtle – game on this list, but a brilliant and chilling rebirth.