The best gaming laptops are now a forbiddable match for their monolithic deskrop brethren. Long-since dropping that second fiddle in favour of a honking great, self-aggrandising tuba, they now pack serious power in a far more managable form-factor. They really are the most streamlined route to the delights of a gaming PC.
But there are a lot of factors to juggle when choosing the very best gaming laptop. Naturally power matters, but given the various technical demands on a machine this size, price, physical design, and weight can feel like constantly shifting variables alongside the topline considerations like frame-rate and resolution. So we've done the work for you. We've hacked through the jungle of endless, seemingly indistngushable machines and specs, and found you the absolute best gaming laptops, whatever your needs and budget. Read on. It's all a lot easier than you might think.
The best gaming laptop you can buy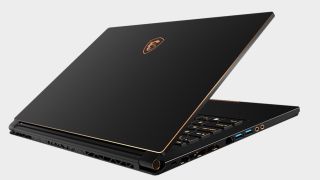 MSI GS65 Stealth Thin
A powerful and sleek gaming laptop, with only minor corners cut
CPU: Intel Core i7-8750H | Graphics: Nvidia GeForce GTX 1070 8GB | RAM: 16GB | Storage: 512GB M.2 SSD | Screen: 15.6-inch FHD (1,920 x 1,080) anti-glare, wide-view 144Hz panel
Thoroughly powerful gaming spec
Great display
No G-Sync
The MSI GS65 Stealth Thin gaming laptop is a powerful and slinky beast. Delivering a seriously effective, eighth-generation Core i7-8750H processor, while a more than respectable 8GB GTX 1070 GPU brings excellent performance by way of some serious gaming grunt, it's one hell of a game-crunching monster. How monstrous? Middle-earth: Shadow of War. 68 frames-per-second. 1080p, ultra settings. That's the kind of monster we're talking about.
Also packing a really rather delightful Steel Series keyboard ensconced within a matt black, gold-accented aluminium body, it sports refreshingly classy, subdued looks (for a gaming laptop), making for a strong package all round. The display is delicious too, though it's worth noting that the MSI GS65 does lack G-synch, meaning that you'll probably want to divert some horsepower to V-sync in-game, just to be sure. Not that that's a huge problem, as this machine has horsepower to spare.
The more affordable alternative gaming laptops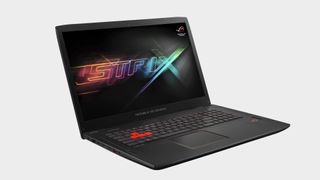 Asus ROG Strix GL502VS-DS71
A potent gaming machine with very few downsides
CPU: Intel Core i7-7700HQ | Graphics: GeForce GTX 1070 8GB | RAM: 16GB | Storage: 128GB NVMe SSD, 1TB 5400 RPM HDD | Screen: 15.6" Wide View LCD with 120Hz refresh and G-Sync (1920x1080)
Excellent performance
Fantastic, high-refresh screen
Attractive and very portable
Battery life isn't great
A really likable, entirely convincing all-rounder, the Asus GL502VS gaming laptop has very similar specs to the MSI machine. With a brilliant G-Sync display running at 120Hz, this thing is really built to make the most out of it processing power, letting its GTX 1080 sing as loud and clear as it deserves to. It's a really well-balanced machine that's eager to tear into anything you throw at it, and while it's a tad chunkier than the above two gaming laptops, its 1.17 inch thickness – combined with a smoother, less aggressive look than the usual Asus ROG design – still makes for a compact, attractive, and highly portable gaming machine.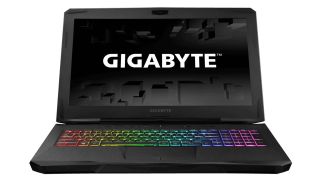 Gigabye Sabre Pro 15
CPU: Intel Core i7-7700HQ | Graphics: GeForce GTX 1060 6GB | RAM: 16GB | Storage: 256GB SSD, 1TB HDD | Screen: 15.6" (1920x1080)
Strong spec at a good price with few concessions
Great keyboard and touchpad
Screen isn't the most vibrant
Bringing in a similar spec at another great price, the Gigabyte Sabre Pro is another of the best gaming laptops around when it comes to overall value. It drops a small about of GPU grunt compared to the Strix, but balances that out with more robust storage. The finer details feel like nitpicking though, when looking at a gaming laptop at this sort of price with this balance of power. Definitely a lower-cost machine very successfully punching above its weight.
The best gaming laptop at a budget price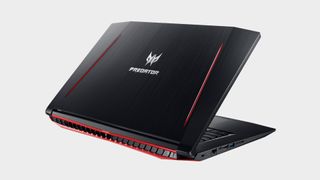 Acer Predator Helios 300
A thoroughly capable gaming laptop, with no banks broken
CPU: Intel Core i7-7700HQ | Graphics: GeForce GTX 1060 6GB | RAM: 16GB | Screen: 15.6" IPS (1920x1080) | Storage: 256GB M.2 SATA SSD
Budget price
Great performance for the cost
Great battery life
No G-Sync
Dropping in price naturally means dropping slightly in specs, but that doesn't necessarily mean the loss of quality you might fear. Looking at a gaming laptop like the Helios 300, for instance, the performance is still great. It takes a little more tweaking of settings to hit the sweet spot, but if you're not married to the idea of running every game on ultra settings while still hitting the magic 60 frames-per-second refresh rate, it's still a solid bet.
Combining a 2.8GHz Core i7-7700HQ processor with a GeForce GTX 1060, 6GB GPU, Helios is still a thoroughly capable gaming laptop. Saving on cost by eschewing G-Sync, it's nevertheless able to throw out great results on high-end games, and while there are multiple, similarly-specced gaming laptops around, the Acer Predator Helios 300 beats pretty much all of them by way of its lower cost and surprisingly decent battery life during non-gaming activities.
The gaming laptop with the ridiculous OLED screen
Alienware 13 R3
A solid spec with a beautiful, high-end display
CPU: Intel Core i7-7700 | Graphics: Nvidia GeForce GTX 1060 | RAM: 16GB | Screen: 13.3 inch QHD (2560 x 1440) OLED touchscreen | Storage: 256GB SSD
Beautiful OLED display, with touch functionality
Powerful performance
A smaller screen than most
It's a pretty hefty unit
And just to round things off with something a bit silly and extravagant, here's the Alienware 13 R3 gaming laptop. It comes with processors ranging from Core i5 to Core i7. It has a GeForce GTX 1060 graphics processor. It comes with between 8 and 16GB of RAM and a 13-inch touchscreen. All specs cost a bit more than they would elsewhere, particularly for a smaller laptop, but the reason for that is that said touchscreen is OLED, so it looks frankly ludicrous
While the Alienware 13 R3 has the horsepower to make your games look good, its display adds a whole bunch of amplification on top of that. Richer colours, deeper blacks, contrast that will pop until your eyeballs sting… That's what the OLED Alienware 13 is all about. There might be similarly specced gaming laptops at noticeably better prices (and with bigger screens to boot), but if you're an absolute sucker for hot new display technology, this one is all about that.
Some online stores give us a small cut if you buy something through one of our links. Read our affiliate policy for more info.