Faster, leaner, and more powerful than ever before, gaming laptops can now easily compete with the full-sized might of the best gaming PCs. No longer the awkward little brother, they offer a clean, streamlined, fuss-free route into the power and versatility of PC gaming. But which ones to consider?
Control freak
The best gaming laptops have their quality defined by a few different factors. Power is the obvious one. If you're investing in a discrete PC gaming rig, you clearly want performance. Visual quality, resolution, and frame-rate are major factors in deciding a machine's worth. But then there's portability to take into account. And, of course, price. The importance you put on each of these factors is entirely down to your personal preference, of course, which is why we've broken down a few different recommendations showcasing different criteria. Given the fast-changing nature of the market, we'll of course be keeping this article updated with the current best hardware in all categories, but for right now, these are the best gaming laptops out there. Just the machines with which to hit the new games of 2018 with renewed vigour.
The best gaming laptop you can buy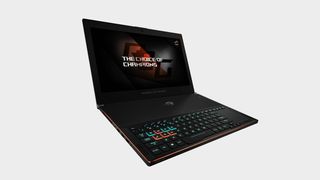 Asus ROG Zephyrus GX501
The best gaming laptop available right now
CPU: Intel Core i7 | Graphics: Nvidia GeForce GTX 1080 | RAM: 16GB | Screen: 15.6" | Storage: 512GB M.2 PCIe x4 SSD | Camera: HD Webcam | Weight: 2.2 kg | Dimensions: 14.9" x 10.3" x 0.66-0.7"
Exceptional performance
Rich, vibrant display
Not an overly pretty machine.
Short battery life
If you're after finely honed pixels and brutally effective performance above all else, the Asus ROG Zephyrus GX50 is the best gaming laptop you can buy. It's certainly not the cheapest (though nor is it the most expensive) and its physical design isn't quite as sleeks as some of its competitors, but the important thing is that the Zephyrus really brings it where it matters.
You're getting a 1080p, 120Hz G-sync display, which will combat screen-tearing whether you enable your games' power-hungry V-Sync option or not. You're getting a powerful, i7 CPU, a top-of-the-line, GTX 1080 graphics card and a hell of a lot of RAM, making for potent frame-rates even running the prettiest games on higher settings, The battery life isn't as long as we'd like it to be, lasting only for around two hours before needing a recharge, but that's just life when dealing with gaming laptops. Just keep a plug in your bag and bask in the quality of the performance.
The more affordable alternative gaming laptops
MSI GS65 Stealth
A powerful gaming laptop, with only minor corners cut
CPU: Intel Core i7-8750H | Graphics: Nvidia GeForce GTX 1070 8GB | RAM: 16GB | Storage: 512GB M.2 SSD | Screen: 15.6-inch FHD (1,920 x 1,080) anti-glare, wide-view 144Hz panel
Thoroughly powerful gaming spec
Great display
No G-Sync
Dropping a notably lower cost for only slightly lesser hardware, the MSI GS65 gaming laptop is a powerful and slinky beast, delivering a seriously powerful, eighth-generation Core i7-8750H processor and a more than respectable 8GB GTX 1070 GPU brings excellent performance by way of some serious gaming grunt. Middle-earth: Shadow of War. 68 frames-per-second. 1080p, ultra settings. That's the kind of grunt we're talking.
Also packing a really rather delightful keyboard and refreshingly subdued looks (for a gaming laptop), it's a strong package all round. The display is delicious too, though it's worth noting that the MSI GS65 does lack G-synch, meaning that you'll probably want to divert some horsepower to V-sync in-game, just to be sure. Not that that's a huge problem, as this machine has horsepower to spare.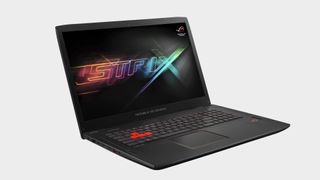 Asus ROG Strix GL502VS-DS71
A potent gaming machine with very few downsides
CPU: Intel Core i7-7700HQ | Graphics: GeForce GTX 1070 8GB | RAM: 16GB | Storage: 128GB NVMe SSD, 1TB 5400 RPM HDD | Screen: 15.6" Wide View LCD with 120Hz refresh and G-Sync (1920x1080)
Excellent performance
Fantastic, high-refresh screen
Attractive and very portable
Battery life isn't great
A really likable, entirely convincing all-rounder, the Asus GL502VS gaming laptop has very similar specs to the MSI machine. With a brilliant G-Sync display running at 120Hz, this thing is really built to make the most out of it processing power, letting its GTX 1080 sing as loud and clear as it deserves to. It's a really well-balanced machine that's eager to tear into anything you throw at it, and while it's a tad chunkier than the above two gaming laptops, its 1.17 inch thickness – combined with a smoother, less aggressive look than the usual Asus ROG design – still makes for a compact, attractive, and highly portable gaming machine.
The best budget gaming laptop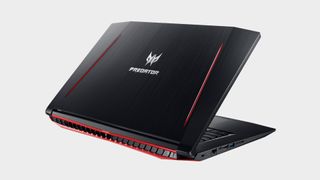 Acer Predator Helios 300
A thoroughly capable gaming laptop, with no banks broken
CPU: Intel Core i7-7700HQ | Graphics: GeForce GTX 1060 6GB | RAM: 16GB | Screen: 15.6" IPS (1920x1080) | Storage: 256GB M.2 SATA SSD
Budget price
Great performance for the cost
Great battery life
No G-Sync
Dropping in price naturally means dropping slightly in specs, but that doesn't necessarily mean the loss of quality you might fear. Looking at a gaming laptop like the Helios 300, for instance, the performance is still great. It takes a little more tweaking of settings to hit the sweet spot, but if you're not married to the idea of running every game on ultra settings while still hitting the magic 60 frames-per-second refresh rate, it's still a solid bet.
Combining a 2.8GHz Core i7-7700HQ processor with a GeForce GTX 1060, 6GB GPU, Helios is still a thoroughly capable gaming laptop. Saving on cost by eschewing G-Sync, it's nevertheless able to throw out great results on high-end games, and while there are multiple, similarly-specced gaming laptops around, the Acer Predator Helios 300 beats pretty much all of them by way of its lower cost and surprisingly decent battery life during non-gaming activities.
The gaming laptop with the bonkers OLED screen
Alienware 13 R3
A solid spec with a beautiful, high-end display
CPU: Intel Core i7-7700 | Graphics: Nvidia GeForce GTX 1060 | RAM: 16GB | Screen: 13.3 inch QHD (2560 x 1440) OLED touchscreen | Storage: 256GB SSD
Beautiful OLED display, with touch functionality
Powerful performance
A smaller screen than most
It's a pretty hefty unit
And just to round things off by bumping the price up to something sillier (costs will vary depending on which one of the multiple specs you look at, but this is Alienware), here's the Alienware 13 R3 gaming laptop. It comes with processors ranging from Core i5 to Core i7. It has a GeForce GTX 1060 graphics processor. It comes with between 8 and 16GB of RAM and a 13-inch touchscreen. But that touchscreen is OLED, so it looks frankly bonkers.
Bringing all the joys of OLED TV screen technology to a gaming laptop, while the Alienware 13 R3 has the horsepower to make your games look good, its display adds a whole bunch of amplification on top of that. Richer colours, deeper blacks, contrast that will pop until your eyeballs sting… That's what the OLED Alienware 13 is all about. There might be similarly specced gaming laptops at noticeably better prices (and with bigger screens to boot), but if you're an absolute sucker for hot new display technology, this one is all about that.
Some online stores give us a small cut if you buy something through one of our links. Read our affiliate policy for more info.