With Dead Island 2 and Star Wars Jedi: Survivor poised to launch in the coming weeks, we're thankful to see so many cheap gaming laptop deals rearing their heads in time for the new 2023 titles. ASUS gaming laptops, in particular, are known for offering mid-range models at respectable prices – and now one of its 2022 models has reached a new record low.
Best Buy is offering up the 2022 ASUS ROG Zephyrus G14 gaming laptop for $999.99, the first time the model has dropped under the $1,000 mark from our experience. This represents a massive 39% drop in price from the standard $1,649.99 MSRP, which equates to a saving of $650. It comes packed with decent specs that will run most triple-A games in good standing, such as an AMD Ryzen 9 processor, AMD Radeon RX 6700S graphics card, 16GB RAM, and 1TB SSD. That's a big chunk of change that can be spent on new games instead, or potentially used to upgrade the RAM.
ASUS consistently appears across our recommendations for the best gaming laptops 2023, however, it's always worth comparing with the competition to make sure you walk away with the right build for your needs. For this price and this quality, though, you can't go wrong.
Today's best gaming laptop deal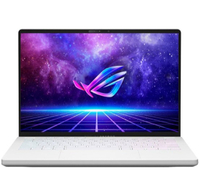 ASUS ROG Zephyrus G14 (2022) | $1,649.99 $999.99 at Best Buy
Save $650 - A huge 39% discount brings this ASUS gaming laptop down to the lowest ever price we've ever seen and the first time it's dipped under $1,000. You also get one month of Xbox Game Pass thrown in for free.
Features: 14-inch screen, AMD Ryzen 9 processor, 16GB DDR5 RAM, AMD Radeon RX 6700S graphics card, 1TB SSD, Windows 11
During our hands-on with the ASUS ROG Zephyrus G14, we highlighted its "high quality speakers" and "speedy processor" as well as its "gorgeous 16:10 display". The only downsides we noted were the "poor thermals" and how "ray tracing heavily impacts performance". That said, if you are not fussed about the latter there should be no issues encountered.
If you fancy something with a bit more power, Best Buy has also slashed the price of an ASUS ROG Zephyrus with an RTX 3070 Ti and Intel Core i9 processor from $2,149.99 to $1,599.99. That $500 discount is only available until April 21st, 2023, so don't hang about if interested.
More of today's best gaming laptop deals
Still unsure if this is the one for you? Well, we've rounded up all the best RTX 3060 laptop deals on the market, alongside the best RTX 3070 laptop deals and the best RTX 3080 laptop deals, so you can walk away with a top graphics card at the lowest price possible.