The Evolution Of Ricky Gervais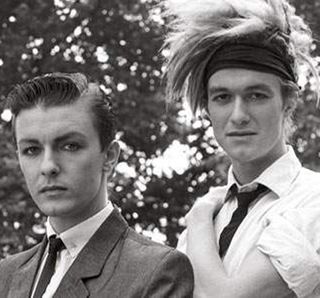 Seona Dancing (1982-4)
Capturing The Zeitgeist: Hardly. As one-half (with Bill Macrae) of 80s synth-pop wannabes, Gervais's pop-culture debut was a debacle. Honestly, just look at him.
Two poorly-selling singles later, they disbanded, although apparently their tune 'More To Lose' is still massive in The Philippines. Time for a career rethink.
The Ironic Smirk: Arguably, Gervais' experiences here helped to forge his trademark sneer.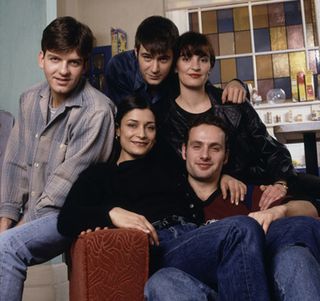 Indie Guru (mid '90s)
Capturing The Zeitgeist: After a decade working in student events, Gervais became Head of Speech at famed London indie station XFM, where his first job was to hire Stephen Merchant.
Better still, partner Jane Fallon recruited him as music advisor on her groundbreaking serio-soap This Life , bringing trip hop and the leftfield fringes of Britpop (remember Drugstore?) to the telly
The Ironic Smirk: Not at all. This is Gervais at his most sincere, determined to change our tastes through persistent drum-banging.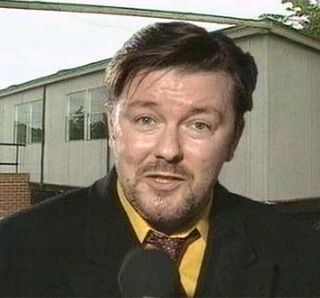 The 11 O'Clock Show (1999-2000)
Capturing The Zeitgeist: As the show's 'roving reporter,' Gervais had a tough act to follow: one Sacha Baron-Cohen, who had created a comic institution in Ali G.
His decision to go the other way - replacing Ali G's faux-naivete with a knowingly obnoxious demeanour - cemented the persona that continues to serve him to this day.
The Ironic Smirk: Absolutely. This is the birth of Gervais as we know and love him. Unless, of course, you can't stand him.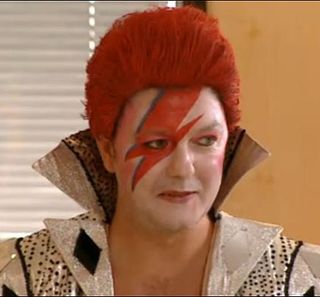 Golden Years (1999)
Capturing The Zeitgeist: Gervais road-tested his first actual character in this one-off comedy, playing Clive Meadows, a deluded David Bowie obsessive planning his moment of glory on Stars In Their Eyes .
While embryonic, its faux-docusoap style hinted at greater things to come.
The Ironic Smirk: Kept off-screen but firmly directed at hapless Meadows, its withering glare is blinding.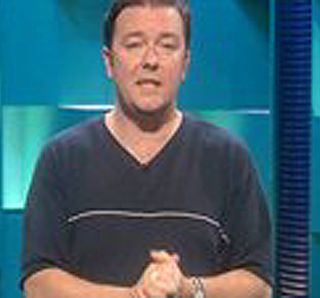 Meet Ricky Gervais (2000)
Capturing The Zeitgeist: Gervais bravely put his own name on this mock chat show host, further blurring the line between performer and performance that would become his trademark.
However, Gervais was ahead of the curve here. The show was cancelled after a single run, and has been pretty much disowned by its star since.
The Ironic Smirk: The show depended on Gervais' self-mocking misanthropy. Unfortunately, since nobody knew who he was, nobody got the joke.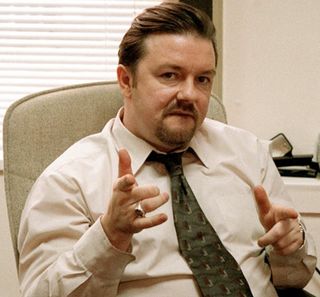 The Office (2001-3)
Capturing The Zeitgeist: And how. Gervais and Merchant's instant classic married pitch-perfect naturalism to archetypal sitcom caricatures to create a unnervingly convincing depiction of wage slave hell.
And, in David Brent, Gervais modelled a monstrous, towering ego to rival Basil Fawlty and Alan Partridge.
The Ironic Smirk: A two-tier assault. Deluded entertainer Brent smugly cast himself as the joker in the pack, but as writer/director Gervais launched cannonballs of cringe at his alter-ego.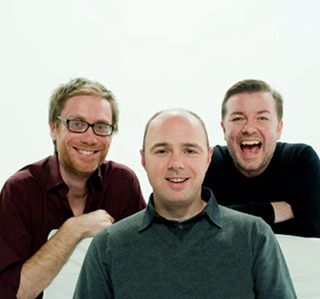 The Ricky Gervais Show (2001-present)
Capturing The Zeitgeist: As word-of-mouth brought David Brent into the public eye, Gervais was busy spreading his own Gospel on XFM, chiefly through talking rubbish with Merchant and soon-to-be-national-treasure Karl Pilkington.
In 2005, the show moved off-radio to become a podcast, quickly become the most downloaded in the world.
The Ironic Smirk: Gervais kept those facial muscles exercised with persistent mockery of Pilkington's idiocy.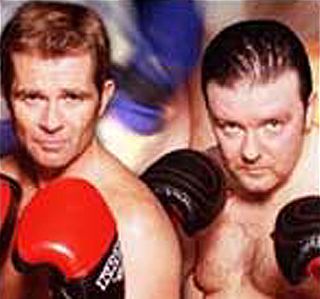 Comic Relief (2002-present)
Capturing The Zeitgeist: Gervais made his BBC1 debut for charidee, going three rounds against Anthea Turner's hubby Grant Bovey.
In 2002, Bovey was the famous one - but a points decision in Gervais' favour proved symbolic. He's still a mainstay on the tear-streaked laughathon. Where's Bovey now?
The Ironic Smirk: Gervais was surprisingly serious about his bout. Later Comic Relief appearances have reverted to type, notably 2007's vicious send-up of clichéd celeb reporting from Africa.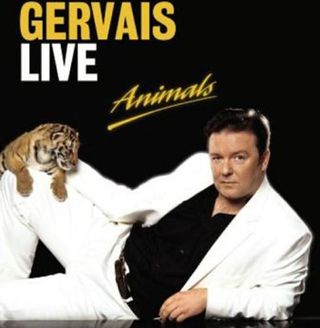 Animals (2003)
Capturing The Zeitgeist: Gervais flipped over the usual comedian's career path by becoming a fully-fledged stand-up after hitting the big time on telly.
Animals ' rock-star-sized gigs finally brought Gervais' brittle persona to the wider audience he craved, and was followed by equally successful shows Politics , Fame and Science .
The Ironic Smirk: Visible even from the back of the auditorium, as an unfettered Gervais rattled the sabre for his subversive brand of post-politically correct humour.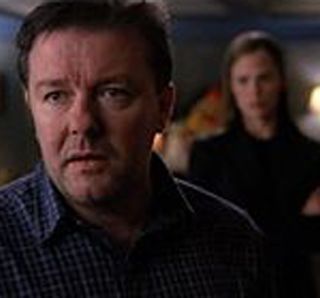 Alias (2004)
Capturing The Zeitgeist: Gervais was upfront about his ambitions to become a star Stateside, but was humble enough to dip a toe into the waters with a guest role on J.J. Abrams' spy show.
Cast against type as, in Gervais' words, "a bad psycho terrorist," his Daniel Ryan is still the least Brent-like character he's played.
The Ironic Smirk: Refined, with surprisingly convincing results, into the cocksure cant of a seasoned bad guy.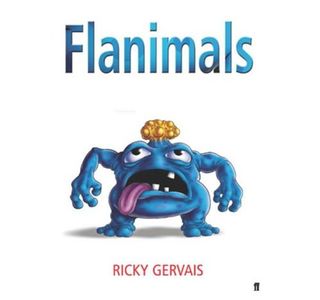 Flanimals (2004)
Capturing The Zeitgeist: Gervais spread his brand in the unlikely direction of illustrated kids' books, with his charmingly surreal collection of imaginary creatures.
What should have been a tangent along the path to global domination became another unlikely crossover hit, based largely on Gervais' apparently untarnished Midas touch.
Two equally successful sequels followed, and the film adaptation is on its way.
The Ironic Smirk: Muted. While Gervais' sardonic wit is much in evidence, this is cuddlier than a Clunge Ambler.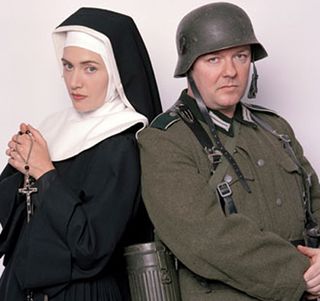 Extras (2005-7)
Capturing The Zeitgeist: Hot off a double Golden Globe haul for The Office, not to mention the premiere of the Steve Carell-starring U.S. remake, Gervais pulled off a major coup for his long-awaited follow-up.
Using his A-list contacts book to lure heavyweight guest stars (Winslet, Stiller, Radcliffe) into taking the piss out of themselves, Gervais unleashed an uncomfortable insider's tragicomedy about the fickle world of fame.
The Ironic Smirk: More of a rictus sneer, especially in the second series as Millman finds fame in a crass sitcom, and soon decides he'd rather be an extra after all.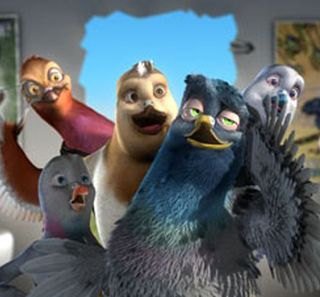 Valiant (2005)
Capturing The Zeitgeist: Gervais wasn't shy about declaring his desire to go big-screen but, as with Alias , he snuck into cinemas under the radar.
His unlikely disguise: voicing a spiv pigeon during WWII in an underwhelming CGI animation.
The Ironic Smirk: Though constrained by the genre into playing a 'loveable rogue,' Gervais still sounds like he's taking the piss.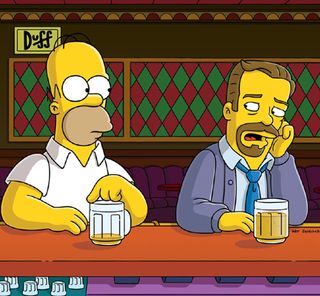 The Simpsons (2006)
Capturing The Zeitgeist: More animated shenanigans, but this time Gervais wasn't shy about shouting from the rooftops that he'd bagged a then-unique one-two of both writing for and starring alongside Springfield's finest.
Despite the obvious - he's yellow and missing a finger on each hand - there are moments you'd swear Homer had wandered into one of Gervais' shows.
The Ironic Smirk: On-screen, the sub-Brent mannerisms were to the fore, but in interviews Gervais dropped his guard, as giddy as a schoolboy in a candy store.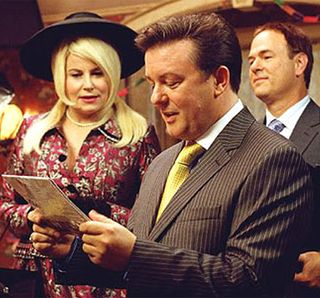 For Your Consideration (2006)
Capturing The Zeitgeist: Gervais marked his American film debut with a cameo as a studio executive in Christopher Guest's Hollywood comedy.
The role was small but the importance huge, as Gervais has long confirmed that, without the Spinal Tap legend's pioneering mockumentaries, there wouldn't be an Office .
The Ironic Smirk: Like The Simpsons , Gervais was just happy to be working for another hero. Which maybe explains why, to all intents and purposes, he seems to be playing himself.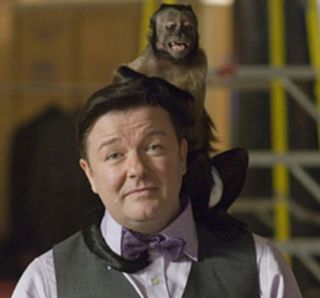 Night At The Museum (2006)
Capturing The Zeitgeist: In terms of bums on seats, Museum ( and its 2008 sequel) are far and away Gervais' biggest hits.
His role as a grouchy museum director didn't exactly constitute a stretch but got him noticed in Hollywood, proving that the hard work he'd put into securing roles for the likes of Ben Stiller in Extras had paid off.
The Ironic Smirk: Barely concealed, Gervais giving off the aura of someone who can't quite believe how well he's lucked out.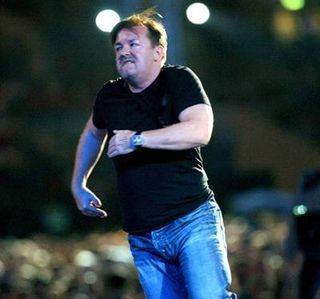 Concert For Diana (2007)
Capturing The Zeitgeist: A rare misstep, as timing issues left Gervais stranded in front an audience of millions, unrehearsed and unscripted.
His flailing attempts to resurrect The Office 's once iconic dance sequence worked as an unwitting meta-commentary on the comedy of embarrassment he'd helped to popularise, as he got a taste of what it must be like to be Brent.
The Ironic Smirk: For once, the audience was doing the sneering.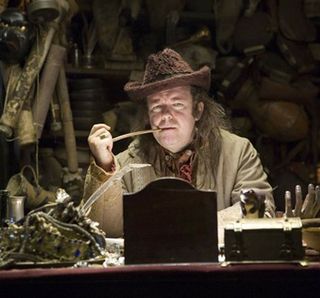 Stardust (2007)
Capturing The Zeitgeist: Yet another cameo, this time back in Blighty as the comic relief in Matthew Vaughan's rollicking fantasy.
Where a game cast (De Niro, Pfeiffer) revelled in pitching it broad and cartoonish, Gervais stuck to the tried-and-tested routine of smarm and snark.
The Ironic Smirk: All too familiar, unfortunately.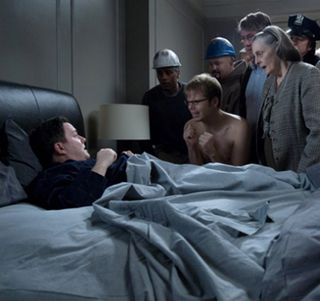 Ghost Town (2008)
Capturing The Zeitgeist: The big one: Gervais' first bona-fide leading role, as a dentist cursed with the ability, to coin a phrase, to see dead people.
Depending on your viewpoint, either an average comedy bolstered by Gervais' barbed delivery, or further proof that he was slumming it...but, through sheer stubborn loyalty to his unorthodox, uncommercial persona - Gervais layed down a marker that he'd only do Hollywood on his terms.
The Ironic Smirk: Present and correct, but finding its most natural home for years as the reluctant ghost wrangler.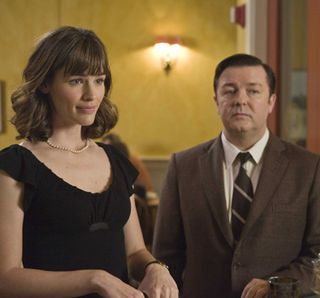 The Invention Of Lying (2009)
Capturing The Zeitgeist: Another box office underperformer, but as the only man to tell porkies in an honest world, Gervais had found a vehicle that gave him free reign to mock society's foibles.
Not sure about the rom-com stuff, mind. He had more chemistry with Jennifer Garner trying to kill her in Alias .
The Ironic Smirk: Gervais' character becomes rich and famous by being nasty to people. Sound familiar?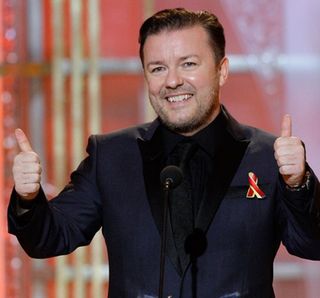 Golden Globes (2010)
Capturing The Zeitgeist: An energised Gervais launched into the new decade by becoming the Globes' first celebrity host in years.
It's not The Oscars - seriously, can you imagine him doing that? - but there's a certain symmetry in three-time winner Gervais returning to the Globes to bite the hand that feeds.
The Ironic Smirk: Look at the picture. Just look. As the centre of attention, with Hollywood's elite lined up in front of him to take potshots at, he's probably never felt so content.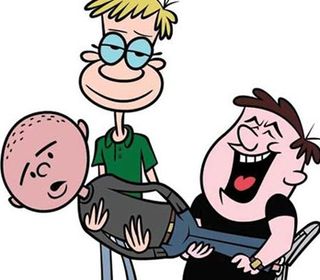 The Ricky Gervais Show (2010)
Capturing The Zeitgeist: Gervais' second project with the influential HBO network has just aired in the States to widespread acclaim, and will be broadcast by Channel 4 later this month.
Not bad...especially considering it's his old podcasts with Merchant and Pilkington, given a fresh lick of paint in the form of startlingly evocative animated avatars. Even if Gervais looks like a demonic Barney Rubble.
The Ironic Smirk: He's getting paid a second time for stuff he's already done. We'd be smirking, too.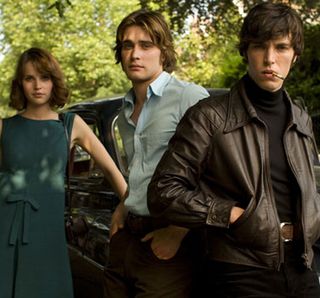 Cemetery Junction (2010)
Capturing The Zeitgeist: Gervais and Merchant's big-screen directorial debut, out now, charts the lives of two twentysomething building society clerks in 1970s Reading.
Back to The Office ? Not quite: the gentle tone is miles away from David Brent, proof that Gervais still has his finger on the pulse.
The Ironic Smirk: Wiped clean. This is Gervais' bittersweet love letter to his youth, and for once there's no need to dig your nails into your chair with embarrassment.