Fast Facts:
Ant-Man and the Wasp release date: July 6, 2018 (US)/July 2, 2018 (UK)
Director: Peyton Reed
Cast: Paul Rudd, Evangeline Lilly, Michael Douglas, Michelle Pfeiffer
Writers: Chris McKenna, Erik Sommers, Gabriel Ferrari, Andrew Barrer, Paul Rudd
Update: August 8, 2017: Evangeline Lilly's arms are SO ready to be the Wasp
#Wasp ready arms. 💪🏻. They better be. First official day of shooting for me tomorrow! 😃. #putmeincoach! pic.twitter.com/CtuCfBU8vwAugust 6, 2017
Look at them. Just look at those guns. Evangeline Lilly has had her first day of shooting Ant-Man and the Wasp and her arms are SO up for beating villains if the above tweet is anything to go by. Who knows how much work has gone into that level of muscle but it's ridiculously impressive.
You next, Paul Rudd. Step up, eh?
***Original article continues below***
Ant-Man and the Wasp is buzzing this way
No one could have predicted how good Ant-Man was going to be. Director creative differences aside - and no, original man at the helm Edgar Wright still won't watch - it's a movie about a man whose main selling point is shrinking to the size of an ant. Regardless, now Ant-Man and the Wasp has the unenviable task of following up on one of the Marvel Cinematic Universe's most pleasant surprises. So how do you improve on a self-consciously goofy heist-by-way-of-shrinking-powers film? You make something even weirder, naturally, and you give the unsung heroine of the first film the billing she deserves. No, we're not talking about Ant-thony, we mean Hope Pym - the new Wasp - who we'll finally see ascend to true super heroism.
Everything had been very quiet until SDCC 2017 and then suddenly we were positively drowning in Ant-Man and the Wasp info. From new cast members - hello Michelle Pfeiffer in her second superhero role since Batman Returns - to the reveal of the Wasp in her suit, it's all go if you're a fan of people who become the size of bugs. So here we go. Here's everything we know so far about Ant-Man and the Wasp.
Read more: Every Marvel Cinematic Universe movie, ranked from worst to best
Ant-Man and the Wasp release date is under a year away
And we don't even have too long to wait. Ant-Man and the Wasp's release date is currently set for July 2018. July 2 in the UK, and July 6 in the US, to be precise, continuing the current trend for Marvel films being released on the eastern side of the pond a little before launching in their homeland. This late in the day, we don't see anything changing release date wise but shooting has just started so we'll see what happens.
Read more: Every upcoming Marvel Cinematic Universe movie until 2020
Ant-Man and the Wasp trailer is a way off but SDCC revealed some sneaky footage
It's finally shooting! To celebrate, the fact that production has indeed started on Ant-Man and the Wasp, Marvel released the above adorable 14 second clip. Of course you can't see anything on those monitors yet but the two miniscule director's chairs are ridiculously cute. We're sure the set is a hive of activity right about now.
Despite no footage to speak of given that filming has just started, SDCC 2017 revealed a little more than just two tiny chairs. Attendees at the Ant-Man and the Wasp panel were treated to a stack of concept art that included Ant-Man getting a piggyback from his daughter while he's the size of a house cat, an illustration of the Quantum Realm, and a work in progress animation of the Wasp clambering up the side of a plane. The sizzle reel ended with an ordinary street and an enormous Ant-Man poking his head around the corner. Hopefully we get more actual footage sooner rather than later. Work faster, insect humans!
Read more: Everything you need to know about Black Panther
Ant-Man and the Wasp cast now includes Michelle Pfeiffer and Laurence Fishburne
While of course Paul Rudd and Evangeline Lilly are returning as Scott Lang and Hope van Dyne respectively, Marvel has confirmed a slew of exciting casting news. Not only will Michael Douglas be back as the original Ant-Man, Hank Pym, but Michelle Pfeiffer is donning the suit of the original Wasp, Janet van Dyne. It seems likely that she'll appear in flashbacks rather than a return from the Quantum Realm where she's still lost in sub-atomic space but the fact that Pfeiffer is returning to superhero movies at all makes a serious turn up for the (comic) books.
Also revealed at SDCC was the addition of Black Mirror and Game of Thrones' Hannah John-Kamen. She's joining the cast as The Ghost, a villain with the combined powers of invisibility and intangibility. More on The Ghost further down but also joining her on villain duties is The Hateful Eight's Walton Goggins. He takes on the role of Sonny Burch, the chairman of Cross Technologies which just happens to be the company of original Ant-Man villain, Yellowjacket. Background wise, Burch is a morals free weapons contractor with ties to Iron Man's Obadiah Stane. Yeah, the guy played by Jeff Bridges who wants to steal Tony Stark's powers for 'good.' Lets see how Burch pans out....
Then there's the (not so small) matter of Laurence Fishburne who is skipping over from the DCEU to take on the role of none other than Goliath. Goliath, better known on his driving licence as Bill Foster, was a contemporary of original Ant-Man Hank Pym. Goliath, Ant-Man and the Wasp originally teamed up so it will be interesting to see how the movie deals with timelines and flashbacks and whether someone will become a new Goliath for a new generation of size shifting heroes.
Finally, the scene-stealing Michael Peña will also return as Luis in Ant-Man and the Wasp. His elaborate recollection of events was one of the best parts of the first film - making him a seriously welcome presence in the sequel. Altogether this is a seriously stellar cast, one that proves Ant-Man is no longer a risky addition to the MCU's roster, but one of its shining stars.
Read more: Everything you need to know about Thor: Ragnarok
Ant-Man and the Wasp villains are a force to be reckoned with
So who are The Ghost and Sonny Burch? Previously depicted as male in the comics, The Ghost first appeared in Iron Man all the way back in 1987 and was originally the creator of an advanced technology called, funnily enough, Ghost Tech. The useful tech meant a processor would become intangible before overheating. Obviously this comes in exceptionally handy when you don't want things to fry on a global but the Ghost, through a series of unfortunate events involving a sleeper agent pretending she loved him and then being murdered, embedded his own body with his processors, making him both invisible and intangible. How The Ghost ties in with Ant-Man and the Wasp is another matter but it'll be interesting to see the pair take on a very different kind of enemy and one that has two serious tactical advantages over being very small and very strong.
Sonny Burch, as we mentioned above, is a little more tangible but no less threatening.The chairman of Cross Technologies, Yellowjacket's company, Burch won't be happy about the destruction of the facility at the end of the first film so expect some sparks to fly. Whether he takes tech into his own hands or gets others to do his slimy bidding will be interesting to find out.
Read more: The 30 best Marvel Easter eggs you need to know about
Ant-Man and the Wasp suit is looking pretty amazing
While we saw the opening of a cabinet containing the Wasp's suit in the original movie, Disney's D23 conference revealed exactly how Janet will look while taking to the skies. The below shot from a banner at D23 was tweeted out by none other than Evangeline Lilly herself.
Hot off the press, guys! First look at Hope Van Dyne as The Wasp! #wasp #antmanandthewasp #d23expo #marvel #disney pic.twitter.com/ejE48lMt6UJuly 12, 2017
Ant-Man and the Wasp director and writers are back in action
Peyton Reed is returning to direct Ant-Man and the Wasp, after stepping in to replace Edgar Wright on the first film. This is unsurprising. After Ant-Man's first director walked out over creative differences, just a few months before shooting was due to start, the film had 'shambles' written all over it. But Reed inherited the project – which had been developed by Wright and writing partner Joe Cornish for 11 years – maintained its original DNA, and turned it into one of the most unique and successful films on the Marvel slate to date. He knows what he's doing, and having turned around the first film in such tricky circumstances, he was a shoo-in for the second.
As for the writers, it's a familiar mix of faces. Ant-Man and the Wasp has 5 screenplay credits, Community and The Lego Batman Movie writers Erik Sommers and Chris McKenna, Gabriel Ferrari and Andrew Barrer who were production writers on the first film - and Paul Rudd himself. Yes. Expect hilarity and smarts once again.
Read more: Every Stan Lee Marvel movie and TV cameo
Ant-Man and the Wasp plot will take place in the aftermath of Civil War
Finally we've been gifted a synopsis for Ant-Man and the Wasp and while its vague, it tells us a little about the direction that we'll be going in. Dealing with the aftermath of Civil War, Scott Lang is now trying to cope with the small matter of being both a superhero and a father. Given the difficulty of parenthood as a standard human being, his isn't an easy task, especially when Hope van Dyne and Hank Pym confront him with a new urgent mission. "Scott must once again put on the suit and learn to fight alongside The Wasp as the team works together to uncover secrets from their past," says the official synopsis, suggesting plenty of time for flashbacks to the original Ant-Man and a perfect time for Michelle Pfeiffer to pop up as the original Wasp.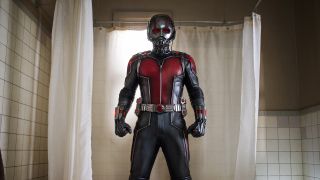 And don't go thinking this is a case of 'Ant-Man, featuring The Wasp'. You might be forgiven for expecting as much, given Marvel's long, hard, muddy road to a Black Widow movie, but this is mercifully not the case. The sequel is going to be a genuine double-bill, with both heroes taking equal prominence. It's not about one or the other, or even one with the other, but rather the team the two of them make together.
"Part of thing [sic] that we're going to explore", says Reed, "as shown in the comics, is how [they] are such a great duo and partnership. Part of that, in any partnership, is how they relate to each other as people. Where will their personal relationship be at that point, and what will be their fighting style together?" Get ready to see the two as a unit then, with the new Wasp taking a big step up to the main Marvel roster and asserting her big-league canonicity alongside Cap, Tony, Nat and the rest.
In October last year, Evangeline Lilly confirmed that this movie will show us the origin of The Wasp, and that the character will also turn up in the second of the next two Avengers movies in 2019.
Related Ant-Man and the Wasp news
Move over Cable, Ant-Man and the Wasp's Evangeline Lily gives us a ticket to the gun show as she begins filming
Ant-Man and the Wasp scores Michelle Pfeiffer as Janet Van Dyne (plus, loads more join the cast)
Bee-autiful! Evangeline Lilly gives a first look at the fully-suited Wasp in Ant-Man and the Wasp