Maybe you got a brand new Xbox console this Christmas, or maybe you're just looking to snag a great Xbox Live deal, but either way now is the time to search. An Xbox Live subscription takes full advantage of the console's capabilities, giving you chances to enjoy multiplayer modes and find fun, new games to download whenever you're in the mood for something different.
If you got one of the best Xbox One S bundles or even one of the top Xbox One X deals this holiday season, then a great deal on Live Gold is a fantastic way to get you online and exploring the possibilities of your new console. Whether you want to engage in some not-so-friendly competition on battle royale games like Fortnite or Apex Legends, or you're in the mood to discover some great new titles, we've got all the best and latest Xbox Live deals and prices right here.
As we mentioned, Xbox Live is necessary to get online, but you'll enjoy some extra benefits as well, including dedicated servers, increased performance speed and a more reliable online connection. Plus, you'll get to join the community across Xbox and Windows 10, with free games to play every month and special discounts from the Xbox Store. So, an Xbox Live deal is exactly what you need to make the most of your console. You should also know that these subscriptions stack up, so if you're on the lookout for even more months, whatever you already have gets added to whatever you buy. Now that, is a sweet deal.
If possible and within your budget, we suggest getting the 12-month subscription, as you'll get the most value for your dollar. We know that isn't everyone's ideal choice, though, so we've got our price-finding tool constantly looking for the best deals for all three subscription options: the 12-month, 3-month, and 1-month. These deals will populate for your specific location and currency.
Before you peruse our great Xbox Live deals, you should also consider snagging some extra Xbox One accessories, like the best Xbox One external hard drives or maybe one of the best Xbox One headsets out there. These accessories will only make your Xbox experience better, and get your time with the console off to a great start in 2020.
Xbox Live Gold deals - 12 months
The biggest subscription will cover you an entire year, getting you all those delicious benefits. As a result, it is the sub with the biggest price tag but, when ruthless mathematics are applied, it does represent the best value for money.
Xbox Live Gold deals - 6 months
A smaller package for a smaller amount of time. Fine. Get online and not worry about it again until the Summer and while away the hours online and with those lovely benefits of Xbox Live.
Xbox Live Gold deals - 3 month
If you're only after the smallest sub - perhaps you want to budget for some cheap Xbox game deals first - then the 3 month subscription is for you. It'll bag you the same benefits but you'll be up for renewal around Easter time.
Xbox Game Pass Ultimate deals - 3 months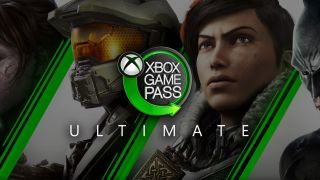 On top of the regular Xbox Live deals you can get, it's worth checking out the Game Pass Ultimate subscription offer too. It'll bag you all the benefits of Xbox Live Gold but also access to literally hundreds of games - both console and PC. There's always new games added and even some new releases like The Outer Worlds. If you've got a long Christmas holiday off work planned, and a comfy enough sofa to sink into, then this is a quality subscription to try out. Also, it's probably the best companion to an Xbox One S All-Digital console too.
The Sony equivalent, PS Plus, is also an important acquisition for console players who got Sony's machine for Christmas, and you should check out the latest PS Plus deals to see if you can grab a bargain this festive season too.