20 Most Likeable 80s Performances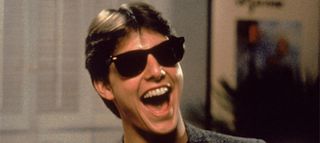 Risky Business (1983)
The Nice Guy: Tom Cruise as Joel Goodson
The Charm: It's debatable how much The Cruiser's charm would later descend into smarm, but here all it takes is one flash of that toothy smile, and another of his undies, to sell him as a kid who's having the time of his life.
If the story of a student turned pimp is a satire of Reaganomics, Cruise's startling charisma inadvertently makes it a wish fulfilment fantasy for the go-getter Eighties.
Most Likeable Scene Fielding a Ivy League interviewer in one room, while the rest of his house has been turned into an inpromptu brothel.
It's funny 'cause it's true.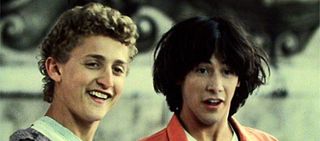 Bill And Ted's Excellent Adventure (1989)
The Nice Guy: Alex Winter as William "Bill" S. Preston Esq. and Keanu Reeves as Ted "Theodore" Logan
The Charm: Most influential statesmen are dour workaholics - but not the Two Great Ones. For Bill and Ted, not being excellent is most heinous, which is why Wyld Stallyns must be allowed to party on, dude!
Best of all, these guys educate as well as entertain. Bet'cha never knew that Napoleon was crap at bowling before.
Most Likeable Scene: Bonding with So-crates through the universal language of philosophy: "All we are is dust in the wind, dude."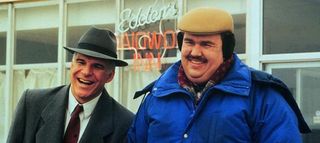 Planes, Trains and Automobiles (1987)
The Nice Guy: John Candy as Del Griffith
The Charm: John Candy's cuddly image made him instantly likeable amidst the cold-hearted yuppies of the decade; as avuncular slob Del Griffith, this conflict becomes explicit as he's mismatched with highly strung Neal Page (Steve Martin).
Unpretentious, over-enthusiastic and accident prone, Del is Page's worst nightmare. For us, though, Candy is a constantly comforting presence.
Likeable Moment: When Neal lets off steam with a rant about Del's endless anecdotes, the big fella responds with heart-on-sleeve sincerity...
"I could be a cold-hearted cynic like you... but I don't like to hurt people's feelings. Well, you think what you want about me; I'm not changing. I like... I like me. My wife likes me. My customers like me. 'Cause I'm the real article. What you see is what you get."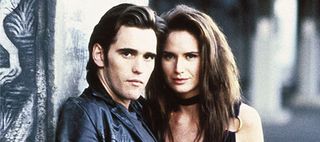 Drugstore Cowboy (1989)
The Nice Guy: Matt Dillon as Bob Hughes
The Charm: In The Outsiders and Rumble Fish, Dillon had the looks and the charisma to become his generation's James Dean, but looked to have squandered his rep until Gus Van Sant gave him an unlikely comeback.
As pharmacy-robbing addict Hughes, Dillon isn't exactly heroic - but he brings such wasted grandeur to the role that the combo of amiable slacker comedy and tender vulnerability becomes strangely endearing.
Most Likeable Scene: Bob lays down the drug fiend's rules for avoiding bad luck: "If I ever see a hat on a bed in this house, man, like you'll never see me again. I'm gone."
"Why a hat?" asked bewildered junior addict Nadine (Heather Graham). "Because that's just the way it is, sweetie."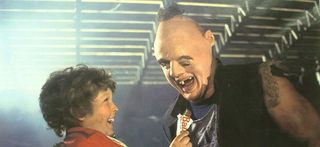 The Goonies (1985)
The Nice Guy: Jeff Cohen as Lawrence "Chunk" Cohen
The Charm: Although The Goonies is an ensemble piece, nobody seems to have told Cohen, who steals the show with the fat-wobbling Truffle Shuffle and his wide-eyed gullibility.
Uniquely amongst the gang, Chunke even gets his own subplot, forging a sweet friendship with fellow lost soul Sloth (John Matuszak).
Most Likeable Scene: Captured by the vicious Fratelli family, Chunk is ordered to "Tell us everything!" So he does.
The highlight is his fake puke anecdote: "all the people started getting sick and throwing up all over each other. I never felt so bad in my entire life."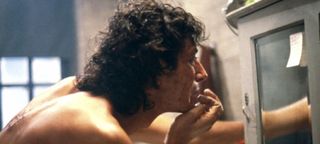 The Fly (1986)
The Nice Guy: Jeff Goldblum as Seth Brundle
The Charm: Yeah, OK, so he's gene-spliced with a bluebottle, but in the decade when the nerds had their revenge, none was more dashing than romantic geek Seth Brundle.
Played by Goldblum with Byronic swagger, here's a scientist with soul, wooing Veronica Quaife (then-partner Geena Davis) with combustible chemistry and keeping our sympathy throughout his 'orrible transformation by staying so enthusiastic about it.
Most Likeable Scene: Brundle can't resist turning a romantic dinner into a science lecture, as he ponders the "poetry of the steak."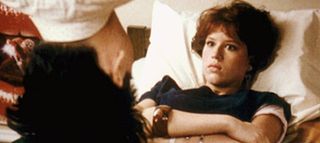 Sixteen Candles (1984)
The Nice Girl: Molly Ringwald as Sam Baker
The Charm: In a decade of big hair and bad attitude, Ringwald stands out: gawky, ginger and down-to-earth. Which is probably why she's so likeable.
As Sam, she has to navigate the pitfalls faced by every teenager - the uncaring family, the unknowing object of attention, the unacceptable advances of unsuitable suitors - but does so with a wry grace that's beguiling.
Most Likeable Scene: A sweet encounter with fellow loner Farmer Ted (Anthony Michael Hall) goes sour when he tries it on. "You know, just now I really felt how much you like me," she tells him.
Misreading the signals, he suggests, "You're probably zoning in on my brain waves or something." Cue a look of withering disdain from Ringwald: "Well, not really. I felt it on my leg."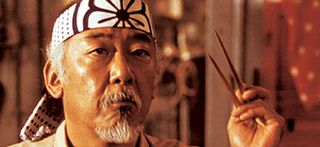 The Karate Kid (1984)
The Nice Guy: Pat Morita as Mr Miyagi
The Charm: Outwardly stern but gallant and compassionate inside, Mr Miyagi is the ultimate movie mentor, teaching Daniel LaRusso (Ralph Macchio) the virtues of honour and respect alongside the ability to kick the crap out of bully-boy kung foes.
Even Jackie Chan, one of the most likeable movie stars ever, has his work cut out for him if he's to better Morita in the imminent remake.
Most Likeable Scene: Miyagi reveals his traumatic backstory, and Daniel moves a little closer to becoming the surrogate for the son he lost during WWII. Sob.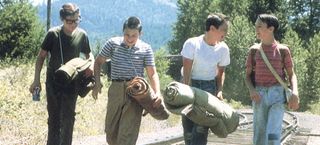 Stand By Me (1986)
The Nice Guys: Wil Wheaton as Gordie Lachance, River Phoenix as Chris Chambers, Corey Feldman as Teddy Duchamp and Jerry O'Connell as Vern Tessio
The Charm: The best kids' ensemble of the decade covers all bases for the rites-of-passage: sensitive Everyman Gordie, tortured n'er do well Chris, smart-alec Teddy and overweight whipping boy Vern.
As individuals, they're all adorable; but together, they click convincingly as a clique of friends, providing a shoulder to cry on when it matters but ribbing each other the rest of the time.
Most Likeable Scene: The "Lollipop" sing-a-long, which evokes the spirit of childhood camaraderie so strongly you can't resist joining in.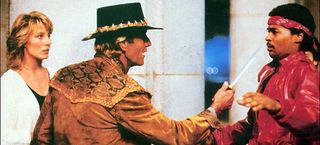 Crocodile Dundee (1986)
The Nice Guy: Paul Hogan as Michael J. 'Crocodile' Dundee
The Charm: G'day, mate. On paper, Crocodile Dundee looked an unlikely Stateside hit, but Hogan's cheery Outback disposition and un-PC navigation of Manhattan's tribes travelled.
Arguably, his tongue-in-cheek evocation of the Aussie bloke is still how we think most Aussies behave. Then again, most of 'em do.
Most Likeable Scene: Faced with a mugger, most fellas would bolt like the sissies we are. Not Mick Dundee. He just pulls out a bigger knife.
Well, it's a jungle out there, so why shouldn't a huntsman come to the city prepared?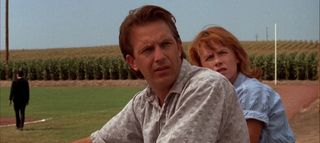 Field of Dreams (1989)
The Nice Guy: Kevin Costner as Ray Kinsella
The Charm: Costner's rise to fame owed to juxtaposing his old-school, Gary Cooper-esque decency with modern sex and violence: the squib-storm of The Untouchables , the filthy-minded rom-com of Bull Durham .
But he only truly found his place in audiences' hearts when he gave in 100% to his matinee idol demeanour with the unashamedly pleasant, polite Kinsella.
Most Likeable Scene: Hearing a voice telling him, "If you build it, he will come," he tries to explain things to his sceptical wife (Amy Madigan).
Costner eases us through the potential ludicrousness himself: "it's okay, honey. I'm just talking to the cornfield."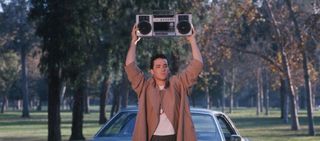 Say Anything (1989)
The Nice Guy: John Cusack as Lloyd Dobler
The Charm: Cusack road-tested his endearing, smart/sensitive persona in The Sure Thing , but it was as Dobler that he perfected it.
While The Brat Pack withered and died, Cusack's trick was a simple one. Avoid brattishness and play it metrosexual, all sweet and soulful.
Most Likeable Scene: How to woo the girl of your dreams, 80s-style... A boombox playing Peter Gabriel, held aloft under her bedroom window.
A generation of Brits tried to copy, but it doesn't quite have the same effect playing Carter The Unstoppable Sex Machine outside of a semi-detached house in Rotherham.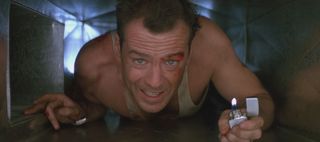 Die Hard (1988)
The Nice Guy: Bruce Willis as John McClane
The Charm: Schwarzenegger, Stallone, Van Damme - let's be honest, while the 80s action heroes are bad-ass to the core, likeability isn't high up their list of qualities.
Enter Willis, a guy whose ticket to actionsville was a TV comedy, and whose response to a crisis was satisfyingly plausible: startled-bunny facial expressions, panicky huffing and puffing, and lots of swearing.
Oh, and for good measure he could go bad-ass just as effectively as Arnie or Sly.
Most Likeable Scene: Stuck on the roof of the Nakatomi Plaza, hounded by Uzi-toting terrorist/bank robbers, bullets strafing the air, McClane calls for back-up...
"This frequency is reserved for emergency communications," he's told, so Willis hits back with a heckle so natural it could have come from the audience: "No fucking shit, lady! Do I sound like I'm ordering a fucking pizza!?"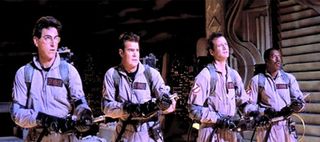 Ghostbusters (1984)
The Nice Guys: Bill Murray as Dr Peter Venkman, Dan Ackroyd as Dr Raymond Stantz, Harold Ramis as Dr Egon Spengler and Ernie Hudson as Winston Zeddemore
The Charm: The wiseguy, the Honest Joe and the uber-geek: on paper, the Ghostbusters probably wouldn't be your first choice to hang out with in an evening.
But the dynamic between real-life friends Murray, Ackroyd and Ramis pays off - together the 'Busters are a gestalt of geniality, bouncing lines off each other with real exuberance.
Spare a thought for Hudson, too, whose Everyman bewilderment ("Tell him about the Twinkie!") further humanises the boffins.
Likeable Moment: All the guys need to do to stop demon Gozer unleashing The Destructor on Manhattan is to avoid thinking of anything that would give it corporeal form.
Unfortunately, memories of the Stay-Puft Marshmallow Man have popped into Ray's head, and now the 'Busters are bickering as a 100-ft brand logo stomps towards 'em.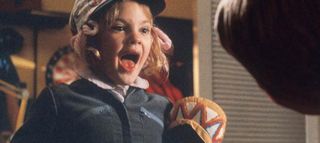 E.T. The Extra Terrestrial (1982)
The Nice Girl: Drew Barrymore as Gertie
The Charm: Aged just six, Barrymore is the most effortless charmer on the list, just because - of all the kids in E.T. - she acts like she genuinely believes she's living with an alien.
Barrymore's naturalism paved the way for hugely likeable kids in Spielberg's other 80s films, notably Ke Huy Quan in Indiana Jones and The Temple Of Doom and Christian Bale in Empire of the Sun .
Most Likeable Scene: Gertie is learning the alphabet to Sesame Street when E.T.'s head pops up from behind the telly and joins in.
If Barrymore's awestruck delivery of "Mommy, he can talk!" doesn't make you smile, you have no soul.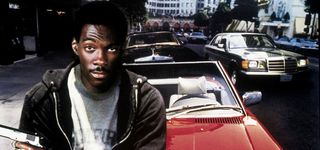 Beverly Hills Cop (1984)
The Nice Guy: Eddie Murphy as Axel Foley
The Charm: Despite Murphy's meteoric rise, 48 Hrs and Trading Places were effectively buddy-movies, with Murphy's maverick energy dimmed by more established stars.
It was as wise-ass Foley that Murphy confirmed he had enough charisma to go it alone: smart, sharp and with the best laugh in the business. Amazing to think that, originally, the role had been earmarked for Sylvester Stallone.
Most Likeable Scene: Axel evades being followed by local cops Rosewood and Taggart with a ploy not to be found in any law enforcement training manual.
To wit, sending them room service while sticking a banana in their tailpipe.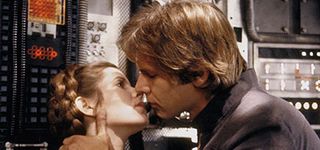 The Empire Strikes Back (1980)
The Nice Guy: Harrison Ford as Han Solo
The Charm: It was obvious to anybody watching Star Wars that, while Mark Hamill was the lead, Ford was the star: a cynic whose scruffy looks hid a heart of gold.
By Empire , the ambiguous smuggler had become a rogueish romantic, whose screwball subplot (falling in love with Leia while on the run from Darth Vader) is so breezy it threatens to take over the whole film.
Most Likeable Scene: The near-clinch with Leia aboard The Falcon, as Ford disarms fussy Fisher's complaint that her hands are dirty. "My hands are dirty too. What are you afraid of?"
She likes him because he's a scoundrel, don't cha know.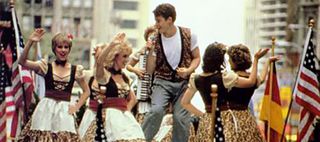 Ferris Bueller's Day Off (1986)
The Nice Guy: Matthew Broderick as Ferris Bueller
The Charm: In The Breakfast Club , it took a morning's detention to bridge the gap between high school's feuding cliques.
Here, a single righteous dude unites the sportos, the motorheads, geeks, sluts, bloods, wasteoids, dweebies, dickheads - largely because an insouciant, captivating Broderick is turning cheekiness into an art-form.
Most Likeable Scene: Usually, the trick to successfully bunking off school is to lie low.
Not Bueller - the guy needs a stage so bad he'll lip-sync to The Beatles in the middle of a packed parade.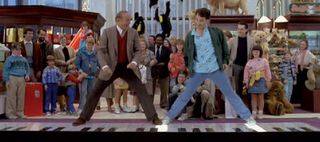 Big (1988)
The Nice Guy: Tom Hanks as Josh Baskin
The Charm: Hanks' boyish enthusiasm had been a hit in Splash and The Money Pit , but Big goes one better by actually casting him as a boy. To be precise, 13-year-old Josh, transformed into an adult by carnies.
Hanks, caught at the perfect juncture between the 'early, funny ones' and the Oscar-winning thesp he'd become, is dazzlingly natural, capturing both bewilderment and fear, and the exhilaration of living the dream.
Most of all, though, he's fun.
Most Likeable Scene: How to make friends and influence people? Act like a big kid by playing Chopsticks with the boss (Robert Loggia) on a giant keyboard.
Result? Testing toys and getting paid for it. Best job ever.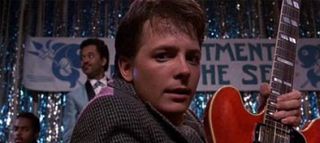 Back To The Future (1985)
The Nice Guy: Michael J. Fox as Marty McFly
The Charm: Sci-fi hero; romantic lead; comic genius. Marty McFly has to convince as all three, while anchoring BTTF 's bonkers plot and squeamish subtexts (a family movie about incest!).
Robert Zemeckis was so charmed that even the star's full-time gig on sitcom Family Ties couldn't stop him; second-choice Eric Stoltz was sacked and a punishing, sleepless schedule devised so that Fox could do both.
It doesn't show; Fox manages to be both laidback and livewire, one moment rocking out or busting sublime skateboarding moves, the next easing us through the technobabble with his easygoing smile.
Most Likeable Scene: Marty wakes up to find he's in bed, in his underwear, watched over by the frisky teenage version of his mom (Lea Thompson).
Out goes Marty's unflappable cool - "you're so h-h-h-h - thin!" - before falling out of bed. The humility and humiliation seal it: this guy is the most likeable movie hero ever.