It's been a long time since your Nintendo Switchwas just a Legend of Zelda: Breath of the Wild machine. The Nintendo Store is now positively awash with amazing games that are just waiting to clog up the meagre 32GB of storage that comes with the console. Mario Odyssey, Mario Kart 8, and a mass of indie hits are just waiting to fill up your hard drive. Stardew Valley anyone? Throw in the slew of upcoming Nintendo Switch games on the way and the space seriously, err, bytes.
The excellent news is that it's ridiculously easy to expand on the existing 32GB of storage. All you need is a compatible Micro SD card to pop into the slot behind the kickstand and you can quadruple your storage space with a click nearly as satisfying as putting the Joy-Cons back on.
Need a case?
The only requirement for Switch Micro SD cards is that they are UHS-1 compatible so thankfully you don't even need to hand over a fortune in exchange for storage. Only 4K cameras etc need the read/write speed offered by UHS-3 so you can save that money and put it towards Nintendo Switch accessories instead. Without further ado, here are the best Micro SD cards for Nintendo Switch.
The officially licensed option: Nintendo SanDisk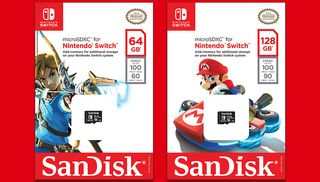 While you can of course use any compatible Micro SD cards, not specifically ones from Nintendo, there is a range of officially branded cards for the times you can't go without the Switch logo on everything you own. The 64GB version has Link on the packaging, while Mario is saved for the whopping 128GB version so you never have to delete a game ever again. Just think of the SPACE.
The best all-rounder: Lexar 633x
Sure, this Lexar MicroSD only has 64GB of storage, which fills up pretty quick, but it's super cheap and you can grab two of these cards for less than the price of a 128GB version. That's a top MicroSD money saving tip right there (*straightens tie, winks, smiles to reveal gold tooth). The Lexar is UHS-1 compatible too so no worrying about suitability for the Switch.
Best for max storage: SanDisk Ultra 200GB Micro SD
Want to never have to delete a game again? Then go for SanDisk's 200GB option. There's a 256Gb version out there somewhere but a 200GB card is going to do you just fine for this year's games. The read and write speed is excellent and the price means you won't have to worry about storage for a ridiculously low outlay. An all round winner if you don't mind shelling out a little more for triple figures.
The cheaper option: SanDisk Ultra 32/64GB
If you perhaps don't want to shell out for a 120/200GB card, a 32GB or 64GB will do fine and SanDisk have well priced options for those two sizes. This is just the smaller sizes of the Ultra above, complete with UHS-1 capability so ideal for the Nintendo Switch. SanDisk is a great brand and you just don't need to (blue) shell out anymore for Kingston or Samsung when you just won't notice the difference when it comes to booting up your games.