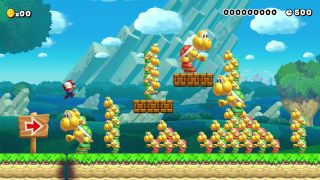 Time to make the Marios
But creating something out of nothing is intimidating, and while Super Mario Maker does a great job of teaching you how to use its interface, it's surprisingly hands-off in a lot of ways. So I've compiled a list of important things you should keep in mind when you first load up the game and start creating your first few levels. I'm not going to guide you through the level design process (which is something you should learn for yourself with the tools provided), but rather give some general advice about the game's many modes and the sorts of things you should get out of them. Ready? Let's-a go.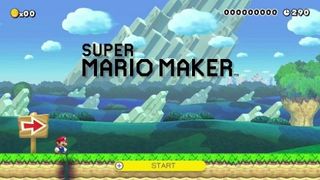 Mess around with the title screen
Before you even create your first level, you're greeted with a title screen absolutely overflowing with Easter eggs. I'm not going to spoil too many of the surprises, but make sure you tap every single letter of the Super Mario Maker logo. You can even play the little demo level playing in the background if you use the analog stick. This is your first in-game reminder that you should poke, prod, and otherwise mess with everything you see, and it won't be your last.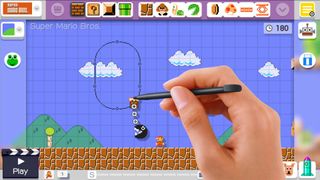 Press the thumbstick button to change your on-screen hand
When you tap on the Gamepad, you'll notice that a hand appears on the TV screen to show you where you're placing things. The game defaults to a white right hand, but you can cycle through a variety of skin tones and animal paws by simply clicking in the thumbstick.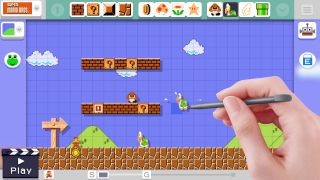 Use the content limitations to your advantage
Super Mario Maker uses a strange gating system to limit the amount of content at your disposal, unlocking slowly over the course of nine days (though a recent patch may have reduced the wait time considerably). It's certainly arbitrary, but don't see this as a hinderance - see it as an opportunity to learn how to work within limitations and how to use what you've got to make a memorable level. The best Mario levels focus on a 'less is more' approach, anyway, opting for a handful of items and obstacles. So as tempting as it is to fiddle with your internal clock to skip time forward to get the next set of toys, resist the urge and make do with what you have.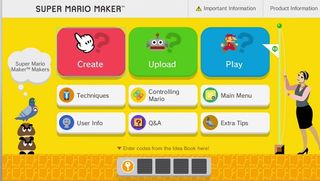 Read the manual
This sounds like a really obvious piece of advice, but seriously, read the on-disc manual. Not only is it absolutely hilarious and charming in its own right, it's packed with tons of useful advice from the game's developers, as well as details on the individual differences between the four Super Mario games you can use to build levels. It's insightful and an absolutely essential read.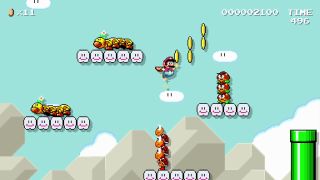 Know the difference between games when you design a level
There's an important thing to keep in mind when you're making a level: while all the Super Mario games share similar controls, they all have subtle differences between them, and it's important to know what they are. For example, Super Mario Bros. 3 lets you use a leaf so you can fly, while New Super Mario Bros. is the only game that lets you launch off of walls. Remember this if you decide to change the game's 'wrapper' on the fly - because there's a good chance that designs you made in one version of Mario won't quite translate to another.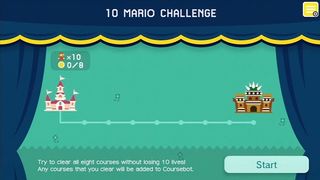 Play 10-Mario Challenge for inspiration
If you buy Super Mario Maker strictly for the pre-made courses, you're probably going to be disappointed. Don't get me wrong, they're all fun to play, but they're not there as a replacement for a conventional Mario game - they're there to inspire you in your own level creation. They're not all simply run-left-to-right levels, either. Many of them are mini-puzzles that use Mario convention in new and unique ways. Learn from them, and apply that knowledge to your own stages.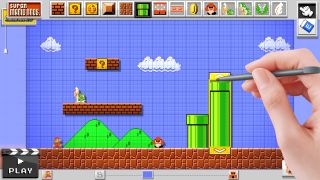 Don't ignore the template the game gives you
Creating something out of nothing can be scary - that's why Super Mario Maker provides you with a small template when you first enter create mode. Don't be afraid to start from here on your first few attempts at level creation, putting your own spin on the building blocks Nintendo provides for you. Not only is a great way to find inspiration, if you're good enough at blending in your own touches, no one will be the wiser.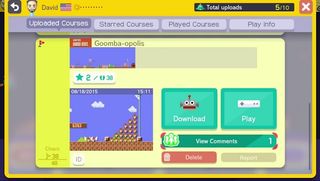 You can only upload ten courses when you start, so make 'em count
When you first fire up Super Mario Maker, you're only allowed to upload ten total courses. It's a little unfortunate, but it's a good way to ensure that only the best of the best end up on the game's servers, and it also encourages you to keep trying new ideas if older ones don't necessarily work out. Creating memorable courses will earn you stars from the people around the world who play them, and those stars will help increase your upload limit.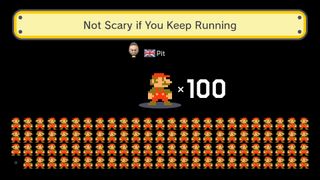 You can unlock all sorts of characters in 100-Mario Challenge
There's an item in Super Mario Maker called the Mystery Mushroom, and it's only available in the 8-bit Super Mario Bros. skin. This 'shroom will transform you into a variety of pixelated versions of all sorts of iconic Nintendo characters - if you've unlocked them, that is. The easiest way to do this is to simply use their respective amiibo, but worry not if you haven't spent a small fortune on plastic toys. You can randomly unlock a new character each time you beat 100-Mario Challenge. It's more slow-going than simply plunking an amiibo down on the Gamepad, but you're not locked out of anything, and playing this mode is a great way to get a grab bag of user-created levels shoved right into your eyeballs.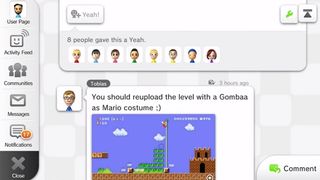 Comment on someone's course - but be constructive!
There's a handy feature in Super Mario Maker that lets you comment on other users' levels through Miiverse, allowing you to leave feedback about whether you liked or disliked what you played. And it's not just for overall comments - you can make individual comments at specific points in the level by opening up the menu while playing and hitting the 'comment' button. If you like a particular bit of something you played, say so. And if something's too hard, let the creator know - just be nice, and be constructive.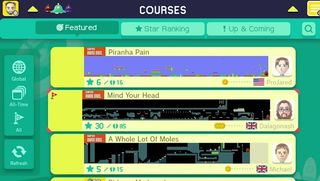 And leave a star if you really liked it, it helps a lot
If you really dug a level you played, make sure to leave a star for them. Not only does it show your appreciation, it helps them increase their upload limit, allowing them to put up more amazing content. So it's a win-win for everyone.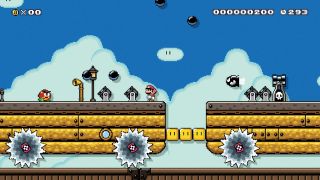 Remember Kishtenketsu
Recent 3D Mario games are built upon a design philosophy espoused by Koichi Hayashida. Its Kishtenketsu, a story structure traditionally used in Eastern narratives (Hayashida was particularly inspired by four-panel manga comics). The four steps are: introduction, development, twist and conclusion. In Super Mario games, each new concept is taught, embellished, twisted in some way and then discarded at the end of a stage. Its definitely worth keeping this in mind as you build a stage: start simple, then increase the challenge before throwing in a curveball to keep things interesting. Better still, try to include one last flourish en route to the flagpole as a final reward.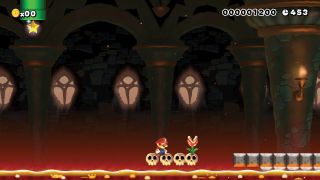 Dont overdo it
Once youve unlocked everything, the temptation is to go mad with power and build the most outlandish stage you can. This rarely makes for an enjoyable experience. That isnt to say you should necessarily stint on the challenge, but lobbing in as many enemies and hazards as possible will likely frustrate players, rather than encouraging them to have another try.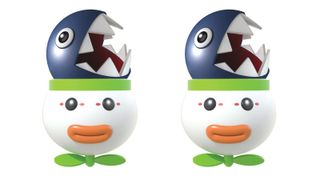 Embrace constraints
By limiting your early experiments to a handful of elements, Nintendo encourages creators to consider ways to make familiar ideas unique even something as simple as attaching wings to a Goomba. As you unlock more content, impose limits: such as a stage using four or five ingredients rather than the whole palette. Really think about how you can combine them in new and unusual ways.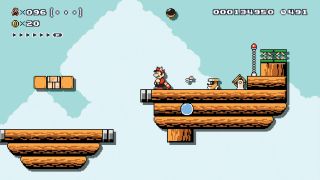 Toy with expectations
The beauty of Super Mario Maker is its variety of ways to surprise those who download and play your levels. Its always smart to offer some kind of spin on an established idea: basic interactions prompting unexpected sound effects, or Lakitus throwing coins or power-ups rather than Spinies. Again, the trick is not to change absolutely everything. Your first cluster of Question Blocks should reveal coins and power-ups, but the next one might prompt a Cheep Cheep to emerge. You could include a musical stab suggesting imminent danger before a Super Star bounces into view, or tease a short cut that leads to an enemy-filled gauntlet. Remixing classic Mario stages always goes down well, too. Failing all that, you could just have a winged Bowser swim into view as soon as the stage begins.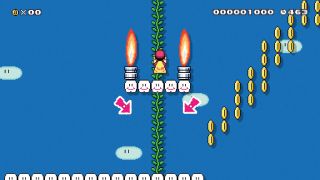 Up is the new right
You cant beat a good auto-scrolling Airship stage as far as were concerned, but theres no need to be a slave to the traditional left-to-right template. Vines provide ample opportunity to give your stages a bit of verticality: dodging enemies while running and jumping is one thing, but doing it while climbing is a challenge few level designers seem prepared to set. Meanwhile, pipes arent just a way to descend to underground areas. Let them stretch up from the surface and ask players to wall-kick up and over them.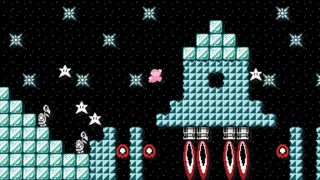 Learn from the best
Thats learn, not steal. Not that you can, of course: download someone elses work, edit it and try to claim the glory for yourself and youll rightly be told that its not possible to upload courses originally created by other people. Clever old Nintendo. Still, its certainly worth trawling the levels at the top of the Star Ranking list for inspiration. Even lesser stages sometimes contain ideas that can be refined or twisted in some way, so dont focus your search exclusively on the most popular levels. Try to gauge what works and what doesnt, and use that to inform your own designs. Beyond that, its worth taking the time to study the daily stages automatically uploaded into your Course Bot; these are, after all, Nintendos own courses, and though most are fairly simple in concept, theyre the blueprints to which you should always refer in times of creative crisis.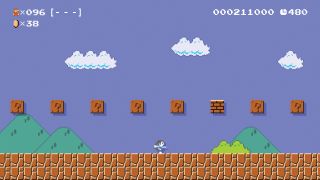 If in doubt, use amiibo
Were tempted to say this is the cheapest route to success, but for the fact that it requires significant financial investment. But yes, if you dont mind the hollow sensation that follows, featuring an amiibo character or six the rarer the better, naturally is one of the simplest ways to ensure a rush of stars from your Super Mario Maker peers. So why not go the extra mile? A labyrinthine underground cavern would make for a fine Metroid substitute, and it shouldnt be too difficult to approximate a stage from Kirbys Dream Land.