Fast Facts:
Star Wars 8 release date: December 15, 2017
Director: Rian Johnson
Cast: Daisy Ridley, John Boyega, Mark Hamill, Carrie Fisher, Adam Driver, Gwendoline Christie, Domhnall Gleeson, Oscar Isaac, Lupita Nyong'o, Benicio Del Toro, Andy Serkis, Kelly Marie Tran
Writers: Rian Johnson
Update: 21 October - what was Kylo Ren was thinking when he killed Han, and is Luke the most powerful Jedi ever?
The Force Awakens establishes how important it is to find Luke Skywalker, but it's less clear about why. Well, thanks to some measured speculation based on an earlier Star Wars 8 leak, we now know one possible reason: he's powerful enough to take down a Star Destroyer - or at least, the updated First Order equivalent - single-handedly. He's obviously had plenty of time to hone those Force powers while stranded on the oceanic planet of Ahch-To.
Elsewhere, JJ Abrams has been speculating about what Kylo Ren was thinking when he murdered his own father. In a commentary clip from the 3D Collector's Edition of The Force Awakens, the director suggested that Ren didn't decide to kill Han until the very last moment. "The truth is I think Kylo Ren in this moment is actually being convinced to walk away from this", says Abrams. "Snoke is, as Han says, using him and I think somewhere Ben knows this. But I think that he can't accept it. Deep down, he's gone too far."
***ORIGINAL ARTICLE CONTINUES BELOW***
Like Starkiller Base slowly accumulating dark energy, we're edging ever closer to the 2017 release of Star Wars 8. Every new week brings fresh morsels of information, giving us something else to look forward to following the December release of Star Wars: Rogue One. What a time to be alive.
We know that filming has wrapped, and editing has begun on the the most give-it-to-me-now sequel in living memory. Want to know exactly what's going on? Read through our none-more complete compendium of everything you need to know and get your Hutt-like fill of delectable Star Wars 8 facts.
Star Wars 8 director is indie sensation Rian Johnson
Rian Johnson is writing and directing. Don't know who he is? He wrote and directed the excellent and utterly unique Brick in 2005, a brilliant, hard-bitten film noir pastiche set in a high school, which not only took the entire scenario deadly seriously, but delivered its detective story with non-stop, brow-furrowing intensity and hefty emotional suckerpunches. He also did brutal time-travel fable Looper in 2012, so between the two he couldn't be a better fit for what's inevitably going to be the darker middle section of the trilogy. Also, his first short film was called Evil Demon Golf Ball From Hell!!!, which sounds like nothing if not an exasperated casual slur for a Death Star. He's even directed three episodes of Breaking Bad.
This is a hell of a creative director with a brilliant instinct for the horrible, and by his own admission, the first stories he ever created were told through his Star Wars action figures as a kid. That's the great thing about the sequel trilogy. We're finally getting Star Wars made by the generation that grew up on it. Johnson has been frustratingly tight-lipped about what's happening so far, going no further than an elusive, "I'm really excited about all the things I can't tell you". If that wasn't intriguing enough, legendary Star Wars screenwriter Lawrence Kasdan has promised Johnson's Episode 8 will be "weird." Finally, if you still had any doubts, JJ Abrams is also executive producer, and has been working with Johnson since episode 7. That's a dream team right there.
Star Wars 8 release date is unconfirmed, but we know it'll be in December 2017
At the moment we've got an unconfirmed release date for the UK and US on December 15, 2017, although bizarrely, the Czech Republic, Poland, and Russia can apparently catch it a day earlier on December 14. Everybody else will have to wait another agonising day. Premieres for The Force Awakens happened four days before the US cinematic release, so you should be on full spoiler alert for Episode 8 from December 11 onwards. Seriously, turn the internet off.
It's a shame they May 26, 2017 release date - there's an extra seven-month wait and it means we're missing out on the 'May the Force' jokes - but the prospect of another Star Wars Christmas makes up for it. Let's hope we head to Hoth for all the festive feels.
We also know that filming has finished - something Daisy Ridley and Mark Hamill got a bit emotional about - and editing has officially begun. Star Wars 8 director Rian Johnson confirmed via the official Star Wars Twitter account that shooting has concluded and the editing took place on August 15.
A photo posted by @riancjohnson on Aug 15, 2016 at 7:15pm PDT
Admittedly, this is post-production on one of the most important movies of all time, so there's loads of work left to do, but just knowing editing has begun is reassuring. And who knows - maybe it means we'll get a glimpse of a Star Wars 8 trailer soon?
Star Wars 8 trailer is many Galactic Standard months away
As mentioned above, the release date has been bumped back to December. Boo! It's not all bad, though. It's actually helpful for working out when the trailers might land, because it's almost in line with The Force Awakens release schedule. The first teaser for The Force Awakens arrived on November 28, 2014, so there's reason to assume we'll see a Star Wars 8 teaser around the same time - so this November, then.
The first proper trailer for The Force Awakens was shown at the annual Star Wars Celebration on April 16, 2015. We didn't see anything at this year's event - it was all about Rogue One - but we can look ahead to summer 2017 for something more concrete. Daisy Ridley has suggested Rian Johnson might be a bit more free and easy with the promotional materials - "I think Rian actually wants to be a bit cheekier with the little tidbits of information that come out" - but this is unlikely to alter the studio-mandated trailer release schedule.
Star Wars 8 cast has a few surprise names
Everyone who isn't dead is coming back, and yes, that does include Gwendoline Christie's Captain Phasma. Benicio Del Toro has been confirmed officially, and he also let slip that he'll be playing a villain - exactly the kind of loose-lipped interview tomfoolery you can get away with when you're as cool as Benicio Del Toro. We also know that the amazing, underused-because-she's-a-woman-over-40 Laura Dern is in. Dern has never been anything less than eclectic and delightful, in a career that's spanned everything from David Lynch's Blue Velvet to Jurassic Park.
Lupita Nyon'go has quashed gossip suggesting she hadn't shot her scenes for Star Wars 8, confirming she will be returning for the sequel. The Oscar-winning actress, who plays shrivelled pirate Maz Kanata, that she would be absent from the upcoming, currently-untitled movie. Excellent news for fans of Minion-faced space goblins everywhere. Oh, and , because it wouldn't be Star Wars without him.
Also appearing in unconfirmed roles are the astonishingly wonderful Gugu Mbatha-Raw; impossible not-to-love Kelly Marie Tran; and, most bizarrely of all, eccentric British comedy legend Ade Edmonson appears in a super-secret role. If you want more, check out our super-comprehensive cast list here.
And main actors aside, it seems that cameoing in Star Wars by briefly playing a Stormtrooper is officially now A Thing. It was strongly rumoured – but denied by the man himself – that in Episode 7, Daniel Craig played the Trooper against whom Rey initially discovers her latent Force sensitivity. Rumoured, and basically absolutely true, as you can ascertain by watching the film again on Blu-ray and noting that said Stormtrooper sounds exactly like Daniel Craig.
And now, it seems that Tom Hardy might well be donning yet another mask – after Bane and Mad Max – to do the same. Rumour is that he'll be sharing a scene with John Boyega's Finn, but click on if you want the full, potentially spoilery details.
On a sadder note, this will be the first 'main' Star Wars film to not feature Kenny Baker, who passed away on August 15. Actor Jimmy Vee is taking his place in Star Wars 8.
Star Wars 8 - Han Solo to return?
Harrison Ford has never been officially confirmed as being in the cast, but his name did briefly appear on a casting call document for the film, before swiftly disappearing after the entire internet shouted "Look! Harrison Ford's name on an Episode 8 casting call document!". Is he in the film? Was his inclusion just a mistake? Was his inclusion the other kind of mistake, where it is supposed to be there, but no-one's supposed to know, so you hastily delete it once the entire internet starts shouting?
We don't know yet, but if he does appear it's more likely to be in a flashback, dream sequence, or Force vision than in any tangible, present-day context. It's far more likely we'll see a final send-off for the galaxy's greatest rogue. Carrie Fisher let it slip during the Star Wars Celebration that there may be a funeral scene for Han. Let's hope someone is there to look after Chewy.
Star Wars 8 plot will continue where the last film ended
For the first time, a Star Wars sequel is going to continue right from the end of the previous film. Feels odd to consider this has never happened before, but there's always been a gap of months or years between episodes. Not this time. We know that Daisy Ridley has been back to shoot a continuation of her climactic meeting with Luke Skywalker, and we also know that said scene will start off Luke's full-scale return to the story. Hamill said recently that Luke will be far chattier this time - he didn't have a single line in The Force Awakens - and the stuff he says will be worth listening to. "Rian Johnson is amazing. His dialogue will make you forget 'May The Force Be With You'." That's a bold claim.
Adam Diver has also confirmed that the First Order is still 'at war', and remains undiscouraged following their defeat in The Force Awakens. If the film follows the cycle of the original trilogy - and there's every suggestion it will - we can expect Episode 8 to be a bleaker, less triumphant story. Add to this the introduction of Benicio Del Toro's new villain, and the completion of Kylo Ren's training, and Star Wars 8 could show a significant counterstrike by the bad guys. Diver recently likened the tone of the Star Wars 8 script to The Empire Strikes Back. This doesn't just mean it's darker - a word that gets thrown around with little meaning or purpose - but that there's depth and ambiguity in Rian Johnson's script that recalls everyone's favourite Star Wars film. "I learned a lot of things about my character through his writing", says Diver. Hopefully we will too.
And beyond that, a couple more pointers have arisen over recent weeks, one concerning a specific scene, the other related to the bigger-picture issues at play. Regarding the latter, Star Wars composer John Williams has responded to fan theories speculating that themes in his Episode 7 score hint at Rey's parentage, evoking Darth Vader's previous sound and teasing a Skywalker lineage. The verdict? Williams holds no truck with such things, and says he has no idea who Rey's parents are. For his part, he suspects Luke, but the man knows nothing. Nothing, you hear. So stop bothering him.
As for the other matter, word is that the enigmatic Knights of Ren are going to make a far more explicit appearance this time around, engaging in open battle in an apparently 'massive' set-piece. We'll get no more specific than that here, but full details can be found via this link right here, should you have no respect for the power of surprise.
Oh, and the Millennium Falcon has been spotted on set at Pinewood Studios, specifically at the recreated Jedi temple built there after bad weather made filming everything at the original Irish location infeasible. Not a huge surprise, given that the Falcon is how Rey gets to the temple in the first place, but who doesn't like looking at new pictures of it? And on a related note, Carrie Fisher may have revealed another minor plot point: we could see a funeral for Han Solo. Let's hope someone is there to look after Chewy.
Star Wars 8 name is still a mystery - or is it?
All we know for definite is that the working title for Star Wars 8 is 'Space Bear'. There's little logistical importance to this fact - unless the Ewoks have build starships out of timber and moss - but that doesn't stop it being actually important. That's because a) Space Bear is a brilliant title (a brilliant phrase, in fact. Go on, just say it to yourself. It'll cheer you right up. Space bear. Space bear!) and b) mentioning it gives us an excuse to run this photo of Gary, Carrie Fisher's excellent French Bulldog. Has has 40,000 Instagram followers, you know.
Let's move on. There was some speculation that the title had been revealed on a piece of leaked artwork due to be revealed at this year's Star Wars Celebration. The celebration happened in London in July, but it doesn't necessarily mean the artwork is a fake. If you're feeling brave, here's what the Star Wars 8 name could be.
There are three more plausible potential titles out in the wild. The first is Star Wars: Tale of the Jedi Temple, which sounds a bit like a choose-your-own-adventure spin off. The second possibility is Star Wars: The Order of the Dark Side - a more convincing prospect, which marries well with the bleaker The Empire Strikes Back.
pic.twitter.com/Y3eyMSb48zFebruary 19, 2016
Star Wars 8 poster is years away
The poster for The Force Awakens appeared on October 18, 2015 - just two months before the theatrical release. That means we'll probably have to wait until October 2017 before we see official artwork to go with the film. However, we did see some snazzy Drew Struzan art from D23 Expo in August 2015, which cunningly hid Rey's big reveal as a Force user. We can expect something before the official poster release, then - we just don't know what. In the meantime, treat your eyes to the gorgeous official art from Star Wars Celebration. Yum.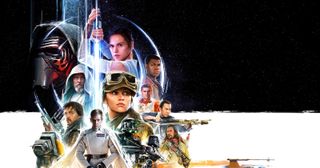 Star Wars 8 soundtrack will be brilliant, because John Williams
We know John Williams won't be scoring Rogue One, but he recently confirmed in a Variety interview that he wants to score Episode 8. The reason? "I didn't want anybody else writing music for Daisy Ridley." His name wasn't mentioned in the production announcement for Episode 8, which led some fans to speculate that he wouldn't be involved, so this is a huge relief. John Williams is Star Wars.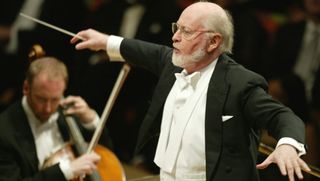 Star Wars 8 theories range from brilliant to bonkers
There's a lot of speculation doing the rounds, so to save you the time, we've analysed the five most exciting Star Wars 8 plot theories in detail, before summarising some ideas below. Perhaps the best bit about the sequel trilogy is that for most of us, it's our first journey into the unknown regions of the Star Wars universe. Until now, we've known exactly what happens.
Rey's origin story is the subject of the juiciest speculation. My favourite theory suggests that she's not the daughter of Luke, but the granddaughter of bearded Jedi hobo Obi-wan Kenobi. Obi-wan has a 30-year blank spot in his history, which is easily enough time to find his bae in the parched sands of Tatooine. We also hear Obi-wan's voice in Rey's flashback - both Ewan McGregor and Alec Guinness - and there's a wonderful symmetry to Rey handing back Luke's lightsaber, echoing the events of A New Hope. Who wouldn't want Obi-wan as their gramps? Nobody writing this article.
Another, more insidious origin story suggests Rey is descended from Snoke, rather than a Jedi. It depends entirely on Snoke's identity - and specifically, his reveal as Darth Plagueis, a Force user capable of creating new life - but it's a cool idea. Snoke failed to create an uber-Sith in Anakin Skywalker, so he's having a second bite of the dark side cherry with Rey. My other favourite theory is that Kylo Ren is actually a good guy, playing the long game with the ultimate goal of defeating Snoke. Watch that scene with Han Solo again, and imagine that the only way Han can help his wayward son is by sacrificing himself. A smart, highly-unlikely twist, but a fascinating one nonetheless.
Star Wars 8 set photos? We've got literally every single one
What's that? You'd like to see every single Star Wars 8 set photo on the internet? Oh, go on then. After the jump you can find over 50 snapshots from every sneaky fan, royal visit, and friendly, over-sharing director - some spectacular, some tame, some barely recognisable.
Star Wars 8 spoilers CAN be avoided
Even though it's all a bit speculative at the moment, there's loads to talk about. We've had glimpses of aliens and costumes, and we also know where it's being shot. There are also the inevitable Freudian slips, which give us tantalising glimpses of what it all might mean.
In the meantime, if you want to go years without any Star Wars talk at all, consider Star Wars blocker - a handy app that scorches any reference to upcoming films, like the Death Star destroying Alderaan. Listen carefully and you'll feel a great disturbance in the internet; as if millions of Star Wars spoilers cried out in terror, and were suddenly silenced. It might also be worth muting Mark Hamill, if you can bring yourself to do something so disrespectful to a living legend: he hinted in a tweet that he'll be back for Episode 9, but you never can tell with Hamill. He's an enigma in Jedi pyjamas.
Related Star Wars 8 news
JJ Abrams explains what Kylo Ren was thinking in THAT Star Wars: The Force Awakens scene
Star Wars 8 will heal Finn's injuries with bacta
Star Wars' Carrie Fisher reveals why Han and Leia split up
Star Wars 8 script's tone likened to The Empire Strikes Back, says Adam Driver
Star Wars 8's Lupita Nyong'o hasn't filmed her Maz Kanata scenes yet
Daisy Ridley knows the name of Star Wars 8, but she's not telling
Star Wars 8 is - surprise surprise - getting a score from John Williams in a few weeks