Fast Facts:
Spider-Man: Homecoming release date: July 7, 2017
Director: Jon Watts
Cast: Tom Holland, Robert Downey Jr., Michael Keaton, Marisa Tomei
Writers: Jonathan M. Goldstein, John Francis Daley, Jon Watts, Christopher Ford, Chris McKenna, Erik Sommers
Update: May 25, 2017 - The final Spider-Man: Homecoming trailer is here
Here you go. I will give you very little detail, because you either A) want to watch this one fresh, or B) are actively avoiding seeing another single frame of the final movie this close to release, given how many trailers and featurettes have already been put out. I will simply drop the code-words 'Donald Glover', 'new Spidey gadgets', and 'fight'.
Where you go from there is a choice I leave to you.
Update: May 25, 2017 - Two new Spider-Man: Homecoming posters are here too, one bad, one good
Yeah, that first one. It's er, not great. A mash of overly busy, generic floating head design (with strange chunks of empty space regardless), and a total disregard for New York's geography, it's not even Photoshopped together very convincingly. You're probably best ignoring it and scrolling down to the better ones below. Start with the international poster that was released yesterday. It's much nicer.
See?
Update: May 4, 2017 - The '60s Spider-Man theme song is coming back
Peter Parker writing his theme song. #SpiderManHomecoming #TokyoEvent pic.twitter.com/Fv34IxH5MPApril 11, 2017
Well, a version of it, anyway. This prop, spotted at a Tokyo press event for Spider-Man: Homecoming, reveals that the ebullient, new-to-this-whole-hero-business Peter Parker is going to write his own theme tune. And it's going to be remarkably similar to the iconic theme song of a certain, classic Spider-Man cartoon of the late '60s.
Actually, the appearance of the song has been a tradition of the movies ever since Sam Raimi's original 2002 adaptation. It appeared in the first two films performed by buskers, turns up in the end credits of both movies, and is performed by a marching band in Spider-Man 3. And it serves as Peter Parker's ringtone in The Amazing Spider-Man 2. At this point it would be weird if it didn't turn up in Spider-Man: Homecoming. The new version though, is going to be somewhat different, containing multiple new verses and adaptations of old ones, all reflecting Peter's excitable naivety with awkward aplomb.
Original article continues below.
The Spider-Man: Homecoming movie sees Spidey join the MCU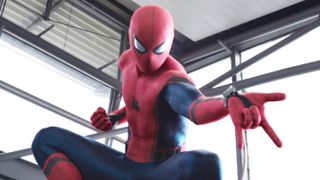 After years in the Sony wilderness, Spider-Man has joined the Marvel Cinematic Universe, making his debut in last year's Captain America: Civil War, with his own film coming in just six months time. And yes, it's technically another reboot, but this time we're eschewing all the crap - no origin story, because who the hell needs that any more, particularly after Civil War introduced Spidey with such deft economy - and cutting straight to the meat. Peter Parker, as an active but very green young superhero-in-training, juggling high school, goon-bashing, and having Tony goddamn Stark as tech-bestowing, adopted-uncle type.
But there's more to know than that. Oh so much, much more. Everything from cast details, to set photos, to villain knowledge, to uber-detailed costume design, to every tiny trailer observation (from multiple trailers). And it's all below. So scroll down and check it all out. That's why you're here, right? Spider-Man: Homecoming facts? You're totally in the wrong place otherwise. That's pretty much all we have here. But we do have loads of them...
The Spider-Man: Homecoming release date is set for this summer
Our last day on @spidermanhomecoming and this how we are feeling but we got this hahah :joy:

A photo posted by @tomholland2013 on Oct 2, 2016 at 4:06pm PDT
Spider-Man: Homecoming will be released on July 7, 2017 in North America so we still have a little while to wait until we see the web-slinger in cinemas. No word on a UK release date yet, but if anything, expect it to be a couple of days earlier, as has been the case with the last few major movies from Marvel (and its parent company, Disney, for that matter). Production on the movie has just recently wrapped which means it's time to head to the studio for editing.
The majority of filming was done in Atlanta - partly because the Porsche facility that stands in for the Avengers base is there, and partly because Georgia has delicious, delicious tax breaks for film-making - but the final leg moved to New York to shoot a few scenes on Spidey's home turf. That's all done now though, as Tom Holland confirmed with the photo above.
The Spider-Man: Homecoming logo is a giddy throwback to comic book flair
This is the Spider-Man: Homecoming logo. It's one of the first things we ever saw related to the movie and it's really, really cool. Notice the dynamic, freeform, distinctly comic booky font. Notice the brash, breezy, '70s-style colours. Notice the awesome little bug-eyed Spidey logo in the 'O' at the bottom. Everything about it screams fun, exuberance, and youth. That's exactly what Spider-Man: Homecoming seems to be going for, and as such the logo feels like an immediate statement of intent.
Spider-Man: Homecoming's poster puts fun (and Spidey) front and centre
The first officially released poster for Spider-Man: Homecoming has arrived and it's pretty much perfect. Check out the colourful spread above. It's got everything you ever wanted - a chilled out Spidey enjoying some downtime, an Avengers nod in the background... oh, and the tagline that went with the official Twitter reveal? "Homework can wait. The city can't." Perfection.
But this isn't the only poster. There's an earlier one too.
Allegedly leaked onto Instagram by FrightRags in mid-August, this sheet might in truth be more of a promo image than a full-blown cinema poster, but either way, we fully approve. A big focus on colour and character. No messing about in the composition. Just a big-ass, full-frame Spider-Man having fun doing a quintessential Spider-Man thing.
In addition, we've also seen (a bit of) a much bigger version, . How big is it? Put it this way, it took a man on a ladder and a whole bunch of cables to put it up, and the image of Spidey is so big that the poster still only seems to manage fitting his chest in. Still, the close-up confirms that that minimalist new spider logo is looking pretty damn good.
Spider-Man: Homecoming trailer is a perfect blend of childhood troubles and superheroic spectacle
Look, I'm going to keep this brief, because you're probably not reading it anyway. The full, two-minute, forty-second trailer for Spider-Man: Homecoming is here. It has loads of new footage, contextualises tons of existing stuff, and does a great job of properly establishing Peter, Tony, and the Vulture's personalities, relationships, and places in the story. And it's really, really cool.
One word of warning though: You might want to watch it sparingly. Despite being flagged as a 'teaser', this is the full-fat deal, and appears to contain a heck of a lot of plot. If you want to avoid potential spoilers, you might want to keep a finger over the pause button. The second-act story points seem to start around 1:05.
Being super-careful about this stuff? You might want to skip ahead to the earlier trailer, as seen below.
We knew that Spider-Man: Homecoming was going for a high school drama vibe, with a heavy emphasis on the fact that Peter Parker is, in fact, a kid. But good Lord, the first teaser, which premiered on the Jimmy Kimmel show, nails that tone better than we ever imagined. With a light, breezy, innocent feel - right up until the point Michael Keaton's genuinely terrifying Vulture turns up - it's clear that Homecoming is going aiming at the clash between Peter's youthful exuberance and almost total inexperience for its dramatic and comedic beats.
Tony Stark's appearances consistently straddle the line between helping Peter fulfill his potential, and keeping him safely out of too much trouble. Peter himself flip-flops between excitable, small victories, frustration at the slow pace of his heroic ascent, and entirely believable, adolescent stress brought about by the juggling of his multiple lives.
Not that the trailer holds back when it comes to the big stuff. The Vulture is a seriously heavy, aggressively threatening presence both in costume and unmasked - even more so in the latter case, actually - and that closing shot of Peter holding two halves of a ferry together with webbing feels like a great big 'In your face' to the train scene in Spider-Man 2.
It's also worth noting that the UK edit of the trailer has new and remixed sequences throughout, so if you're desperate for every spare frame of Spider-Man: Homecoming footage you can see before it comes out, check that out too.
Looking for even more? Check out Lauren's of the as-yet-unreleased preview clip from the last San Diego Comic Con.
Spider-Man: Homecoming's plot takes Peter Parker back to school
We don't know the exact story the movie will be based upon, but we do know the general vibe it's going for. Picking up after Captain America: Civil War, Peter is now sponsored by Tony Stark, who's acting as a hero-mentor and tech benefactor for the burgeoning super. Spidey has already been active in New York, working independently for quite some time, but this will be when he takes his first big step up.
That said, we're not looking at cosmic heroics and planet-shattering threats here. Marvel is taking a far more intimate, street-level approach to Spider-Man: Homecoming's story, focusing around Peter's hitherto neglected school life and the tribulations of teenage drama as much as supervillain threat. John Hughes movies have been referenced as a major touchstone. That is a very good thing.
Not that this is exactly going to be Degrassi: Crawling Up the Walls. Of course Peter is going to face a big bad external threat to parallel his high school troubles. In this case, it's going to be the Vulture, historically a brilliant engineer – an obvious parallel to Peter and Tony – who was screwed over by his business partner before eventually switching to a life of crime via a mechanical wing-suit. It's strongly rumoured that in Spider-Man: Homecoming's story, the suit will be based upon Chitauri technology left over from the invasion of New York in the first Avengers movie.
Zendaya is *not* playing Mary Jane Watson. Probably
First she was an unknown character called Michelle. Then the accepted wisdom was that she was playing Mary Jane Watson, Peter Parker's long-term (but not first) love interest. And the wisdom seemed to be compounded by a vast outpouring of big-name support for the casting. Spider-Man co-creator Stan Lee praised the decision. Guardians of the Galaxy director James Gunn did the same. But then Zendaya said that she's not playing MJ.
To be fair, the statement came in a flustered and slightly garbled red carpet interview with ETOnline, during which the actress also dropped a conspicuous (ironic?) wink to the camera, and added the strange statement of "if that's what everyone wants to think" to the news about her non-MJness. So it was still slightly confusing.
But now she's stated flat-out that she isn't playing MJ, and that Michelle is in fact a real (fictional) person. So she probably isn't MJ. Unless she's straight lying now, a la JJ Abrams with Star Trek: Into Darkness. But given that MJ's presence in the movie was never officially confirmed, she probably isn't. Probably. Goddamnit.
The Spider-Man: Homecoming cast is as varied as they come
We'll just give you a round-up here, because we have the full, detailed Spider-Man: Homecoming cast guide sitting elsewhere on the site, just brimming away with fresh, delicious facts. The salient points though, are thus:
Tom Holland is playing Peter Parker and Spider-Man, because they're the same person and it would be weird otherwise. You've already seen him in Captain America: Civil War, so you know that he's brilliant. Also coming over from Civil War are Marisa Tomei as Aunt May and Robert Downey Jr. as Tony Stark.
Beyond the folks you've seen before, the Spider-Man: Homecoming cast is putting a major focus on Peter's school life, with a raft of kids filling out a seriously diverse line-up. Established actors and newcomers alike are in place to play established Marvel high schoolers – notorious bully Flash Thompson is being played by The Grand Budapest Hotel's Tony Revolori – and younger versions of some known characters from later in Spider-Man's continuity. Obviously Mary Jane Watson is still up in the air, but confirmed are the likes of Peter's later Daily Bugle colleague and seeming current best-bud, Ned Leeds (played by newcomer Jacob Batalon), and close friend of MJ's Liz Allan (played by The Last Five Years' Laura Harrier).
Elsewhere, the adult segment of the cast is filled out with multiple stalwart actors and comedians, ranging from the likes of Bokeem Woodbine and Hannibal Buress, to Cagney and Lacey's Tyne Daly, and Far Cry 3 and Better Call Saul star Michael Mando. Yeah, Vas is in Spider-Man: Homecoming. Community's Donald Glover is confirmed in an unnamed role - he's obviously now rather cosy with Disney, having also been cast as Lando Calrissian in the upcoming Han Solo prequel Star Wars story - vaguely implied by his brief appearance in the trailer as being a bad guy. Marvel stalwart and original Iron Man director Jon Favreau is back as Tony Stark's right-hand man, Happy Hogan. Orange is the New Black's Selenis Leyva is in the mix as one of Peter's teachers, and Prometheus' Logan Marshall-Green has also been strongly rumoured to play a secondary bad guy, but we'll get to the Spider-Man: Homecoming villains properly in the next entry.
There's also a recent rumour - via Lainey Gossip - that Gwyneth Paltrow's Pepper Potts might be returning, for the first time since 2013's Iron Man 3. Following Age of Ultron's brief nod to her break-up with Tony Stark, that could make things really interesting, given Tony's early reactions to Aunt May.
Spider-Man: Homecoming's villain is a winged menace - and played by Batman
Spider-Man: Homecoming's villain is the Vulture. Really. For reals. We know that now, because Marvel Studios boss Kevin Feige revealed a great big piece of Vulture concept art at San Diego Comic Con. At the same event we got a few more details that fit in with previous rumours, namely that the film is taking a very tech-heavy approach to its realisation of the flapping fiend – resonating with the notion that the suit is a co-production between the Vulture and notorious Marvel invention-bastard the Tinkerer.
And now, after months of speculation, we know that The Vulture will be played by Michael Keaton. Age, look, persona, Keaton is perfect for the Vulture in every way, not least of all in terms of talent. Because Michael Keaton is brilliant. This is going to be great.
As for The Vulture's nature, Keaton has had some interested things to say of late, implying that this version of the character might be, if not morally ambiguous, then certainly understandable in his motives. recently, he explained that he is the bad guy, but perhaps not 100% villain through and through.
"But not to give too much away, but interestingly, he is and he isn't, that character. He's a really interesting — and more interesting than I thought — villain because there's parts of him that you go, 'You know what? I might see his point.' Really, really. It makes it interesting to play."
he explained that the Vulture might not just be understandable, as previously stated, but actually likable.
"The character actually has more relevance. I know there's this issue that comes up about how timely [biopic of original McDonald's boss] The Founder is, in terms of where we are now in this country. My character [in Spider-Man: Homecoming], actually, is, if not more relevant — and I'm not going to say more than that," Keaton said, before immediately going on to say more than that.
"There's a B-story to this guy that's kind of really interesting and really relevant. I would be lying if I said that's why I took it, but as we talked about it and did, I went, 'Whoa, there's some layers to this guy.' … This director's [Jon Watts] is a very bright guy, and he wanted to bring this issue out. A lot of people are going to like him more than they probably want to, would be my guess."
Actually, there are two more Spider-Man: Homecoming villains
The Tinkerer and the Shocker, to be precise. Word is that the former supplies technology to both Shocker and Vulture alike. The Tinkerer is confirmed as being played by Orange is the New Black's Michael Chernus, while the big money is currently on the Shocker being Bokeem Woodbine's as-yet unconfirmed role. As for the story that brings them all together? Word is that this version of the Tinkerer is an ex-Stark Industries employee who pledges to tool up the two villains in order to prove that Tony was wrong for firing him. You know, rather than tidying up his LinkedIn profile and getting a hot new job.
As for the Shocker? His exact role is currently unknown, but we do have on-set photos of the character in costume. Which involves a mask. Which does not make it at all clear whether Bokeem Woodbine is in the costume. But hey, it doesn't prove that he isn't either.
And there's a better look by way of from the New York Toy Fair. The look fits in with the other snippets we've seen, albeit with a chunkier vibe and a bit of a 'repurposed oven-mitt' feel to the fabric sections of the costume. Though , a similar material can be seen in the clothing of Logan Marshall-Green's currently unidentified villain, so how that part of the outfit makes its way from casual safety-wear to full-blown, supervillain costume has just become rather a big question.
There's also been recent rumours flying around that Peter Parker will face a "non-superpowered" villain in his solo outing, which could mean we've got a Zemo in Civil War situation on our hands, or the rumours are referring to a more mundane, everyday villain. It is set in high school after all. Flash Thompson (played by Tony Revolori) is Peter's first major bully in the young superhero encounters, so he would make a good candidate for this non-superpowered baddie, but in truth, it could be anyone right now.
Spider-Man: Homecoming composer has Star Wars and Marvel credentials
Michael Giacchino is composing the music for Spider-Man: Homecoming. Whether you know his name or not, this is good news. Having worked on a raft of Pixar movies, he also took over from Alexandre Desplat on Star Wars: Rogue One, and handled the musical duties for Marvel's Doctor Strange. Spider-Man's sounds are in good hands. Very good hands.
Spider-Man: Homecoming's Avengers links are getting bigger and bigger
Obviously Tony Stark and Peter Parker are going to have a strong bond going forward, but Iron Man's importance in Spidey's life is already leading to some big, explicit links between Homecoming and the existing Marvel movies. We know that Tony will be visiting Peter in New York, as revealed by this shot of a Stark-plated car on Parker's home turf. We also know that said car will probably be driven by Jon Favreau's Happy Hogan, who hasn't been seen on-screen since Iron Man 3, but who has recently been confirmed as appearing in Spider-Man: Homecoming. And perhaps most telling of all, we have this photo of Tom Holland and Jacob Batalon - who plays Peter's school friend Ned Leeds - on the roof of the Porsche facility in Atlanta that doubles up as the new Avengers' base from Age of Ultron onwards. Why are they there, then?
We know that the whole early portion of Spider-Man: Homecoming's filming happened in Atlanta. That implies a lot of Avengers-related content, with Peter probably spending a good period of time over at the grown-up superheroes' HQ with Tony, getting tooled up and trained. Montage, please!
And there's another interesting, Iron Man-related point to ponder, throw up by another action-figure reveal. Hasbro has , and intriguingly, it features a suit we haven't seen in the movies before. In fact, although its physical design very much mimics the cinematic Iron Man suit, its new red, gold, and grey colour scheme seriously harks back to the version of Tony Stark seen in the Marvel Ultimates comics. There's no guarantee that this suit will appear in Spider-Man: Homecoming, of course - toy companies are known to indulge in flights of fancy from time to time - but if it does, then by the Dramatic Rule of Costume Changes, that surely implies more screen-time, and a greater role, for Peter's mentor.
The A team! @hazosterfield @lifeisaloha

A photo posted by @tomholland2013 on Sep 15, 2016 at 11:21am PDT
The Spider-Man: Homecoming set photos reveal a lot. Of everything
Thanks to Tom Holland's impressive Instagram ethic, there's actually a lot of Spider-Man: Homecoming set photos knocking around. In fact, I'm quite surprised Marvel and Disney haven't banned all his social media because, while he's very good at avoiding spoilers, they like to keep things super secretive, and they show off a fair bit of exciting stuff.
Okay, the first set pictures were pretty generic, 'people walking around a film set' affairs, but we also now have hard, documented evidence of Spidey launching a thief into the air – with accompanying video – and an extreme close-up wall-crawl, that gives a very good look at Peter's new, entirely mechanical, Stark-collaborated web-shooters. But actually, forget that one, this one is even better:
#Cosplay question. pic.twitter.com/LiirH9gha4August 8, 2016
And then there are the candid shots - of varying degrees of drama - of Peter hurriedly changing into his Spider-Man suit, and two stunt doubles performing a very hairy helicopter-based rescue scene. For all the high-school focus, Spider-Man: Homecoming isn't going to be skimping when it comes to scale. Note though, how the rescuee is using her phone to take a selfie as she gets hoisted to safety. Yes, this movie is set in 2017, alright.
New SPIDER-MAN: HOMECOMING set pictures ! pic.twitter.com/6LlvPzbNplSeptember 19, 2016
But want something even more dramatic? Want Peter going a bit Batman? Fine then. Here's a set shot, posted by Holland, of him doing the other, decidedly more '90s superhero pose. Care to comment, Deadpool?
Thank you to @georgejcottle and his amazing team for making me look like a badass. #spidermanhomecoming #stunts

A photo posted by @tomholland2013 on Sep 1, 2016 at 1:51pm PDT
And while not technically a set photo, this new shot, appearing via an interview with Spider-Man: Homecoming director Jon Watts and lead Tom Holland, shows a backpack-wearing Spider-Man perched betwixt two walls of cages containing... something. The contents of said cages - and therefor any context for their location - is a bit indistinct, but there is a decidedly industrial vibe to the whole room. Secret bad-guy hideout? The lower levels of that ferry we've seen in the trailers? And why's Peter perched like that? Is he really scared of mice, or is he playing an impromptu game of 'The floor is lava'?
Never play 'The floor is lava' with Spider-Man, by the way. You will not win.
Spider-Man: Homecoming's costume design follows straight on from Civil War - with a few tweaks
Here's the current Spider-Man: Homecoming suit. It looks pretty similar to the version seen in Captain America: Civil War, first revealed in that movie's trailer. The mechanical eye-lenses are present and correct, as are the darker strips of detailing around the arms, running down to the wrist-mounted web-shooters, and it maintains all the finer, 'panel' style detailing over the blue material.
It's still very much the tech-enhanced, modern MCU suit, with equal parts of Peter Parker and Iron Man running through it. But on that latter note, there are a few upgrades we didn't see in Civil War. As seen in the trailer, it has a quick-release mechanism activated by hitting the spider logo on the chest, obviously important in letting Peter execute all those quick outfit changes while rushing home for dinner. And more fundamentally, the comic book suit's classic web-wings - which connect from waist to elbows - are in as well, allowing Spidey to, if not fly, then certainly extend his jumps into long, flowing dives. Again, the trailer shows that off marvellously.
And a bit more detail has appeared from Marvel's Twitter account. As well as multi-shot, laser-guided web-shooters and those glide-affording web-wings, there's also a wrist-mounted, holographic GPS device. Because there's nothing worse than taking a wrong turn when you're hurtling through the New York skyline at 60mph and slinging yourself into the sea when you were actually trying to head downtown for a pizza.
Additionally, it seems that we might see Peter's low-fi, homemade costume again. It might have been retired after its brief appearance in Captain America: Civil War, replaced by a distinctly more professional, Stark-developed suit, but the old red-and-blue jogging pants and hoodie look to appear in the new movie regardless. Flashback? Temporary replacement for a busted costume? Will Peter look deep within himself, realise that he doesn't need external bells and whistles, and discover that the real Spider-Man was inside, all along?
We don't know. But whatever the reason, Hasbro is showing off of Peter in his crap costume to tie into the movie. So it will probably be in there. So yeah.
The Spider-Man: Homecoming comic might not have much bearing on the movie
First night in queens and it feels like home already #spidermanhomecoming

A photo posted by @tomholland2013 on Sep 27, 2016 at 8:52am PDT
Now that the MCU is running at full momentum, many of Marvel's bigger comic book stories are being adapted. The Avengers' build-up to Infinity War has been simmering away for years, Ultron has had his age, and obviously Civil War was a major turning point for the movies' narrative this May. But what of Spider-Man: Homecoming? Because the title of the movie is very much lifted from a Spider-Man story from 1984.
Well actually, it seems that there's going to be very little direct adaptation going on. The Homecoming comic is a story from Spider-Man's later career, set around the Secret Wars arc, and featuring a whole bunch of latter-era Spider-Man villains and Avengers. And the black suit. There's very little chance that any of this is going to make it into the movie. So why the title? Well it's probably just a cheeky little in-joke from Marvel. This is, after all, the first properly Marvel-produced Spider-Man movie, co-developed with Sony in order to wrestle the Spidey rights back from external production companies and bring the company's most famous hero back into the fold. So with the Homecoming title in Marvel's archive, why not?
The Spider-Man: Homecoming sequel is confirmed already
Yep, Spider-Man: Homecoming isn't even finished yet, but already we have official word from Marvel that a sequel is happening. It's slated for 2019, and will (probably) be Tom Holland's fourth outing as Spidey, including wider MCU cross-overs. Want to know where the sequel will fit into the wider MCU? Here's every upcoming Marvel Cinematic Universe movie until 2020.
Related Spider-Man: Homecoming news
Spider-Man: Homecoming trailer remade in 8-bit almost makes up for his spotty game record
Hang on, did Tom Holland just let slip that Spider-Man *is* in Avengers: Infinity War?
Spider-Man: Homecoming's suit has a classic Spidey gadget with a Stark twist
Spider-Man: Homecoming reported to include a "non-superpowered" villain
With Spider-Man: Homecoming 2 set for 2019, Tom Holland becomes the Spider-Manliest actor
Spider-Man: Homecoming's Tom Holland hints at a new action scene (spoiler: Spidey goes swimming)
The Spider-Man: Homecoming UK trailer features alternate footage - here's every new moment