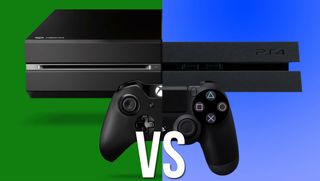 Time for an upgrade
If you aren't a die hard Xbot or Sony Pony, deciding between spending your hard-earned money on a PS4 or Xbox One can be a daunting task. Each console has very particular strengths and weaknesses that go far deeper than what's on the consoles' exclusive games lists (though games are certainly a huge factor).
To make your purchasing decisions easier, we've broken down the most important aspects of competition between the two and declared a definitive winner. We'll take a look at the games, prices and bundles, online services, controller quality, and more. You really can't go wrong with either console, but if you really want to know which console stands above the other, we have the full break down right here.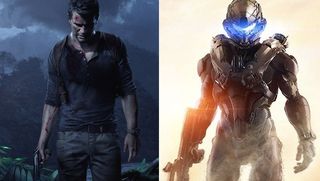 Games
Xbox One has over 600 games available for purchase. These include Halo 5: Guardians, Forza Motorsport 5, Rise of the Tomb Raider, Sunset Overdrive, Quantum Break, and Dead Rising 3 - all of which are console exclusive to Xbox One (meaning you can find some of these on PC). Upcoming games include Gears of War 4, Recore, and a new Crackdown (finally!). Microsoft has also made select Xbox 360 games playable on Xbox One; here's a list of the backwards compatible games.
PlayStation 4's catalog clocks in over 1000 available games. Among them, Bloodborne, Infamous: Second Son, Killzone Shadow Fall, and DriveClub round out the console exclusives. Looking ahead, The Last Guardian, Nioh, and Horizon Zero Dawn are some of the upcoming releases. For backwards compatibility, Sony already has a massive back catalogue of PS3 games available on PS4, the only problem is you have to stream these games through a paid service called PlayStation Now.
Winner: PlayStation 4. While Xbox One pulls ahead in terms of high-profile exclusives, PS4 has a superior variety of games, from AAA blockbusters to oddbeat indies.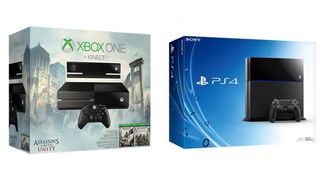 Price
Xbox One's basic packages retail for around $300 (assuming you live in the US). That gets you the console, a single controller, a 500GB hard drive, and a sometimes several download codes for games with certain bundles. If you're willing to pay up to $150 more, you can pick up the Elite bundles with a 1TB solid state hybrid hard drive and a Xbox One Elite controller. None of these bundles include the now-defunct Kinect. Also keep in mind that you'll probably want to cough up an extra $60 annually for an Xbox Live Gold membership to play online. We'll cover this in more detail on the next slide.
PlayStation 4's most basic bundles retails for as low as $350 (again, in the US). That gets you the console, a single controller, 500GB hard drive, and a copy of a game depending on the bundle you pick up. There are plenty of bundles available, but many go for well over $400. Sony has a new PS4 model coming soon, so if you've waited this long, it might be wise to wait a bit longer. Also keep in mind that you'll probably want to drop $50 annually for a PlayStation Plus membership if you want to play online. We'll cover this more in the next slide.
Winner: Xbox One. There's only about a $50 price difference between the two consoles, but Microsoft does offer more bundles to suit your preference. Xbox One controllers are also a bit cheaper than the PS4's for the Player 2 in your life, and the Elite controller is probably the best you can get your hands on.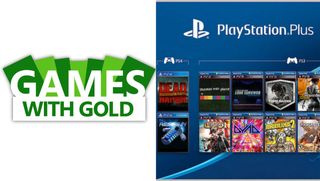 Subscription Perks
Xbox One's subscription service, Xbox Live Gold, will set you back $60 annually and is required for playing games online. A Gold subscription also unlocks Games with Gold and Deals with Gold. Games with Gold is a rotating selection of free games for Xbox One and backwards compatible Xbox 360 games that changes each month and Deals with Gold is just what it sounds like: exclusive discounts on games. For more gaming goodness, there's also EA Access: a separate, $5-per-month subscription service that lets you play select EA classics and gives early access to new EA releases.
PlayStation 4 has a similar service in PlayStation Plus, which will run you $50 annually and is required to play games online. Having a PS Plus membership also unlocks a rotating collection of free games each month as well as discounts for members. But if you really want to go all out, you can also sign up for PlayStation Now, which lets you stream a collection of older PlayStation games to your PS4 starting at $20 per month.
Winner: PlayStation 4. Picking a winner here is tough, as both services are nearly identical. Both boxes can access Netflix, HBO Go, stream internet TV (for a fee), play Blu-rays, and more. In the end it all comes down to price, and PS Plus is simply cheaper.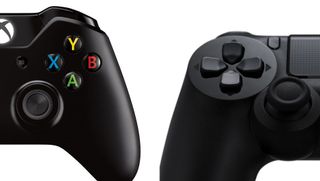 Controllers
Xbox One's basic controller retails for about $50 and its design is both comfortable and ergonomic. It has an upgraded d-pad that's (thankfully) superior to the Xbox 360's, and the joysticks have great grip. Additionally, the integrated battery pack keeps the back from bulging out like the 360's did, you can now update the controller wirelessly, and the rumbling triggers are fun (if not essential). However, those triggers are also a bit mushy, and their bumper neighbors are even more troublesome than before. This keeps the Xbox One's controller from being the full upgrade it could have been, but if you're willing to spend a larger chunk of change you can pick up the Xbox One Elite controller. It makes vast improvements over the standard controller, but it will set you back $150.
PlayStation 4's DualShock 4, on the other hand, is a massive improvement over its predecessor in almost every way, with a fantastic d-pad, satisfying buttons, a wider gap between the joysticks, and a headphone plug-in jack. The clickable touchpad in the center remains largely underutilized, typically serving as just a big button in the center of the controller. The only real drawbacks are the option and share buttons, which are too flush with the controller making them needless difficult to press. It's also a bit pricer than the Xbox One's controller, around $60.
Winner: PlayStation 4. The DualShock 4 is one of the most hand-pleasing designs ever committed to plastic. Fact.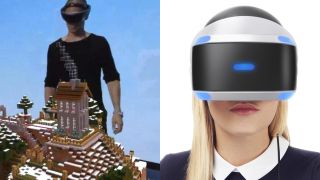 VR and AR support
Xbox One could be heading into augmented reality gaming with Microsoft's Hololens device, which allows wearers to view holograms in the real world. So far, we've seen the Hololens being used to display an AR hologram of Minecraft during the company's E3 2015 presentation and projecting virtual screens playing Halo 5 on real world walls. The Hololens' true gaming potential is yet to be seen, but hopefully we'll get a better idea of what to expect with the hardware at E3 2016. Additionally, a future Xbox One console is rumored to have Oculus Rift support and may be coming in 2017. So it might be a good idea to wait for more info to surface on Xbox's AR and VR support before buying a console.
PlayStation 4, on the other hand, is diving head first into the VR craze and providing consumers with a headset that is in direct competition with its PC counterparts: the VIVE and Oculus Rift. The PlayStation VR headset is light, comfortable, and allows you to play VR titles without having to upgrade to a beefy gaming PC. At $399, it will be the least expensive piece of equipment that can support titles like EVE Valkyrie, Ace Combat 7, Psychonauts 2, Rez, and a whole library of upcoming PSVR games when it's released this October.
Winner: To be determined. Neither console has released their fancy gaming headsets into the wild yet, but both are looking very promising. For now, we're definitely excited to have a cheaper VR solution coming through the PS4 and it will be exciting to see what Microsoft has to offer with the Hololens outside of Conker bouncing on your couch.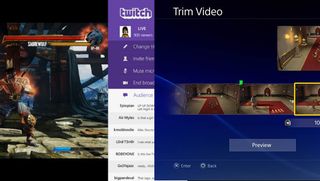 Broadcasting
Xbox One's versatile Upload app is great for capturing clips quickly, editing them, and sharing them online. You can also take screenshots now during games and share them in a similar fashion. For streaming, Xbox One's Twitch app is very robust, letting you archive, utilize multiple audio sources, and do picture-in-picturing if you have a Kinect.
PlayStation 4's share functionality is fool-proof. A simple push of the 'Share' button gives you the option to capture a screen, video, or both. The ShareFactory editor has everything you need to prep a quick YouTube video, or you can go live using either Twitch or Ustream. Finally, SharePlay lets you recreate the couch co-op experience with another player online.
Winner: PlayStation 4. Is it any surprise that the console with a 'Share' button won this category? Both boxes are equipped to stream, but the easy-of-use with PS4 pushes it over the edge.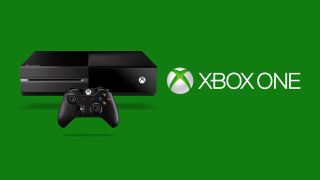 Closing arguments: Xbox One
The Xbox Live service is superb, providing subscribers with monthly free games, reliable connectivity and updates, and, with the new user interface, an easily accessible online Store. But Xbox Live does cost $10 more per month than PSN without much differentiation between the two services.
The new interface vastly improves the speed of navigating the Xbox One Dashboard. Creating Xbox Live Parties with friends has be streamlined, making the process much faster from a processing and user input standpoint. The increase in speed also goes for Snapping achievements in game, sending messages, and engaging with various game communities.
You can use up to two external hard drives for extra storage, but they have to be 256GB or larger and support USB 3.0. Once formatted, they can hold games, apps, DLC, or whatever else is filling up your Xbox One.
Cable TV boxes can be hooked straight into your Xbox One, so you don't have to switch inputs when you want to watch TV, and can even use Kinect to change channels.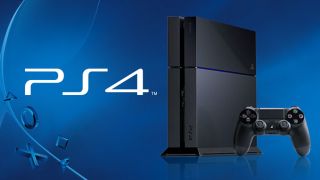 Closing arguments: PlayStation 4
The PS4 can hook up with all kinds of devices. Android and iOS tablets can run the PlayStation app for basic interaction with the console, while select Sony smartphones can even remote play games. And using the PS Vita to remote play Destiny in bed is a dream.
You can view global completion rates for individual trophies on PS4. Its a nice bragging right to perform an "Ultra Rare" feat that only 0.10% of players have accomplished.
Spotify is fully integrated on PS4, letting you enjoy your favorite playlists while you play. You can even use your smartphone or tablet to fiddle with the music without interrupting your game.
The PS4 is physically smaller than the Xbox One and does not come with a bulky power brick taking up extra space.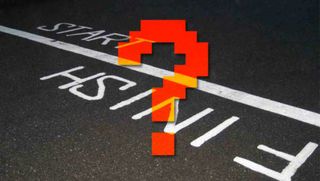 The Winner: PlayStation 4 (for now)
The PlayStation 4 is absolutely nailing that ideal triumvirate of great games, robust online features, and slick hardware design. It may cost a little more, but some extra green is worth it in our opinion for what you're getting. But the Xbox One is not far behind. There's a lot to love in both boxes, and this console war isn't going to be wrapping up any time soon.
But at the end of the day, one factor should rise above all else: the games. The name of the game is the game, as the saying goes, and if there's a particular game that you really want to play that's only available on one console or another, let that be your guiding light when making a purchase. You won't be disappointed with either box, so get out there and play the games you love.