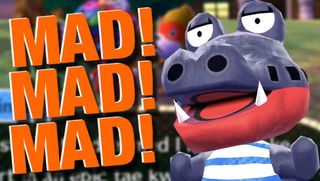 Christmas only makes 'em madder
As the Christmas season finally draws to a close, you may have been too busy to catch up on events in Animal Crossing. That might be for the best, as the residents are even more insane than ever at this time of year.
This article was originally posted in June, but it's one of my personal favourite articles of the year so I've added new slides from this Christmas season. Any excuse to have another laugh at the madness going down in my town of Longoria. So let's get back on the crazy train, stopping at Doolally Plaza and working our way towards Cuckoo Town central. Strap in, things are going to get pretty peculiar...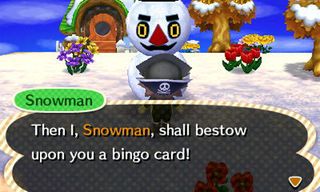 Ah, predictable
It's always the way it goes. You roll a snowball up into a bigger snowball, then do the same with another and put it on top of the first... what have you got?
A snowman that comes to life and gives you a bingo card. Yup, just like real life.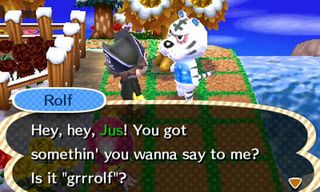 That wasn't quite it...
I don't know which is scarier. That you think that might be something I would feasibly want to say to you, or that it was the first thing that came to mind.
But then again, now I think about it... Grrrolf.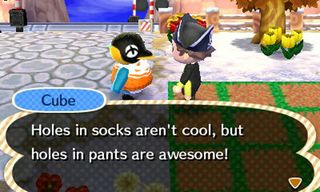 I didn't need to know that...
"Hey! Do you have any weird things you like? I do!" That's how Cube started this conversation. Which he subsequently had with himself, because let's face it, the human Animal Crossing avatars never actually say anything in conversation, save for yes/no sliders or multiple choice answers.
There's no slider here though. Just quiet acknowledgement that Cube likes holes in his pants. Which is funnier if you're English, because that means 'underpants'.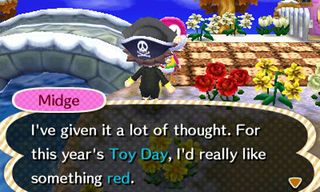 Doesn't matter what it is, as long as it's red.
It's kinda fitting you live in a Nintendo game, Midge. They're all about the colours.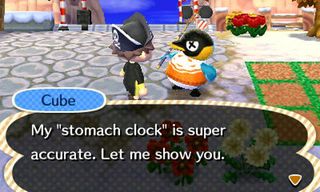 OH GOD PLEASE DON'T!
Turns out Cube just asked his stomach what time it was, to which it replied by growling. Cube proudly translated that as meaning 'about 1pm'. Which was actually pretty accurate.
Stop the world, I want to get off!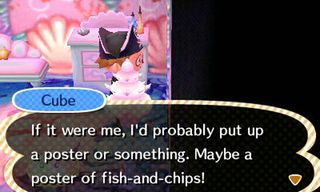 Fish and chips... WHAT?
Sure, people have posters of food on their walls sometimes. Cup cakes, sweets, cookies (right?) and all sorts. But fish and chips? That's bonkers with a capital BONKERS.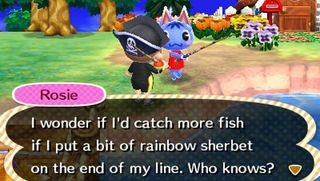 Rainbow sherbet?
Ah, we're back to the original article now. Do read on if you haven't read it before. For instance, there's this touching, whimsical little ponderance from Rosie, which was taken during a fishing tourney (which we won, of course).
Now, as as far as we know, there is no method of using a different lure. But rainbow sherbet is a bit crazy. Unless she's trying to catch a rainbow trout. Eh?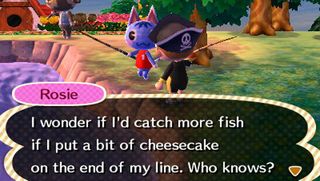 Cheesecake?
The sun is starting to set on both the fishing tourney and Rosie's sanity. Because rainbow sherbet was clearly wrong. This is exactly what would attract more fish. Freakin' cheesecake.
Actually, we shouldn't really poke fun. Although we won the fishing competition (without cheesecake), Rosie here did come a close second. So maybe there's method in this madness. So while we'll admit to the method, she can't deny the madness. This cat gone crazy.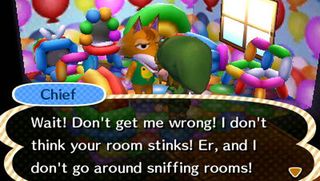 The room sniffer
This guy is clearly a room sniffer. Just look at him. Now, if you think we're being unfair to him, it's only because he constantly criticises our furnishings, even when we've carefully gone for a set, like the balloons here.
Maddest thing of all? He's apologising for saying the room smells different. The room is made of BALLOONS. Of course it smells. The whole place stinks of rubber. This isn't even smellovision, but we can imagine the smell from here just by looking. *facepalm*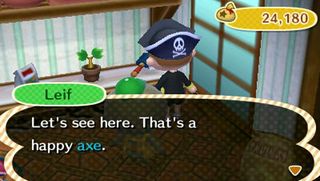 The happy axe (murderer)
This is not normal behavior. Leif (is that your REAL name?) here likes to place the word 'happy' in front of everything she sells. Happy red cosmos bags, happy saplings... it's a good job she doesn't work in a chemist. 'Happy hemorrhoid cream' anyone?
We suspect she's a manic depressive constantly telling herself everything's OK. Maybe that's why she only sells seeds and saplings. The 'rebirth' end of the spectrum. So we'll keep buying her 'happy axes' just so she doesn't have any in stock when she finally snaps and goes 'happy postal'. The happy weirdo.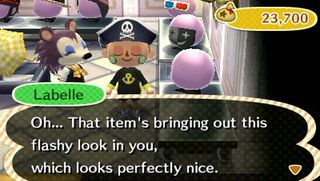 Wait... I don't even...
Labelle here works in the fashion industry. Now, we admit we don't know lots about fashion, but we know what we like. And we don't like the idea of walking around with two slices of cucumber stuck to our face.
Yes, our avatar is smiling, but only because he's humouring the mad hedgehog. HOW is this 'the flashy look', Labelle? Flashy to us means a sharp tux and a gold wristwatch. Not finely sliced cucumber stuck to our face. Get with the program.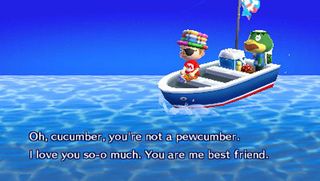 PEWCUMBER?!!!
What is it with these guys and cucumbers? Kapp'n here, who steers the ferry from the town to the Tropical Island, loves to sing shanties to while away the journey. Yes, there's a certain melancholy to his melodies, but there's also more than a hint of 'bonkers-itis'.
And how can a cucumber be someone's best friend? Alright, don't answer that.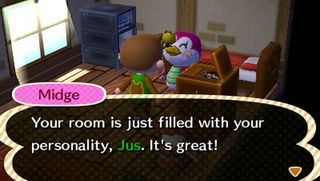 What are you SAYING?
This is Midge. One of the first animals we ever met in our humble town of Longoria. She's obviously eager to welcome us so is throwing compliments around like they're going out of fashion (unlike cucumbers which are obviously 'in').
Only these are either the hollowest compliments ever seen or she's gone completely insane. Look at the room. The default floor. The default walls. A basic bed, metal filing cabinet, the lamp we were given on the first night, and a record player. How is that 'filled with our personality'? Unless you're saying our personality is a featureless void decorated with a delicate layer of crap? Engage your brain before you speak.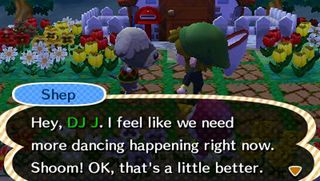 Dog daze
Wait... is that it? That is it, isn't it? Not an invitation to dance with you (even though we can and have done in the AC world), but rather a statement there isn't enough dancing going on in general.
Well, you sure fixed that, Shep. You sure fixed that.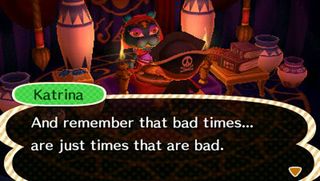 What does that even mean?
This is meant to be prophetic. Philosophical. Is it? We can't tell. We've thought about this statement for so long, the words don't even make sense. Bad times ARE times that are bad, but does that negate the effects of the undesirable situations contained therein? Well, does it? ANSWER ME!
But Katrina won't elaborate, instead leaving you to ponder what must surely be words of utmost wisdom. Words that more 'normal' people can't possibly comprehend. Y'know, cos we're not clinically mental.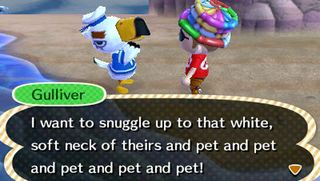 Easy, Lenny...
Funny thing with this slide is that we've forgotten what Gulliver was talking about. He does like to go on travels (oh, we just got that. Come on, now...) so perhaps he was talking about something he'd seen. A polar bear? A swan?
But that's fine, we have no problem with the basic concept of what he's saying. It's the "pet and pet and pet and pet and pet" that concerns us. No, Gulliver, you can't touch our hair. You'll muss it.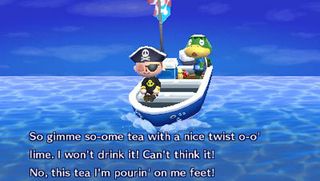 You want tea on your WHAT?
Kapp'n, I fear you've been at sea too long without any meaningful social interaction. Your songs have been about cucumber, mayo and how your wife's wet hair looks like a plate of spaghetti. But this one takes the biscuit.
You want tea. On your feet. The worst thing? It doesn't even rhyme.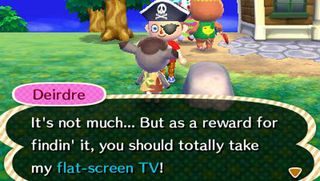 Are you sure?
If you follow the GamesRadar Twitter account, you'll have seen this one already. Sometimes you'll find a lost item lying on the ground and you'll need to ask around the town to track down its owner. In this case, it belonged to Dierdre, who was so overwhelmed by the return of her lost item, she gave us a flat-screen TV.
Isn't that lovely? Oh, but you're probably wondering what the lost item was. Well, we can tell you that. It was a bag of donuts.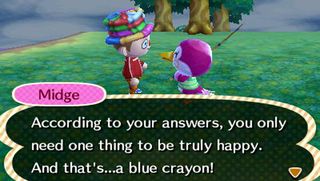 Crayola fixes all
Of course! Why didn't we see it before? The key to happiness is a blue crayon. My god, Midge. You must be some kind of genius to come up with that. Existentialism? The pursuit of true happiness as a life goal? Pfffft. It can all be solved with a blue crayon. To think of all the poor, misguided, clueless philosophers like Plato and Socrates who wasted their life debating a problem that only existed because Crayola hadn't been invented yet.
Please stop talking to us. We're scared your insanity is contageous.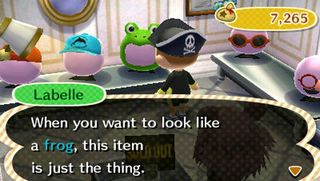 That isn't very often...
We are thinking about frogs, but not wanting to look like one. More like the classic saying: 'mad as a box of X'. Well, that's a simple equation to preserve your feelings, but suffice to say it's solved easily where X=frog and the quantity of X is >1.
Now stop wasting our time. We're trying to complete our Link from Zelda outfit.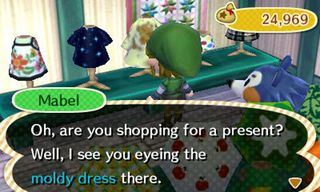 What kind of presents do you give?!
It's so surreal. She's saying words and they're appropriate for the setting. Yes, we are in a shop browsing the clothes. Yes, this one has caught our eye. Probably because it looks like someone was buried in it several years ago.
Why would we send it to anyone as a present? Unless in Animal Crossing it's perfectly normal to send gifts to zombies. In which case this one would go down a treat with a fashion-wise young undead female. Funny thing is, we asked to try it on and Mabel suddenly seemed lost for words. Don't worry, Mabel. A blue crayon will make it better.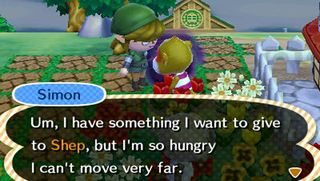 This is amazing
Errands like this crop up in Animal Crossing all the time. But while it's extremely lazy to not be bothered to trek across town (which takes about 10 seconds), there's more here than meets the eye.
Look at that grey shape behind the word 'hungry' in the text box. Know what that is? Yep. It's Shep. Who just walked by in plain sight. So what you're saying, Simon, is that you're so hungry, you're actually dead. Otherwise you could just say 'hey, Shep' and give him the item. But there's more. Look at the edge of the house there on the right. Got that? Now hit the next slide...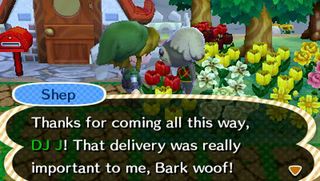 No, really it was nothing
That's the same house. We've caught up with Shep and delivered the item that was given to us as he was walking past. But look how grateful he is!
Anyone would think we had gone out of our way to get on a bus, visit another town and then bring something to him. We were about to say 'Shep should go and talk to Gulliver'. But, to be honest, he should go and talk to any of the residents in our town. They're all just as mad as each other. And that is why we love them.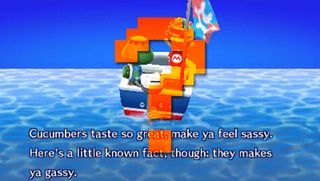 What sea shanties do you know?