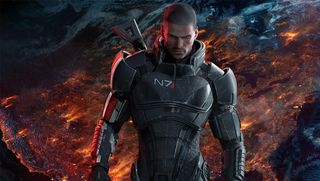 A whole new side of Mass Effect
Long before a game ever hits retail shelves, it comes into existence as an idea. That broad concept is then refined into a series of ideas, ranging from plot details to mechanics. Those designs are then formulated, refined, tested, and scrapped until only the strongest elements remain. We've never made a game before, but we'd wager that whole process is as exciting as it is exhausting. And it's a process that every game, regardless of scope or budget, must go through.
Matt Rhodes, an artist at BioWare, recently posted some of his concept art of Mass Effect on his blog, some of which showcases his initial ideas for many of the series' most beloved characters. He gave us permission to repost some of those images here, along with some of his words about the thought process that went into these early drafts.
You can find more of his work here.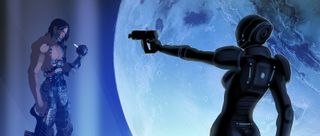 Commander Shepard and Ashley
Matt Rhodes: This was a very, very early idea for Shepard. In this image he has been forced to turn to Reaper technology to accomplish his goals (*cough* Saren *cough*) and hes being confronted by the new human Specter, Ashley.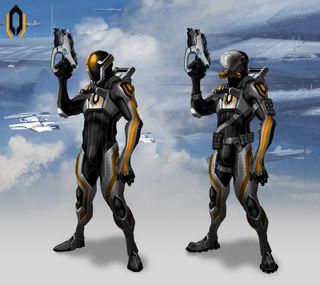 Cerberus troops
Matt Rhodes: When designing the Cerberus troops, there were a lot of requests for thickness. I tend to go thin by default (a handicap I have to constantly work to counteract). What I wanted to maintain was a slight goofiness to their appearance. I think that if you try to design something to be cool, it will fail. The best designs (especially designs for characters that are meant to be scary or intimidating) are ones that maintain a percentage of goofiness. Real world designs typically have this element because engineers and designers are concerned with function first. This tends to create unintentionally funny forms.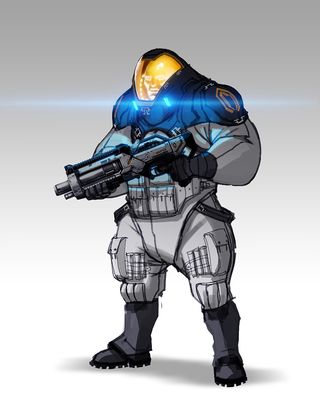 Cerberus troops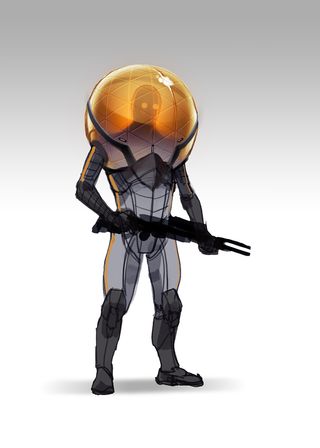 Cerberus troops
Matt Rhodes: Bubblehead here was meant to be the ultimate stress test for this concept. He would show up looking like an idiot, but once he murdered a prisoner in cold blood and then ripped your health down to nothing you would learn to fear that stupid looking shape. I believe that the juxtaposition between the goofy appearance and deadly menace creates an iconic, lasting enemy. That said, it still wasnt an idea that fit within the Mass Effect language.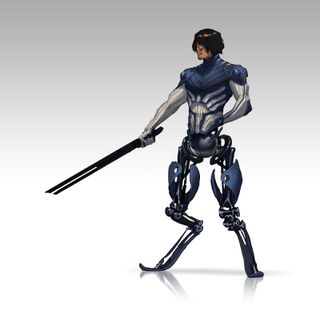 Kai Leng
Matt Rhodes: Two early takes on Kai Leng. Playing with Ben Huens idea for robot legs, and a battle scarred version.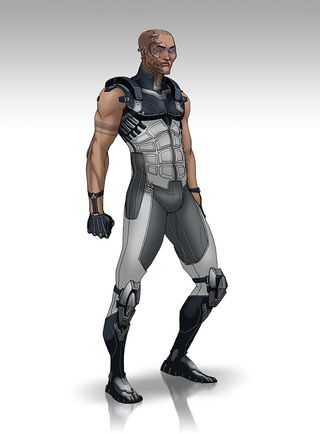 Kai Leng
Matt Rhodes: The scarred version was an attempt to create an evil Shepard (As though Cerberus had rebuilt him as well, but done a crappier job).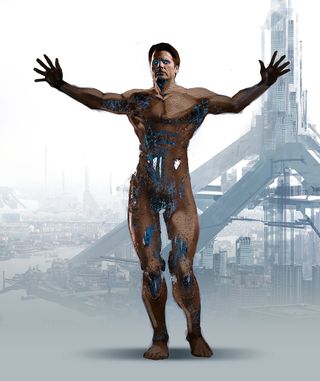 The Illusive Man
Matt Rhodes: Here were two early renditions of the Illusive man after he had overdosed on Reaper Tech.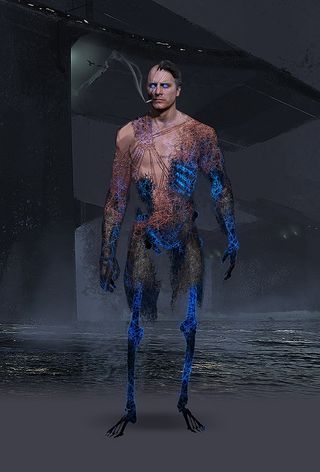 The Illusive Man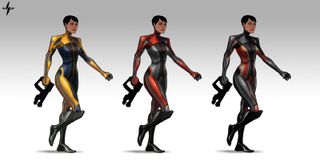 Ashley
Matt Rhodes: This was an early take on Ashleys costume. The idea was to create a hybrid of uniform and armor. Ive always been fond of the idea of futuristic wet-suit armor. I wanted to try a suit that was flexible, but sturdy and protective. Flexible, futuristic armor is a concept that requires too much in-game exposition though. At the end of the day it was decided that players need to see hard-shell armor.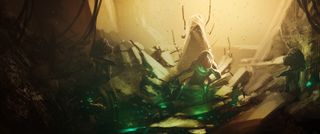 Wrex
Matt Rhodes: Heres a version of Wrex on his throne that was never released. It was drawn to help give the level artists a starting point.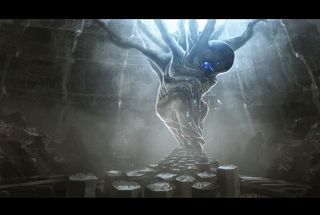 Human Reaper
Matt Rhodes: The Collector ship and the Human-Reaper both took a very long time to design. This biggest challenge was communicating the immense scale. These concepts were all part of the long discussion about scale, but also how abstracted the Human-Reaper would be. Early experiments leant more towards a fetus, others towards adult skeletal and muscular systems.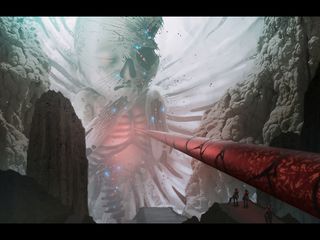 Human Reaper
Matt Rhodes: This one in particular was far too literal. I include it because the human-tube has been a long running and terrible joke between a few friends. Just imagine the deafening squeak of a thousand asses rubbing on glass.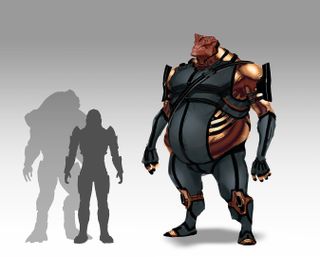 Shadowbroker
Matt Rhodes: Early passes at the Shadowbroker.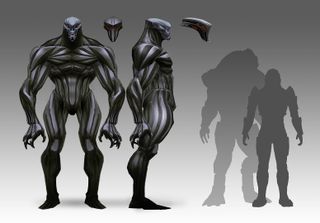 Shadowbroker
Matt Rhodes: This one is my personal favorite. I kind of wish wed gone this direction, even though admittedly it's a bit more boring that the final version. This was a response to the description Hes basically Ares, in space.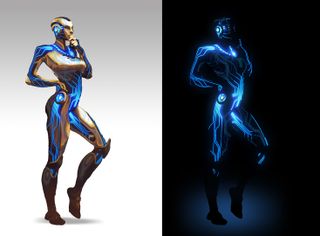 Edi
Matt Rhodes: Edi went through a lot of quick, early iterations. When you know a character is going to be a particular challenge it can help to explore a lot of territory quickly and early. We tried: Plastic-skin, with and without glowy-bits.
See more iterations of Edi on Rhodes' site.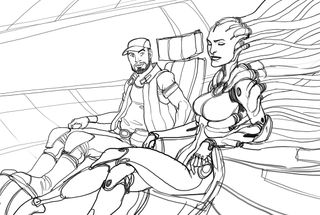 Edi
Matt Rhodes: I still find that concepting major characters in T-pose (or just standing there) to be challenging. When I feel stuck, it helps to put them in context. This image explores Edi being more literally connected to the Normandy.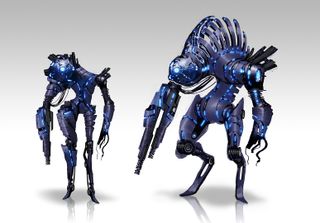 Reaper drones
Matt Rhodes: These were early Reaper drone concepts that remain my favorites to this day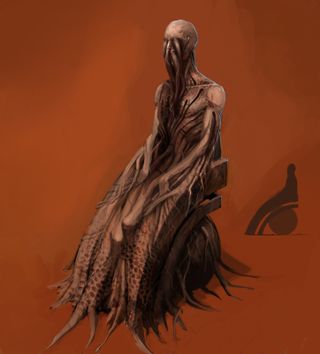 Protheans
Matt Rhodes: Protheans were interesting. At first I was trying to design a creature that could conceivably be (if you squint your eyes) the genetic root of all the alien races in our galaxy (yes yes, just like that TNG episode). I was trying to stay as close to their original appearance in ME1 as I could (which had been kept intentionally vague for just this reason). That didnt last long though.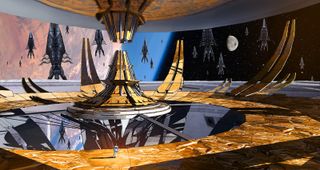 Finale
Matt Rhodes: Okay, admittedly, Ive kept these drawings far away from the internet for a while. Thats because theyre connected to controversy in one way or another. Please take them as they are: drawings done during development, posted for interests sake. Ive been asked to comment on these subjects in the past but will continue to let the work speak for itself.
These were some of the first images drawn for the finale level. The original thought was to create a serene space in the middle of a pitched battle. I thought it would be interesting to create this golden lotus flower out of panels and protective foil.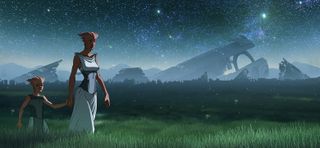 Synthesis outcome
Matt Rhodes: This image was purely speculative on my part. I imagined the galaxy changed by the synthesis choice. Because life and technology were joined (and I didnt know the Mass Relays would be destroyed yet) I imagined that there would be no more need for space ships. Any creature could just link in with the nearest relay and jump to any world they chose, surface to surface. This would start changing the biology of every creature in the galaxy as they would no longer be limited to any one environment. Here are some Asari/Salarian/Human/? in the far, far future taking a carefree stroll in the grass.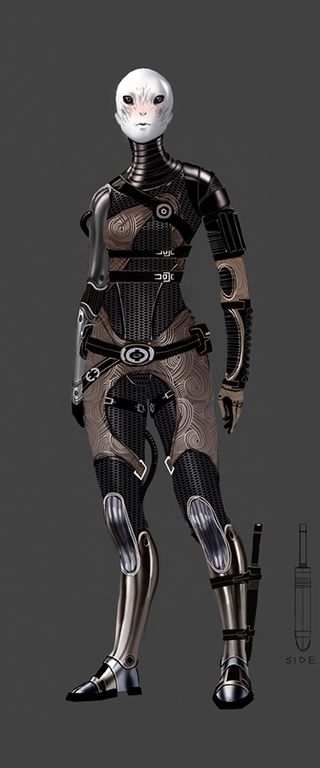 Tali
Matt Rhodes: The debate about whether or not to reveal Talis face was another one that lasted a long time. Versions of her were being worked on fairly often. To me, this has always been (and always will be) Tali. This was drawn during ME1 when she was first being designed, and when her appearance under the mask wasnt a big deal yet.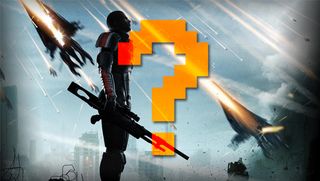 From start to finish