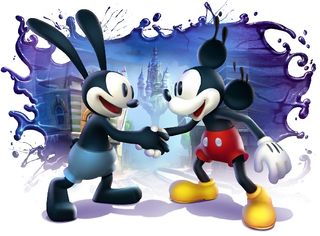 The Power of Two
By now you may have heard that Disney Epic Mickey 2: The Power of 2 is a cooperative, musical comedy with full voice acting. That's right, singing! Mickey may have been the star of the last game, and he still is for the sequel, but now it's time for Oswald the Lucky Rabbit to shine (and break into song and dance.)
The following screenshot gallery contain screens taken from the next-gen builds.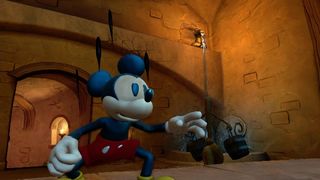 Back to the basics
Creative director Warren Spector said in an interview that players don't need to have played the first game to be able to enjoy the sequel. A port for the next-gen consoles has not been confirmed, even though Spector said he would love to see one. In the meantime, they're looking into opportunities such as a graphic novel that tells the story of the first game.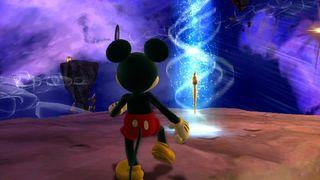 Magic Brush
Once again, Mickey has been sucked into Wasteland, an alternate world that's packed with 80 years of forgotten Disney history. He still wields the magical paintbrush where he can fill in walls or thin them out.
In Disney Epic Mickey 2: The Power of Two, your decisions will be permanent. Enemies that you befriend or erase will remain that way, and the same goes with the environments that you build or destroy. So choose wisely!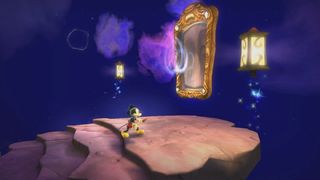 Mirror, Mirror
During the introduction of Disney Epic Mickey 2 we learn that an earthquake has caused some major problems in Wasteland, and it's not just structural damage. What's even more bizarre, is that the crazy Mad Doctor suddenly shows up (and breaks into song), admitting that he has seen the error of his ways and recruits Oswald to help fix Wasteland.
The story is being co-written by award-winning comic book writer, Marv Wolfman.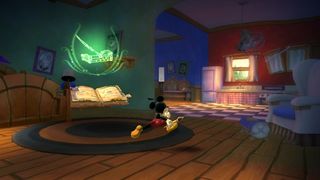 Tutorial
There will be a tutorial in Yen Sid's workshop where you can get back into the swing of things and play with paint and thinner. Paint and thinner will regenerate so you don't have to be that conservative, especially if you're looking to get all those collectibles!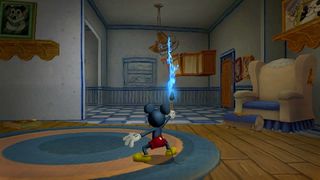 Blueprints
It pays off to use thinner and see what lies beneath all that fancy furniture...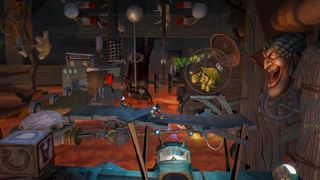 Mechanical turtles!
Side-scrolling levels are back and filled with Disney treasures. Can you list all the references? Even if you don't have someone to play with you, Oswald will always be by your side.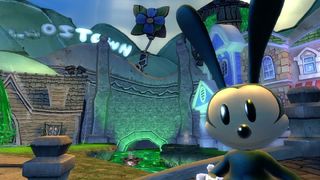 Ostown
Disney Epic Mickey 2 will feature areas that were in the previous game but they have all be redone to coincide with the story. Ready for another trip to Ostown?
Oswald may have been a silent film star, but now he is going to be voiced by Frank Welker (Transformers, Scooby-Doo).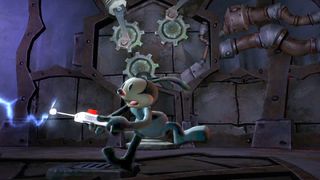 Remote control
Mickey may be the master of the brush, but Oswald has his own set of skills that will come in handy as well. His remote control sends a beam of electricity, so if Mickey and Oswald get together and "cross the streams," it will amplify the effects. It seems that Oswald is quite the tech rabbit, as he can use electricity and override electronics, interact with animatronics and reprogram them.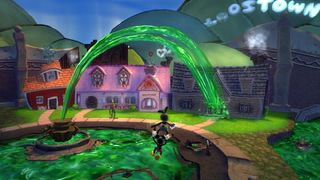 Oswald
Not only can Oswald do fancy things with the remote control, he has helicopter ears that will allow him to glide and reach places that Mickey can't get to on his own. But don't worry, Mickey can tag along for the ride.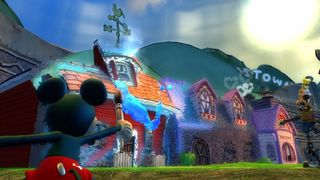 Coloring the world
The first Disney Epic Mickey may have explored the dark side of Mickey Mouse, but the sequel is looking to be visually brighter. While the game is coming out on all three platforms, the Wii is still the lead platform and sister studio Blitz Games are the ones working on the PlayStation 3 and Xbox 360 versions.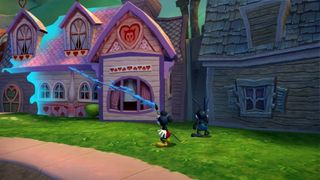 Wii screen
Here's a screenshot from the Wii build as a comparison.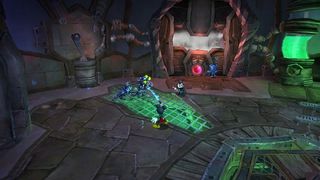 Gremlins
We're told that Gremlins will also play a bigger role in the game and they're introducing a new enemy, known as the Blotworx, a blend of beetleworx and blotlings.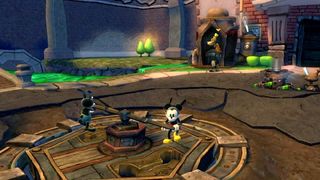 Two is better than one
Puzzles will require a bit of teamwork but players can drop-in and drop-out because the AI will take over.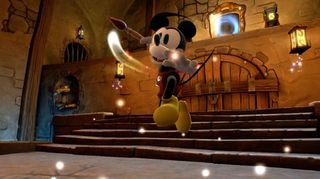 Camera
So how does the camera work? Warren Spector said that his team has made more than 1000 specific changes to the camera since shipping the first game. In the sequel, if you're playing along the main storyline, the camera will follow you so you should never have to touch it. However, if you decide to wander off the beaten path, you'll have to take over and make some adjustments but from what we've played, the camera does do a much better job at giving you the best view possible.
The platforming controls feel the same, and if you're playing on the 360 or PS3, you're using the L2/R2 or LT/RT buttons to spray paint. There's some auto-assist in aiming, but it takes a bit of effort to get the reticle in the right place.
The demo build we played on still had a ways to go, but it looks like the sequel will continue to delve into the Disney vault of lost goodies. Once again the art design and the world that has been created is loaded with personality and Disney magic. James Dooley returns as the composer and is working with Mike Himelstein on the songs.
Disney Epic Mickey 2: The Power of Two is set to be released later this fall.