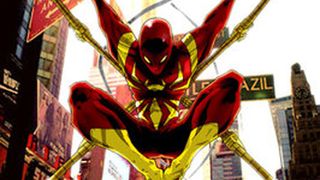 New Look
The Moment: Spidey shakes up his look in Civil War by borrowing some technology from Tony Stark, swapping his old lycra for a new Iron Spider suit. Upgrade!

Why It's Great: It didn't last long, but it was a very cool idea. We don't want the deck stacked too highly in Spider-Man's favour though…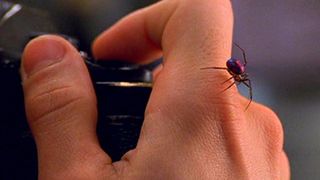 The Story Begins
The Moment: Peter takes MJ's picture at the beginning of the first film, failing to notice the mutated spider that takes a sizeable bite out of his hand.

Why It's Great: It's at this point that the adventure really begins. We couldn't very well leave it out, could we?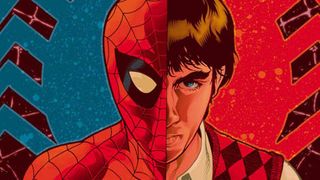 With Great Power
The Moment: David Lapham and Tony Harris's Spider-Man: With Great Power tells the story of the pre-heroism webslinger, casting Peter Parker as an opportunistic douchebag on the lookout for ways to use his powers for personal gain. Booo!

Why It's Great: It makes a refreshing change to cast Peter in a shadier light, and Lapham manages to do so while dodging the cringes produced by Spider-Man 3 's attempt at the same goal.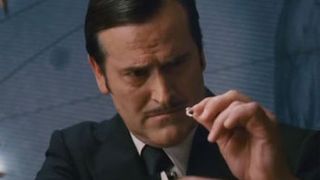 I Am French
The Moment: Bruce Campbell makes his customary cameo as a French maître d Peter recruits to help him propose to MJ. The best bit? His effusive reaction to Peter's plan: "I love it. Romance… I am French." Brilliant.

Why It's Great: It's awesome that Raimi thought to rope in his old buddy for the Spider-movies, and he's undoubtably the most amusing thing in this lacklustre third outing.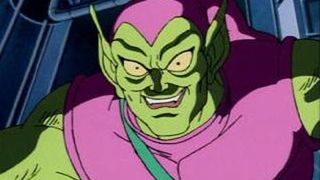 Enter The Goblin
The Moment: It took three seasons of Spider-Man: The Animated Series for the Green Goblin to show up, but when he did, it was in suitably menacing style, raging against Manhattan as a reaction to a serious injury.

Why It's Great: The Goblin's arrival in the animated show had been hotly anticipated, and it didn't disappoint, thanks in no small part to Neil Ross's suitably OTT vocal work.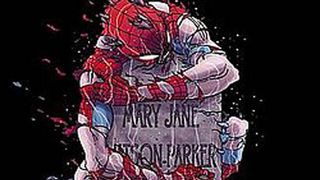 Reign Of Pain
The Moment: Spider-Man: Reign sees an aged Peter Parker living in a New York controlled by a brutal police force known as The Reign, working as a florist and mourning his dead wife, MJ. That is until J. Jonah Jameson pays him a visit to snap him out of his torpor.

Why It's Great: It might borrow heavily from The Dark Knight Returns , but this is still one of the more enjoyably adult Spider-Man outings.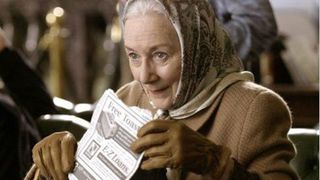 Confession
The Moment: Peter confesses to Aunt May that he lied to her about his whereabouts on the night his Uncle Ben died. The resultant slap he receives is like a dagger to the heart.

Why It's Great: May's reaction is what really makes this one so affecting. That slap is a real bucket of water over the audience.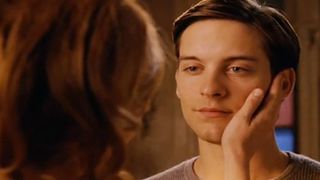 What Next?
The Moment: Spider-Man 2 ends on an excellently final note full of possibility, as a newly loved-up MJ watches Spidey swing away to his latest mission.

Why It's Great: As well as including the customary adrenaline rush of a ride-along with Spider-Man, it's an ending that seems to leave a whole host of new story options available to Raimi and co. Not that they made the best use of it, mind…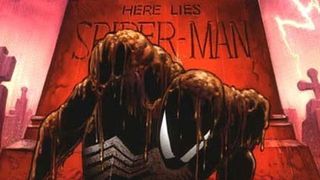 Buried Alive
The Moment: Kraven's Last Hunt is one of the more adult Spidey books, with the brutal Kraven burying Spider-Man alive in order to take his place and prove his capacity for heroism.

Why It's Great: There's no long-winded speechmaking here, as Kraven simply shoots Spider-Man with a tranquilliser and tosses him into a grave. Not very sophisticated then, but plenty effective.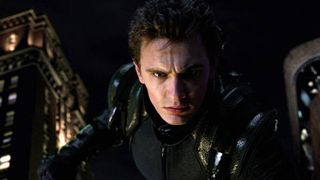 Friends Reunited
The Moment: Green Goblin mk. 2 swoops down from nowhere, scooping Peter off his moped and engaging him in a bruising mid-air brawl. Harry Osborn is out for revenge…

Why It's Great: While the film's overblown finale suffers from an excess of villains, this short sharp sequence is a genuinely thrilling action scene. For our money, Harry's arc is the longest running, and thus should have been given centre stage in part three.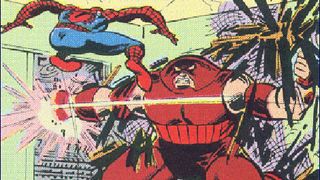 Spidey vs. Juggernaut
The Moment: Spider-Man is pitted against the Juggernaut, whose indomitable strength repeatedly gets the better of the web-slinger. However, Spidey is no quitter and eventually manages to defeat his hulking foe by using his brain rather than brawn.

Why It's Great: Spidey seems extremely vulnerable throughout this one, with Juggernaut pushing him to hitherto untested limits. Cracking stuff.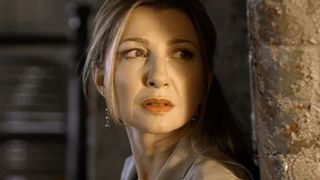 Experiment
The Moment: Dr. Octavius' experiment goes horribly wrong, despite Spider-Man's intervention, with his onlooking wife killed by the exploding machinery. He'll take it on the chin, though, right?

Why It's Great: Raimi is no stranger to horror, and this disturbing sequence doesn't skimp on the chills.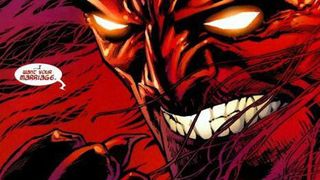 Devilish Deal
The Moment: In one of the character's more out there moments, Spidey makes a deal with Big Red himself in order to ensure the safety of his loved ones. Wowsers.

Why It's Great: The One More Day saga might not have been over-popular with fans, but there's no debating how memorable a moment this one was. And even though it's an outlandish plot twist, it does at least ram home the lengths to which Peter will go to save his family and friends.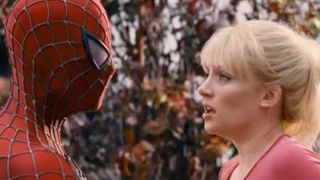 Introducing Gwen
The Moment: An out of control crane sends a girder smashing through a skyscraper, interrupting Gwen Stacy's fashion shoot. As she goes tumbling out of the window, Spidey is happily on hand to swoop in and save her. Phew!

Why It's Great: It's a cool way for Gwen and Spider-Man to meet, while the sequence in which Spidey swings through Manhattan to the rescue is genuinely spine-tingling!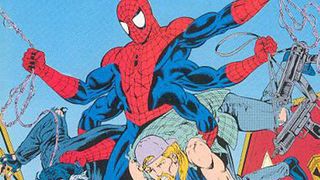 Body Horror
The Moment: Marvel takes the leftfield decision to give Spider-Man four extra arms, taking him up to the eight-limbed status of the arachnid from which he takes his name. Gross.

Why It's Great: It was a fairly short-lived development (Dr. Curt Connors helps him shift the excess limbs), but it certainly made for some striking artwork.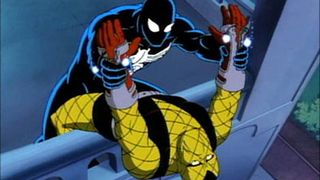 The Black Suit
The Moment: The Animated Series takes a three-episode stab at adapting the alien symbiote storyline for the small screen. Although taking a few shortcuts with some elements of the plot, it remains the most successful adaptation of the storyline to date.

Why It's Great: It gave fans their first opportunity to check out the black suit outside of the comic-books. And it does it way better than Spider-Man 3 .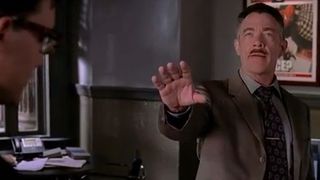 Naming Ceremony
The Moment: J. Jonah Jameson and Hoffman attempt to come up with a name for Doc Ock, Jameson rejects all of Hoffman's suggestions (including a nice reference to Dr. Strange, in which he comments, "that's pretty good, but it's taken") before settling on his first one and claiming it as his own. Nice editing.

Why It's Great: J.K Simmons and Ted Raimi share some excellent screen chemistry, and this is one of their more chucklesome exchanges from the second film.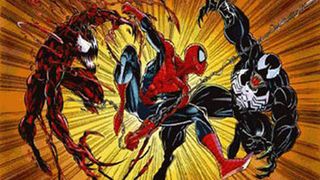 Odd Couple
The Moment: Spidey teams up with arch-nemesis Venom for the early '90s storyline Maximum Carnage . Their opponent? A serial killer housing Venom's symbiote offspring, otherwise known as Carnage.

Why It's Great: Superhero team-ups are one thing, but pairing a hero and villain? That's even cooler.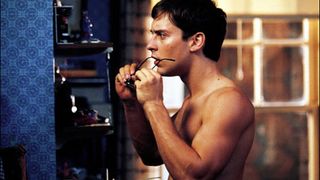 Bulking Up
The Moment: Peter transforms from a half-pint lightweight into a fully buffed man-mountain, courtesy of one little spider bite. Understandably, he feels pretty chuffed when he looks in the mirror.

Why It's Great: It's the stuff fanboy dreams are made of, isn't it? One day this will happen to us. We just know it will…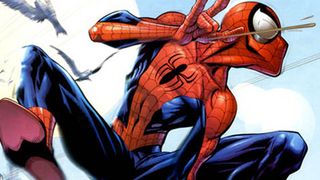 Reboot
The Moment: Brian Michael Bendis and Mark Bagley carefully relocated Spidey's origin story to the year 2000 for the excellent Ultimate Spider-Man , bringing the character up to date with modern society while offering new fans a refresher on how Peter Parker came to be the friendly neighbourhood Spider-Man.

Why It's Great: Instead of pushing the character into ever more ludicrous scenarios to keep him fresh, Marvel's decision to reboot Spidey proved to be a masterstroke, going into his origins in more detail while offering a very accessible story for new fans.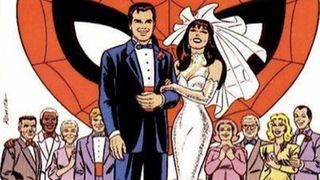 Love And Marriage
The Moment: Peter finally walks MJ up the aisle in The Amazing Spider-Man #21 , beating Superman and Lois by a good eight years. Put that in your pipe and smoke it, Supes!

Why It's Great: As well as being quite a romantic scene, J. Jonah Jameson's input is also priceless, with the irascible editor demanding to know why the pair are marrying on a work day before threatening to cut the pay of anyone failing to attend!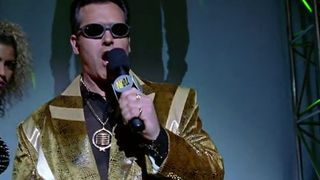 Ready To Rumble
The Moment: Peter Parker tries out his new suit and new abilities at an amateur wrestling event, with the inimitable Bruce Campbell serving as ring announcer for his first bout. "The Human Spider? "That sucks,"" bemoans Bruce, introducing him as, "The Amazing Spider-Man" instead.

Why It's Great: Campbell is brilliant as ever, it's a great way of giving Spidey his name, and Macho Man Randy Savage is his opponent in the ring. What more could you want?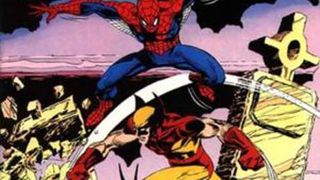 Nostalgia
The Moment: Spider-Man and Wolverine go toe to toe in their own spin-off series, but the greatest moment sees Peter Parker forced to buy a novelty Spidey suit from a Berlin fancy dress shop in order to get back into character.

Why It's Great: The suit is so ancient it even has the old webbing effect under the arms. Old-school.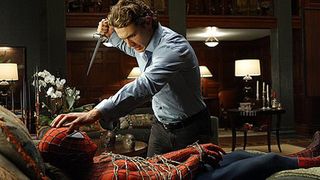 Surprise!
The Moment: Spider-Man 2 hits the dramatic high notes when Harry Osborn peels back the mask of the imprisoned Spider-Man to reveal the face of his best friend. Naturally, he looks a little surprised.

Why It's Great: The first two films have been building up to this earth-shattering reveal. Poor old Harry.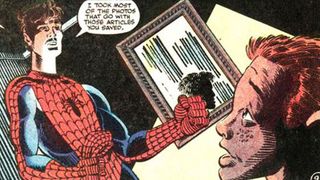 Meeting The Fans
The Moment: In The Amazing Spider-Man #248 , Peter meets a young boy named Timmy Harrison who The Bugle reports as the webslinger's biggest fan. Touched by Timmy's affection, Spidey unmasks and gives the little boy a proper look at his hero. As he leaves, readers are exposed to the final line of The Bugle 's article, which reveals Timmy is dying of Leukaemia.

Why It's Great: It shows Spidey in an extremely positive light, and makes a decent grab for the heartstrings in the process.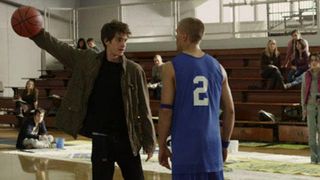 Keep Away
The Moment: A scene from the new film in which Peter uses his new powers to make a fool out of obnoxious jock, Flash Thompson, keeping a basketball away from him, before slamming it home in spectacular style.

Why It's Great: Andrew Garfield has Peter's smart-alecky side down pat, and he really seems to be enjoying taking Flash down a few pegs here.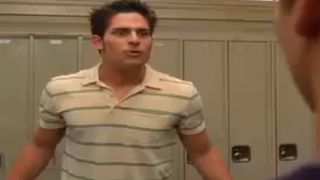 New Powers
The Moment: Flash also gets what's coming to him in the first Raimi film, challenging Peter to a fight in a school corridor, only to end up flat on his back with somebody's lunch in his face. Owned.

Why It's Great: It's a neat way of showing off Peter's newfound abilities, while also giving the school bully a well-deserved shoeing!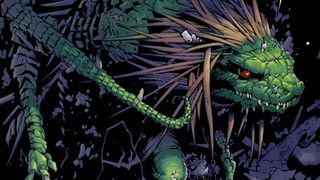 Running The Gauntlet
The Moment: The Gauntlet series (in which Spider-Man must take on enhanced versions of his classic nemeses) reaches a high point with the rebirth of the Lizard, in which Curt Connors murders his own son in a blind rage.

Why It's Great: The series offered a great way of breathing new life into some classic villains, and the Lizard's revival presents Spider-Man with his most daunting challenge of all.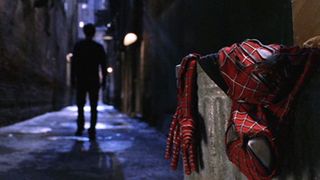 Can It
The Moment: As the pressures of great power and great responsibility weigh heavily on Peter's shoulders, he turns his back on heroism, dumping his Spidey suit in a nearby trash can.

Why It's Great: The scene allows Raimi to show off his eye for detail, with the final frame an exact recreation of a similarly famous panel from the comics.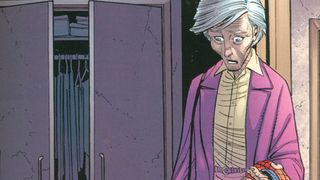 Revelations
The Moment: Aunt May walks in to Peter's bedroom in The Amazing Spider-Man #476 , to find him asleep next to his shredded Spider suit. She wasn't expecting that, was she?

Why It's Great: Not only does Aunt May discover Peter's secret, she also realises the extreme toll his dual life is taking on him, as the bruises swell up and the blood begins to dry on his face.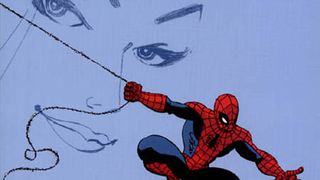 Feeling Blue
The Moment: Spider-Man: Blue is a beautifully heartrending retelling of Spider-Man's love affair with Gwen Stacy. While most of the story happens in flashback, the framing device of a heartbroken Peter recording a love letter to his dead lover is genuinely affecting.

Why It's Great: It's a very mature take on the character's greatest love story, tragic and haunting throughout.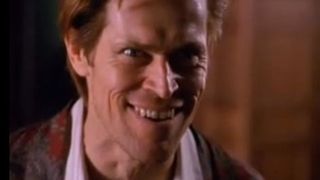 Split Personality
The Moment: Norman Osborn begins to lose the plot, hearing a manic cackling ringing through his apartment before discovering the Green Goblin, his alter ego, in the mirror.

Why It's Great: Willem Dafoe is on top scenery-chewing form here in a scene that stays just the right side of panto.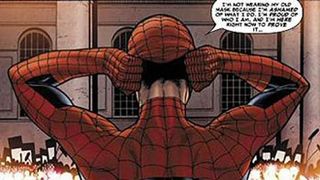 Peter Unmasked
The Moment: During the Civil War storyline, Spider-Man declares his allegiance to Team Stark by revealing his true identity to the world, putting his loved ones in great danger on account of his dedication to the cause.

Why It's Great: Spidey's unmasking even made a splash in real-world newspapers, with the moment a high-point of a particularly well-received series.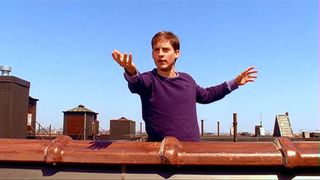 Go Web Go
The Moment: Peter attempts to bring his web-slinging abilities under control, shouting various catchphrases in an attempt to get things moving. "Go web go!" he shouts in desperation, before finally managing to nail it.

Why It's Great: Tobey Maguire plays it for laughs to good effect. We also like the "Shazam" reference to Captain Marvel in there…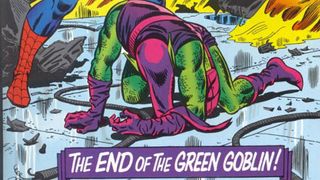 Goblin Unmasked
The Moment: With the Goblin having uncovered Spider-Man's secret identity just one issue previously, The Amazing Spider-Man #40 sees Spidey return the favour, unmasking him to discover Norman Osborn underneath.

Why It's Great: In the space of two issues, the dynamic between the two characters was forever changed, foreshadowing the increasingly personal nature of their battles in issues to come.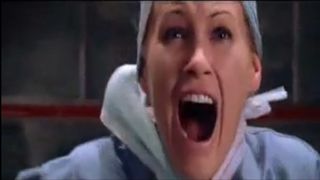 Hospital Horror
The Moment: Doc Ock's tentacles wreak havoc in the operating theatre, scattering an entire medical team across the room like skittles.

Why It's Great: Sam Raimi's horror roots are clearly apparent here, with the tentacle-perspective shots and unlikely presence of a chainsaw a lovely callback to the Evil Dead films.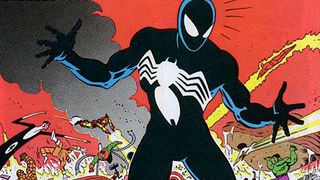 Possession
The Moment: A legendary storyline from the '80s in which the alien symbiote takes control of Spider-Man, turning him into a cross between himself and Venom.

Why It's Great: Spidey's turn to the dark side and cool new suit is brilliantly handled on the page. However, the less said about the screen version (and that dancing scene in particular), the better.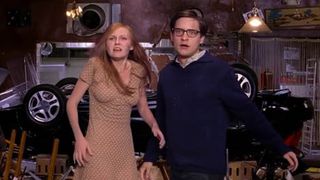 The Date
The Moment: Peter and MJ enjoy an impassioned sit-down at a local cafe, Peter attempting to put his beau out of harm's way by giving her the brush off. Doc Ock has other ideas, however, breaking up the awkward moment by chucking a car through the window.

Why It's Great: Sam Raimi's use of slow-motion is expertly judged here, particularly as we see the car ominously looming into shot.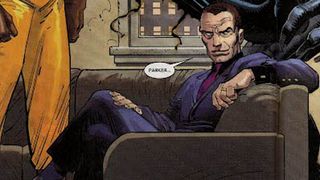 Peas In A Pod
The Moment: The ultra-bleak Peter Parker: Spider-Man #25 (Vol. 2) comes to a close with a superlative monologue from the Green Goblin, telling Peter that they're not so different after all. "We're cop and killer - the same psychological profile - one small step removed from being exactly the person we hate most."

Why It's Great: As in The Dark Knight 's interrogation scene, such speeches are the cornerstone of truly awesome hero-villain double-acts.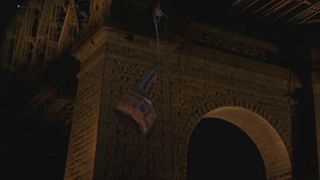 Decisions Decisions
The Moment: Spider-Man faces the ultimate hero's choice when he must decide whether to rescue MJ or a cable-car full of screaming kiddies, Willem Dafoe's delirious cackling only adding to the scene's manic tension.

Why It's Great: Spidey manages to save both of them, but only after a marvellously choreographed sequence of high-flying action!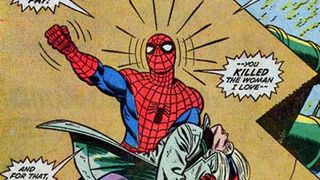 RIP
The Moment: Gwen Stacy meets her maker in The Amazing Spider-Man #121 , having been tossed from the George Washington Bridge by the Green Goblin. Spidey manages to snare her leg in a desperately thrown web, but when he drags her back up, he realises she's already dead.

Why It's Great: It was a groundbreaking move by Marvel, given that up until this point, superheroes tended not to fail on such a grand scale. Throw in a massive helping of guilt for Peter, and you've got a seminal moment in Spider-Man lore.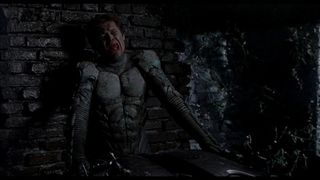 Impaled
The Moment: The Green Goblin meets a sticky end at the close of the first film, engaging Spidey in a gruelling fist-fight before accidentally impaling himself upon his glider. Oof!

Why It's Great: Not only does it bring the film to a satisfying close, it also recreates the manner of the Goblin's death in the comic books. A nice touch.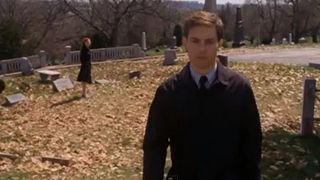 Realisation Dawns
The Moment: Peter and MJ share a kiss during the first film's climactic funeral scene. As MJ realises where she recognises the embrace from, Peter's voiceover kicks in: "Whatever life holds in store for me, I will never forget these words: 'with great power comes great responsibility.' This is my gift, my curse. Who am I? I'm Spider-Man."

Why It's Great: If the goosebumps haven't already kicked in at the speech, the following skyscraper-swinging scene should seal the deal.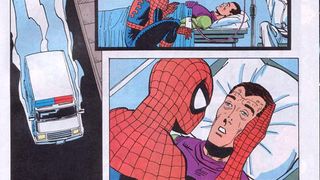 Goodbye Old Friend
The Moment: Harry Osborn finally bows out in Spectacular Spider-Man #200 , rescuing Spider-Man from an explosion that kills him in the process. As he slumps towards death, his old friend sits with him, the pair having patched things up at the last.

Why It's Great: It's a moving end to a truly epic saga, and handled with far more love and attention on the page than it was on the screen in Spider-Man 3 .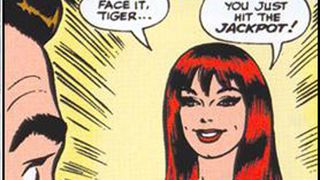 Meet MJ
The Moment: MJ Watson makes her full comic-book debut in The Amazing Spider-Man vol. 1 #42 , stunning Peter with her beauty as she utters the immortal line, "Face it tiger… you just hit the jackpot!"

Why It's Great: With her sleeveless top and cheeky one-liner, a comic-book sex-symbol is born.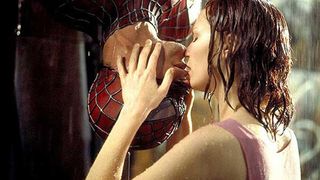 Kiss The Rain
The Moment: Spider-Man rescues MJ from a gang of muggers, earning a rain-soaked kiss for his troubles. Result!

Why It's Great: A kiss in the rain is nothing new, but the upside down element lends it a certain something. And then of course there's the small matter of Kirsten Dunst's shirt. It seems churlish to mention it, and yet…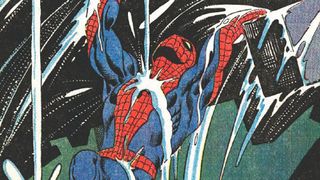 Heave!
The Moment: Spidey finds himself trapped under some heavy machinery in The Amazing Spider-Man #33 , summoning every ounce of strength to painstakingly drag himself free.

Why It's Great: You really get a sense of the Herculean effort required for Spidey to free himself in this seminal sequence, oft regarded as one of the best-drawn super-hero moments in comic-book history.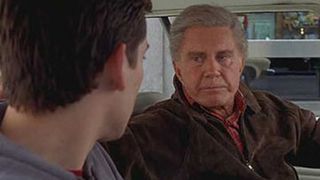 Uncle Ben
The Moment: Peter returns late from his wrestling escapades to find his waiting uncle bleeding out on the sidewalk. It's a devastating blow to our hero, which is why Ben's speech about great power and great responsibility looms so large in his consciousness.

Why It's Great: It's a scene that packs a real emotional punch, particularly when taken in tandem with Ben's earlier speech.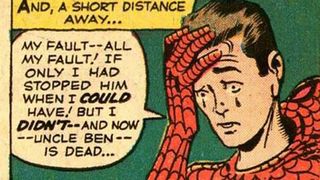 Guilt Trip
The Moment: Stan Lee and Steve Ditko deliver the ultimate hammer-blow with Spider-Man discovering that his uncle's killer was the same low-life he had an opportunity to stop earlier in the story. Crippling guilt, ahoy…

Why It's Great: It set up Spidey's conflicted persona for many years to come, that's why. Sam Raimi also includes it in the movie, but we're particularly partial to the original version.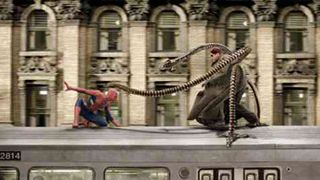 Runaway Train
The Moment: Spidey and Doc Ock battle aboard a runaway subway train, with our hero having to strain every sinew to prevent a horrific accident in downtown Manhattan.

Why It's Great: As well as being utterly thrilling, you really get the sense that Spider-Man has been pushed to his very limit by this encounter. No wonder he gets a round of applause from the shell-shocked passengers!