Ranking the best Netflix Original movies is an unenviable task. From Bird Box and Okja to Roma and Beasts of No Nation, the streaming service is filled with unique, infinitely interesting films that you can't find anywhere else - and things are just getting bigger and better as the years go on.
The sheer amount of variety on offer, too, is astounding. As you'll see across the next three pages, these 25 best Netflix Original movies are all of the highest quality. Horrors, comedies, heart-wrenching dramas. It's all here.
So, get ready to add a couple more films to that already extensive watch list as we run down the best Netflix Original movies, right up until 2019's latest and greatest efforts. Plus, be sure to check out our extensive list of the best documentaries on Netflix.
25. Mowgli: Legend of the Jungle (2018)
Region: Worldwide
The movie: A re-telling of Rudyard Kipling's seminal story, Mowgli charts the early life of the eponymous boy-cub after his parents are murdered by Shere Khan. Despite having friends in Protective panther Bagheera and the hard-as-nails Baloo, Mowgli struggles to become part of the jungle where he grew up. A tale of man's influence on the animal kingdom, and the brotherhood between those not always bound by blood, Mowgli: Legend of the Jungle offers plenty more grit than its Disney counterpart.
Why you should watch it: If Andy Serkis's once-in-a-generation physical talents (he plays Baloo in the movie) are not enough to tempt you to hit the play button, maybe Serkiss' eye for colour and chaos behind the camera will. Sure, we may be reaching complete saturation levels for Jungle Book adaptations at this point, but Legend of the Jungle has something new to say about a story you've probably watched a thousand times before - including an extended sequence in the world of man that enriches Mowgli's plight like never before.
24. Other Side of the Wind (2018)
Region: Worldwide
The movie: A previously-lost Orson Welles film, Other Side of the Wind features Jake Hannaford, an elderly Hollywood director, hosting a screening for his new movie, also titled Other Side of the Wind. The movie-within-a-movie spoofs both the Golden Age of Hollywood and the experimental cinema that punctured much of the late-1960s. The kicker, too, is that the audience is told straight away that this is Hannaford's final day on Earth. Not a bad way to start a movie, that's for sure.
Why you should watch it: Not only is this a piece of movie history (having previously remained incomplete after Welles' death), Other Side of the Wind is unmissable for several reasons besides that. It's a fantastic pastiche of modern and classic cinema, and is Orson Welles giving something new to the medium he dedicated his life towards. It also comes coupled with a documentary, They'll Love Me When I'm Dead, which is just as endlessly fascinating and re-watchable as the source material.
23. Bandersnatch (2018)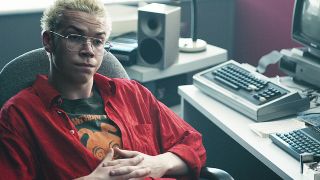 Region: Worldwide
The movie: Bandersnatch follows the trials and tribulations of Stefan, a young computer programmer attempting to adapt Bandersnatch, a choose-your-own adventure novel, into a video game. Things don't quite go to plan, and, depending on the viewer's choices, Stefan falls deeper into despair amid strained tensions with his father and the various employees of game developer Tuckersoft.
Why you should watch it: Long before Black Mirror season 5 warned us of the dangers of pop stardom and polar bears, Bandersnatch wowed us with an utterly compelling choose-your-own-adventure story. Sugar Puffs or corn flakes? Should you kill your dad? To jump or not to jump? The extra layer of interactivity, when coupled with the anthology series' trademark treatise on the terror of technology, will have you maddeningly trying to find and hunt down every ending and permutation. Not many Netflix Original movies will get stuck in your head the way Bandersnatch will.
22. Bird Box (2018)
Region: Worldwide
The movie: Sandra Bullock stars as Malorie Hayes, a woman tasked with transporting two children down a river in a post-apocalyptic world ravaged by mysterious entities. The film interweaves five separate points in Malorie's life and, along the way, the mother and her children (plus bird-filled boxes, hence the name) come into contact with various individuals who both harm and hinder their journey towards a mysterious new community.
Why you should watch it: Doing for sight what A Quiet Place did for sound, Bird Box is one of the first true water-cooler Netflix Original movies. It's scary, thrilling, and filled with the sort of world-building you want to return to again and again. Be sure to watch it with the lights off - but make sure you're keeping your eyes on the screen at all times. You won't want to miss a second of this scare-a-minute thrill-ride.
21. I Am Mother (2019)
Region: Worldwide
The movie: As a mysterious extinction-level event wipes out humanity, a machine-driven facility hums into life and a single autonomous machine (voiced by Rose Byrne) becomes active. A foetus is inserted into an artificial womb by that same ever-so-slightly humanoid machine and quickly a baby girl is soon delivered. This girl is then raised inside the bunker-like facility in complete tranquillity. That is, until two things happen. First, the now-teenage girl starts questioning the state of the world she was born into. And second, a battered, distressed Hilary Swank knocks on the heavily reinforced bunker door. Not everything is as it seems, it turns out…
Why you should watch it: I Am Mother is an independently produced cerebral sci-fi thriller that was picked up by Netflix at Sundance 2019 for almost-worldwide distribution. It's just as well, because this is a very interesting slow burner that patiently ramps up the speed and tension with every twist and turn in its plot – and there are several. Clara Rugaard is a revelation in the lead role, the effects look slick, and the theme is bold and cinematic but very human at the same time, even touching on the nature of motherhood.
20. I Don't Feel At Home In This World Anymore (2017)
Region: Worldwide
The movie: From the producer of Green Room, and starring the criminally-underrated Melanie Lynskey and Elijah Wood - who has mastered the art of the offbeat outcast character in recent years (just watch Dirk Gently, Maniac or Wilfred for proof) - you might assume I Don't Feel At Home In This World Anymore will a be left-field movie. And you'd be correct. Ite follows the increasingly violent misadventures of Ruth and her martial-arts obsessed neighbour Tony as they track down a burglar who stole Ruth's grandmother's silver spoon.
Why you should watch it: Equally humorous and cynical, I Don't Feel At Home In This World Anymore is one of the best Netflix Original movies because it echoes many people's disaffection with the world. It is an often-hilarious take on someone who decides to stand up against an increasingly self-centred society… albeit with surprisingly bloody results.
19. Gerald's Game (2017)
Region: Worldwide
The movie: Directed by Mike Flanagan (who also made Hush and Oculus), Gerald's Game is a thriller with a twist: the protagonist is handcuffed to a bed for almost the entire movie. Carla Gugino and Bruce Greenwood play a couple who rent a secluded cabin to spice up their marriage. Shortly after handcuffing Gugino's Jessie to the bed as part of a sex game, Gerald suddenly dies. Tied to the very sturdy bed, and with no one else close enough to hear her cries for help, Jessie faces a fight to survive.
Why should you watch it: Claustrophobic thrillers like this can often be hit-and-miss, but this one's in the former category. It's led almost entirely by Gugino's intense performance, with the ever-classy Greenwood pretty much the only other cast member. The quality of acting elevates a well-executed genre movie.
18. To All the Boys I've Loved Before (2018)
Region: Worldwide
The movie: You know when you accidentally send an email or drunk-text your crush? This is the premise of To All the Boys I've Loved Before, but with letters. Here, Lana Condor's Lara has written letters to every boy she's ever had a crush on and suddenly finds that they've all mysteriously been mailed out to those boys. Embarrassment soon turns to full-on panic when these romantic revelations lead to unexpected interest from more than one of the boys. Romantic comedics ensue, but not always as you would expect them.
Why you should watch it: If you're a fan of romantic comedies then this should be right up your alley. And even if you're not, it's still worth checking out as it subverts the usual rote rom-com traditions in various ways. Also, Lana Condor is an endearing revelation in a movie that refreshingly stars an Asian-American in the main role and not as the quirky sidekick, for a change.
17. Okja (2017)
Region: Worldwide
The movie: Joon-ho Bong directs a sci-fi adventure movie with overt references to the modern food industry. Starring Tilda Swinton, Paul Dano, and a cast of insanely talented actors, Okja caused a lot of discussion and debate at the time of its release, especially around the ethics of meat production. It also showed that companies like Netflix could make a success – and a thumping one – of left-field creative choices, as long as they do it with confidence. And Joon-ho Bong and co have that in plentiful supply.
Why you should watch it: It's one of the best Netflix Original movies due to its fantastic performances, a bold and inventive storyline, lots and lots of great action, and it's all presented in an eye-poppingly vivid visual package. Also, who needs an excuse to watch anything with Tilda Swinton in it?
Turn to page 2 for more of our picks of the best Netflix Original movies...