Streaming for gamers can be quite an intimidating project to get started with. Not even considering how competitive it is, there's a lot of tech to master and a million problems to troubleshoot when you first set things up. All that, and the cost of getting the right equipment could turn even the most enthusiastic people off. Having said that, streaming is some of the most fun you can have with gaming as a hobby, and once you learn the ropes a little, it could even turn into a new career prospect, if you're lucky.
There are plenty of buzzwords, bits of tech, and software you'll need to get to grips with if you want to broadcast on Twitch or YouTube. If you've come this far, you'll no doubt have done your research already, or at least some of it. To offer you a helping hand, we've tried to come up with a guide that will steer you in the right hardware directions. Knowing your equipment inside-out can be extremely handy when you start streaming, so we've tried to pull together the most useful bits of equipment to make your life a bit easier.
The good news is, having a decent streaming setup doesn't need to be as expensive as it used to. Especially if you're just starting out, you might not want to invest too much. However, a little research, and some small investments here and there can go a long way. If you buy the important stuff cheap, you'll most likely buy them twice, and that's what we're here to help you avoid. Our streaming for gamers guide will equip you with all you need to get started on a modest budget.
Like we've addressed, streaming for gamers is a competitive space - very competitive. We'd bet that you have plenty of original and creative ideas when it comes to standing out from the crowd, but if we can give you one piece of advice, it's this. Even if you have the best personality, an interesting hook, and incredible gameplay, the ideal way to set yourself up for success is by having decent production from the get-go. Grainy, low-quality footage with poor lighting and even worse sound won't get you very far, especially in this day and age.
By far, the first thing to think about is grabbing one of the best capture cards. Fortunately, options for the best microphones for streaming and best webcams are far more affordable nowadays. Going the extra mile certainly doesn't hurt either, and this can be achieved when utilizing one of the best ring lights and best green screens, too. Audiences are coming to your streams to see you and your gameplay in equal measure, so be sure that you look and sound every bit as good as the footage itself.
The best streaming setup for most people in 2023
Below, you'll find an ideal streaming setup that's perfect for broadcasting gameplay from your gaming PC, Xbox Series X, or PS5. We've made considerations for the microphone to use, an ideal headset to get started with, as well as lighting and footage capture. All told, this is the best streaming gear that you can get your hands on without breaking the bank, but we've also included more premium options for those wanting to hit the ground running.
The Elgato Game Capture HD60 S+ is the ideal capture card for most people looking to stream their Xbox Series X or PS5 gameplay. It's simple to use, affordably priced, and supports 1080p60 with HDR and perfect 4K60 passthrough. If you're in the market for a no-nonsense approach to streaming console gameplay for well under the $200 mark, then this unit does it admirably. It's a go-to capture card that's perfect for streaming for gamers.
What elevates the Elgato Game Capture HD60 S+ above some contemporaries is the ease of use when compared to some other capture cards. You've got HDMI in and out, and USB-C to supply both power and connection to your PC or Mac with USB 3.0 out. That means all you really need to do is plug it in and run the capture card through whichever software you're most comfortable with, taking any strain off your computer in the process.
While 4K capture is no doubt preferable to some, it's worth reiterating just how vital it is to keep the bitrate of video files at a reasonable level when running through Twitch, YouTube Gaming, or other sources. While premium memberships, and partner programs, may allow you to push these boundaries, if you're just starting out on the platform, then 1080p60 lossless is ideal for what you'll want to put across.
For a higher-end capture card option: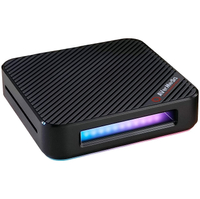 (opens in new tab)
AverMedia Live Gamer Bolt | $450 at Amazon (opens in new tab)
Should 4K60 with HDR support be a top priority for you then the AverMedia Live Gamer Bolt can do this very well. Instead of just UHD passthrough, you would be recording at a much higher resolution for superior image quality closer to that of your console. Despite its high MSRP, you can normally find it on sale.

As far as competitively priced microphones for streaming go, Blue has perhaps the best reputation. This Blue Yeti Nano model is the smaller and slightly stripped-down version of the company's fully-fledged flagship. However, what it may lose in size, it more than makes up for in audio quality and that's the most important thing when you want to get your streaming setup the way it should be to launch a potential career without breaking the bank.
The Blue Yeti Nano simply connects to your PC or Mac through USB, meaning you don't need to invest in pricier XLR microphones or a dedicated audio interface to have great sound in your streams. That's a major benefit if you're just starting out, sure, but this model is made all the more appealing by its $99.99 / £99.99 MSRP. While it's far from budget at this price point, the Blue Yeti Nano is also miles cheaper than other streamer-tier premium USB microphones on the market.
For a higher-end microphone option: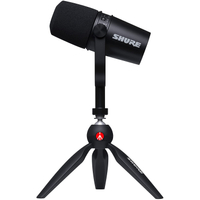 (opens in new tab)
Shure MV7 | $249 at Amazon (opens in new tab)
With Shure being one of the biggest names in premium audio, there's little surprise that the MV7 tops our list as the best microphone for streaming. While still pricey, this USB, tripod-mounted mic often finds itself discounted decently from its original MSRP. Well worth considering should you want XLR sound without the hassle of a dedicated audio interface.
Read more: Shure MV7 review

While the Razer Kiyo Pro launched originally at $199.99 / £199.99, nowadays it isn't uncommon to find this webcam for far cheaper, sometimes even around the $120 / £120 mark. What gives the Razer Kiyo Pro the edge over both the original model, and its similarly priced contemporaries, is the 1080p60 footage. This means that your face cam footage can match that of the gameplay, making it an ideal webcam as far as streaming for gamers goes.
Though the Razer Kiyo Pro lacks the built-in ring light of the original model, you're getting far better performance in low light due to a more advanced sensor. We praised this model highly in our Razer Kiyo Pro review, where we said that it's "one of the best premium webcams you can get your hands on right now". That sentiment is still true in 2022. Should you want to be seen at your best for an aggressive price point, the Razer Kiyo Pro is hard to beat for a great streaming setup.
Razer has just launched an updated, 4K version of this camera, which we're currently sourcing for review. Once we know more about it, we can update you, but for the moment, this camera is still a perfect go-to. If anything a newer model might mean it's more prone to deals, making it even better value.
For a higher-end webcam option: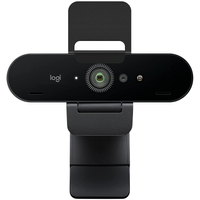 (opens in new tab)
Logitech Brio 4K Webcam | $199.99 at Amazon (opens in new tab)
Save $40 - The Logitech Brio 4K Webcam allows you to be seen at four times the native resolution of a standard 1080p (Full HD) unit like listed above. If you're wanting a far sharper production to go with your gameplay, then this model is tough to beat.

There's very little that we can actually fault the Razer BlackShark V2 on, with this model being our number one pick for the best gaming headset on the market to this very day. In our testing, we found that Razer's TriForce Titanium 50mm drivers really made all the difference in elevating these $99.99 / £99.99 far above their similarly priced competition.
It was the smaller details that really stood out to us when being fully immersed in everything that the BlackShark V2 had to offer on the audio front. Everything from the sounds of snow and gunfire in Red Dead Redemption II to the screaming of teammates when playing the likes of The Division 2 was accurate and faithful like no other headset we've used at this price point.
Particular attention can be placed upon the BlackShark V2's detachable microphone, while likely unable to compete with some of the best standalone mics on the market, we found that we could be heard surprisingly clearly even in chaotic in-game situations. That's to say nothing of the Game Profile feature available, which helps to optimize the sound output to whichever game you're playing. This inclusion made rounds in games such as Apex Legends more enhanced with a richer and more detailed sound than what we were previously accustomed to.
We're confident in recommending the BlackShark V2 as the best headset for streamers even close to two years after its initial release. What's more, due to the time that's passed, you can frequently find this model discounted, too. If you're after a headset that not only looks good, but makes you sound great while offering leading audio quality, then this is the one for you.
For a higher-end headset option: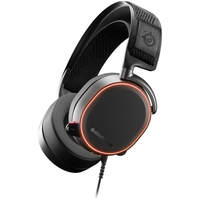 (opens in new tab)
SteelSeries Arctis Pro | $180 at Amazon (opens in new tab)
The SteelSeries Arctis Pro features higher resolution speaker drivers than what is typically available through most headsets (40,000 Hz) for sound quality befitting of the Esports scene. Should you want something with more grunt, this model has you covered.

If you want better lighting for your webcam footage, you can't go wrong with our favorite ring light. Ring lights are perfect for close-up facial shots because they distribute light equally, and help you show off your best features. With the ESDDI, you get excellent quality for the price, which is why we won't supply a premium option for this one. It's also nice and easy to assemble, which you'll be thankful for if you need to make more space in your makeshift studio when you aren't live.
Although it's a bit heavy for moving around and taking on the go, we'd argue this is one of your best bets for a ring light to illuminate you during your broadcasts. This model is a great size, too, as it strikes a good mid-range for slightly farther out shots.
With its respectable asking price, the Lume Cube Broadcast Lighting Kit provides all the illumination that you need to be seen clearly on stream without breaking the bank. It isn't the cheapest light on the market, carrying an MSRP of around $100, however, with its height-adjustable stand and bright light, you're sure to be seen at your best.
The Lume Cube Broadcast Lighting Kit is noticeably more affordable than some higher-end alternatives and means you don't have to break out bigger and bulkier studio floodlights in your setup, either. Perhaps the biggest advantage here is the different ways in which you can set up the light itself. There's the desk stand, suction cup mount, and computer clamp, so you can adjust the lighting easily to suit your current setup. Ideally, it would be best behind your computer monitor in order to keep your face well-lit when broadcasting.
For higher-end lighting options: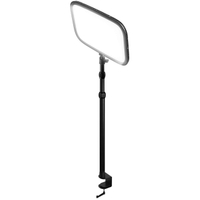 (opens in new tab)
Elgato Key Light | $199.99 at Amazon (opens in new tab)
Widely considered one of the better studio lights for a professional streaming setup, the Elgato Key Light certainly doesn't come cheap. However, with the 2800 lumens brightness, and smart app capabilities, there is little else that can rival this unit in terms of function.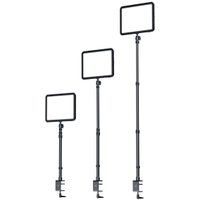 (opens in new tab)
Razer Key Light | $299.99 at Razer (opens in new tab)
Razer's premium key light features the brand's coveted Chroma technology for advanced lighting that few other models can match. While premium, this is a stellar choice for anyone wanting a bright display.

While not necessarily an essential part of the streamer experience, a good green screen can go a long way to upping your production quality and standing out from the crowd with your streaming setup. That's where the Neewer Collapsible Backdrop comes in, with its affordable price point and portable, pop-up nature. Unlike some other green screens, this model simply unfolds and then can be mounted in multiple ways to the included stand, either horizontally or vertically, to fit your camera setup well.
The best thing is the price here, as depending on size, the Neewer Collapsible Backdrop starts from around the $50 mark. You've also got the option of either green or blue, as it is reversible, meaning that you can choose which color is easier for you to chroma key out in editing, or before your stream goes live.
For a higher-end green screen option: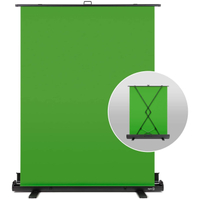 (opens in new tab)
Elgato Green Screen | $159.99 at Amazon (opens in new tab)
The Elgato Green Screen is our number one pick as far as best green screens go. This is because of the roller-style pull-down design, making this unit quick and easy to set up while also preventing any creases or wrinkles. Should you be serious about live streaming for gamers, this is the model to consider.

The best budget streaming setup in 2023
Should you want to keep costs down, however, there are more wallet-friendly options as far as streaming for gamers goes. Scroll down to find our curated picks for a budget streaming setup that can get you online, looking and sounding good for a very respectable overall sum.
Nvidia ShadowPlay has garnered quite a reputation over the years as one of the best ways to capture gameplay footage from a gaming PC. This is because the proprietary software uses minimal hardware rendering in order to stream (and record gameplay) in resolutions up to 8K at 60 FPS. It's a sure-fire way to get your gameplay broadcast quickly and easily on the likes of YouTube Gaming, Twitch, and Facebook with minimal messing around. Ideally, you'll need one of the best gaming PCs armed with one of the best graphics cards to crank out those higher resolutions, though.
We're all too familiar with just how flawless Nvidia Shadowplay really works; simply press one button, we recommend mapping to the Function keys (F8, F9, etc.) and you're online for all the world to see. As far as quality and convenience go, this service really is one of the best for those on a budget. You will, however, need at least a GTX 600-series GPU. We know from experience that Nvidia Shadowplay works wonders on everything from the GTX 900-series and upwards, so if you've got respectable hardware in your machine, there's little slowing you down here.
The Logitech C720 may lack the flashy nature of some other webcams on the market, however, with its humble asking price of only $30 / £30, it's hard to beat at what it can do. What's more, this 720p 30 FPS unit is frequently on sale, meaning that you're likely to find it even cheaper than this, too. As far as budget streaming setups go, this punchy little performer can do it.
While 720p may seem a little on the lower side, realistically, your portrait cam is only going to take up a small portion of the total screen real estate. As long as you have some decent lighting behind you, and don't move around too much, then the Logitech C720 should be able to keep you looking crystal clear with minimal visual artifacts or ghosting to speak of. Also of note, Nvidia Shadowplay supports webcam overlays in the native software, so all you need to do is allow access, where you can choose one of four corners, and the overall size, too.
While the Razer Seiren X launched at $99.99 / £99.99, it's usual listing price normally hangs around the $59.99 / £59.99 price range. This substantial price cut means that the Razer Seiren X, while a little basic in comparison to others in the line, is an aggressively priced cardioid USB microphone that's perfect for streaming on a budget, what's more, it's from an established brand, too.
What separates the Razer Seiren X from similarly priced USB models is the built-in shock mount and aluminum construction. You're getting a premium-built, and great-sounding, mic here that's far and away an improvement from what many headset mics can offer.
The SteelSeries Arctis 1 is the company's cheapest, entry-level gaming headset, but we've found in our testing that it more than lives up to the linage of the Arctis line thanks to its strong construction and even better sound quality. You've got a fairly basic, but sturdy, build here for a lightweight unit that we could easily wear for hours at an end. This is thanks to the headband design and thin but comfy cushions on either side of the cups.
While you're not getting surround sound with the SteelSeries Arctis 1, we found that the stereo sound provided by the headset was both clear and crisp for both titles such as Call of Duty: Modern Warfare, PUBG, and The Division 2 just to name a few. The same can be said for listening to music through this headset as songs sound the way they should while perhaps not being all too exciting if you're used to higher-end audio options.
While the SteelSeries Arctis 1 isn't exactly aimed at competitive gamers or those wanting the bleeding edge of in-game audio, for the price point, there's more than enough on offer to justify its rate. All the bases that you would expect have been covered despite not quite standing out for its excellence. What your money gets you is a reliable gaming headset from a trusted brand that ticks all the boxes needed.
As far as green screens for a budget streaming setup go, Fancierstudio's offering is hard to argue with around the $40 - $50 price range. While a green screen isn't necessarily an essential part of the streaming experience, it's something that can add higher production values and allow you to be far more visual onscreen. This model comes with an included stand, so while it may lack the portability of pricier options, or be a little more taxing to come down, once it's up, you've got all you need to be seen at your best.
The Neewer 2-Pack Dimmable USB video lights are fairly basic in design but provide you with enough light to be seen optimally when streaming with face cam on. Priced at $50, though regularly discounted down to around the $40 range, you're getting two light stands that work off of USB power and can be easily positioned in your setup. Should you want to set a different vibe for your live streams, there's also color filters, such as red, blue, and yellow as well.
How to start streaming gameplay
How to live stream with OBS / capture cards
Why you can trust GamesRadar+ Our expert reviewers spend hours testing and comparing products and services so you can choose the best for you. Find out more about how we test.
The best way, in our experience, to live stream gameplay to the likes of YouTube Gaming and Twitch is through OBS Studio (opens in new tab) (Open Broadcasting Software). If you'd like a more technically proficient version of the software that gives you more creative range, we'd go for OBS Streamlabs (opens in new tab). This free program gives you full control over the different elements you want to broadcast to your viewers.
It all starts with a "scene" (which acts as a kind of folder for your input methods), for your gameplay that's captured either directly from your PC or from a capture card for your consoles. From there, you can add additional layers for your webcam, your microphone, as well as overlay graphics. There's also the option to put elements like live Twitch / YouTube chat, subscribers and donations on-screen.
So using these different "scenes" you create your normal gameplay screen layout, maybe a loading screen scene, or any other transitional elements you might want. These scenes can take a little while to learn, but they'll help to make your stream feel unique and keep our audience engaged.
A scene can contain as many media sources as you want, although it may put some hefty demands on your computer hardware if you don't use a capture card. A basic OBS stream will generally consist of the gameplay layer, your webcam, and your microphone audio, as seen below:
If you intend to stream on Twitch then you will need to input your Twitch stream key into OBS which essentially pairs the website to the program, and acts as an authenticator of sorts. You can find your Twitch streaming key by selecting the Settings tab in your profile menu. From there, open up the creator dashboard and the stream key should be found under "Stream Key and Preferences" in a drop-down menu.
YouTube Gaming works essentially the same way. Generally, you can find your Server URL address and Stream name/key in the Encoder Setup found in the Live Stream Manager dashboard. Simply copy that into OBS Studio or Streamlabs, and you're away.
It's worth noting that YouTube has a tendency to change things around, though, and as a general note, YouTube channels don't tend to integrate into OBS quite as easily as Twitch channels do.
How to live stream directly from Xbox Series X / PS5
Alternatively, if you're after a quick and easy way to stream gameplay on your console of choice then you can do so natively on both Xbox Series X and PS5. Options exist for PS4 and Xbox One as well, though those consoles are a bit more limited.
Live stream on PS5:
On PS5, it really is as simple as pressing the "Share" button found on the Dualsense controller when in-game. This brings up a menu that allows you to screenshot, record, or start streaming footage directly from the console. You'll need to link your Twitch or YouTube gaming account through the drop-down menu which can be done by pressing the respective icon.
An option will come up that says "Link with Twitch" and from there, the easiest way is to follow the prompts on-screen until you're given a QR code and an 8-digit set of letters and numbers. A web address will come up to activate your Twitch account, which you can either punch into the address bar of your phone or computer or scan the QR code. Once you've entered the code, you'll see a prompt that says "Your Accounts are Linked" and confirmation that your Twitch account is now set up on PS5.
Linking YouTube Gaming works exactly the same way, but with fewer steps. Simply press "Link with YouTube" from the drop-down menu, and then you'll be presented with the PS5's web browser version of the YouTube sign-in screen. From there, all you have to do is enter your account details, and everything else is taken care of.
You're ready to live stream!
Live stream on Xbox Series X:
On Xbox Series X, you first need to download the Twitch app from the Microsoft Store. Opening that up will bring up a sign-in screen with a website address you need to follow along with an 8-digit code. Simply punch the string of letters/numbers in on either your PC, tablet, or smartphone's web browser and it's all linked up. Once everything's activated, you'll find your account signed into the app.
To live stream gameplay, press the "broadcast" tab from the top menu, you'll then be greeted with a list of options to suit your gameplay streaming preferences, with controls to alter your camera position, broadcast bar position, and then your audio levels. The most important things to consider are your bitrate and the stream resolution, though. You'll need a strong Wi-Fi connection, or to be wired in via Ethernet, to stream 1080p or higher resolutions. After that all looks good to you, press the "start streaming" button and that's it!
How we test streaming gear at GamesRadar
You can find out in more detail how we test gaming headsets and other streaming gear in our full hardware policy, however, it's worth going through here, too.
When we test a gaming headset for review, this model becomes our daily driver which we will use in everything from our video conference calls with colleagues to gaming and listening to music for extended periods in our downtime. We listen out for the richness of the audio quality from not only the in-ear audio drivers but the included microphones too. We also take the build and overall construction as well as the value for money offered when putting any headset through its paces.
It's a similar story with webcams. Any camera we have pass our desks will be used in daily meetings but will also be tested as gamers and streamers ourselves. We use popular streaming programs, such as Nvidia Shadowplay and OBS, as live streamers would, while also looking out for the sharpness of the image quality, and features such as auto-focus, field of view, resolution, and if the built-in microphones are up to par.
Of course, no streaming setup would be complete with a high-quality microphone, and we at GamesRadar have had more than a few to speak into over the years. Mics are tested in a similar vein to other streaming gear we get our hands-on. They're used in real-world ways that our readers would, and not just tested in a linear fashion. This means judging how we sound when using the mics in software such as Audacity, Cockos Reaper, OBS, Shadowplay, XSplit, and other programs that gamers, streamers, and content creators are actually using.
---
You'll need to be comfortable should you want to stream for long periods, that's where the best gaming chairs and best cheap gaming chair deals come in. Additionally, should your space need an overhaul, the best gaming desks should be your next port of call.