The arrival of 2019 is brilliant news for one reason in particular – we can now say that Star Wars 9 is coming out this year! Nonetheless, getting concrete info on the movie remains a challenge to elude the most prolific of Bothan spies – in fact, Star Wars 9 is shaping up to be one of the most secretive movies in history.
Of course, J.J. Abrams - the Star Wars: The Force Awakens director back at the helm for his second movie from a galaxy far, far away - has long had a reputation for keeping his cards close to his chest. But Abrams and Lucasfilm may have surpassed themselves on Star Wars 9. Just ask the man who plays Luke Skywalker...
"It's like working for some secret deep state government organization," Mark Hamill told Entertainment Weekly on the set of Knightfall in Prague. "They're going to send rewrites over on this dark red paper that gives you a headache to read."
The red paper is a long-standing tool to make scripts harder to photocopy. But on Star Wars 9, the secrecy tactics go even further than they did on Star Wars: The Last Jedi. "They're going to fly [the rewrites] over with somebody from the company," Hamill said. "They're going to come and give it to me and wait for me to read it before I give it back. You can't even keep it overnight."
Despite Abrams's best efforts to keep the plot under wraps, however, there is a fair amount of Star Wars 9 information out there – so we've pulled together everything you need to know about the latest installment of the Skywalker saga. That means information on the Star Wars 9 release date, its title, casting info, how the late Carrie Fisher will appear in the movie, rumors, and, for the defiantly spoiler-proof, a few set photos and (possible) leaks. We've also got plenty of speculation, including when we might be able to expect the first Star Wars 9 trailer.
So keep reading to make sure you're up to date on all the most essential Star Wars 9 info...
Fast Facts:
Star Wars 9 release date: December 19, 2019 (UK)/December 20, 2019 (US)
Star Wars 9 director: J.J. Abrams
Star Wars 9 writers: J.J. Abrams, Chris Terrio
Star Wars 9 cast: Daisy Ridley, John Boyega, Oscar Isaac, Adam Driver, Carrie Fisher, Mark Hamill, Domhnall Gleeson, Kellie Marie Tran, Naomi Ackie, Richard E. Grant, Billy Dee Williams, Joonas Suotamo, Keri Russell, Dominic Monaghan, Matt Smith
When is the Star Wars 9 release date?
It's been down in our diaries for a while now: the Star Wars 9 release date is confirmed as December 20, 2019 in the US – though, as has become traditional, the Star Wars 9 release date for UK viewers is set to be a day earlier on December 19, 2019.
In recent years, the franchise has come to dominate the holiday season as The Lord of the Rings did in the early 21st century – The Force Awakens, Rogue One: A Star Wars Story, and The Last Jedi all made big money over the Christmas period – and it looks like that's going to be the case again.
But even with an extensive post-production period to get through, in just over a year we'll be sitting down in cinemas watching Star Wars 9's excitingly unfamiliar new opening crawl. Things could've been much different, though. The original Star Wars 9 release date was May 24, 2019 but, as we'll see later on, the departure of original director Colin Trevorrow meant pushing things back a little.
Read more: The most anticipated upcoming movies of 2018 and beyond
When will we see a Star Wars 9 trailer?
Whenever it lands, the Star Wars 9 trailer is going to be one of the most widely-anticipated events of 2019. While The Force Awakens' very first goosebump-inducing teaser touched down in November 2014 – a whole 13 months before we finally set eyes on Abrams' feature – Johnson's The Last Jedi waited until April 2017 (a mere eight months before release) to show us a trailer. Meanwhile, our first look at Solo: A Star Wars Story landed just four months ahead of its May 2018 cinema debut. Right now it looks like Lucasfilm is planning on leaving us waiting...
Before Christmas there were lots of rumors we'd get a Star Wars 9 trailer before the end of December – the logic being that Disney would want to reveal footage from its 2019 big-hitters alongside the year's other blockbuster behemoth, Avengers 4: Endgame. Also, it seemed reasonable that after the mixed reaction to both The Last Jedi and Solo over the previous year – and the fanbase getting antsy – Lucasfilm might feel they have to treat us to an earlier Star Wars 9 trailer to prove they haven't forgotten how to make new Star Wars movies.
As it turned out, the closest we've got so far to a Star Wars 9 trailer is Mark Hamill's tweet (below) featuring a car towing a trailer with the Star Wars logo on the side – ha, ha, very funny...
Here it is as promised (& who didn't see THIS coming?) A) An #EXCLUSIVE #StarWarsTrailer photo!!B) Bonus vintage photo of #TrollMasterHamill (who's considering retirement now that it's impossible to trick you nerds!) #EpNeinFootageAvailable pic.twitter.com/KXzLS1rlvmDecember 14, 2018
Now that we've made it to 2019 trailer-free, however, smart money suggests we'll have to wait a fair bit longer to get a glimpse of Abrams's movie, with an April launch looking most likely. In fact, we'd go as far as saying that a Star Wars 9 trailer will make its debut between April 11-15, 2019. Why so specific? That's when this year's Star Wars Celebration is taking place in Chicago, and it would continue a tradition that's seen previous instalments of the regular fan events debuting new trailers for The Force Awakens and The Last Jedi. A convenient consequence of this timing is that Disney will be able to run a Star Wars 9 trailer in front of Endgame, when the eagerly anticipated new Marvel movie hits cinemas two weeks later.
Read more: The best Star Wars movies, ranked
What's the Star Wars 9 title?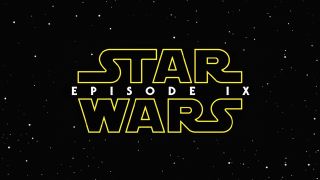 A secret to rival the official Avengers 4 title, Endgame, the Star Wars 9 title will undoubtedly generate a lot of buzz when it's finally unveiled. As of right now, though, Star Wars 9 is without a name. The working title for the movie is TrIXie (loving the clever use of Roman numerals) but, beyond that, we don't know what it's called or when we'll even find out about it, but we can have a few educated stabs at it.
The Last Jedi's title reveal came just under a year before it was released, with Solo's pretty obvious title being officially announced eight months before release. If we're still looking in that ballpark, then expect the Star Wars 9 title to land between now and April – surely Lucasfilm will have let the name slip before Star Wars Celebration?
One rumor reported by Comicbook (and bear in mind we've seen no evidence to confirm this has any basis in fact) has the Star Wars 9 title as Son of Darkness. It's certainly pitched at Revenge of the Sith levels of bleakness, and assuming it refers to Kylo Ren, it would make a lot of sense to the story. After all, Star Wars Episodes 1-9 are essentially the Skywalker family saga, and (as far as we know) the former Ben Solo is the end of that famous bloodline – nobody ever said the protagonist of a Star Wars movie had to be on the side of good...
But if we're going by previous Star Wars movie names (and why not? Echoes of previous stories have long been a recurring theme in Star Wars), then the frontrunner for Star Wars 9 title would be a variation of Revenge/Return of the _______. Most fans will probably settle for Return of the Skywalker at this point after their reaction to Luke's death in The Last Jedi – and Mark Hamill himself has even opened up about the Star Wars 9 title. Kinda. Taking to Twitter, he exclusively 'revealed' that the first word of the title is "The". Gee, thanks…
THE(to be continued...)13 September 2018
The Star Wars 9 cast is STACKED
It's fair to say the Star Wars 9 cast is strong with the Force. Not only are we getting familiar faces in the shape of Daisy Ridley, John Boyega, Adam Driver, Kelly Marie Tran, Lupita Nyong'o, Domhnall Gleeson, Joonas Suotomo, Billie Lourd, and Oscar Isaac, but the old guard are along for the ride as well.
The late Carrie Fisher, Mark Hamill, Anthony Daniels, and – in his first Star Wars movie since Star Wars: Return of the Jedi – Billy Dee Williams are all making their presence felt in what should be an intriguing clash of old and new.
The Star Wars 9 cast also features some new faces who are coming along for a trip into hyperspace. On the 'absolutely confirmed' list, we've got Richard E. Grant, Keri Russell, and Naomi Ackie. Alongside that, we've got a few of those pesky rumours and almost-concrete confirmations for the likes of ex-Doctor Who star Matt Smith and Dominic Monaghan of Lord of the Rings and Lost fame.
Carrie Fisher's untimely death in late 2016 obviously changed the shape of Star Wars 9. The late actress will appear using "previously unreleased footage" from The Force Awakens rather than the CG technology that brought back a young Leia at the end of Rogue One. In a statement on the official Star Wars site, J.J. Abrams said: "We desperately loved Carrie Fisher. Finding a truly satisfying conclusion to the Skywalker saga without her eluded us. We were never going to recast, or use a CG character. With the support and blessing from her daughter, Billie [Lourd], we have found a way to honor Carrie's legacy and role as Leia in Episode 9 by using unseen footage we shot together in Episode 7."
It'll be interesting to see how Abrams incorporates those scenes into the movie, seeing as the original plan was for Star Wars 9 to put the spotlight on Leia, just as The Force Awakens and The Last Jedi gave Han Solo and Luke Skywalker, respectively, their own big send-offs. In an interview with the Daily Beast, however, Oscar Isaac (Poe Dameron) said that it will definitely pay homage to the princess. "The story deals with that quite a bit," he revealed. "It's a strange thing to be on the set and to be speaking of Leia and having Carrie not be around. There's definitely some pain in that." But, he added, "It deals with the amazing character that Carrie created in a really beautiful way."
It also looks like Abrams hasn't just been working with scraps to keep Leia in Star Wars 9. Carrie Fisher's brother, Todd, told ABC News: "There's a lot of minutes of footage. I don't mean just outtakes. This is unused, new content that could be woven into the storyline. That's what's going to give everybody such a great kick. It's going to look like it was meant to be. Like it was shot yesterday." He stopped short of giving any specifics about Leia's role in Star Wars 9, however: "We're not allowed to talk about the details of anything. But we're thrilled at what's been done."
Mark Hamill, meanwhile, could have called time on his Star Wars run as Luke Skywalker faded away at the end of The Last Jedi. But that hasn't stopped Lucasfilm from being upfront about bringing the franchise stalwart back and officially announcing he's part of the Star Wars 9 cast. Given the traditional Jedi approach to the afterlife, it seems fairly safe to predict he'll be appearing in Force ghost form – an option not possible for Han Solo after he was impaled on Kylo Ren's lightsaber in The Force Awakens.
As the biggest character from the original trilogy not to make it back for the new Force films, Lando Calrissian's absence was felt in both The Force Awakens and The Last Jedi. Still, Abrams and co have seemingly listened to the fans by bringing Billy Dee Williams into the Star Wars 9 cast to reprise his role as the galaxy's suavest scoundrel. What Lando's been up to over the last three decades is something of a mystery, but seeing as he had "no love for the Empire," we're guessing he feels the same way about the First Order. (While this is Williams' first on-screen appearance as Lando since Return of the Jedi, he has been back to voice the character in Star Wars Rebels and The Lego Movie.)
The list of newcomers in the Star Wars 9 cast is arguably one of the most compelling reasons to buy a ticket to a midnight screening of the movie. Richard E. Grant, despite his protestations, has long been linked with playing the former Extended Universe villain Grand Admiral Thrawn. The blue-skinned baddie would chime with Grant's long, long history of playing nasty men – just look at his turn in Logan if you need convincing – but the fact that Thrawn is last seen being whisked away to uncharted regions of space in the final episode of Star Wars Rebels (over three decades ahead of Star Wars 9 in Star Wars chronology) may make this tricky in story terms.
The two new women stepping into the Star Wars franchise will also be adding some oomph to proceedings. Keri Russell, star of The Americans, has been cast for what is, apparently, an action-heavy role. She's an Abrams regular, having played the title role in his pre-Alias TV show Felicity, and also appears in his first-ever feature film, Mission: Impossible 3. Expect her to maybe take on a defining mission or two, should she choose to accept them.
Read more
How to watch all Star Wars movies, right now
It's newcomer Naomi Ackie, though, who's the biggest mystery in the Star Wars 9 cast. Some set photos (below), we think, may show her in action for the first time, but she's a relatively unknown actress. Except, hey, unknown actors and actresses, more often than not, tend to thrive in the series – neither Daisy Ridley nor Kelly Marie Tran's filmographies were brimming before they jetted off to that galaxy far, far away. We're excited about this one, especially when taking into consideration a previously-discovered casting call that lines up pretty perfectly with Ackie: She's 18-24, an "ethnic female", and a "leader and problem solver, smart with a great sense of humor and a strong will. All this comes to her effortlessly".
And then there's the small matter of former Doctor Who star Matt Smith joining the Star Wars 9 cast. One rumour reported by Screenrant suggests that he'll be playing a young Palpatine in the film. I really hope this isn't true. Firstly, it would almost definitely require flashbacks – a device that's traditionally been used sparingly in Star Wars storytelling. Also, if Abrams really wanted to bring Palpatine back, wouldn't it be more interesting to see him after he fell to his apparent death in Return of the Jedi? We know his old mentor Darth Plagueis taught him ways to cheat death, and we're sure a villain as wily as the old Sith Lord could find a brilliantly inventive way to come back – such as using clones, as he did in the old novels of the no-longer-canon Legends range.
These Star Wars 9 set photos give us our best look yet at the movie
This is seriously exciting. A first Star Wars 9 set photo fakeout may have been infuriating, but The Sun has the scoop on a series of leaked photos that could tell us a fair bit about the movie. In the set photos, we see Chewie (yay!), Finn and Poe Dameron reunited (double yay!), and some horses (neigh?) that look to be stand-ins for the sort of CGI space creatures we saw at Canto Bight.
They're all standing on green, green grass, and it looks unlike any Star Wars location we've already seen in the trilogy. Could we be looking at a new planet? There have been rumours abound about the movie heading into the Unknown Regions (where the First Order was formed from the remnants of the Empire), so it seems plausible. Either that, or it's a well-deserved vacation in Yorkshire. Hmm. Probably the former.
Quelques autres photos. On y voit également Chewbacca ! pic.twitter.com/wajDU7VeAeAugust 23, 2018
But wait, there's more. The photos may be blurry, but the woman standing out on her own looks suspiciously like Star Wars 9's Naomi Ackie. Could this be the world-first look at a character reportedly known as Caro? Honestly? It probably is. Finn and Poe may have just met their match if she's as headstrong as the (above) casting call states. We have to wonder what the three of them are doing, though. Oscar Isaac has mentioned how "ragged" the Resistance has become, even mentioning guerrilla warfare as a means of retaliation against the First Order. Could this be the beginning of an even bigger, bolder plan to stop Kylo Ren and his big bunch o' baddies in their tracks once and for all?
These Star Wars 9 theories (could) just be Snoke and mirrors
Oh, boy. Where to start with these Star Wars 9 theories? We've put together everything from a less-than-happy ending, to Luke's probable return as a Force ghost. A popular idea suggests that Star Wars 9 will bend over backwards to try and get Snoke back into the fold. Having been set up as a major Big Bad, many felt Snoke was underused in his two movies and, as Abrams is the one who introduced him with a pretty cool set-up in The Force Awakens, it makes a fair amount of sense that he'd want to undo what Johnson did in The Last Jedi and bring him back. After all, what better way to really make Snoke an all-time great Big Bad than for him to come back after being literally cut in half. It didn't stop Darth Maul from showing up again, did it?
These may just be theories, but that doesn't mean we're going to ignore them. We love to theorise as much as the next fan and let's be honest, Disney aren't going to let us know any specific plot details about Star Wars 9 until we're sat in the cinema watching it, so this is all we have. If you too are a fan theory obsessive (no judgement) you can find all the biggest and best Force-tastic theories laid out and analysed in the link above. Happy theorising!
Read more: 15 things we learnt from the Star Wars: The Last Jedi director's commentary
The Star Wars 9 leaks hint at what we can expect from the plot
Let's not go into details here – if you want to visit the dark side of spoilers, that's your choice – but there's a decent chance the whole Star Wars 9 plot has now leaked online. Reddit user FOOSLS has dropped a post claiming to have seen an early storyboard of the movie, and then detailed exactly what they saw. The thing distinguishing this from a million other "My mate told me this because his cousin's mum's friend's uncle's juggling instructor is J.J. Abrams' mate" stories? FOOSLS made similar claims about The Last Jedi, and was pretty much bang-on with a whole bunch of the plot details. We've got a solid breakdown of the alleged Star Wars 9 plot, as per FOOSLS post, if you want to take a look, but obviously, if you'd rather not risk spoiling everything for yourself in advance, do not click on that link.
Another Star Wars 9 leak reported by Express hints that, having used the Force to save herself from the the vacuum of space in The Last Jedi, Leia might try out another Jedi skill by igniting a lightsaber on screen for the first time. The source claims that: "Leia is dressed in a black outfit almost like a robe. Leia is with Maz Kanata, C-3PO and R2-D2, holding the Skywalker lightsaber and examining it. She begins to hold it in a Jedi-like stance and activates it, pointing it towards a city that looks like it has gone through battle."
We'd file this under "pinch of salt" for now, but does this mean that, with her brother Luke gone, Leia's going to play Jedi for real in Star Wars 9? We do know that Maz Kanata has some connection with the famous lightsaber, having got her hands on it somewhere between Return of the Jedi and The Force Awakens – will we find out how and why in this trilogy closer?
We can also assume that Carrie Fisher filmed scenes with the lightsaber during the production of The Force Awakens, seeing as a scene from one of the trailers (which didn't make it into the final cut of the movie) showed Maz handing Luke's 'saber to Leia. Maybe this is something Abrams has managed to incorporate into Star Wars 9.
In terms of other tidbits of information about the Star Wars 9 plot, John Boyega hasn't been shy about speaking out. At one point he hinted that Episode 9 will be "all-out war" and that he was getting ready to start training again, and then back in April (before shooting began), he revealed that Finn and Rey won't be separated for the final film, saying: "I haven't read the script for Episode 9, but Daisy did shoot me a text saying, 'Oh my gosh, I just heard from J.J. [Abrams], and we're back together'. That's what I'm really excited about, is Finn and Rey back together again." This makes a great deal of narrative sense, given that the pair started this trilogy together. Where The Last Jedi gave them time apart to grow in their own directions, the Star Wars 9 plot will bring them back together stronger, more learned, and capable of much more as a unit.
Boyega's also been chatty about his new look for the movie as the "first step [for Star Wars 9] is growing out my hair, so you can wait for the trailer to see why". Simply a fresh trim for Finn or something more time jump-y? After the events of The Last Jedi, a time jump isn't exactly a silly idea. It puts enough distance between Luke's death and the (probable) rebuilding of the Resistance (let's not forget the whole outfit currently fits comfortably on board the Millennium Falcon) to make things truly matter.
Meanwhile, Carrie Fisher's enforced absence, coupled with Poe Dameron's arc in The Last Jedi, makes me think that the (formerly?) hot-headed pilot will assume more leadership responsibilities as the Resistance attempts to be the spark that lights the fire that will burn the First Order down. Marvel's Poe Dameron comic series confirms that his Black Squadron (featuring The Force Awakens pilots Snap Wexley and Jess Parva) have been off recruiting for the Resistance – hopefully they'll have got lucky by the time the Star Wars 9 plot kicks off.
But perhaps the biggest question right now is, how far is the Star Wars 9 plot jumping into the future? Will it be a matter of weeks, three years (the gap between A New Hope and Star Wars: The Empire Strikes Back), or even a whole decade that separates the events as in Star Wars: The Phantom Menace and Star Wars: Attack of the Clones? Empire magazine reported in December that Boyega has said the Star Wars 9 plot gets underway roughly a year after The Last Jedi ends, but this is as-yet unconfirmed and Boyega himself has tweeted (below) saying he doesn't even remember the interview in question!
I don't even remember having the interview 😂😂😂😂😂 🤷🏾‍♂️ I'm tired it's been a long few months. https://t.co/C0I2VG97HrDecember 24, 2018
One thing's for certain, however: it's going to be rather more than the mere hours that elapsed between The Force Awakens and The Last Jedi...
The Star Wars 9 director has changed... a lot
The Star Wars 9 director wasn't always J.J. Abrams. Colin Trevorrow, who can count Safety Not Guaranteed, Jurassic World, and the Book of Henry among his most recent titles (and is now working on the follow-up to Jurassic World: Fallen Kingdom), was originally picked to be the man to end the trilogy behind the camera. That all changed in September 2017, though. Citing different visions for the project, the statement released relating to Trevorrow stepping down on StarWars.com was short and sweet, as he became the latest in a line of Star Wars directorial hires that have gone wrong.
So, who could be the Star Wars 9 saviour? Step forward Abrams. Having already directed The Force Awakens (still the most lucrative film in history not directed by James Cameron), he's surely the safest pair of hands you could possibly find to take over as Star Wars 9 director. It even sounds like he has unfinished business.
Speaking to Rolling Stone, Abrams says: "I learned so much in that movie and I saw that this was a chance to sort of realise something that we hadn't quite achieved – and part of that was it was simply the beginning of these new characters and their story. The opportunity to sort of take what we had learned, to take the feeling of who these characters are and what they are and give them a final chapter that felt in the spirit of what we begun? It was too delicious of an opportunity to pass up."
Just… leave Rey's parents out of it, okay? No matter what Simon Pegg has been telling everyone about Rey's mum and dad, we don't want things to get even more confusing. Kylo Ren said they were nobody and let's just keep it at that – enough with the convoluted Chosen One arcs!
Read more: What order should you watch the Star Wars movies in? It isn't actually that obvious...