With Star Wars: Episode 9, there's a whole galaxy of information to take in. Whether it's the (new) release date, the (new) director and, yes, even the (new) Star Wars 9 cast, things are feeling fresher than ever when it comes to the franchise. And that means news. Lots and lots of it. That's where GamesRadar+ comes in.
Below, we've run through the Star Wars 9 release date, full cast, rumours, when we can expect the trailer, and more. Plus, there are the questions: what's the Star Wars 9 title? Who is Matt Smith playing? Is Snoke coming back after Star Wars: The Last Jedi? There's just so much to unpack. Best of all, we've even got eyes on a handful of Star Wars 9 leaks, with the set photos showing off a brand-new character and maybe, just maybe, a new planet. What are you waiting for?!
More interested in what's coming out this year? Check out our breakdown of the most anticipated upcoming movies of 2018 and beyond.
Fast Facts:
Star Wars 9 release date: December 20, 2019
Star Wars 9 director: J.J. Abrams
Star Wars 9 writers: J.J. Abrams, Chris Terrio
Star Wars 9 cast: Daisy Ridley, John Boyega, Oscar Isaac, Adam Driver, Carrie Fisher, Mark Hamill, Domhnall Gleeson, Kellie Marie Tran, Naomi Ackie, Richard E. Grant, Billy Dee Williams, Joonas Suotamo, Keri Russell, Dominic Monaghan, Matt Smith
When is the Star Wars 9 release date?
It's been in the books for a while now: the Star Wars 9 release date is confirmed as December 20, 2019. Recently, the franchise has dominated the holiday season (please don't Google 'Star Wars holiday' though... unless you can't get enough of the awful Christmas special) and it looks like that's going to be the case again. Even with everything that goes into making one of the biggest blockbusters of all time, it will be all done within the year. In fact, there's just 15 months to go – which is both a little bit terrifying and exciting. Things could've been so much different, though. The original Star Wars 9 release date was May 24, 2019 but, as we'll see later on, troubles with director Colin Trevorrow meant pushing things a little further back.
Soon, the Star Wars 9 trailer might be
The Star Wars 9 trailer is going to be one of the most widely-anticipated events of the year and it may be here sooner than you think. It all depends on if Lucasfilm has changed tack from The Last Jedi's marketing campaign. Star Wars: The Force Awakens' very first trailer (remember that? *Goosebumps*) touched down in November 2014, a whole 13 months before we eventually set eyes on J.J. Abrams' feature. However, Rian Johnson's Episode 8 took a different approach and gave us its first trailer in April 2017, eight months before release.
While both of those time frames seem plausible for the Star Wars 9 trailer, there's a couple of reasons why an earlier teaser could be on the way. For one thing, J.J. Abrams is back on board. He tends to enjoy the thrill of drip-feeding fans info, and what better way to get things kicked off than with a Star Wars 9 trailer in 2018? Not only that but, any later, and you're at serious risk of running into Disney's other 2019 behemoth, Avengers 4. The new Marvel movie will surely dominate any and all conversation from the beginning of next year, so it may be wise to steer clear of it entirely and drop a Star Wars 9 trailer this year instead. We can hope, right?
The Star Wars 9 cast is STACKED
It's hard to understate just how incredible the Star Wars 9 cast is. Not only are we getting familiar faces in the shape of Daisy Ridley, John Boyega, Adam Driver, Kelly Marie Tran, Lupita Nyong'o, Domhnall Gleeson, Joonas Suotomo, Billie Lourd, and Oscar Isaac, but the old guard are along for the ride as well. The late Carrie Fisher, Mark Hamill, Anthony Daniels, and Billy Dee Williams are all making their presence felt in what should be an intriguing clash of old vs. new.
There's newbies along for the ride too. For the 'absolutely confirmed' list, we've got Richard E. Grant, Keri Russell, and Naomi Ackie. Alongside that, we've got a few of those pesky rumours and almost-concrete confirmations for the likes of ex-Doctor Who star Matt Smith and Dominic Monaghan of Lost's 'Not Penny's boat' fame.
But let's talk about those surprising returns! Mark Hamill (spoilers) seemingly ended his Star Wars run as Luke Skywalker faded away at the end of The Last Jedi. This did nothing to stop Lucasfilm from being up front about bringing him back and officially announcing his return for Star Wars 9. I'm sure Hamill will be playing coy from now until next December, but I think it's safe to say he'll be appearing in Force ghost form.
However, Carrie Fisher's role is an altogether more tragic and thorny issue. The late actress is confirmed for Star Wars 9 and will appear using "previously unreleased footage" from The Force Awakens rather than CGI technology, a la Rogue One: A Star Wars Story. In a statement on the official Star Wars site, director J.J. Abrams said: "We desperately loved Carrie Fisher. Finding a truly satisfying conclusion to the Skywalker saga without her eluded us. We were never going to recast, or use a CG character. With the support and blessing from her daughter, Billie, we have found a way to honor Carrie's legacy and role as Leia in Episode IX by using unseen footage we shot together in Episode VII."
But it's the new guys and girls that are one of the most compelling reasons to buy a ticket a midnight screening of Star Wars 9 (as if you needed another reason!). Richard E. Grant, despite his protestations, has long been linked with playing the former Extended Universe villain Admiral Thrawn. The blue-skinned baddie would chime with Richard E. Grant's long, long history of playing nasty men – just look at his turn in Logan if you need convincing – but nothing has been officially confirmed yet.
The two new women stepping into the Star Wars franchise will also be adding some oomph to proceedings. Keri Russell, star of The Americans, has been cast for what is, apparently, an action-heavy role. Fun fact: she also appeared in J.J. Abrams' first-ever feature film, Mission: Impossible III, way back in 2006. Expect her to maybe take on a defining mission or two, should she choose to accept it.
It's Naomi Ackie, though, who's the biggest mystery. Some Star Wars 9 set photos, we think, may show her in action for the first time, but she's a relatively unknown actress. Except, hey, unknown actors and actresses, more often than not, tend to thrive in the series. We're excited about this one, especially when taking into consideration a previously-discovered casting call that lines up pretty perfectly with Ackie: she's 18-24, an "ethnic female" and a "leader and problem solver, smart with a great sense of humor and a strong will. All this comes to her effortlessly." May we already be looking at the leading light in the next generation of Star Wars movies? Don't bet against it.

The Star Wars 9 director has changed... a lot
The Star Wars 9 director wasn't always J.J. Abrams. Colin Trevorrow, who can count Jurassic World and the Book of Henry among his most recent titles, was originally picked to be the man to end the trilogy behind the camera. That all changed in September 2017, though. Citing different visions for the project, the statement released relating to Trevorrow stepping down on StarWars.com was short and sweet – and is the latest in a line of Star Wars directorial decisions that have gone awry.
Read more
What order should you watch the Star Wars movies in? It isn't actually that obvious...
So, who would be the Star Wars 9 saviour? Step forward J.J. Abrams. Having already directed The Force Awakens, Abrams is surely the safest pair of hands you could possibly give the final film to and it even sounds like he has unfinished business.
Speaking to Rolling Stone, the director says: "I learned so much in that movie and I saw that this was a chance to sort of realise something that we hadn't quite achieved – and part of that was it was simply the beginning of these new characters and their story. The opportunity to sort of take what we had learned, to take the feeling of who these characters are and what they are and give them a final chapter that felt in the spirit of what we begun? It was too delicious of an opportunity to pass up." Just… leave Rey's parents out of it, okay? No matter what Simon Pegg has been telling everyone about Rey's mum and dad, we don't want things to get even more confusing.
These Star Wars 9 set photos give us our best look yet at the movie
This is seriously exciting. A first Star Wars 9 set photo fakeout may have been infuriating, but The Sun has the scoop on a series of leaked photos that could tell us a fair bit about the movie. In the set photos, we see Chewie (yay!), Finn and Poe reunited (double yay!), and some horses (neigh?) that look to be stand-ins for the sort of CGI space creatures we saw at Canto Bight.
They're all standing on green, green grass, and it looks unlike any Star Wars location we've already seen in the trilogy. Could we be looking at a new planet? There have been rumours abound about the movie is heading into the Unknown Regions, so I wouldn't put it past them. Either that, or it's a well-deserved vacation in Yorkshire. Hmm. Probably the former.
Quelques autres photos. On y voit également Chewbacca ! pic.twitter.com/wajDU7VeAeAugust 23, 2018
But wait, there's more. The photos may be blurry, but the woman standing out on her own looks suspiciously like Naomi Ackie. Could this be the world-first look at Caro? Honestly? It probably is. Finn and Poe may have just met their match if she's as headstrong as the (above) casting call states. We have to wonder what the three of them are doing, though. Oscar Isaac has mentioned how "ragged" the Resistance has become, even mentioning guerrilla warfare as a means of retaliation against the First Order. Could this be the beginning of an even bigger, bolder plan to stop Kylo Ren and his big bunch o' baddies in their tracks once and for all?
What's the Star Wars 9 title?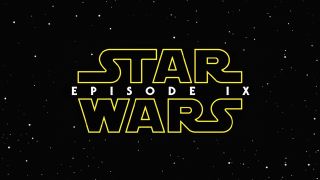 Sure, it's not under Avengers 4 title levels of secrecy, but the Star Wars 9 title will undoubtedly generate a lot of buzz when it's finally unveiled. As of right now, though, Star Wars 9 is without a name. The working title for the movie is trIXie (very clever) but, beyond that, we don't know what the title is or when we'll even find out about it, but we can have a few educated stabs at it.
The Last Jedi's title reveal came just under a year before it was released, with Solo: A Star Wars Story's pretty obvious title being officially announced eight months before release. If we're still looking in that ballpark, then expect the Star Wars 9 title to land in our laps in early 2019.
If we're going by previous Star Wars movie titles (and why not? The franchise often mirrors itself in so many ways), then we're probably going to get a variation of Revenge/Return of the _______. Most fans will probably settle for Return of the Skywalker at this point after their reaction to Luke's death in The Last Jedi – and Mark Hamill himself has even opened up about the Star Wars 9 title. Kinda. Taking to Twitter, he exclusively 'revealed' that the first word of the title is 'The'. Gee, thanks…
THE(to be continued...)13 September 2018
These Star Wars 9 theories (could) just be Snoke and mirrors
Oh, boy. Where to start with these Star Wars 9 theories? We've put together everything from a less-than-happy ending, to Luke's probable return as a Force ghost. My favourite, though, has to be the idea that the movie will bend over backwards to try and get Snoke back into the fold. He was criminally underused in the franchise and, as J.J. Abrams was the one to introduce him with a pretty cool set-up in The Force Awakens, it makes a fair amount of sense that he'd want to undo The Last Jedi and bring him back. After all, what better way to really make Snoke an all-time great villain than for him to come back after being literally cut in half. It didn't stop Darth Maul from showing up again, did it?
These may just be theories, but that doesn't mean we're going to ignore them. We love to theorise as much as the next fan and let's be honest, Disney aren't going to let us know any specific plot details about Star Wars 9 until our butts are sat in the cinema watching it, so this is all we have. If you too are a fan theory obsessive (no judgement) you can find all the biggest and best Star Wars 9 theories laid out and analysed in the link in the article intro. Happy theorising!
The Star Wars 9 leaks hint at what we can expect from the plot
I'll keep this brief and detail-free - because whether you want to potentially spoil the entire movie for yourself is a choice that should be left to you and you alone - but there's a decent chance the whole plot of Star Wars 9 has now leaked online. Reddit user FOOSLS has dropped a post claiming to have seen an early storyboard of the movie, and then detailed exactly what they saw. The thing distinguishing this from a million other 'My mate told me this because his cousin's mum's sister's uncle's juggling instructor is JJ Abrams' stories? FOOSLS made similar claims about The Last Jedi, and was pretty much bang-on with a whole bunch of the plot details. We've got a solid breakdown of the alleged Star Wars 9 plot, as per FOOSLS post, but obviously if you don't want to risk wrecking everything for yourself over a year in advance, do not remotely click on that link.
In terms of other tidbits of information about the Star Wars 9 plot, John Boyega hasn't been shy about speaking out. At one point he hinted that Episode 9 will be "all-out war" and that he was getting ready to start training again, and then most recently, he revealed that Finn and Rey won't be separated for the final film, saying: "I haven't read the script for Episode 9, but Daisy did shoot me a text saying, 'Oh my gosh, I just heard from J.J. [Abrams], and we're back together'. That's what I'm really excited about, is Finn and Rey back together again." This makes a great deal of narrative sense, given that the pair started this trilogy together. Where The Last Jedi gave them time apart to grow in their own directions, Star Wars 9 will bring them back together stronger, more learned, and capable of much more as a unit.
Boyega's also been chatty about a new look for the movie as the "first step [for Star Wars 9] is growing out my hair, so you can wait for the trailer to see why." Simply a fresh trim for Finn or something more time jump-y? After the events of The Last Jedi, a time jump isn't exactly a silly thing to do. It puts enough distance between Luke's death and the (probably) building back up of the Resistance to make things truly matter. The only question now is: how far are we jumping into the future?
Want to return to a galaxy far, far away now? Why not watch the best Star Wars movies now and get ready for the release of Star Wars 9 next year.