The true beauty of E3 is the show's variety. With such a plethora of video games, there's always going to be something for everyone. Even the most curmudgeonly among you will have raised an (inner) cheer for at least one game. Most of you will have lost your shit on a number of occasions, caught up in the whirlwind of entertainment blasted into your brain. On GR+, we had a great time both at the show and watching from home, and what follows are our personal 'best games' of E3 2016. Don't worry - we'll follow up with our usual 'E3 Awards' feature a little later today, but for now check out our Editor's Picks...
Steep
By David Houghton, Senior Writer
So it's nearing the end of the Ubi conference. It's been the usual mix of highs, lows, drama, surprise, Tom Clancy's Something, and macabre rhythmic psychopaths promoting Just Dance. You've been here before. You know it's 'big new game announcement' time. Probably a new way for gruff men to sneak around and shoot each other with night vision goggles on. When is it not? Oh, and coincidentally, you've spent the last 13 years waiting for a true successor to SSX 3. OH LOOK. Steep: A vast, beautiful, interconnected mountain range, just-stylised enough to add a dash of video game whimsy and arcade nonsense to proceedings. Freeform, exploration-driven boarding, that looks to play out via a delicious blend of airy speed and meaty heft. Smooth, synthy tunes. A friendly, communal vibe, this time driven by online connectivity, a non-competitive atmosphere, and dynamically generated, player-made challenges. WOULD YOU JUST LOOK AT THAT. It might not have the logo, but Ubisoft seems to really understand the soul of snowboarding's greatest game.
Injustice 2
By Lucas Sullivan, Senior Editor
I was stoked over plenty of games shown at E3 2016, but for whatever reason, the Injustice 2 demo (which I watched from home) felt the most tangible to me. NetherRealm Studios has mastered the art of telling an engaging story in a fighting game; for proof, just take a look at how Mortal Kombat X embarrasses Street Fighter 5 in the solo campaign department. And that dedication to an earnest narrative through-line - right down to the pre-fight exchanges that perfectly play into each character's personality - is what's getting me so pumped to play Injustice 2. It's gotten to the point where I've started rewatching old Justice League episodes just to get by - which is a nice reminder that the Injustice series recasts many of the same voice actors from the show, ensuring maximum authenticity and nostalgia.
The Legend of Zelda: Breath of the Wild
By Lorenzo Veloria, Senior Editor
I absolutely live for Zelda games and I would've been just fine if Zelda Wii U (as it's been called for so long) was just another by-the-numbers, here's-9-dungeons Zelda adventure. But in comes Nintendo with one big game to show off on the E3 show floor and it's The Legend of Zelda: Breath of the Wild. It's a game that takes the Ocarina of Time formula and throws it out the window in favor of making a beautiful open-world and an adventure that's reminiscent of the original NES game's free-form exploration. It feels a little odd that Link is missing his traditional green cap and tunic, but the new loot system looks like it is going to open up the gaming options to a substantial degree. Between the stealth, survival, puzzle-solving, and treasure hunting, Breath of the Wild seems to be getting back to the sense of freedom and adventure that got the legendary series started. If I have to wait to play this much longer, I think I might explode.
Absolver
By Sam Prell, News Writer
Absolver was the first game I saw at E3 2016, and it set the bar high. It may be the first game from indie studio Sloclap, but these are experienced developers, and it shows. Even in such an early state, Absolver features a level of polish, depth, and strength of vision that many games lack even after they've made it to store shelves. It's also one of the finest examples of layered design I've ever seen; you start by learning that there are two attack buttons. Then you learn that those two attack buttons lead into combos. Then you learn that those combos lead into stances. And so on, and so on. It's like a matryoshka nesting doll of wushu-inspired punching, steadily building and building from a familiar base until you wind up with an intricate and infinitely customizable fighting system. If the most important thing for you is how a game feels, then I've got good news: Absolver feels great.
Spider-Man
By Ben Wilson, Lead Sports Writer
Sucker Punch's sticky-walled, electrickery-powered inFamous always felt like a series on the cusp of greatness – if only it could find a real hero. It's not that Cole MacGrath was necessarily dislikable – at least, not until you took the murderous response to every moral choice – more just generic, his unremarkable face and cinema-usher frame instantly forgotten the moment you finished each game. (If not halfway through.) No such danger of that with Spidey. Granted, Insomniac isn't Sucker Punch, but the two shared a close working relationship during the period when both were hitched to the 'Sony exclusives' wagon, and you can bet that Peter Parker's new interactive web-slinger will take the inFamous concept to greater heights, literally and figuratively. 90 seconds of climby, punchy, somersaulting-through-the-skies Sony conference footage was enough to convince me of that. For years, while helming Ratchet & Clank, Insomniac made the coolest weapons on PlayStation. They're about to do the same for Spidey powers. Feel the web closing in, and embrace it.
Elder Scrolls 5 Skyrim Remastered
By Andy Hartup, Executive Editor (UK)
For all the explosiveness of Battlefield 1, the scares of Resi 7, and the superb fart jokes in South Park: The Fractured But Whole (all of which I almost chose as my personal game of E3), it's the five year-old game about dragons and knee-placed arrows that most excites me. This generation of consoles - more than any before it - has made a virtue of remastering older games, but has ignored the most obvious: Skyrim. Until now. I get that PC players have been modding their version of Skyrim to hell and back, and frankly I don't care. For me, no RPG has bettered Elder Scrolls 5, and I want to play it again on my PS4 or Xbox One with all the shiny cranked up to 11. Just a couple of bars of that stirring soundtrack makes the rest of E3's noise fade into the background, and gets me super-excited for this October when I'll step back into the best gaming world ever created. All the new games shouldn't feel bad - they're great - but it takes something special to better Skyrim, and E3 2016 didn't have that.
Batman: Arkham VR
By Dave Roberts, Writer
Other than Zelda (which I didn't actually get to play), Batman VR was, hands down, my favorite game at E3. The feeling of actually (virtually) picking up all of Batman's gadgets and putting on the Batsuit (complete with fitting the cowl over your head by pantomiming with the Move controllers) is unlike any other virtual reality game I've played. It's not just a gimmick, even though it's a pretty good one; it's actually an intriguing detective story built around the Arkham series' framework and the tech of PS VR, dropping combat in favor of detective work. Using Batman's forensic scanner lets you relive the events of a horrific murder as if you were there, and you need to scan the environment and put everything together to crack the case. It's not just a great VR experience - it has the potential to be a fantastic, one-of-a-kind hardboiled adventure.
South Park: The Fractured But Whole
By Iain Wilson, Guides Editor
As a big fan of South Park I absolutely loved The Stick of Truth, and to be honest Ubisoft could have just dropped some new Matt and Trey penned dialogue into the previous game and I'd still have lapped it up. However, big steps forward have been taken with The Fractured But Whole, and the combat system has been completely overhauled. You can now move around the screen during fights, using cover and hitting enemies into objects or teammates to set up all sorts of new tactical options. Farts have also been upgraded (there's a phrase I never thought I'd write), from mere foul-smelling attacks to ripping apart the fabric of time itself, switching up the turn order to your advantage. With a fresh new superhero storyline and a civil war breaking out amongst the gang, I can't wait to be the New Kid again.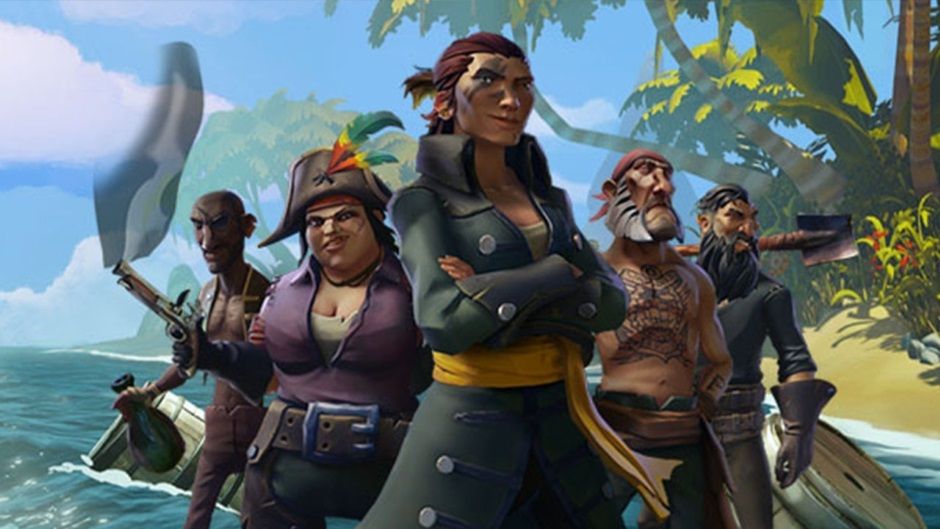 Sea of Thieves
By Matt Elliott, Commissioning Editor
Microsoft did a terrible job of selling Sea of Thieves. I'll try to do a better one. The most important thing is that whenever you recall the bleating demonstration from E3, you to chant 'co-op open world naval action adventure' until the panic subsides. I promise it'll be better than that. It has to be, because I've been searching for this game forever. It's my spankers-and-scuttlebutts Eldorado; my Shambala of ships. I've played every Age of Sail game available, from Pirates of the Caribbean to Naval Action, in the wretched hope one would deliver the experience I wanted. Like a hippo buying blazers in a thrift store, nothing's been quite right. The tone of Sea of Thieves is jauntier than I'd like - it's a Pixar Patrick o'Brian movie with pirates - but it makes up for it with rolling seas, splintering wood, crisp sunsets and damn fine gunnery. Until it arrives you'll find me pacing the quarterdeck, plum duff in my pocket and the ocean in my heart.
Death Stranding
By Dan Dawkins, Global Editor-in-Chief
Why Death Stranding? For its complete, screwball, oddity – it's a beacon for AAA games that aspire to unite ambitious ideas with costly production values. Kojima's appearance on the Sony stage was almost messianic, even if the final game won't play like the trailer. Expect a more traditional action / mech game, albeit one where fans are already decoding physics equations from Norman Reedus' dog tags. As much as anything, I'm relieved that my predictions about the game were – *promotion klaxon* – nigh-on correct.
Gwent
By Susan Arendt, Executive Editor (US)
All CD Projekt Red really had to do was take Witcher 3 card game Gwent and drop it onto phones or tablets and we would've been happy. No added bells or whistles needed, just let us play outside the taverns of Skellige and Velen and we'll be as happy as Roach on a roof. And they did give us that game, making it prettier and more dynamic along the way, and then they went a little further and gave us single-player campaigns (plural) at about ten hours each (not a typo), fully voice-acted characters, and new ways to discover cards. Explore some ancient ruins, for example, and you might find the ingredients to make Scorch, a very useful card that I keep using wrong because I keep forgetting it burns everything on the field and not just your opponent's cards, dammit. What was I saying? Oh, yes. Gwent. Even putting the exploration and story aside, simply being able to play against an actual human opponent changes your relationship with Gwent dramatically, as those gambits you've used to flummox the AI no longer work and the overpowered cards you collected in the Witcher 3 endgame are no longer your fastpass to victory. CD Projekt could've taken the easy way out, but they didn't, and the result is marvelous. Yes, we very much do fancy a game of Gwent.
Gravity Rush 2
By Anthony John Agnello, Senior Social Editor (US)
The same thing is true today that was true in 2012: it was worth creating the PS Vita just for Gravity Rush. Keiichiro Toyama's take on open world superheroics wasn't only a massive departure from his signature games Silent Hill and Siren, it was unlike anything else in modern gaming. Kat's gravity defying powers and her dreamy world Heckseville, a dusky colored and impossible city equal parts Hayao Miyazaki and Herge, was unforgettable. Even in this year's Gravity Rush Remastered, though, it felt held back by technology, that its world and gravity warping action were limited by the platform on which it was conceived. Gravity Rush 2 for the PlayStation 4, even in demo form at E3 2016, delivered on the full promise of the original. Kat's world is now literally as full and bustling with life and detail as it was conceptually. Were it just a massive upgrade in presentation, Gravity Rush 2 would still impress, but Kat's new elevate the action as well adding variety and style to an already solid base. I cannot wait for it to come out this year.